Patriot Memory just announced their new Javelin S4 Media Server NAS, capable of up to 12TBs of storage for a massive home theater movie/music/photo collection.
Patriot's Javelin S4 12TB Media Server

| | |
| --- | --- |
|   | Patriot Memory, the well known manufacturer of NAND flash, storage and enthusiast computer products, announced their latest 12TB capable Javelin Media Server. The Javelin Media Server is an NAS (Network Attached Storage) central hub for digital media storage needs. The Javelin allows up to four 3.5-inch SATA or SAS (Serial Attached SCSI) drives, and up to 3TB/HD in capacity, adding up to a total of 12TBs of storage capacity. For users with special performance or security needs, Patriot provides their users with several RAID levels, including 0, 1, 5, and 10. The drives are hot-swappable, meaning that they can be easily removed and re-installed while the Javelin is running. The NAS unit also provides support for additional hard drive storage to be added even with its 12TB limit externally. |
"Additional hard drives can be added externally via the available eSATA and USB ports – the USB ports serve double duty and support USB printers for print server duty."
A 1Gbps LAN network interface has also been provided for decent performance for media streaming to all systems and devices. The Patriot Javelin is compatible with PC and Mac, featuring an integrated Apple iTunes server to store all iTunes Store purchases in a single location and with a single account. This means that the Javelin has some sort of web browser interface that allows users to stream audio, video, and images straight from the NAS. Finally, the Patriot Javelin contains an integrated BitTorrent client capable of downloading and managing torrent files.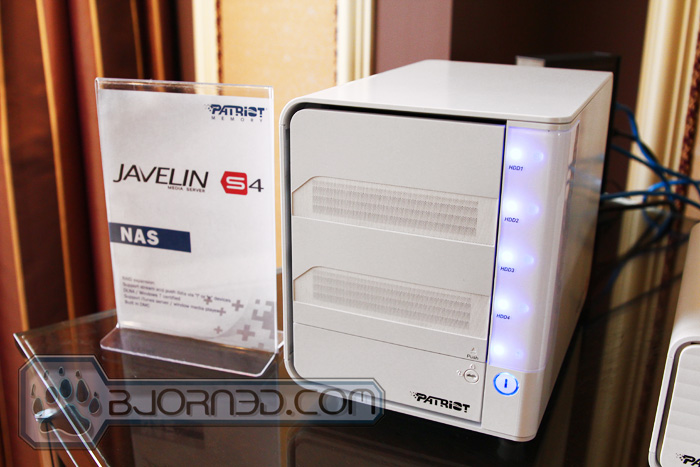 Product Features
*       4 x 3.5-inch drive bays
*       Supports SATA & SAS HDDs
*       eSATA external expansion
*       2 x USB 2.0 ports
*       256MB DDR2-800 ram
*       128MB flash memory (for OS)
*       Print server capable
*       iTunes server capable
*       Logitech SqueezeboxT Server capable
*       TimeMachine compatible
*       Integrated BitTorrent client
*       UPnPT compatible
*       DLNA compatible
*       Remote media playback (via browser or Android/iOS app)
*       Share your media with anyone in the world
*       Automatic backup
*       Multiple user management
"Expect the Javelin S4 to ship to customers in late February 2011.  For more information about Patriot Memory's products and solutions, please contact your Patriot Sales Representative or visit http://www.patriotmemory.com."
Below are pictures of products already released, many of which we have seen and discussed. These were also presented at CES 2011.
Click Image For a Larger One