Cooler Master showed us some of their new products at CES 2011, including a new CM Storm case and a couple of new CPU coolers.
INTRODUCTION
Like many companies, CoolerMaster chose to present their products in a location outside the main convention center in Las Vegas — a suite in the Bellagio hotel. On site, they had a number of new products that will come out in the next few months, as well as a few NDA products about which we cannot disclose any more than that they should be well worth the wait.
CPU COOLERS
CoolerMaster is introducing four new aftermarket coolers, all for the CPU.
H-B6 CPU COOLER
The H-B6 cooler is a large cooler that supports all the current socket standards including LGA1366/1156/1155/775 and AMD AMD3/AM2+/AM2.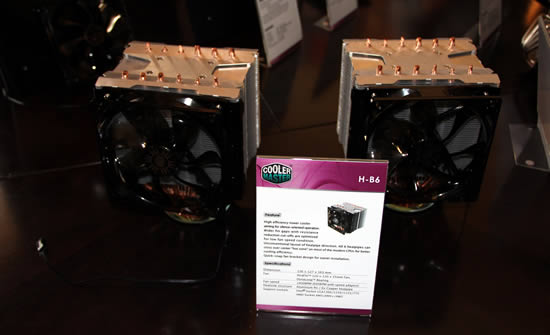 Even though it appears bulky and heavy, it is remarkably light. The fins are made of aluminum and it has 6 copper heatpipes laid out so they cross over at the "hot zone" of most CPUs. The included fan runs between 600 and 1400 RPM.
G-B5 CPU COOLER
The G-B5 is a new version of the popular Gemini-cooler.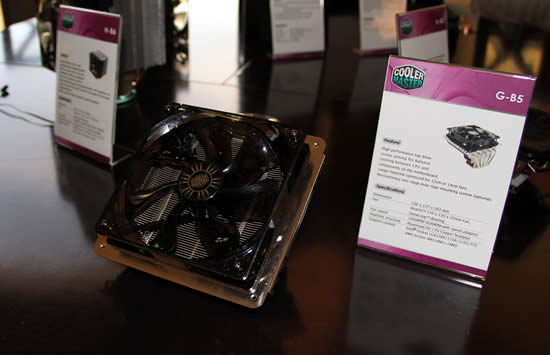 It comes with support for both 120mm and 140mm fans.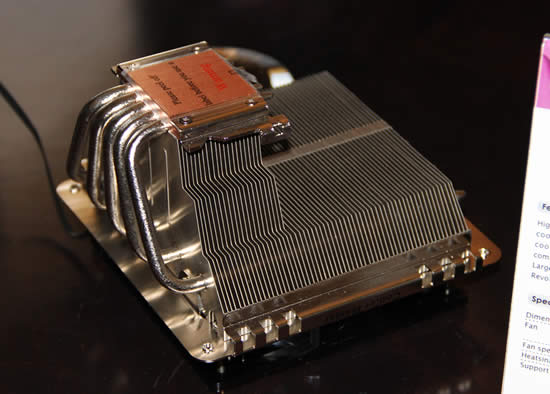 There is a lot of room under the fan so the cooler can not only cool the CPU, but also memory and other components on the motherboard. The included fan spins at from 600 RPM to 1400 RPM. This fan should be able to cool away 180 Watts.
V-A2 CPU COOLER
For low-profile systems, CoolerMaster introduced the new V-A2 cooler: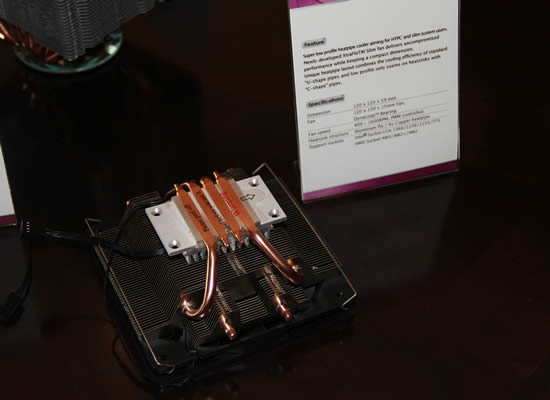 The cooler has direct contact between the heatpipes and the CPU, allowing for more heat draw. CoolerMaster designed the heatpipe placement such that the fins are twice as tall as we'd normally find on these types of low-profile coolers. To top it off, they've placed a low profile 120mm fan than can spin between 800 and 1600 RPM.
A-L2 WATER COOLED CPU COOLER
Water cooling is slowly becoming more common even for users who don't do extreme computing, and CoolerMaster has a new cooler for those of us who want a hassle-free, easy to install solution.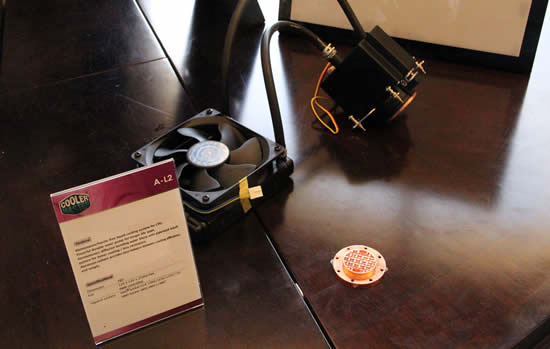 One unique feature of this cooler is the way that the water flows through the copper cooling block.
The copper block consists of many layers of copper which have been fused together under heat and pressure. By doing this and having lots of holes in each layer, CoolerMaster has significantly increased the surface area that the water can draw heat from, and so made this cooler much more effective than other solutions. CoolerMaster even went so far to call this their "secret weapon" for 2011 (they of course have a patent on this water block design). A powerful pump is used to pump the water around the loop, at around 450 Litres per minute.
The release date for the A-L2 is in Q1 2011, so hopefully we will have one in-house in the near future to see if their claims are true.
PC GAMER PRODUCTS
SIRIUS 5.1 HEADPHONES
The Sirius headphones are CoolerMaster's new 5.1 headphones.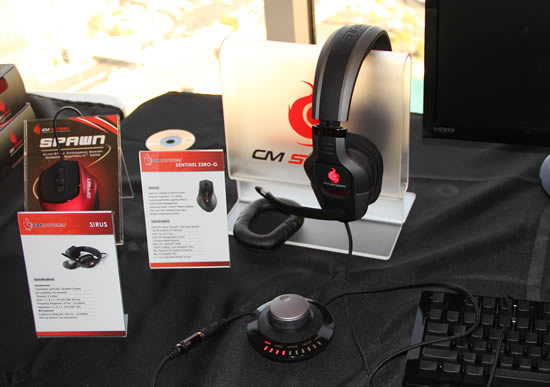 As with most PC surround sound headphones, these connect to the PC through USB. The headphones come with a controller that allows users to set the volume of each channel separately, so if a user wants to have a higher volume coming from behind, it is easy to change.
CM STORM SPAWN
The CM Storm Spawn is the latest gaming mouse from the CoolerMaster sub-brand CM Storm. It is a smaller gaming mouse, but still comes with 3-step 3500 dpi-support, 32 KB internal memory for macros and 7 programmable buttons. It is quite small but Cooler Master claims it works well in first person shooters for people who like to have their hand formed like a claw when playing. We'll see how comfortable it is in the long run.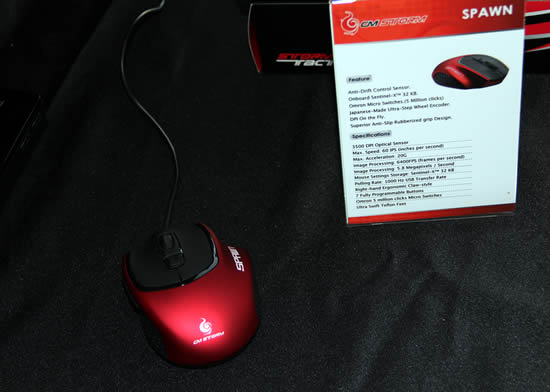 CM STORM ENFORCER
The latest case from CM Storm is the Enforcer. It is a mid-tower case with lots of nice features including support for 200mm- and 120mm fans, support for SSDs and USB 3.0.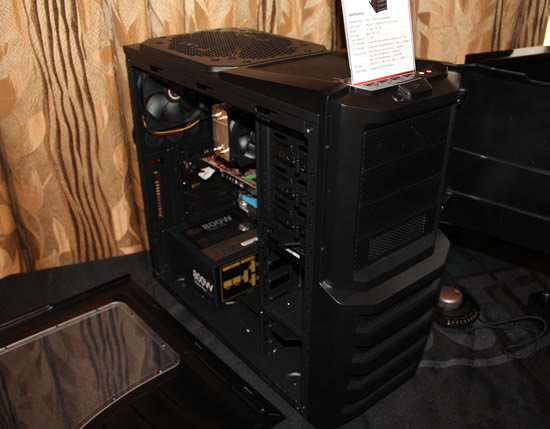 SF-19 USB3.0 HIGH END LAPTOP COOLER
High-end laptops like Alienware or ASUS gaming laptops need good cooling, especially during games. The new SF-19 cooler with USB 3.0 should be all that users need.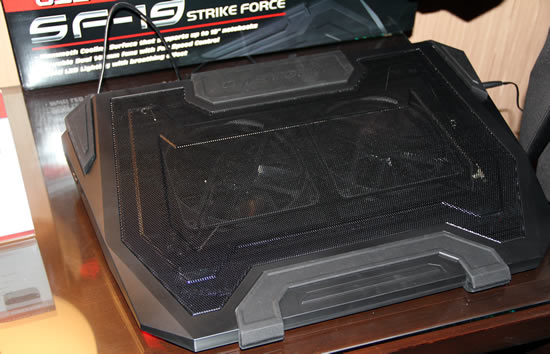 Two big fans keep the laptop cool, and the cooler has a built-in USB 3.0-hub.
 
OTHER PRODUCTS
In addition to the coolers and the PC gaming products, CoolerMaster has a range of other products on show. Here are a few of the more interesting one we saw.
MINI-ITX CASE
Cooler Master had a few new cases on site, including updates to three of their Elite-cases: Elite 371, Elite 343, and Elite 311. What got our attention though was the little new mini-ITX case hiding between two of the larger cases.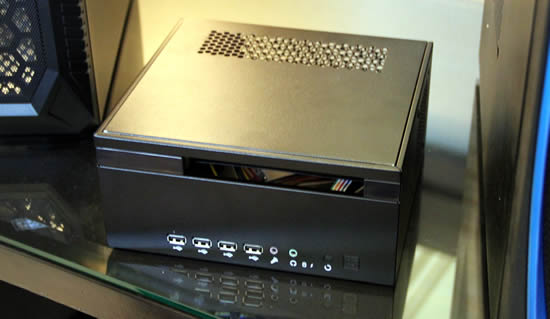 CoolerMaster has worked hard to create a chassis that is small, but roomy enough so that users do not have to compromise expansion cards or cooling to fit everything in. It supports two 80 mm slim fans, optical drive, 4 USB ports, an SSD/laptop HDD, and also a low-height expansion card as well as an external power supply.
PHONE CHARGERS
CoolerMaster have a range of phone chargers that run on either regular or rechargeable batteries.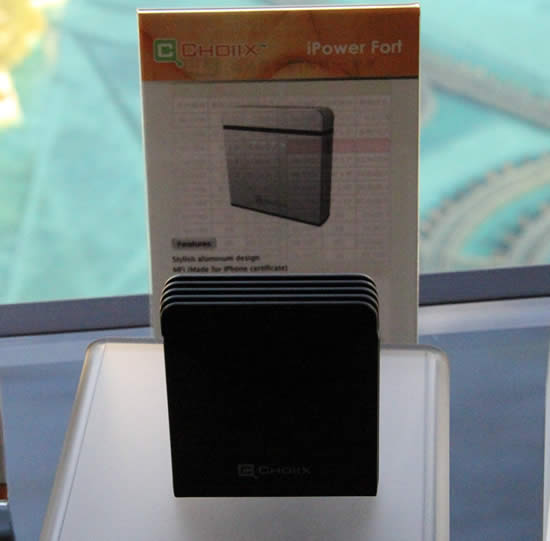 The iPower Fort is, as the name implies, made for the iDevice family (iPod/iPad/iPhone), and uses a rechargeable battery.
The Power Fort is essentially the same product as iPower Fort but meant for devices that can be charged through the USB standard (which can include the iDevices too). Users can either use AA or AAA batteries with this.