With the HD5670 AMD has brought DirectX11 to the mainstream sub-$100 cards. We have tested a reference card in some games to see what kind of performace you can expect at that price.
INTRODUCTION
When AMD released the HD5850 and the HD5870 end of September 2009 they had a clear plan on how they would bring DX11 to every possible price point. The HD5700 came out in October followed in November by the HD5970. These cards all fitted into various price points from $200 (HD5770) and upwards. Now just 3 ½ months after the first DX11-card AMD presents its first DX11 GPU meant for sub-$100 cards: the HD5670.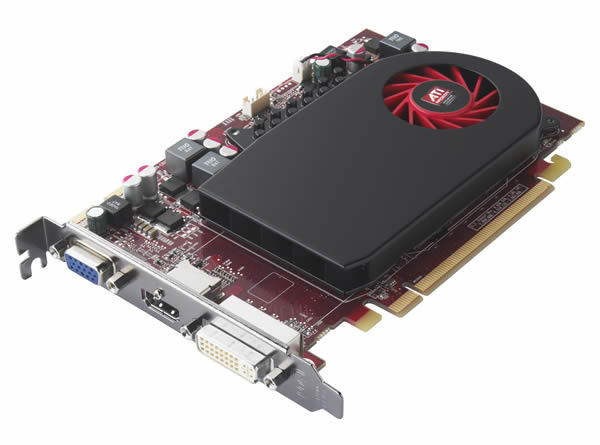 The HD5670 is aimed at the mainstream market (sub-$100 video cards) which according to Mercury Research is 66% of the units sold. Even though the income for each sold GPU is lower than for the other more expensive GPU's it of course is made up for the fact that the volume is so high.
So what characterizes a "mainstream user"? AMD uses Steam as an example. According to the Steam Hardware Survey: December 2009 the majority use cards that cost less than $100 and over 90% use a resolution below 1920×1200. It is quite obvious how important this segment is for the companies.
Let's move on and take a closer look at the specifications of the HD5670
HD5670 – THE SPECIFICATIONS AND FEATURES
| Feature/Specification | HD5670 | HD5770 |
| --- | --- | --- |
| Compute Power | 620GigaFLOPS | 1.36 TFLOPs |
| Stream Processors | 400 | 800 |
| Core Clock Speed | 775 MHz | 850 MHz |
| Typical/Idle Power | 61W/14W | 108W/18W |
| Memory | 4.0 Gbps | 4.8 Gbps |
The HD5670 has half of the amount of Stream Processors as the HD5770. The core clock speed is slightly lower at 750 MHz compared to the typical speed of 850 MHz of the HD5770. Last but not least it has half the compute power of the HD5770. While the idle power consumption is almost the same the TPD is almost halved to 61W compared to the 108W of the HD5770.
Even though this is a cut down GPU aimed for the mainstream users it does not mean that it has less features.
We will not go over all the features of the HD5xxx in detail again. We recommend that you go over and read our first article about the HD5870 which contains more info about all the features.
The main features of the HD5xxx of course include DirectX 11 support. DirectX 11 is available on Windows 7 and Vista (download). DirectX11 adds features like Tessellation, Shader Model 5, DirectCompute (GPGPU), Multi-threading and HDR Texture Compression. There is already a patch out for the game BattleForge and games like Dirt 2 and Alien vs. Predator will also make use (or in the case of Dirt 2 already does) of various DirectX features (mainly Tessellation).
AMD now also supports OpenCL for GPGPU on both the CPU and the GPU. AMD is taking active part in getting the Open Source physics-library Bullet ported to start use OpenCL.
Another new feature is Eyefinity. This allows the card to drive 3 monitors. AMD actually says that this card will drive up to 4 monitors later. In the case of the HD5670 I wouldn't see this as a feature for gaming but mainly for other use as it needs quite a lot of performance in the GPU when used for gaming. Less demanding games like World of Warcraft might still work decent though. 
The HD5670 also supports HDMI 1.3a and, just as the latest generations of AMD GPU's have done, offloads a lot of decoding-work of HD-video off the CPU. 
CLOSER LOOK
We only have a reference card which means that a card from a vendor might look a bit different.
As the power consumption is low the HD5670 does not need any extra power from a pci-express power connector. It is nice to see that even on this cheap card we will get a DVI, a HDMI and a DisplayPort connector.
 
PERFORMANCE
So how does this card perform? We know it won't be a card for hardcore gamers but what level of performance can a regular user expect from this card? Unfortunately we did not have time to couple it with a slower CPU so it had to make due with our Phenom II 955.
The system:
ASUS M4A78T-E
AMD Phenom II 955
2x 2 GB Corsair DDR3
Noctua NH-C12P cooler/fan
Corsair HX650W PSU
AMD HD670 and HIS HD5770
Kingston 64 GB V+ SSD
Seagate 500 GB HDD
Click for larger versions of the charts
Click for larger versions of the charts
The HD5670 clearly is outgunned by the HIS HD5770 which of course is expected as the HD5770 costs at least $70 more than the HD5670. More interesting is to see the level of performance we get. Remember that this is a card for people who game at lower resolutions. If we move down to 1280×720 the performance in some of the games, for example HAWX and Street Figher 4, is quite good and more than playable. Even Dirt 2, which we ran at a pretty high quality setting, runs decent at 1280×720, most likely fast enough for the casual/regular gamer that would be interested in this card.
 
CONCLUSION
As a hardcore gamer it might be hard to be excited with the HD5670 as it clearly does not offer the performance we want. As a card for a casual gamer that just wants to play relatively modern games and not are that fussed if they can run it at the highest possible resolution or settings though it is a perfect card as it still gives them the latest features including DX11 support, Eyefinity, low power usage and great media playback, and all that for a price below $100! As it doesn't need any extra power we also expect fanless versions of it coming out which would fit perfect in a htpc. 
If you are a bit more serious about gaming though we still think that it is better to spend a bit more on a HD5750- or a HD5770-based card as the performance they give will make it possible to play most new games without having to compromise when it comes to quality settings.