When you need a power, but not a whole lot money is much better invested in other parts of your PC, but you still don't want to cheap out on a PSU. Instead get a smaller PSU from a great manufacturer like Ultra.
Introduction
For many of you 500 watts is plenty enough. Instead of investing more money for a higher wattage PSU, you can spend less, and still get the power you need, but spend more money in other places. In the current economic times this can be the difference between a low end graphics card and a mid range one. Thus your gaming experience will be much more enjoyable. If you fall into this category then you can finally breath easy, for Ultra has your back.
Not only is Ultra a reliable manufacturer of PSU, but they also back their PSU's with an amazing lifetime warranty. When a company backs their product with a lifetime warranty you really know they not only care about the consumer, but their product as well.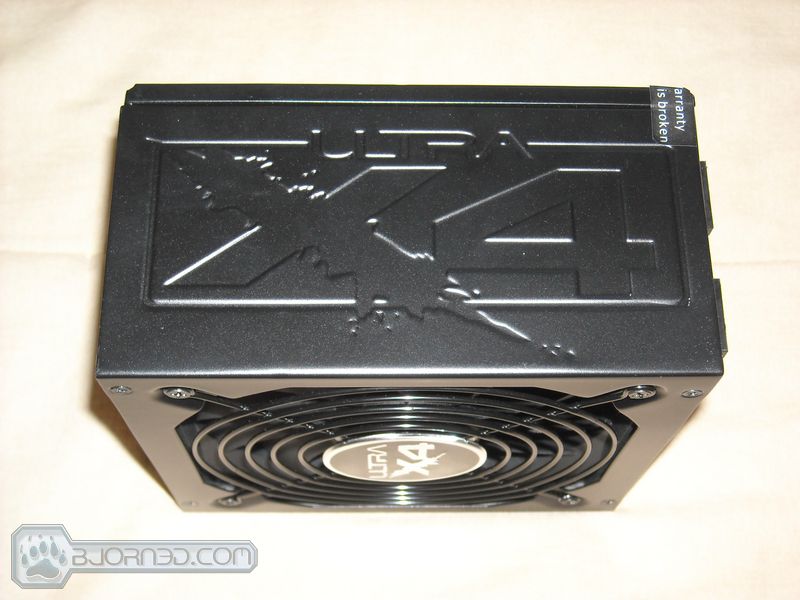 Features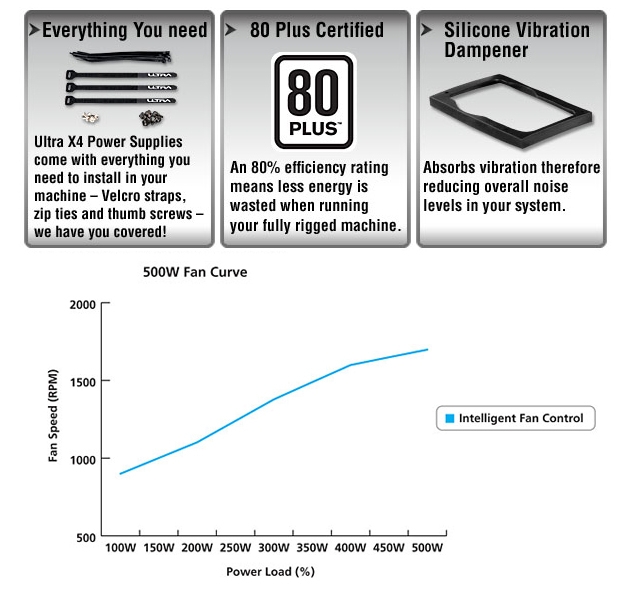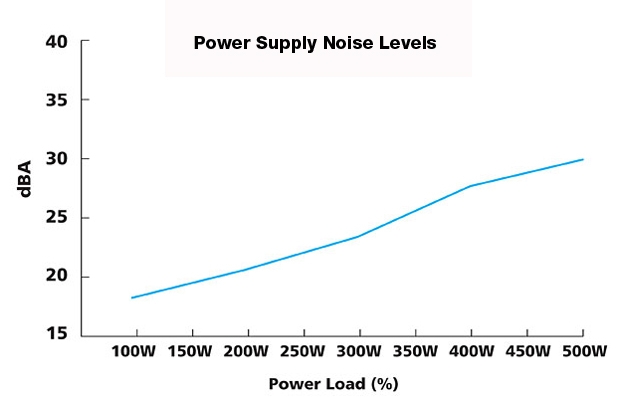 As you can see from the graphs this PSU, like many others, features a fan control system. This is to ensure that your PSU stays at the quietest level possible while still keeping the unit cool. This PSU also comes with velcrow straps, which are nice if you are constantly changeing things around in your case.
Specifications
AC Input
115-230V or 60/50Hz
DC Output
+5V
+3.3V
+12V1
+12V2
+12V3
-12V
+5VSB
500W
Max Combined Watts

24A

24A
32A
–
–
0.5A
2A
500W
All of the amps are on a single 12V rail, which is a plus to most people. With a lower wattage such as this its pretty much a given.

The connnectors are pretty standard for a PSU of this size. The 8 pin motherboard connector instead of just a 4 pin is a nice bonus. There should be plenty enough connections for any user. The 8 pin PCIE connector will allow you to use any single GPU on the market today, but you should watch the rest of the system if this is your plan, as 500 watts is a bit low for a top of the line GPU.
Pictures & Impressions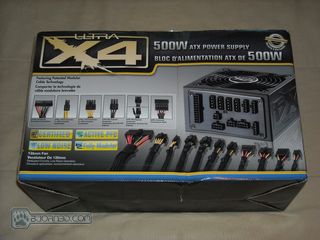 The box arrived pretty beat up. I swear I can see the shoe print from the UPS guy… Lets take a look inside and see if the PSU survived the abuse.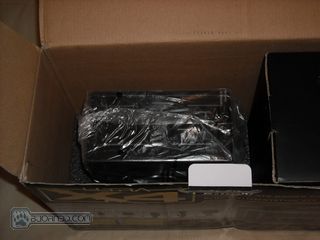 Looks to be in one piece. Good thing Ultra put two foam pieces on either end of the PSU. They also wrapped it in plastic to make sure that any thing that happened to get loose in the box didn't wreak havoc on the PSU's paint job.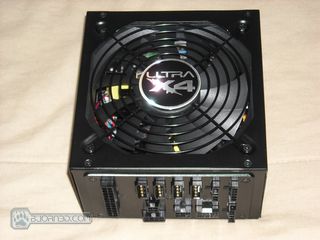 Despite being thrown around, the PSU looks just as shiny as it did when it first came off the assembly line. This version looks identical to the other X4 PSU's of differing wattage. Its nice to see Ultra take the same care in their 500 watt model as their high end 1050 watt model. Did we mention the black finish makes this PSU one of the prettier ones we have seen?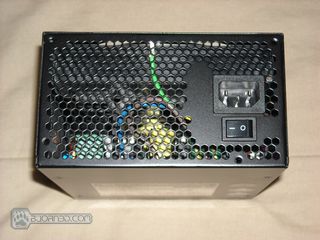 If we take a look at the rear of the PSU we see that Ultra once again did a great job selecting the best parts. You can generally tell the quality of a on/off switch by looking at its size and feel. Though this isn't the largest one I have seen, its certainly quite large for a 500 watt PSU. The switch also feels of higher quality producing a sweet *click* sound when pushed to either side.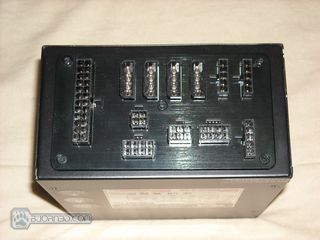 Now to take a better look at where you will spend the most time, the power connection panel. This is where you will plug in all of your modular cables. To the left is the main 24 pin connector. There is one fatal flaw with this connector that I discovered upon install in a system with only a 20 pin connector, it is not detachable. Thus it interfered with one of the IDE connections. This was quickly resolved with a quick clipping, but users beware of this if you have a 20 pin power connector on your motherboard. To the bottom left are the 4 and 8 pin motherboard connectors. The other slots are pretty self explanatory.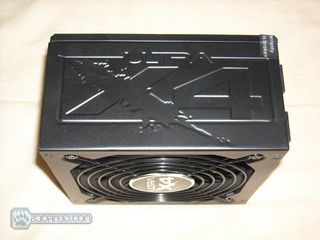 Just like the higher wattage models, this one has the X4 logo on the side. I feel that this is a nice addition, and makes the PSU look pretty sweet. When you install this PSU into a case that has a bottom mount for the PSU make sure you orientate it correctly so you can see the X4 logo facing right side up.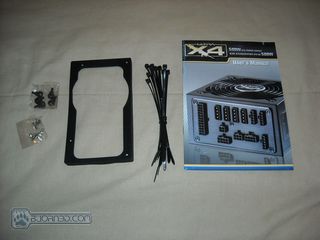 Time for you to see all of the included accessories. As mentioned before, but not pictured are the velcrow cable ties. Pictured here from left to right are, thumb screws, regular screws, vibration dampener, zip ties, and a manual. Ultra has been kind enough to include 5 thumb screws and 5 regular screws so you will have an extra in case you loose one. The manual will be useful to those who are new to computer building, and not quite sure on how to install the unit.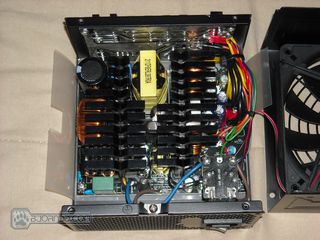 Finally its time to get a look at the PSU's "guts". Ultra went with a large heatsink on this PSU to ensure that it stays cool. All of the other components look to be of great quality, and we didn't find any stray wires which is always good! Now lets see how it performs.
Methodology
The OS we use is Windows 7 Ultimate with all patches and updates applied. We also use the latest drivers available for the motherboard and any devices attached to the computer. We don't disable a bunch of background tasks or particularly tweak the OS or system for bigger numbers. We do turn off drive indexing and daily defragging. We also turn off Prefetch and Superfetch. This is not an attempt to produce bigger benchmark numbers. Drive indexing and defragging can interfere with testing in that one test might occur without defragging going on and the next test defragging might be active, the same thing goes for drive indexing. We can't control when defragging and indexing occur precisely enough to guarantee that they won't interfere with testing, so we turn them off.
Prefetch tries to predict what you will load the next time you boot the machine. We disable it because we want to know how the program runs without any of the files being cached, otherwise each test run we'd have to clear pre-fetch to get accurate numbers. Lastly we disable Superfetch, Superfetch loads often used programs into memory and is one of the reasons people consider Vista to be such a memory hog. Vista fills the memory in an attempt to predict what you will load. Having one test run with files cached, and another test run with the files being un-cached would result in skewed numbers. Again since we can't control it we turn it off. Other than those 4 things which can potentially interfere with benchmarking, and do so out of our control, we leave everything else running.
Test Rig
Test Rig
"G 182"

Case Type
Cooler Master HAF932
CPU
Core i7 920 @ 2.66
Motherboard

Asus P6X58D

RAM
(6×2 GB) DDR3 1600 CAS 9
CPU Cooler
Liquid
Hard Drives
Corsair P64
Optical
LiteOn DVD R/W
GPU(s)
Sapphire 5970 Redline
Testing PSU
Corsair HX1000W
Mouse
Logitech MX-518
Keyboard
Dell "Teh Pwn" Loudie

Heatset



ABS AZ1
Speakers
Creative 5300
For the tests I used 3DMark Vantage to achieve a game like experience, which should lead to the maximum load possible. For the idle tests I manually turned the PSU on with nothing attached to it. A Kill-A-Watt watt meter was used to measure the wattage being drawn by the computer from the wall socket. A Craftsman digital multimeter was used to measure the voltages on the connector to ensure that the most accurate result were obtained. To get the idle Power Factor Correction, I had to run the PSU with the minimal components, since it will not give this with nothing plugged into the PSU.
The current ATX 2.2 specifications allow for the following variation in voltage outputs:
3.3 Volt Rail:   3.135 – 3.465V
5 Volt Rail:      4.75V – 5.25V
12 Volt Rail:   11.4V – 12.6V
RESULTS
Corsair HX850


Thermaltake Evo 750




Ultra X4 500



OutPut Power
Idle
Load
OutPut Power
Idle
Load
OutPut Power
Idle
Load
12 volt
12.18
12.21
12 volt
12.19
12.17
12 volt
12.19
12.16
5 volt
5.1
5.1
5 volt
5.14
5.15
5 volt
5.14
5.16
3.33 volt
3.34
3.324
3.33 volt
3.412
3.14
3.33 volt
3.41
3.38
PFC
0.99
0.99
PFC
0.98
0.99
PFC
0.95
0.97
The Ultra had no issue matching up with the Corsair. Corsair is easily considered one of the best PSU brands, so this is quite an honor. Overall the Ultra X4 was well within ATX 2.2 standards, and should prove to be a viable PSU into the future.
Conclusion
The Ultra X4 500 watt PSU may be a small PSU, but it packs a punch. This is very much welcomed after the success of the X3 series. The X4 series have proven to be reliable PSU's that have drastically improved efficiency. Combine that with their lifetime warranty, and you have an excellent combination of power and price. As always you should never cheap out on a PSU, because yes they can quite literally blow up, sending all of your components to an early grave.
The X4 also is pretty decent in the looks department. While it may not have flashy LED fans, or a see through grill, its simplicity is what makes it look so sharp. The X4 logo on the side is the perfect addition to the nice black finish on the PSU. The cable plug in panel has a nice smooth finish that glistens, and makes that area truly stand out.
The modular design is definitely a nice addition. Many of the smaller PSU's neglect this feature due to the fact that many users looking for a PSU this size aren't really expecting a modular design, but the benefits of a modular design are clear. The modular system can free up a lot of space in your case, and improve the airflow. This can even lead to lower temperatures.
OUR VERDICT:  Ultra X4 500 watt PSU

| | |
| --- | --- |
| Performance | 9 |
| Value | 8 |
| Quality | 8 |
| Features | 8 |
| Innovation | 7 |

We are using an addition to our scoring system to provide additional feedback beyond a flat score. Please note that the final score isn't an aggregate average of the rating system.

Pro
Cons

Modular

X4 Logo

500 watts

None
Summary: The Ultra X4 500 watt PSU is another great addition to the X4 PSU line, which provides plenty of power, and builds on the excellent X3 line of PSU's.