Crucial has always been the memory manufacturer that adds that extra bit of flair to our gaming rigs. And they did not forget about the new Core i5/i7 1156 socket CPUs.
Introduction
Since Intel started to put the memory controller on die of the CPU (IMC, Integrated Memory Controller), I have seen a lot of the same frequency of memory perform almost identical to each another. Especially if that memory is in the 1066-1600MHz range. So the only thing left for memory manufacturers to do to set one apart from the other, is adding different types of heatspreaders, lowering the required volts of the memory itself, which adds that extra little bit of visual stimuli.
Crucial Memory, has always been the one memory manufacturer that not only produces fast, reliable memory, Crucial Memory offers users the ability to add that extra little touch to our builds for that perfect theme. The memory type we are referring to is th Ballistx Tracer memory. Crucial has also out done themselves by offering 4 different colors of Ballistx Tracer memory.
We can use a Blue LED Tracer, Green LED Tracer, Red LED Tracer, or even a multi-colored Tracer memory. Today at Bjorn3D, we are going to look at a set of Blue Ballistx Tracer memory. This memory should definetly add the extra eye candy to a build while also providing my smallest computer "Minor Me" the performance from the memory it requires to keep this little computer of mine in top shape.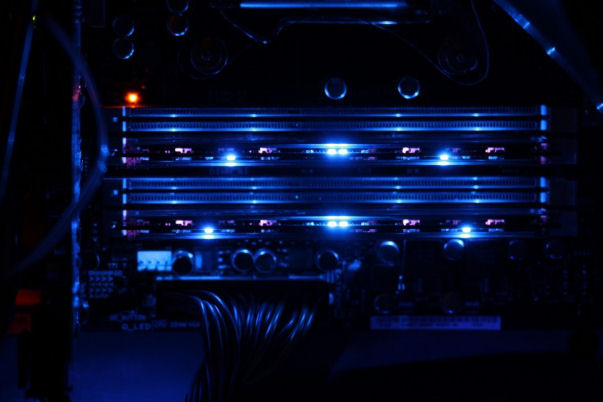 Specifications
Module Size: 4GB kit (2GBx2)
Package: Ballistix Tracer 240-pin DIMM (with LEDs)
Feature: DDR3 PC3-12800
Specs: DDR3 PC3-12800 • 8-8-8-24 • Unbuffered • NON-ECC • DDR3-1600 • 1.65V • 256Meg x 64
Packaging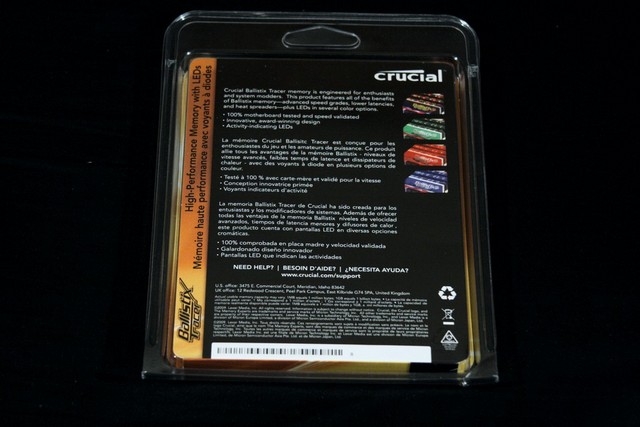 Crucial packages the Ballistx in a standard blister type packaging. We get to see that this memory has both a blue heatspreader, and a blue PCB. There is no mention of the timings and or the frequency of this memory on the packaging itself, we will have to look on the heatspreader itself for the rated timings and frequencies.
On the backside of the packaging, Crucial gives a look at all of the Ballistx Tracer memory for the 1156 socket type CPU's. Crucial has a Green, Blue (this review), Red, and final a multi-colored set.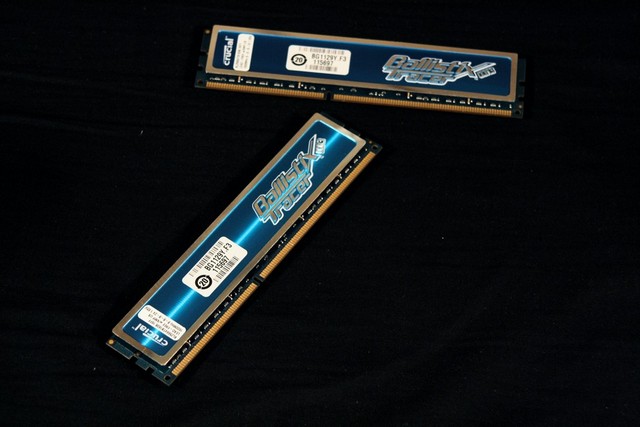 This review is based on the Blue Tracer memory. A quick look at the memory modules themselves, we see that Crucial not only uses blue LEDs, Crucial uses a blue PCB, and a blue heatspreader on the memory.
There are LEDs along the entire bottom and top edge of the memory. The bottom LEDs stay lit while the top LEDs alternate from one another.
Installation
Here is what the Crucial Ballistx Tracer memory looks like while powered on and installed onto an ASUS Maximus III GENE motherboard. These LEDs are fairly bright, so bright in fact that after looking at them for over a couple of minutes I had a blue after image.
Testing Methodology
"Minor Me"

CPU
Intel Core i5 750 (lapped)
Motherboard
GIGABYTE P55-UD4
Case
SIlverStone Raven RV-02
Memory
GSkill RipJaw, Corsair Dominators, GSkill PI Blue
Video Card's
EVGA 275GTX
Hard Drives
Patriot SSD 128GB
CDRom Drive
Lite On Blu-Ray
Power Supply
Seasonic 850W
CPU Speeds Used
2.66GHz, 4.2GHz
Operating System Used
Microsoft Windows 7 Retail
Video Card Cooler

Stock cooled
CPU Cooler

Modified Danger Den MC-TDX custom water cooled
For testing purposes, I ran each program three times to ensure my results were consistent with one another. I will also be setting the BCLK to 200 and setting the memory divider accordingly to each of the memory types used as a comparison. The CPU multiplier will be set at 13, giving me 2.6GHz on the CPU.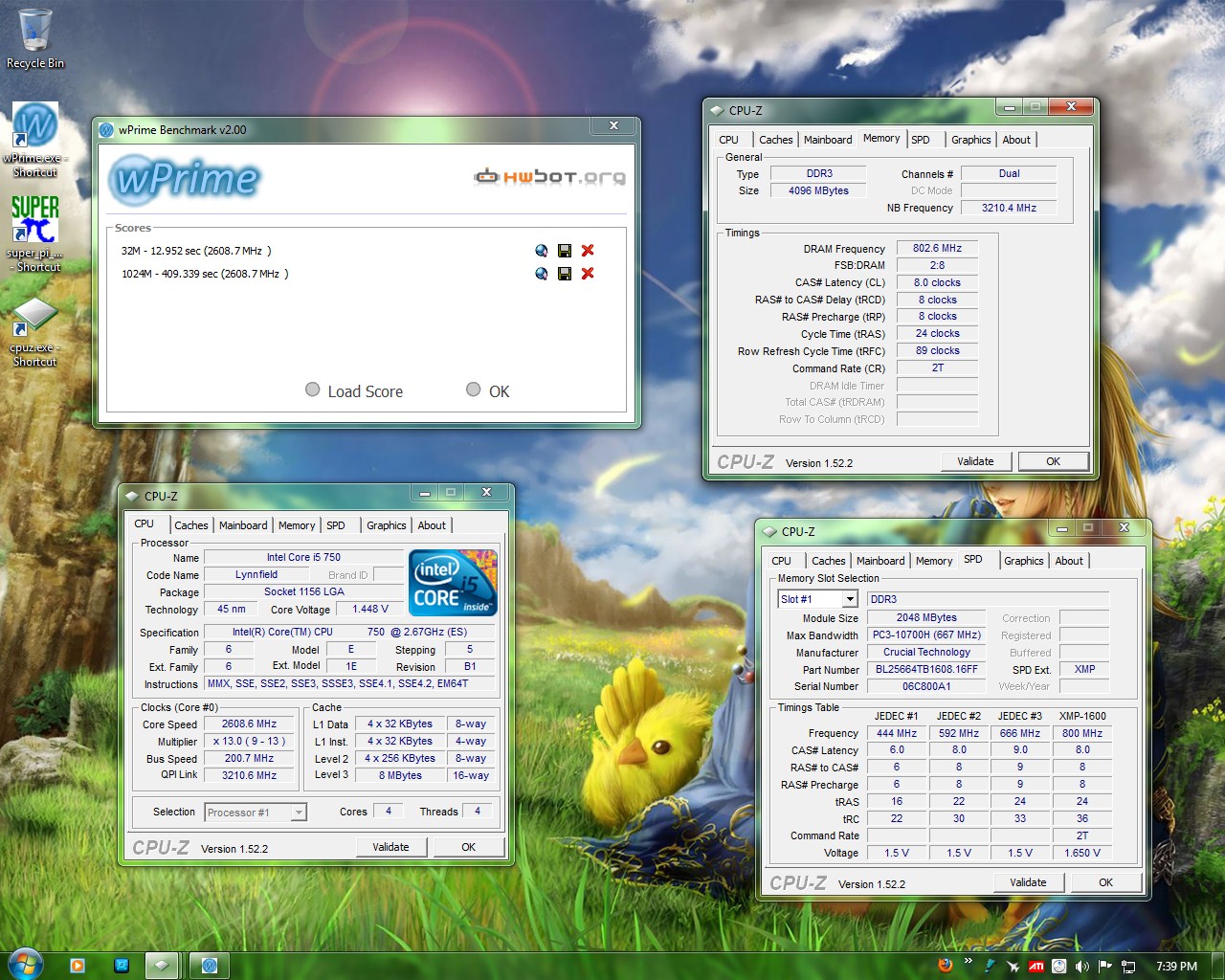 Since overclocking and performance from overclocking varies from computer to computer, I will only be overclocking the Crucial Ballistx Tracer memory. I will only be comparing an absolute base CPU speed of 2.6GHz and each memory's base frequency. Corsiar Dominator, GSkill ECO, Crucial Ballistx Tracer base frequency is 1600MHz, 200 BCLK with a 8 Memory divider was used. GSkill Rip Jaw memory is 2000MHz. The BCLK was left at 200 and the memory divider was increased from 8 to 10.
Overclocking
Overclocking the Crucial Ballistx Tracer memory was a tad bit interesting. While using the XMP profile of the memory, the BCLK of the ASUS Maximus III GENE motherboard was set to 160, 10 Memory divider and a CPU multiplier of 16. Normally I don't use a BCLK below 200, but I wanted to see how far this memory would go. I set the BCLK to 170, and set the CPU multiplier to 21 and left the memory divider at 10 which gave me a 3570MHz on the CPU, and 1700MHz on the memory. I was greeted with a no post (failed Overclock). I adjusted the memory timings from 8-8-8-24 to 9-9-9-24, and I was still met with a no post. After fiddling around with different combination's of CPU multipliers, memory dividers, memory timings, BCLKs, QPI voltages, CPU PLL voltages and just about every setting you could possibly imagine in the BIOS, I kept getting a failed overclock on the motherboard. I even tried 3 other motherboards which resulted the same on them as well.
The memory works, theres no issue there, and the motherboards work with the memory perfectly. So I decided to go for broke on the ASUS Maximus III GENE and set the BCLK to 215, CPU multiplier to 20, memory divder to 8, and set the memory timings to 8-8-8-20 1T (from 8-8-8-24 2T). This time I was able to load into windows and run some tests. I prefer a higher BCLK over low BCLK overclocking. Unfortunately, as expected, the P55 based motherboards don't particularly like that high of a BCLK. I had to settle for a 210 BCLK. The instability was not caused from the memory or the CPU, I verified this by dropping the CPU multiplier to 9 and set the memory divider to 6 to make sure. The motherboard would only be stable for a short time then crash horrifically.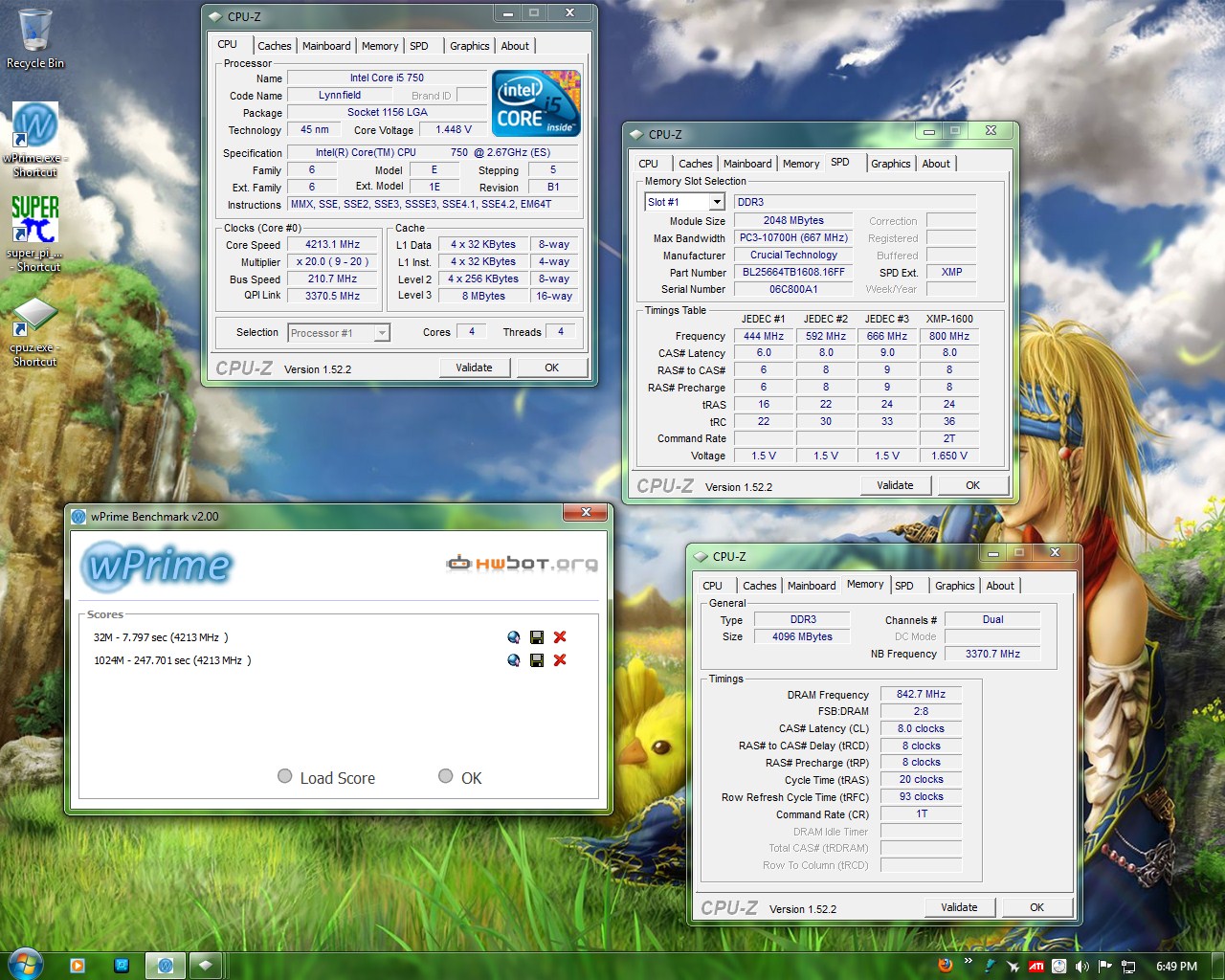 Overclocked settings used during testing.
SiSoft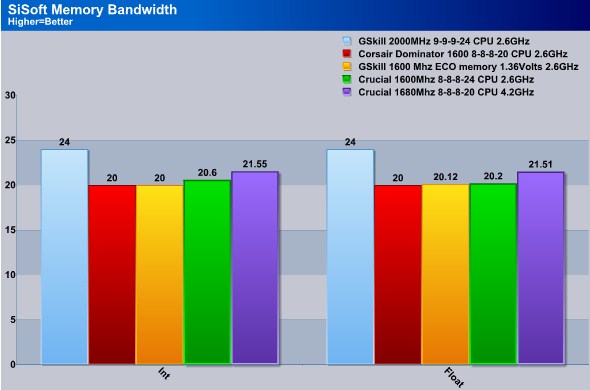 SiSoft has always been a great application to start off with when it comes to any form of overclocking. SiSoft helps me gauge how well the computer is reacting to the overclocks. Starting off on the memory bandwidth testing, the Ballistx Tracer does have a slightly higher memory bandwidth on the Int portion of SiSoft's bandwidth testing. But on the Floating portion of the memory bandwidth, the Tracer memory performs identical to the other comparable 1600MHz memory.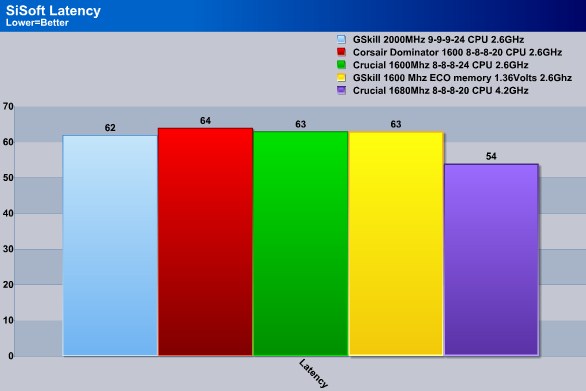 The latency testing in SiSoft shows that all the 1600MHz memory perform nearly identical to one another. This test likes to have a high CPU core speed, along with tight memory timings. As verified with the GSkill 2000MHz Rip Jaws with the 9-9-9-24 timings is only a single digit faster then the comparable 1600MHz memory.
Everest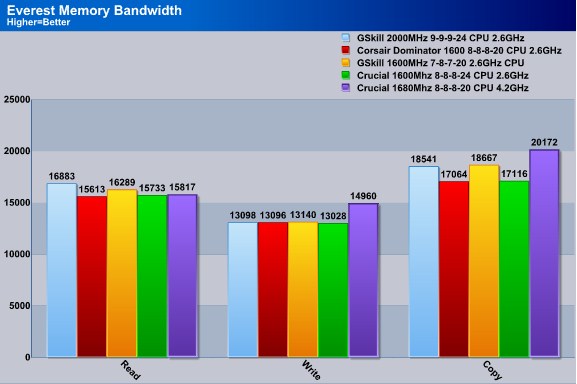 The Crucial Ballistx Tracer falls right in line with the Corsair Dominators when it comes to performance when testing with Everest. The GSkill ECO 1600 MHz is still prefered with Everest Memory bandwidth testing because of the tighter timings used with the memory.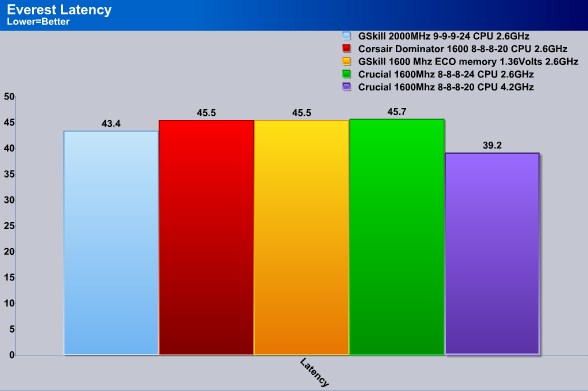 Latnecy Testing of Everest likes to have higher memory frequency vs having lower frequency with tighter timings. All of the 1600MHz memory tested performed indentical with one another and the GSkill 2000MHz rip Jaws had the best latency.
wprime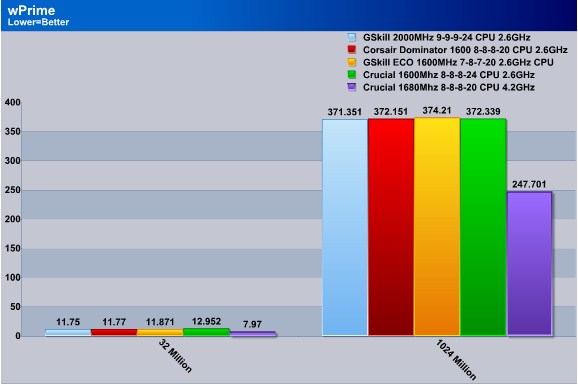 WPrime however, still prefers to have a high CPU core speed. What shocked me was the 32 Million testing with wPrme the Crucial Ballistx Tracer memory performed the worst being separated by a complete one second slower then both of the Corsair Dominators, and the GSkill ECO memory.
 Super Pi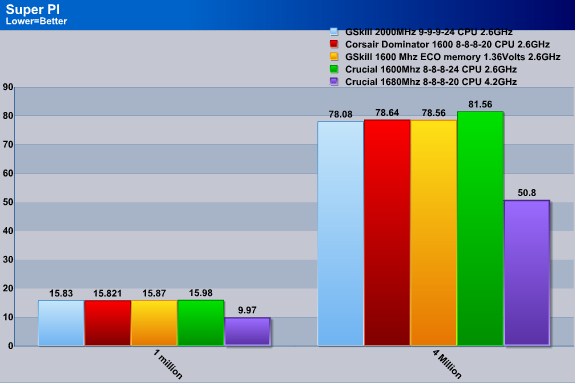 During the million calculation testing all of the memory perform identical to one another. It was not until the 4 million calculations where we see the Ballistx Tracers are 3 seconds slower then its competitors. This got me wondering why that is.
POv ray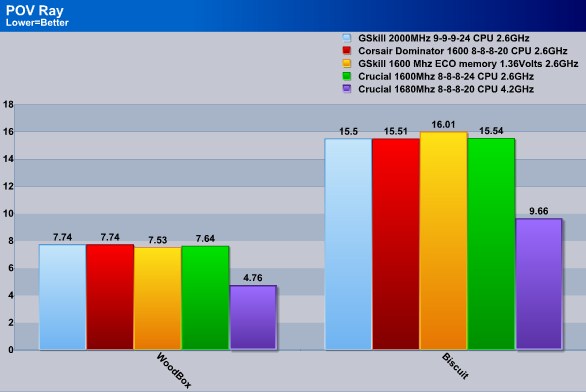 POV Ray testing re-confirms the Crucial memory is performing on par with other comparible memory types.
COnclusions
As we all knew most memory will perform on par with one another when it comes to the Core i5/i7 1156 CPUs. Mainly because of Intels IMC that is built directly into the CPU itself. What really separates one manufacturer from the next these days, is overclocking capabilities, and or special attributes of each memory type. The Crucial Ballistx Tracer memory performs almost identical to its direct counter parts of the same frequency rating. What seperates the Crucial's Balistx Tracer memory apart from the other manufacturers, is that these memory sticks have LEDs on them to add that extra little bit of flair to our internal chassis.
The overclocking portion of this memory was a rather strange endevour in itself. Mainly because when I used the default memory divider of 10, I could not budge the memory passed its rated speed of 1600MHz. But if I dropped the memory divider to 8 I was able to easily max out the ASUS Maximus III GENE motherboard's BCLK. Again, I prefer to use a high BCLK with a low memory divider vs using a lower BCLK with a high memory divider, as this better optimizes the motherboard and components.
Looking at Newegg.com, I see this particular memory set goes on or around the 120 USD mark for the Blue LED type of memory. To have a set of memory add that extra bit of flair to your rig and have your rig become a show stopper at any lan party is a fair enough price to pay.
OUR VERDICT: Crucial Ballistx Tracer

| | |
| --- | --- |
| Performance | 9 |
| Value | 9 |
| Quality | 9 |
| Features | 9 |
| Innovation | 10 |

We are using a new addition to our scoring system to provide additional feedback beyond a flat score. Please note that the final score isn't an aggregate average of the new rating system.

Pro
Cons

LEDs will add that much needed flair inside of our computer chassis

Overclocks quite well

Crucial uses the same colored PCB heatspreader as well as LEDs

Comes in four different colors to suit our needs

Other then the rating sticker, Nothing

 
Summary: Crcuial Ballistx Tracer memory will add that show stopper look to any drab every day boring chassis.