AMD today unveiled the next generation APUs for notebooks: Trinity. With more performance, Eyefinity-support and more improvements it looks like the perfect companion for those new Ultrathin laptops.
Introduction
While Intel is currently dominating the high-end processors AMD has been successful on another front with their low power APUs; processors with graphics built-in. The APUs have been especially popular on notebooks as they offer a lot of performance per watt and even come with decent graphics capabilities built in.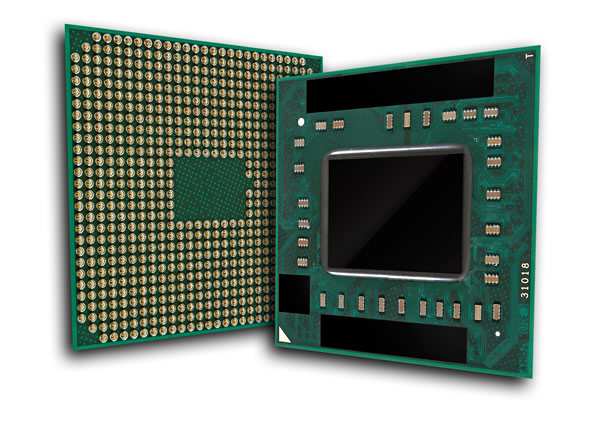 Today AMD is presenting the next generation APUs: Trinity, also called 2012 A-series APUs. The goal with this generation of APU's is to offer more performance, better media capabilities, better game performance and all that while still offer long battery life.
Feature overview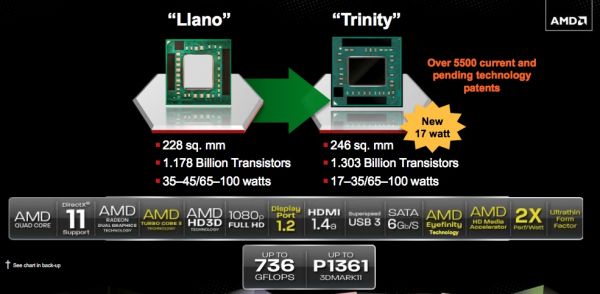 If we compare Trinity with Llano we notice that the chip is slightly larger and has a few more transistors.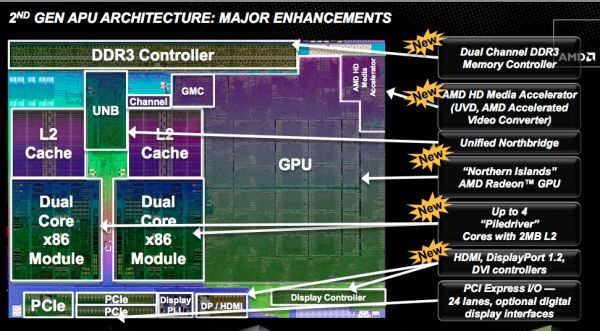 The 2012 A-Series mobile APUs will be available in various configurations from dual core up to quad core with a 17", 25" and 35 W TDP design. The 17W APU will be half as power hungry as the best Llano APU, making it ideal for the new small thin Ultrathin notebooks that AMD want to sell. The "Piledriver"-cores are derived from the Bulldozer architecture.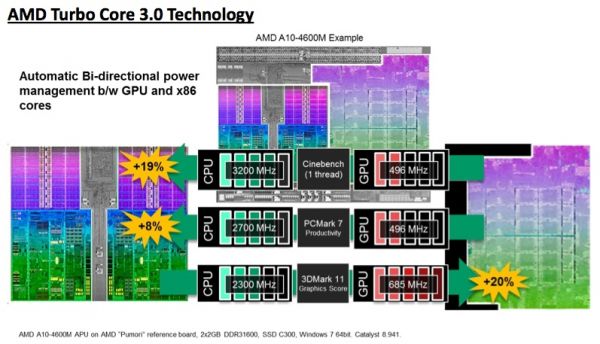 3rd generation AMD Turbo Core technology makes sure that the power is automatically shifted between the CPU and GPU depending on application needs.
The APU now supports DDR3-1600 as well as low power 1.25V DIMMS. The ISA instruction sets have added support for the FMA3 and F16C instruction sets in addition to AVX, AVX 1.1, and AES.
Inside the APU we find a "Northern Island" HD74/5/600-based GPU (codename Thames), which comes with enhanced DX11-support and other improvements like an improved tessellation unit. The GPU-core can be combined with an discrete card giving us Crossfire-support in a notebook.
One cool new feature is the fact that the APU now supports DVI, HDMI and DisplayPort 1.2 and that together in Eyefinity meaning that a notebook now could support up to 4 screens.
Media support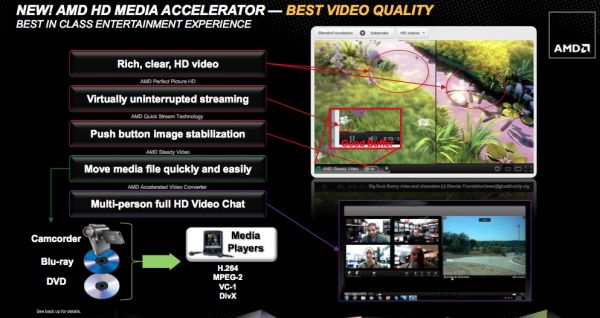 The 2012 A-Series mobile APUs now comes with something called AMD HD Media Accelerator. The AMD HD Media Accelerator will take advantage of new hardware assisted video conversion using the new AMD Accelerated Video Converter. The new AMD Accelerated Video Converter block supports multi- stream H.264 HD encoding, video quality optimizations and numerous interfacing features to support video conferencing and wireless display capabilities.
One slightly weird feature is that there will be plugins available for all major browsers that incorporates AMDs Steady Video feature that stabilizes shaky video. We are not sure we really want our Youtube-video to be stabilized instead of being shown as intended but it will be there if you need it.
Windows 8 and other programs
The 2012 A-Series mobile APUs will have full hardware acceleration for Windows 8 Metro UI and Metro style apps. AMD also provided a list of other applications like the new Winzip that are accelerated by the APUs. The list has grown a lot compared to when the Llano APUs where released and it is nice to see
Ultrabook Ultrathin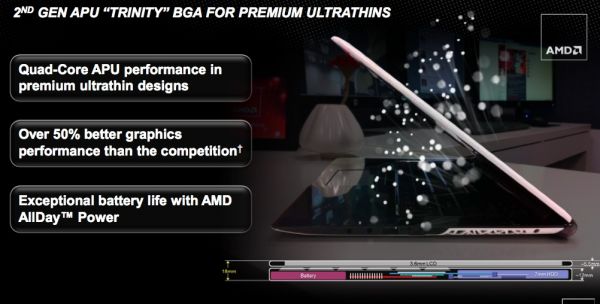 While we will see the new 2012 A-Series Mobile APUs in both sleek desktop all-in-one systems and "normal" laptop/notebooks it is the Ultrathin laptops that excite us the most. Of course AMD cannot use the Ultrabook moniker and thus have come up with the name "Ultrathins" but in essence we are talking about the same type of thin, small but still capable notebooks that are the rage right now. We cannot wait to get our hands on one of these to see how they compare to Intels offferings.
The line-up
In addition to the A4-A10 all of which will end up in notebooks, sleek desktops and Ultrathins AMD also will release FX-CPU's and also low-end Brazos 2.0 E-series APU's later this spring.
Lightning Bolt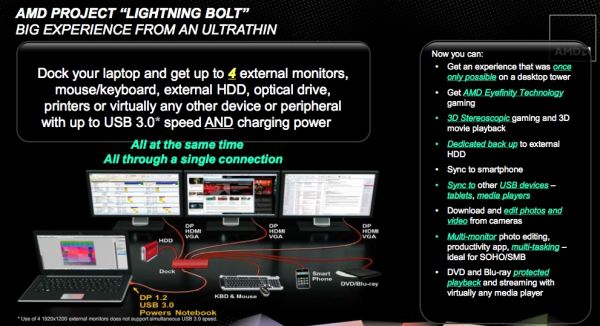 AMD briefly showed a slide for their "Project Lightning Bolt" which of course is their own low-cost version of Intel/Apple's Thunderbolt. Using a DP 1.2-port together with a dock AMD sees the user being able to hook up up to 4 external monitors at one time together with mice, keyboards and other peripheral devices. It certainly sounds cool and we cannot wait to see this become real but unfortunately it looks like it won't be available until later this year.
Summary
Unfortunately we have not been able to get our hands on a real 2012 A-Series APU-driven notebook yet but from the specifications it sounds like AMD at least in this segment have chips that can compete with Intel.
We especially look forward to the Ultrathin notebooks as well as bigger laptops with Eyefinity support.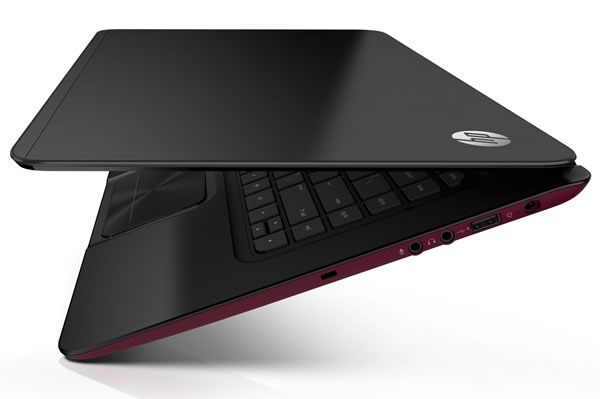 This should not be a soft launch and AMD expects that the first notebook with the new Trinity-APUs will be out at the time of writing. It looks like Toshiba should be first now in May followed by HP in June. Ultrathin notebooks from Samsung and HP should be out in mid-June also. And yes, we really want that HP Sleekbook too.