The CoolerMaster TPC 812 CPU cooler has what they call a Vertical Vapor Chamber. Will this new tech keep overclocked CPU's cooler? Let's find out.
Introduction
It still amazes us that today, when so many people are surrounded by and dependent on electronic devices, many are still not aware that heat is the most destructive element where these devices are concerned. PC enthusiasts tend to learn this very quickly and start looking for ways to keep their equipment cooler. The heart of the system being the CPU we tend to boost its cooling first. There are several options available when doing this. Increasing airflow in the case helps by keeping cooler air available, but this is not enough for some users, especially if they overclock the CPU. So then we look at CPU specific cooling options which include LCS, and larger or better aftermarket HSF assemblies
CoolerMaster has built its reputation on providing cooling solutions. From cases providing superior airflow, to fans and heatsinks designed to offer extra heat reduction. Today we're looking at their TPC 812 with its new 'Vertical Vapor Chamber' technology.
The TPC 812 is available from a variety of retailers with prices ranging from $63 to $104 USD.
Features and Specifications
Features
The TPC 812 uses 2 separate cooling technologies to transfer heat – heat pipes and vertical vapor chambers.
Ready for overclocking, benchmarking and silent cooling.
The first-ever CPU heatsink to use vertical vapor chamber technology.
100% pure polished copper base – combined with improved soldering technologies for the best thermal transfer.
Special fin design – heatsink receives concentrated cold airflow.
Improved air pressure design and fan mounting system.
The Vertical Vapor Chamber seems like a good idea. We'll have to wait for the testing process to see if it makes a real difference. As for the polished copper base, we have to wonder what they are referring to because if the unit we received has a copper base it is plated with some other metal. (image on next page)
Specifications
CPU Socket
Intel Socket:
LGA 2011 / 1366 / 1156 / 1155 / 775 *

AMD Socket:
FM1 / AM3+ / AM3 / AM2+ / AM2

CPU Support
Intel:
Core™ i7 Extreme / Core™ i7 / Core™ i5 / Core™ i3 / Core™2 Extreme / Core™2 Quad / Core™2 Duo / Pentium / Celeron

AMD:
FX-Series / A-Series / Phenom™ II X4 / Phenom™ II X3 / Phenom™ II X2 / Phenom™ X4 / Phenom™ X3 / Athlon™ II X4 / Athlon™ II X3 / Athlon™ II X2 / Athlon™ X2 / Athlon™ / Sempron™

Dimension
138 x 103 x 163mm (5.4 x 4.1 x 6.4 in)
Heat Sink Dimensions
134 x 74 x 158 mm (5.3 x 2.9 x 6.2 in)
Heat Sink Material
Copper Base / 2 Vapor Chambers
6 Heatpipes / Aluminum Fins
Heat Sink Weight
826g (1.83 lb)
Heat Pipes Dimensions
ø6mm
Fan Dimension
120 x 120 x 25mm (4.7 x 4.7 x 1 in)
Fan Speed
600 – 2,400 RPM (PWM) ± 10%
(1,600 RPM with Silent Mode Adapter)
Fan Airflow
19.17 – 86.15 CFM ± 10%
(59.54 CFM @ 1600RPM)
Fan Air Pressure
0.31 – 4.16 mm H2O ± 10%
(1.99mm H2O @ 1600RPM)
Fan Life Expectancy
40,000 hrs
Fan Noise Level (dB-A)
19 – 40 dBA
Bearing Type
Long Life Sleeve Bearing
Connector
4-Pin
Fan Rated Voltage
12 VDC
Fan Rated Current
0.2A
Power Consumption
2.4W
Fan Weight
152g (0.34 lb)
Note
* Supplied accessories may differ by country or area. Please check with your local distributor for further details.
A Closer Look
The packaging for the TPC 812 uses the same CoolerMaster purple and black we find on their other products. The face of the box has a picture of the HSF, its name and on a silver reflective background tells us what it is, just incase we haven't figured that out yet. The top has only the logo and product name printed on it. The left side displays the spec sheet. On the back we find the features listed in 8 languages. Flipping the box over to the bottom we find 13 separate languages telling us it's a CPU cooler and to go to the website for more info.
Opening the product we find the user manual under which is a protective insert made from layers of foam, and a box which contains the hardware needed to install this unit. Pulling the foam out we we find the HSF neatly tucked into it. The cooler itself is a fairly large, impressive looking item. The fan is held in place by a plastic frame which clips onto the fins of the heasink. The allen key at each corner is not just for looks, but is in fact attached to a bolt that runs through the entire fin assembly making this one of the strongest heatsinks we have handled. At the base we find the plastic protective cover with what has become a standard warning to remove it before use.
The block which mounts to the CPU has an unusual shape due to the addition of the 'Vertical vapor Chamber'. The clearance between the heatsink's fins and the M/B is a bit tight and can cause clearance issues with memory that has very tall heat spreaders. The fan is easy to remove for cleaning, or replacement should users need or desire to do so. The fin assembly is very precisely folded together and well spaced for airflow. The CPU block is smooth, but not the mirror finish many enthusiasts want. It is our belief that this block could be lapped to a mirror finish quite quickly and easily as it is close already.
This is the hardware kit. it contains everything one could need to mount to variety of CPU's. it has a 'Silent Mode Adaptor' which consists of a cable extension with a resistance circuit to reduce fan speed, and a complete second fan mount with vibration dampeners should users wish to add a second fan.
Installation and Testing
Installation
We swapped out the cooler that was in this system for the Cooler Master TPC 812.
First step was the removal of the stock AMD retention collar and back plate, 4 screws out and done. then of course we cleaned the old TIM off the CPU.
Next step was to insert the standoffs for this coolers and put the nuts on the back plate. New TIM for the CPU, align the retention bracket and screw it down according to the instructions, plug in the fan, which had to be removed to get to the screws on the retention bracket. The fan mount made this very easy. And there we have a painless cooler swap.
Testing
Finally we get to the most important section of the review: performance testing. To test the TPC812 we matched it against 4 other CPU coolers: an OEM AMD all-aluminum HSF (the most common type), a Thermaltake TR2-R1 all-aluminum HSF, an OEM AMD low profile heatpipe HSF, and a SilenX EFFIZO EFZ-92HA3. The CPU in this system has been overclocked from 2.2 GHz to 2.51GHz to generate more heat.
Testing was performed with the side off and all fans running. We ran each of these coolerss in an open case, recording temperatures at idle, and again at a 100% load using a Prime95 torture test (In place large FFT's, maximum heat, power consumption, some RAM tested). The graphics cards were left at an idle during testing.
Recorded temperatures were the ones shown once the system stabilized, and stayed consistent. Ambient temperature was 21°C (70°F).
Temperature readings were obtained from HWiNFO64™ version 3.88-1400
For more information on HWiNFO™ goto http://www.hwinfo.com/
Test System
Case
coolers Master HAF XM

Processor

AMD Phenom II X4 9500 (Agena)

CPU coolers
CoolerMaster TCP 812
Thermaltake TR2-R1
OEM AMD HSF
OEM AMD Low Profile HSF
SilenX EFFIZO EFZ-92HA32

Motherboard

Asus M3N-HT Deluxe (bios 3401)

Memory

4 GB Patriot 8500EL series PC2-6400

Drive(s)

Maxtor 7H500F0, WDC WD 1600BEVT, WDC WD5000AAKX

Graphics

Video Card 1: Nvidia GTX 480 (reference)

Video Card 2: Nvidia GTX 480 (reference)

Video Card3: Gigabyte GTX 560 OC

Power Supply

Enermax Revolution87+ 1000w SLI

Operating System
Windows 7
Fan controller
NZXT Sentry 2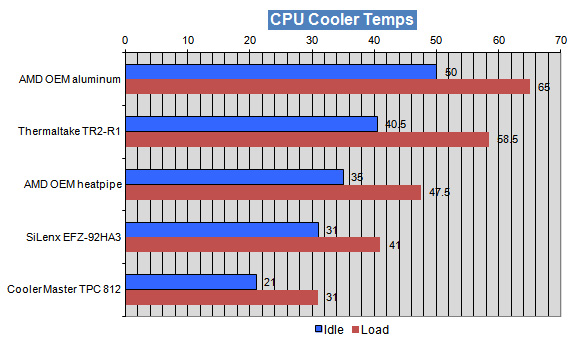 The coolers tested all performed within acceptable limits on this CPU.
Anything generating more heat might have serious problems with the OEM AMD all aluminum cooler. It was only able to hold the CPU 5°C below the thermal limit, and actually peaked at the limit of 70°C for a few seconds before stabilizing. The fan on it was extremely loud.
The Thermaltake TR2-R1 faired a bit better keeping the temps within a reasonable range but still wasn't quite up to the task of keeping an overclocked CPU nice and cool. It produced noticeable fan noise but wasn't unbearable.
The AMD Heatpipe cooler did a decent job but produced a very noticeable fan noise while doing so. Enough to be mildly distracting.
The SilenX EFZ-92HA3 held the idle and load temps to a level one that surpassed acceptable. The fan was quiet enough that had the case side been on we would have opened it to confirm that the fan was indeed running.
Finally the Cooler Master TPC 812. This HSF assembly did a fantastic job of cooling the CPU, and stayed fairly quiet while doing so.The Vertical Vapor Chamber seems to make a phenomenal difference. The small amount of noise it produces is never going to be heard over games unless they are turned all the way down, and the amount of heat transfer is far greater than the sound produced.
Conclusions
We expect an aftermarket cooler to work better than the stock cooler, and the CoolerMaster TPC 812 CPU cooler performed beyond our expectations. At load it kept the CPU temps below what the stock coolers could at idle. It is quiet enough to make most users happy, even if it doesn't fit in the silent category. With the use of the included 'Silent Mode Adaptor' consumers can trade some of the cooling for even less noise. With this unit's abilities there is room for that trade.
The fit and finish are excellent, the overall appearance is quite attractive. The cooler is well constructed of quality materials. It is easy to assemble and will fit in almost any gaming or enthusiast case with no problems. Narrow chassis' should not be considered for housing this cooler.
The PWM fan allows users a choice of having the the cooler work at levels from full performance, to virtual silence, and adds a bit of power saving to the mix for good measure. The ability to add a second fan to the assembly gives the consumer an upgrade path to gain additional cooling for next to nothing.
OUR VERDICT: CoolerMaster TPC 812 CPU Cooler
| | |
| --- | --- |
| Performance | 9.5 |
| Value | 9 |
| Quality | 9.5 |
| Features | 9.5 |
| Innovation | 9.5 |

We are using a new addition to our scoring system to provide additional feedback beyond a flat score. Please note that the final score isn't an aggregate average of the new rating system.

Pros
Cons

Easy to install

Great cooling

Quality build

Decent price/value

Memory clearance with tall heat spreaders
Summary: The CoolerMaster TPC 812 CPU cooler does a marvelous job of cooling. It is a quiet, well made, piece of equipment that would look good in any system. The price is a bit higher than some of the other coolers in the market, but the performance level exceeds those coolers as well. It earns the Bjorn3D Seal of Approval.