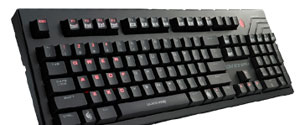 The CM Storm Quick Fire Pro enters the highly saturated mechanical gaming keyboard market. How does it stack up to it's competitors?
Introduction
In 2008, Cooler Master, which has always been known for their chassis and other PC DIY products, introduced their newest venture into the world of PC gaming. A line of specialty products under the mantra "CM Storm" was born. Since then, CM Storm has offered quite a robust group of products for PC gamers to use as their peripherals of choice. From the "Spawn" Gaming mouse, to their gamer inspired chassis, and more recently, their line of Quick Fire mechanical keyboards. CM Storm has implemented a full-size keyboard to cater to the gamer who must have a number pad (like myself) and feels awkward without one to the right of their arrow keys. Today, we're taking a look at their newest addition to the Quick Fire line, the CM Storm Quick Fire Pro Mechanical Gaming Keyboard.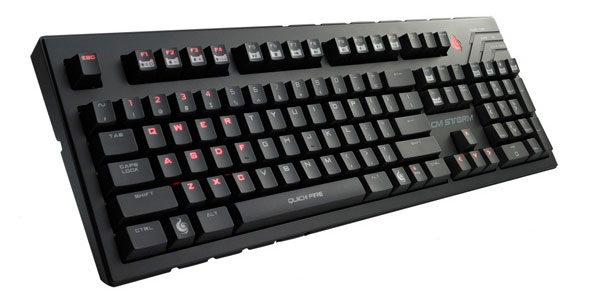 –Key Switch – Cherry MX Brown (Available in MX Blue, MX Black, and MX Red)
-N-Key Rollover – 6/Full N Key
-Polling Rate – 1000HZ/1ms
-Backlighting – Partial Keys
-Windows Key Disable – Yes
-Media Keys – Yes
-Interface – USB 2.0 Full Speed
-Cable Length – 1.8m
-Dimensions – 454(L) x 155(W) x 31(H) mm
–17.9(L) x 6.1 (W) x 1.2(H) inch
–Weight – 2.86lb
packaging & First Impressions
After eagerly awaiting the arrival of the CM Storm Quick Fire Pro for what seemed like ages (only took 3 days), we finally received the package and had high expectations for what would be CM Storm's first back lit mechanical gaming keyboard.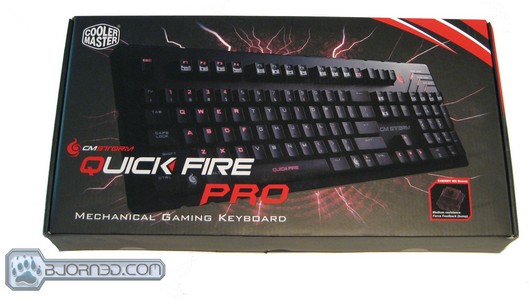 Click Images to Enlarge
Our first impression of the packaging is that it's very sleek and modern in comparison to others on the market, nothing that really screams unique but nothing that looks cheap or gimmicky, either. We didn't notice any packaging typos when reading the features on the box, so +1 in that category for Cooler Master, as that is one of our biggest pet peeves. Now that we've got that portion out of the way, let's take a look at what's inside the packaging.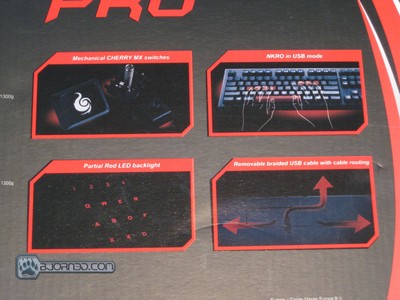 Click Images to Enlarge
Here is what you would be receiving if you purchased a CM Storm Quick Fire Pro Mechanical Keyboard. We have the keyboard, a 1.8m long USB to mini USB cable, a keycap puller, and a quick start guide for the keyboard; nothing flashy, just the basics.
Click Images to Enlarge
When we first picked up the CM Storm Quick Fire Pro, we noticed how light it was in comparison to other mechanical keyboards we have used in the past. However, with that in mind, we found the overall structure of the product to be strong, with no evident cracks or places that we could foresee issues with later on. The CM Storm Quick Fire Pro that we are reviewing utilizes Cherry MX Brown switches which provide a happy medium between the actuation and feedback from MX Blues, and the quietness of MX Blacks/Reds. CM Storm will be providing all 4 switches to the public, so if you have a specified type of switch that you like to use, they'll have you covered! We're not going to bore you with another section on the features of each switch as that has been gone over many times with the recent market surge of mechanical keyboards. If you're unsure and possibly need a refresher on what color switch does what, visit HERE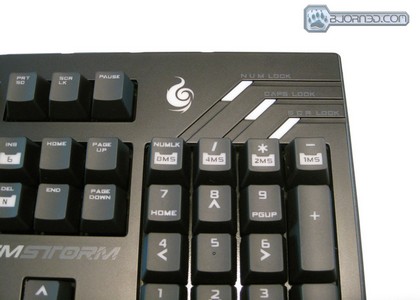 Click Images to Enlarge
Overall, the keyboard seems very well-built just by picking it up and doing some pseudo-typing on a tabletop. Next we're going to get things situated and plug this bad boy in for some testing.
Initial Setup & Testing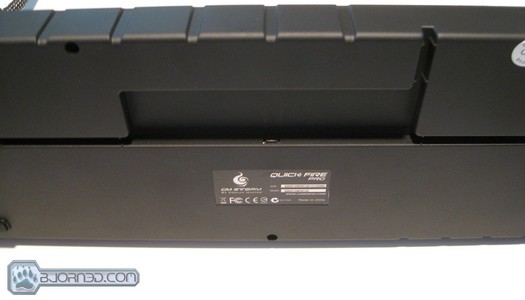 Click Images to Enlarge
The bottom of the Quick Fire Pro features a cable management system similar to other keyboards on the market, designated slots designed to run the cable along the bottom of the keyboard to feed out to different areas. This one features one to the far left of the keyboard, the far right, and to the front left as well. Surprisingly enough, the mini USB port on the back of the keyboard was somewhat difficult to plug in. However, once it was connected, the wire management system worked great and kept the cable in place, kudos to Cooler Master on this one. The Quick Fire Pro features three forms of LED backlighting in a gaming "cluster", which can be found here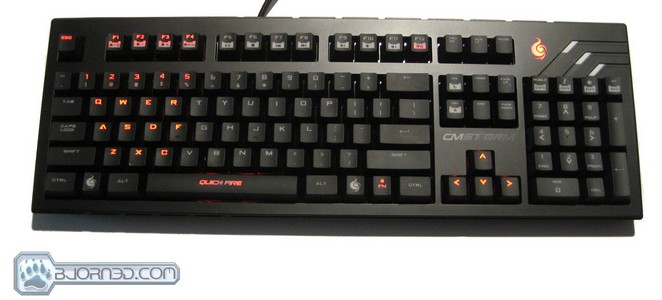 Click Images to Enlarge
The backlighting on the keyboard is pretty cool, and although we would have liked it to extend throughout the entire keyboard, it does serve as a pretty neat feature. Through the usage of the "Function" key (located on the bottom right hand side next to the right Windows key) and F1-F4, you're able to change the brightness of the backlighting, which mode of backlighting you would like, LED Mode (slow pulsating color), and to turn the backlighting off completely. The other function keys act as multimedia controls, while F12 acts as a Windows key nullifier for all the hardcore gamers who want to avoid being minimized out of game during a crucial fight. The Num Lock key as well as the /, *, and – keys on the number pad in collaboration with the function key and P allow you to adjust the polling rate on the keyboard, starting from 8ms all the way to 1ms. The keyboard layout is a traditional US style, which we feel is the safest route in terms of keeping a majority of users happy.
The CM Storm Quick Fire Pro doesn't feature any macro keys which can be seen as a flaw to some gamers. The multimedia keys work just fine in Winamp as well as Windows Media Player, so no issues can be found there. The settings you keep on the keyboard stay on board and will be the same no matter where you plug in, so you'll have the same setup regardless of where you travel.
We played roughly 4-5 games in League of Legends while using this keyboard, and we have to say, the Quick Fire Pro does everything a good mechanical keyboard should do. The response time on the keys is on par, and the feel of the keys provide good feedback without having to "bottom out" each press.
Conclusion
All in all, the CM Storm Quick Fire Pro is a solid mechanical keyboard and a worthy edition to the CM Storm line of gaming peripherals. Its price point in the US is $99.99 on Newegg.com, and for that price we feel it should strongly be the favorite when put up against similar mechanical keyboards in that price range. Although we would have liked the backlighting to be all the way across the keyboard, and the Mini USB plug on the keyboard to be more accessible, I feel that the CM Storm Quick Fire Pro is one of the category leaders in terms of quality, feel, and with a sizeable amount of features that puts them ahead of any other competitor in the $99 category.
Cooler Master Storm Quick Fire Pro Mechanical Keyboard
| | |
| --- | --- |
| Performance | 9 |
| Value | 8 |
| Quality | 10 |
| Features | 7 |
| Innovation | 5 |

We are using a new addition to our scoring system to provide additional feedback beyond a flat score. Please note that the final score isn't an aggregate average of the new rating system.

Pros

Cons

The Quick Fire Pro is available in all versions of Cherry MX Switches

Sturdy and strong, will last a long time.

Flat black finish does not attract fingerprints.

Selective backlighting.

No macro keys.

Odd placement of USB mini port, not easy to plug in.
Summary: Although there are some negative aspects, this keyboard could be an option for a gaming system. With all this in mind, the CM Storm Quick Fire Pro earns the Bjorn3D Silver Bear Award.