Check out our preview of the NVIDIA GeForce 7800 GTX 512. As the name implies, this is a 512MB version of the 7800 GTX, but more than just memory was added to this card. We look at reference GTX 512s in SLI and at the XFX 7800 GTX XXX Edition.
Introduction
---
Although the GeForce 7 Series has been very successful so far, we all knew NVIDIA was keeping something up its sleeve to respond to ATI's 512MB Radeon X1800 XT. Many of you probably already know the name of NVIDIA's response (a.k.a. NVIDIA's new flagship card) and might even know what it looks like. Well, today is the official day that we can tell you all about it. Get ready for another hard launch as NVIDIA continues the trend it started to end paper launches, and say hello to the GeForce 7800 GTX 512.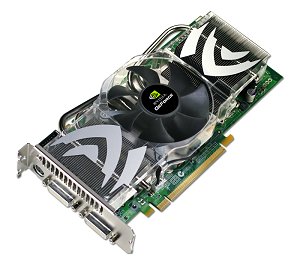 This card is using the same core design of the original 256MB 7800 GTX, but it has 512MB of GDDR3 and is running at higher clock speeds thanks to a PCB redesign, new cooling solution and new higher speed RAM. NVIDIA set the reference clock speeds for the GTX 512 to 550MHz for the core and 1.7GHz for the memory (effective), which is quite a jump up from the original GTX's 430MHz core and 1.2GHz memory.
As I already mentioned, the 512MB GTX is NVIDIA's answer to ATI's X1800 XT. The interesting thing is this card is rumored to have been almost ready to go at the initial 7800 GTX launch, but it was not launched since the 7800 GTX was more than enough to hold the performance crown over the competition. You will notice that the cooler being used is the same design as that used on the Quadro 4xxx cards.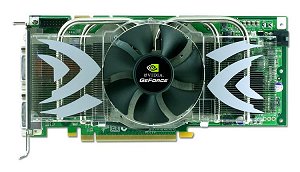 We were fortunate enough to get ahold of two reference 7800 GTX 512 cards for SLI testing, which Scott performed on a new SLI X16 motherboard. Additionally, the XFX 7800 GTX 512 we received two days ago proves the hard launch claim, and we'll take a brief look at that card as well.
Specifications
---
The features for the 512MB 7800 GTX are the same as those for the original 256MB GTX. So, let's just skip to a quick look at the specifications of the reference 7800 GTX 512 and the XFX 7800 GTX 512 XXX Edition. XFX introduced the "XXX Edition" moniker with the recent release of its 6800 GS. The XFX 6800 GS press release has this to say about XXX:
"Products marked with the label XXX have a new level of graphics performance and experience. During selection of the components, the absolute top is being separated from the masses, including the GPU's. During the production, only the best yield has been selected to go forward into the XXX production. During this extensive tuning process, the products are being pushed to the max and then made ready for the assembly process. This is why we have called this level of graphics cards eXtreme, eXtreme and eXtreme again, visualized into the 'XXX' logo. The three X's stand for eXtreme overclocking, eXtreme performance and eXtreme cooling."
If XFX's offering is any indication, and surely it is, the factory overclock trend will apparently continue into this launch. XFX has bumped both clocks by 30MHz, as you can see in the comparison table below.
| | | | |
| --- | --- | --- | --- |
|   | Reference 7800 GTX | Reference 7800 GTX 512 | XFX 7800 GTX 512 XXX |
| Graphics Bus Technology | PCI Express | PCI Express | PCI Express |
| Memory Interface | 256-bit | 256-bit | 256-bit |
| Memory | 256MB GDDR3 | 512MB GDDR3 | 512MB GDDR3 |
| Core Clock | 430MHz | 550MHz | 580MHz |
| Memory Clock | 1.2GHz | 1.7GHz | 1.73GHz |
| Pixels per Clock (peak) | 24 | 24 | 24 |
| RAMDACs | 400 MHz | 400 MHz | 400 MHz |
Closer Look
---
You probably already noticed that this card is a beast thanks to the massive cooler that NVIDIA slapped on the chips to keep them cool. This heatpipe-based cooler is not new, though. It is used on NVIDIA's newer Quadro cards and can be found on Leadtek's 256MB 7800 GTX Extreme. With this cooler, the 7 Series now has a 2-slot family member. Although not ideal, I have a feeling most enthusiasts won't mind giving up a slot for the boost in performance.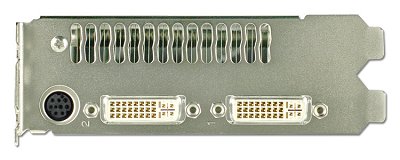 Running two of these GTXs in SLI obviously results in much more crowding than the single-slot 256MB GTX does. Take a look at these pictures from Scott's test machine to get an idea of what I'm talking about. The first two pics show two GTX 512s installed in the Lian-Li V1200 with the Asus A8N-SLI Deluxe.
That is a little cramped for sure but not too bad. Now, take a look at the same setup but with the Asus A8N32-SLI Deluxe (an SLI X16 board). Look closely, and you will realize that there is a Creative X-Fi sound card in between the two GTX 512 cards.
We will cover the XFX 7800 GTX 512 XXX in more detail in our full review of it, but for now, here are some pictures to whet your appetite.
As you can see, the XFX version only differs from the reference design in one way – the sticker on the fan. Expect to see a lot of this from retail boards since being first to the shelves seems to be more important than differentiation these days. While XFX's X-shaped box is cool-looking, we can't say we miss it much for this launch. It is a pain in the butt to open, relatively speaking.
Test System & Results – Reference 7800 GTX 512
---
For today's reference card testing, we are going to look at the 7800 GTX 512s in an A8N-SLI Deluxe with an AMD Athlon 64 FX-55 versus standard Leadtek 7800 GTXs. Then, we are going to move the cards onto the new Asus A8N32-SLI Deluxe with an AMD Athlon 64 X2 4800+ and see how it compares to the A8N-SLI Deluxe with the AMD FX-55. What we want to see is if the new SLI X16 motherboard and NVIDIA's drivers that support dual core CPU's can give us a leg up on the 200MHz faster FX-55.
Asus A8N-SLI Deluxe / Asus A8N32-SLI Deluxe
AMD Athlon 64 FX-55 / AMD Athlon 64 X2 4800+
2 x 1GB Crucial Ballistix DDR 4000
3 x 250GB Maxtor Diamond 10 in RAID 5
Lian-Li V1200
Windows XP SP2
Antec True Power 550W EPS12V
Creative X-Fi Platinum Sound Card
Graphics 1: 2 x Reference 7800 GTX 512
Graphics 2: 2 x Leadtek WinFast 7800 GTX TDH MyVIVO GeForce 7800 GTX
ForceWare 81.89 and DirectX 9.0c
Unfortunately, we do not have an ATI Radeon X1800 XT on hand for comparison. When we do, you will see the comparisons in a future review. According to NVIDIA's own testing, the 7800 GTX 512 outperforms the X1800 XT in pretty much every thing, but you should find some 3rd party results to get an unbiased confirmation (or refutation) of that claim.
Please note that all benchmarks were run with NVIDIA's latest ForceWare drivers – 81.89.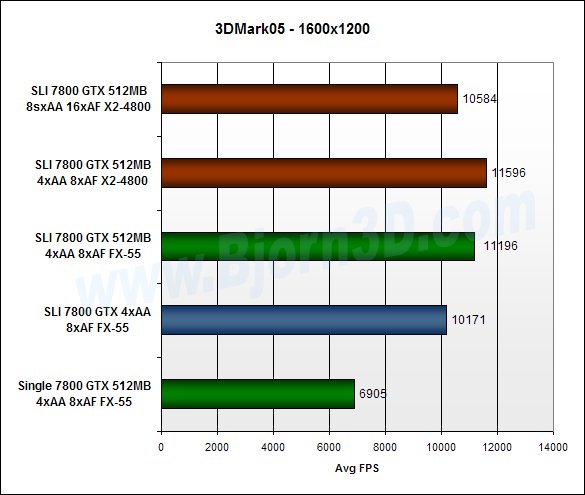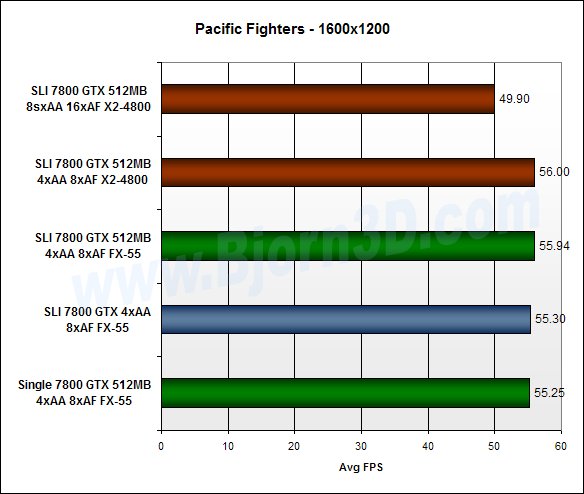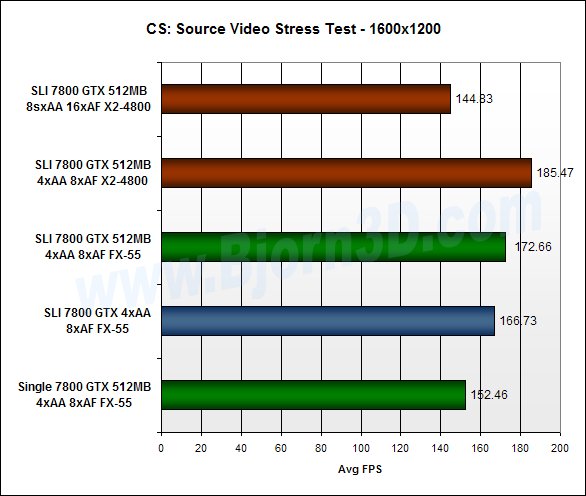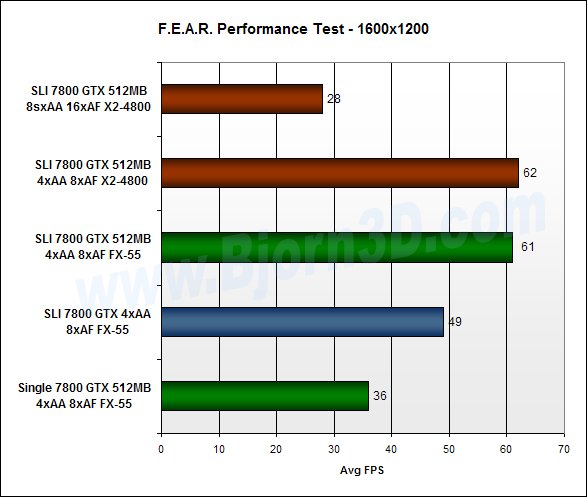 Test System & Results – XFX 7800 GTX 512 XXX
---
Now, let's take a look at the performance of a single XFX 7800 GTX 512 XXX versus the performance of two XFX 7800 GTs in SLI and a single Gigabyte 7800 GTX. Once again, this is just a quick look at a retail card. A more in-depth review will follow this article shortly. The test system for these tests is listed below and is different than the ones mentioned above.
One thing that makes the XFX 7800 GT SLI versus XFX 7800 GTX 512 comparison so interesting is the price of each setup. Two XFX 7800 GTs would cost you about $680-700 while the MSRP on the 7800 GTX 512 is $649. Actually retail prices will most likely vary from this, and we'll try to update you with street pricing information in the morning.
Ed. – Looks like the GTX 512s are going for $749 today (11/14/05)! Hopefully the price drops soon and quickly.
DFI LANParty NF4 SLI-DR Motherboard (review)
AMD Athlon 64 3800+
Corsair TWINX1024-3200XL (review)
Maxtor 120GB Serial ATA 7200RPM Hard Drive
Graphics 1: XFX GeForce 7800 GTX 512 XXX Edition
Graphics 2: 2 x XFX GeForce 7800 GT in SLI
Graphics 3: Gigabyte GeForce 7800 GTX
Windows XP with Service Pack 2
ForceWare 81.89 and DirectX 9.0c
Please note that all benchmarks were run with NVIDIA's latest ForceWare drivers – 81.89.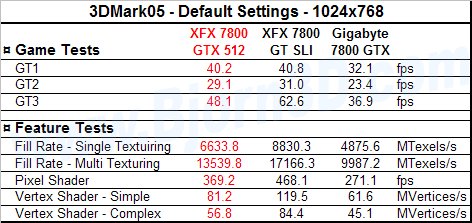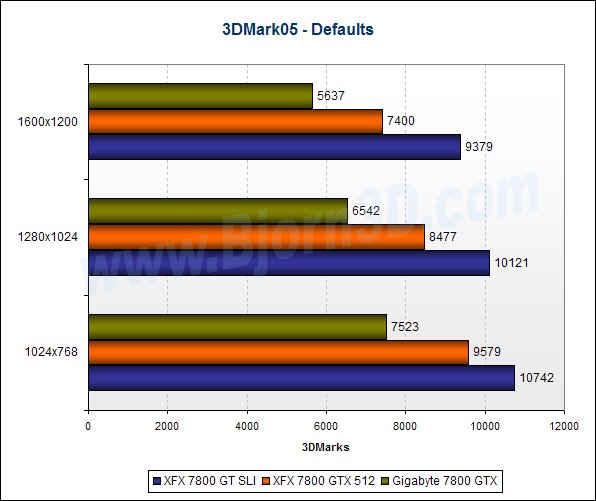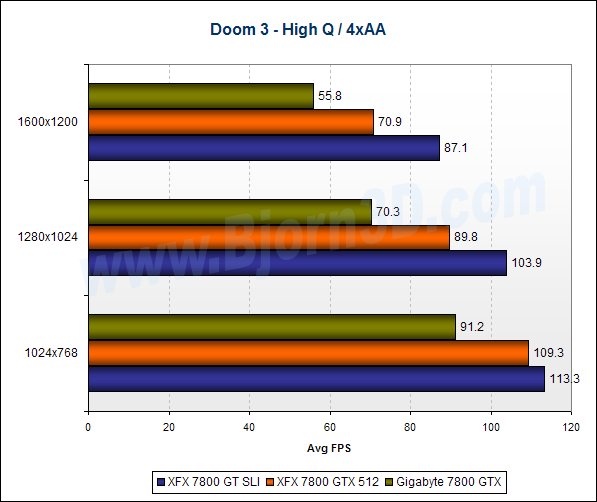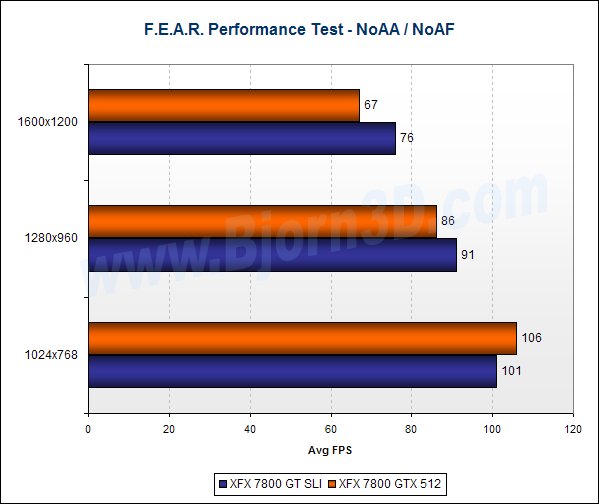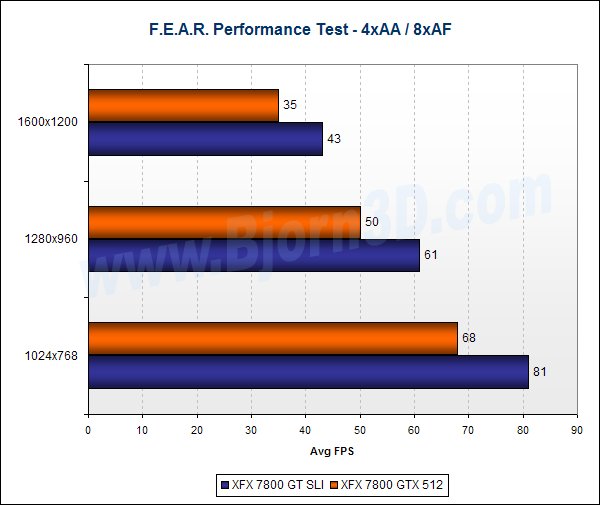 Final Thoughts
---
Shane's Final Thoughts
With this launch, NVIDIA changes the layout of the enthusiast video card market again. The GeForce 7800 GTX 512 is aimed directly at the Radeon X1800 XT, while the GeForce 7800 GT is competing with the Radeon X1800 XL. So, where does that leave the original 7800 GTX? You can bet it will end up in the hands of plenty more gamers (especially 'tweeners who can't decide between the 7800 GT and X1800 XL and can't fork over the dough for the GTX 512 or X1800 XT), especially if this launch results in price drops.
NVIDIA seems to be on a roll lately, and the 7800 GTX 512 adds more power to the NVIDIA portfolio. People who can afford it will definitely snatch it up today. Many who can't bite that $600+ bullet quite yet will start saving or start begging Santa Claus. Despite the $649 MSRP, I have seen multiple discussions around the Internet of guys already planning to sell their two 7800 GTXs in order to buy a 7800 GTX 512 or (gasp!) two. Still, others will be more frugal and go for two 7800 GTs.
The only fault of the 7800 GTX 512 (other than price if you don't have a high salary) is its size. The increase in clock speeds and amount of RAM will prove to be worth it to many gamers, though. Wisely, NVIDIA didn't rush this product out the door by slapping an extra 256MB of RAM on the original 7800 GTX and calling it good. Additionally, NVIDIA is making sure to get the boards to retailers in order to get them to consumers, which ATI is trying to do as well but hasn't totally stepped up to the plate yet.
My experience with the XFX 7800 GTX 512 XXX has been great so far. I was really impressed by its performance in comparison to the XFX 7800 GTs in SLI and to the reference-clocked Gigabyte 7800 GTX. Check back for my review of this card soon.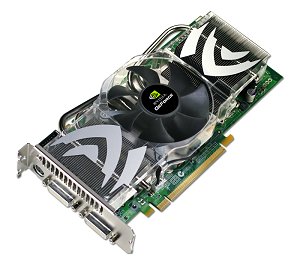 Scott's Final Thoughts
After playing several games that are CPU bound, the capability of turning on 8sAA and 16xAF and enjoying the clarity and speed of these cards in SLI is something to be experienced. Being able to fly right up to the rear of an airplane and see the detail as the tail gunner is shooting and his spent cartridges are flying out of the guns is awesome.
NVIDIA has once again given the enthusiast the ultimate graphics card, and running the 7800 GTX 512s in SLI is pure heaven.