Once only for the hardcare gamer SLI has become much more interesting for every budget now that there is a lot of different cards supporting it. I've tested the Albatron PC6600GT both as a single mid-level video card but also in a SLI-configuration.
Introduction
As a reviewer it is easy to always use the high-end stuff you get to review and forget about the mid-end and even low-end cards. Today though, I will test the Albatron 6600GT, a mid-level performance card that promises a nice performance/price ratio. I'm also testing it in SLI-configuration to see if it is worth getting a second GeForce6600GT instead of buying a completely new card.
Specifications

The Albatron 6600GT isn't the fastest card around but for the price it has some nice specifications and features.
CineFX 3.0 Engine
Powers the next generation of cinematic realism. Full support for Microsoft DirectX 9.0 Shader Model 3.0 enables stunning and complex special effects. Next-generation shader architecture delivers faster and smoother gameplay.
On-Chip Video Processor
Delivers unmatched video performance, features, and quality.
UltraShadow II Technology
Enhances the performance of bleeding-edge games, like id Software's Doom III, that feature complex scenes with multiple light sources and objects. 2nd-generation technology delivers more than 4x the shadow processing power over the previous generation.
Intellisample 3.0 Technology
The industry's fastest antialiasing delivers ultra-realistic visuals, with no jagged edges, at lightning-fast speeds. Visual quality is taken to new heights through a new rotated grid sampling pattern.
nView Multi-Display Technology
The nView hardware and software technology combination delivers maximum flexibility for multi-display options, and provides unprecedented end-user control of the desktop experience. NVIDIA GPUs are enabled to support multi-displays, but graphics cards vary. Please verify multi-display support in the graphics card before purchasing
NVIDIA SLI Multi-GPU Ready
Dramatically scales performance by allowing two graphics cards to be run in parallel
High-Speed GDDR3 Memory Interface
Support for the world's fastest GDDR3 memory delivers fluid frame rates for even the most advanced games and applications
Full MPEG Support
Delivers a stunning video experience through encoding and decoding of analog and digital content.
OpenGL 1.5 Optimizations and Support
Ensures the best performance and application compatibility for all OpenGL applications
Dual 400MHz RAMDACs
Blazing-fast RAMDACs support dual QXGA displays with ultra-high, ergonomic refresh rates–up to 2048×

[email protected]

Microsoft DirectX 9.0 Shader Model 3.0 Support
Ensures top-notch compatibility and performance for all DirectX 9 applications, including Shader Model 3.0 titles
Specifications:
Graphics Bus
PCI Express
Memory Interface
128-bit
Memory Bandwidth
16.0 GB/sec.
Fill Rate (texels/sec.)
4.0 billion
Vertices per Second
375 million
Memory Data Rate
1000 MHz
Pixels per Clock (peak)
8
RAMDACs
400 MHz
As with all NVIDIA cards in the 6×00-series it has full support for SM3.0. Another nice feature is the Pure Video-support. This promises better video playback quality.
"High-Definition Video: NVIDIA PureVideo technology finally allows you to experience lifelike HD video on your PC, notebook, or HDTV without the expense of additional home-theater devices. With dedicated hardware to accelerate MPEG-2/DVD as well as the new Microsoft® Windows Media® HD Video (WMV HD) standard, your DVDs come to life in detail never before possible on a PC. Using NVIDIA PureVideo technology, the GPU offloads video decoding from the CPU, resulting in smooth, stutter-free, high-definition video playback. And, since PureVideo supports most current and future HD formats, you can rest assured that a PC powered by PureVideo will keep up with the pace of tomorrow's video technologies, and continue to deliver HD content well into the future.

 

Superb Picture Clarity: Using revolutionary techniques, NVIDIA's PureVideo technology addresses typical video playback image problems, and delivers superb picture clarity free of imperfections. PureVideo uses the most advanced de-interlacing to deliver a crisp image without the double images typical of simpler, traditional de-interlacing techniques. And enhanced 3:2 and 2:2 pulldown eliminates the blurring and ghosting commonly associated with other video processing solutions.

 

Scale Videos to Any Size with Full-Resolution Video Enhancement: PCs get video from many sources—webcams, camcorders, Web files, etc.—which are very rarely the size of a high-resolution display. With the accurate scaling and subpixel calculations of PureVideo, videos can be enlarged to fill the whole screen without looking blocky or blurred. In addition, when video is scaled down to fit on a small area of a PC display, typical bilinear scaling techniques loose image detail and result in flickering. PureVideo provides high-quality scaling to maintain image detail without the annoying flicker."
The card
The box that the card comes in is a pretty nice box although as always you wonder what the image on the front has to do with a video card.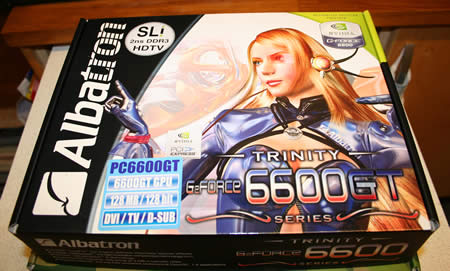 In the box you'll find the following items:
The videocard
A TV-out cable that both includes S-Video, Composite  as well as Component connectors
A driver-CD
WinDVD
Arx Fatalis (game)
The bundle isn't exactly exciting, in fact it is plain boring but if it helps to keep the price down, that's the most important thing. The choice for videoplayback is WinDVD and it is a bit strange that NVIDIA doesn't include or offer a cut-down version of their own MPEG2-encoder, especially since PureVideo works best with it.
The card follows the reference-design and has 1 larger cooler over the GPU and 2 heatsinks over the DDR3-memory. The GPU-fan is neither loud nor silent.
On the edge of the card you'll find a DVI-connector, a VGA-connector and a TV-out connector.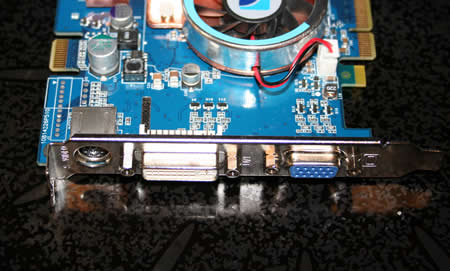 The TV-out-connector is used together with the cable included and offers S-Video, Composite and Component signal.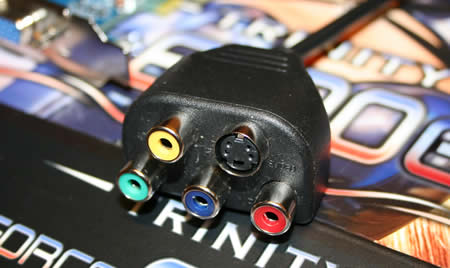 Performance
I've tested the card in two different systems.
System 1
ASUS nForce4 SLI
AMD X2 4400+
1024 MB PC3200 DRAM
Various SATA HD's
Built-in sound
Albatron 6600GT, ATI X1300, X1600,X1800XL
System 2
Albatron K8SLI
AMD64 3200+
1024 MB PC3200 DRAM
80 GB SATA HD
Built-in sound
2xAlbatron 6600GT
3Dmark05
First up is 3DMark05 from Futuremark. I used the default setting and it was run on System 1 (ASUS K8N).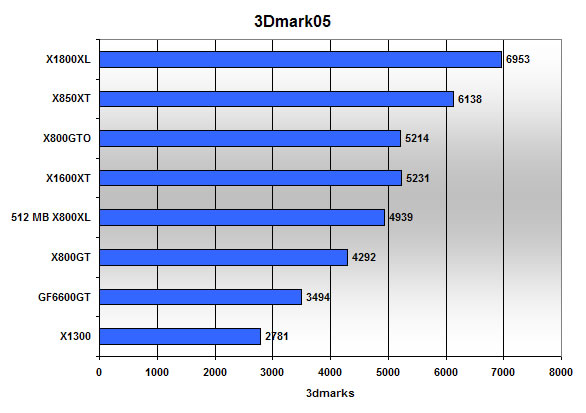 The Albatron 6600GT is almost the slowest card but also the cheapest, even cheaper than the recommended price of the Radeon X1300.
Doom 3
Next up is Doom 3. We used the built-in Timedemo and the High-setting, both with and without 4xAA. The benchmarks were run on System 1 (ASUS K8N)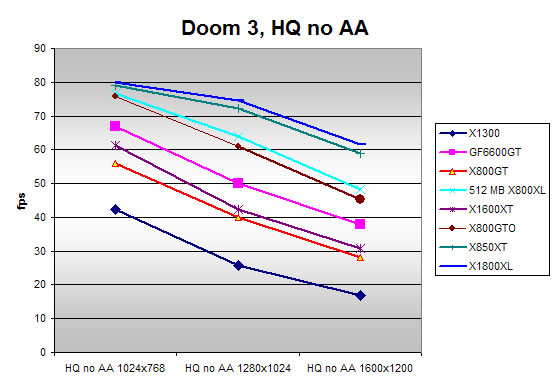 As expected the Albatron 6600GT performs really well with no AA in Doom 3. NVIDIA always have been strong in OpenGL.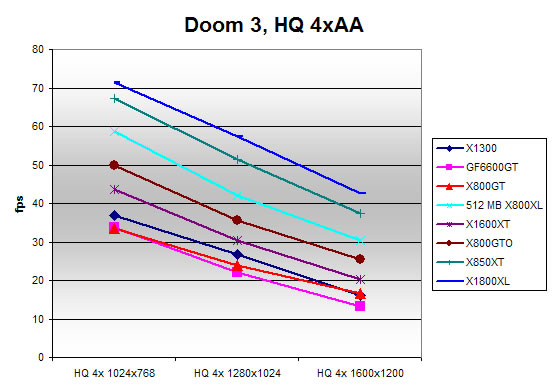 With 4xAA turned on the GeForce 6600GT simply cannot keep up. It got to little memory and to little juice to manage to pump out any impressive numbers. If youa re lucky you might be able to run it at 1024×768 at High quality with 4xAA and get above 30 fps but most probably you will run into situations where the fps drops below 30 fps.
Performance continued

Far Cry
Next up is this excellent FPS from Crytech. We used the v1.3 patch and set everything to max settings. AA and AF were set in the drivers. The benchmarks were run on System 1 (ASUS K8N)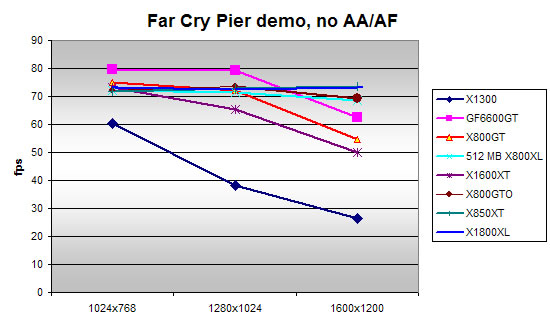 Without AA/AF the Albatron 6600GT performs really well, even at 1600×1200.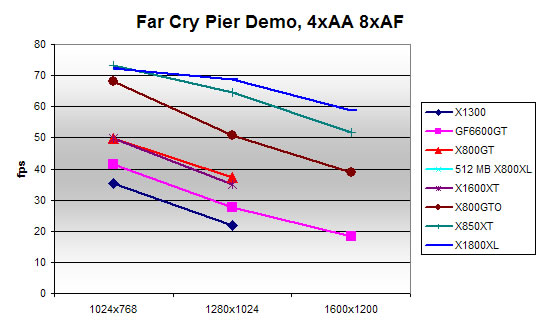 When we turn on AA/AF the performance drops a lot and once again, just as in Doom 3, it is obvious that you hve to turn down details to be able to use AA and AF in games and any reasonable resolution.
Call of Duty 2 Demo
We will not only play old games around here. As new games come out our cards need to be able to handle them. The Call of Duty 2 demo is an excellent demo with great graphics and lots of cool effects. The full game recently was released but since I couldn't retest all the other cards with it right now I choose to keep the demo-scores for this review.
We tested the game by using Fraps and recorded the first 90 seconds. This includes a ride on the truck where we watch a plane crash, a tank get bombed to hell, and the city getting bombed. Then we run towards a corner and shoot at the evil Germans for a while until the time is up. Every setting is set as high as is possible in the demo and AA and AF is set in the drivers.
Some quick comments before we look at the charts:
The settings used were the max available in the demo. This means we really put as much stress on the cards as possible. As you will see the fps were pretty low overall and while I am sure the final product will be more optimized you will still probably have to turn down the settings a bit for playable framerates.
We encountered some visual anomalies when using the Albatron 6600. Several times we had to restart the demo to get the correct visuals. We also noticed that there are a few differences between the ATI cards and the NVIDIA card. The haze-effect where the air moves due to the heat is much more pronounced on the ATI cards. Also on the ATI cards the gun has text on the side that is clearly visible when reloading. I asked some of the others on the site to try to reproduce it on their NVIDIA cards and they have not been able to (they get the text on the side of the gun) so it seems like it is an error in my setup.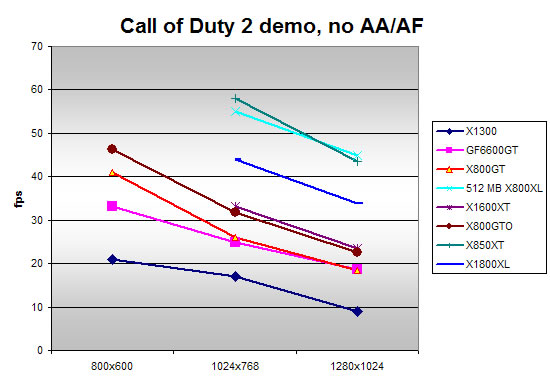 Since we are stressing the card as much as possible it is expected that the Albatron 6600GT won't perform as good in this game as in the older games like Doom 3 and Far Cry. Even without AA and AF you have to move down the resolutions to get playable framerates with the Albatron 6600GT (or as we will show soon, add another 6600GT).
SLI – double the fun

While we are still waiting for ATI to bring us their CrossFire-technology NVIDIA has been pushing SLI for quite some time now. In theory SLI can provide you with double the performance but it depends on the games. For instance I tested the Serious Sam 2 demo and regardless if I used 1 or 2 Albatron 6600GT's I got the same score. Serious Sam 2 was already supported in the drivers but even when I set up a separate profile for the game I couldn't get any speed increase.
 On the other hand, as you will see soon, some other games showed some spectacular performance gains.
All SLI-tests were done on System 2 and the Albatron K8SLI-motherboard.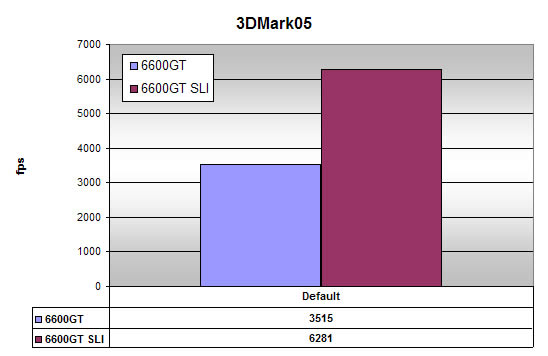 Right away in 3Dmark05 we see a 78% increase in performance going from one GF6600GT to two on this motherboard.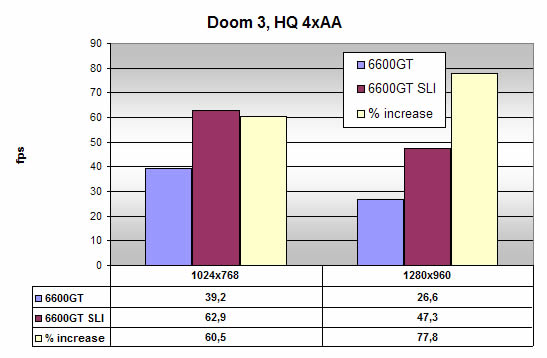 The first 'real' game show an 60-78% increase in performance when adding another card in SLI-mode.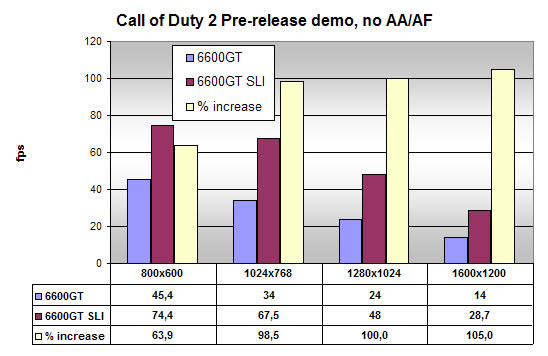 Call of Duty 2 is one of the new games with lots of cool features. It even has a setting to optimize it for dual video cards. The performance increase we see here is stunning. I'm using the latest beta-drivers from NVIDIA which already has support for Call of Duty 2.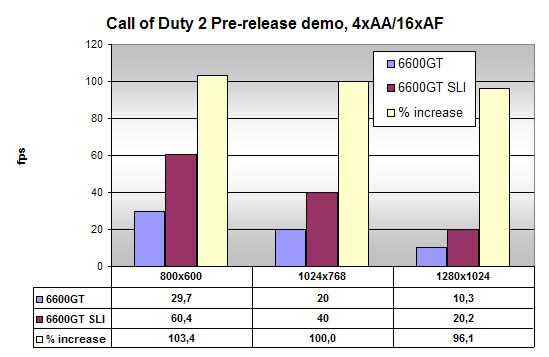 Turning on AA doesn't change anything. This is certainly a game where NVIDIA's SLI-functionality is prooving its worth. This shows that even with a cheaper SLI-motherboard and two mid/low-end cards you still can achieve great performance.
Conclusion
At first the Albatron 6600GT felt a bit expensive when looking at Pricegrabber ($207). However a
quick look at Newegg
provided us with a much more reasonable price: $137. At that price the card is very well priced. It provides us with a good performance/price ration and as long as you are aware that the card won't perform miracles in newer games and that you have to lower the resolution/details somewhat you will not be disappointed.
Adding another Albatron 6600GT to the mix is a sure way to gain a lot of performance. If you do not have a 6600GT already I still would get a GeForce7800GT but if you already own a GeForce 6600GT, regardless if it is a Albatron or not, then getting this card would be a cheap way to get a lot out of your system for a low price.
Pros
+ Cheap
+ Good performance/price ration
+ SLI gives great gains in performance
Cons
– Weak bundle
– GPU-fan could be a bit quieter
– Only 128 MB memory
– Have to turn down resolution/details in new games for acceptable performance
I award the Albatron 6600GT a score of 7.5 out of 10 and a Seal of Approval.