Thermaltake 520W model is stable even when overclocking the CPU to 2.5GHz from standard 1.8GHz and accordingly adjusting voltages. The only potential problem I noted is the whole PowerStation device "thing" I have nothing against flexibility and benefits coming from innovative components such as this one, but in the long run it plays too much of a decisive factor with this product.
Introduction
Thermaltake is a well know company among enthusiasts. It was founded back in 1999. Their success started with manufacturing high-end CPU HSFs and case accessories. The most memorable cooler was the Golden ORB available for both Intel and AMD platforms. The introduction of PC cases, power supply units and liquid cooling systems gave the company a nice head start in the market.

2004 – Restructure of the company in correspondence to the global scale it has grown into: reorganization of patent, channel, chassis, power supplier & computer accessories, and industrial design departments to strengthen organizational management and reinforce our commitment to research and development. Designs cooler for the heat-conducting pipe to the specification of desktop Silent Tower and four other types of CPU. Manufactures fanless power supplier with Fanless PSU. Unveils Tsunami chassis, incorporating the mirror bake-coating technology and a transparent, see-through side-window. Designs 12CM, applying low-noise liquid cooler Big Water which receives AMD's outstanding partner award. Size of net capital now grows to NT 75 million while the cash capital increases to NT 255 million.
Today, Thermaltake is a leader in supplying high-quality PC accessories, chassis and other components. If you want to feast your eyes on something fresh from Tt, make sure you check out our PowerColor X800 GT EVO review sporting TideWater Liquid Cooling System.
Power supplies play a crucial part in how our computers operate. Number of Watts a power box has will not make your computer more stable — as long as you don't overload your system. What many motherboard manufacturers require now are stricter voltage / Amps requirements on all rails rather than exuberant Wattage.
Today I will be looking at Thermaltake's Pure Power PowerStation 520W modular PSU. This is a new product from the company, designed mainly with flexibility in mind.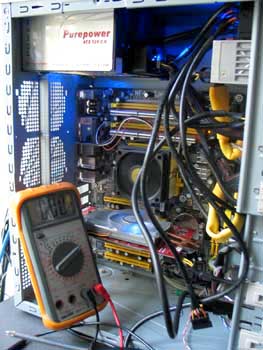 Features & Specifications
From technical point of view Thermaltake's Power Station is well equipped. Modular design gives it plenty of flexibility. Modding communities will also adhere to the looks of the PSU and Power Station. Cable management is an important factor considering we want as little clutter as possible. Let's take a peak at the features:
The ingenious Modularized Cable Management and Power Station that allows you to arrange cables easier and smarter.

5.25" P.S.T fits any 5.25" driver bay and offer various connectors for all peripheral devices.

Mini P.S.T offers convenient output for devices and accessories at various location.

Blue LED around 5.25" P.S.T socket to illuminate your system.
Rubber Sleeved Cable increase air flow and decrease clutter inside the chassis.
Active PFC, improve energy efficiency and reduce current load on AC delivery systems.
Protections against Over Power, Short-Circuit, Over-current, Overload, and Over-temperature.
Safety / EMI Approvals: CE, CB, TUV, FCC, UL, CSA, and CUL certification (For Active PFC). FCC, UL, CUL, CSA certification (For Non PFC)
Dual 6-pin PCI-Express connectors for High-end VGA card.
Supports NVIDIA SLI and Dual PCI-E video card setup
PurePower 520W comes with abundance of different cables. Another great feature is Active PFC (Power Factor Correction). Whether you're in Europe or United States this PSU will work without a hitch.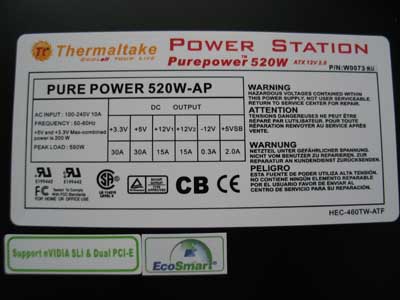 +3.3v (30A), +5v (30A), +12v
1
(15A), +12v
2
(15A), -12v (0.3A), +5VSB (2.0A)
Peak Load: 550W, +5v and +3.3v rails max out at 200W
Here are detailed specifications of PowerStation 520W:
P/N
W0073
Maximum Power
520W

Switches
ATX Logic on-off additional power rocker switch(115/230 V selector switch)
Color
Black
PFC
(Power Factor Correction)
Active PFC
Cooling System

SPEED : 2000 RPM(+/-10%)
DIMENSION : 120 x 120 x 25 mm
TEMP. AUTO CONTROL

Noise
17dB at 1300 RPM
P. G. Signal
100-500ms
Over Voltage Protection recycle AC to reset
+5V trip point < +7.0V
+3.3V trip point < +4.5V
+12V trip point <+15.6V
Unit Size
15cm(L)x14cm(W)x8.6cm(H)
Net Weight
1.8 kg
Input Voltage
100 VAC / 240 VAC
Input Frequency Range
47 ~ 63 Hz
Input Current
8.0A/4.0A
Hold-up Time
16ms
Efficiency
> 70%
Voltage is switched automatically depending on what you have in your wall socket, either 115 or 230V — no need for additional switches, neat right? The PSU features 120 mm fan rocking at ~2000 RPM, automatically controlled by temperature. In case of a short cirtuit, Thermaltake's PSU will kick in with Over Voltage Protection temporarily shutting down power to all of the components. It's designed to protect all your computer peripherals currently connected to the power house.
Bundle
Let's have a look at the package and the inside. Thermaltake Power Station 520W comes in a nicely designed box as seen below.
The front of the box shows you what it's inside.
The back is sort of a check-list. It shows the bundle, all kinds of cables inside and main features of the product. On the sides are printed features and specifications.
Opening the box reveals main components covered in protective bubblewrap. Thermaltake includes a small manual for those who want to go through step-by-step installation process.
Included cables along with mini PST, some screws and velcro.
PSU's power cable with additional screws (all inside the little black box above).
PST from behind. Starting from left: 8-pin power socket (1x), 4-pin sockets (6x), 3-pin sockets (2x) and last but not least 4 SATA sockets right below (hard to see).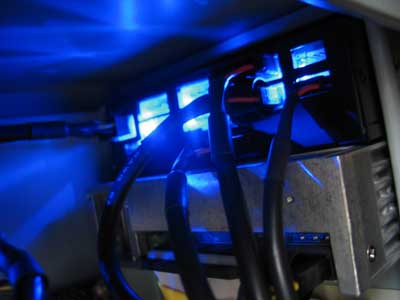 All sockets illuminate which gives a nice bright light inside the case.
The front of Power Station box — fits in standard 5,25″ drive bay. On the panel you can see 3 LEDs which light up when all three rails are used (3.3v, 5v and 12v). The bad part about PST is it plays crucial role in redirecting power to all of the PC components (except motherboard and PCI-e devices). More on that on the next page!

bundled cables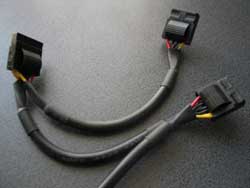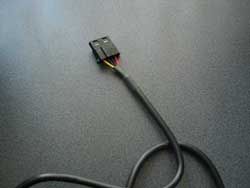 4 pin 1 to 3 / 4 pin long (mini PST)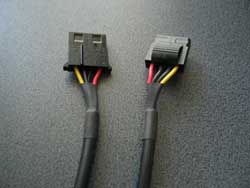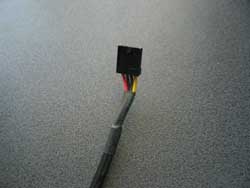 4 pin short / floppy cable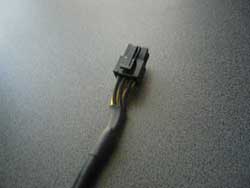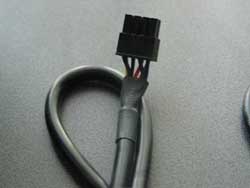 PCI-e / power cable (PSU->PST)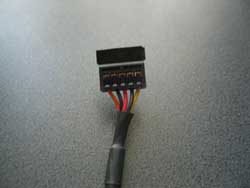 SATA cable
Thermaltake includes a slew of power cables, all wrapped up in black esthetic sleeves. Most modular power supplies would come with sleeved cables. They are extremely useful when reducing heat inside your case. Additionally, 2x 4pin 1 to 3 power cables come equipped with finger grips so it's easier to detach them from a device.
Let's have a look at the power box itself.
External Looks & Installation
Now that we have the bundle behind us, let me concentrate on the power house itself. This is a standard ATX 2.0 power supply but with bells and whistles. Keep on reading if you want to know what I mean by that…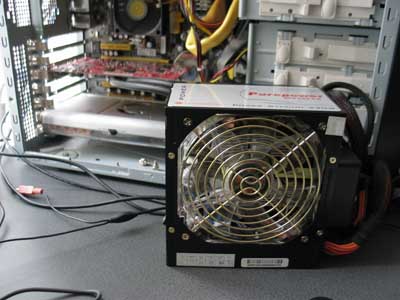 Not enough airflow inside your case? Not a problem since Thermaltake's power supply comes equipped with 120 mm fan rotating at ~2000 RPM. This is not a plain fan, it has blue LEDs to match the PST lights.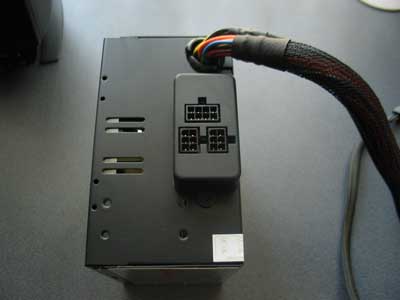 As I mentioned on the previous page this is an unusual power supply. Only three power sockets you say? Well yes and no. The ones on the bottom are for PCI-e devices and the 8-pin main power output is connected with the PST. From there you can redistribute your power. Neat, but what if the PST starts to malfunction? Either replace it under warranty, or buy another unit.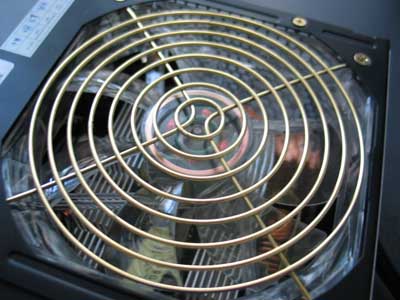 Although most high-end power supplies come with some sort of a fan, this 120 mm blower is a nice addition. It's very silent and rarely does it spin up all the way to 2000 RPM.
The power house is enclosed inside a black casing. In the back are ventilation holes, a power switch and AC input socket. Notice no AC rocket switch. It's all controlled by Active PFC.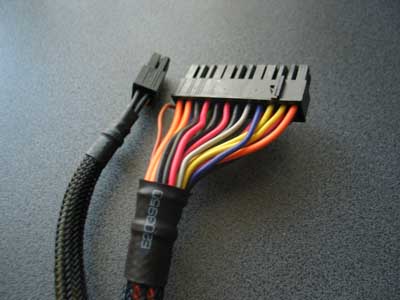 24-pin main power connector (detachable 4-pin so it's ATX compatible) along with P4 cable. All nicely decorated with braid.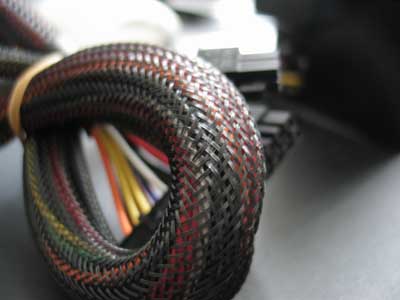 Braided power cables from a close up. Very sturdy solution. No more cable tanglements. Better case ventilation.
Installation procedure was standard, though we had to wait for replacement unit. The PST device was damaged, giving us no power at all (neither 3.3v, 5v or 12v):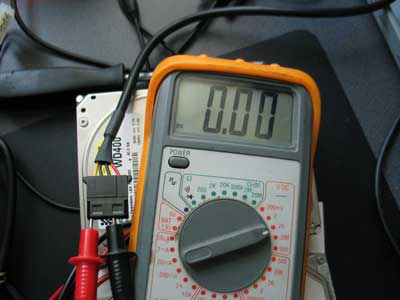 Albeit there was current going through the motherboard, multimeter showed no sign of life. Thermaltake was very helpful and replaced the product right away.
Below is test bed configuration used throughout our reviewing procedures:
Components
– DFI NF4 Ultra-D
– Athlon64 3000+ Venice
– 2x256MB Corsair PC3200LLP (Dual Channel)
– Thermaltake PurePower 520W
– Channel Well 420 Watt PSU
– PowerColor X800 XL 512 MB
Software
– Windows XP SP2
– DirectX 9.0c
– nForce4 6.53 drivers
– CATALYST 5.10
Tools used

– 3DMark 2005 v1.2.0 (GT 1 looped 3 times)
– Digital Multimeter for voltage measurement

Notes
CPU clocked at 1.8GHz (idle/load) and 2.5GHz (idle OC/load OC)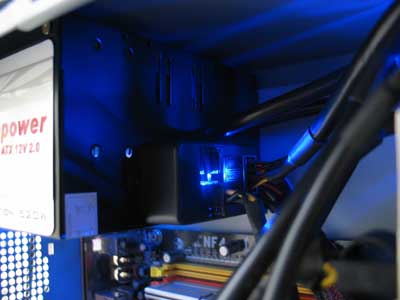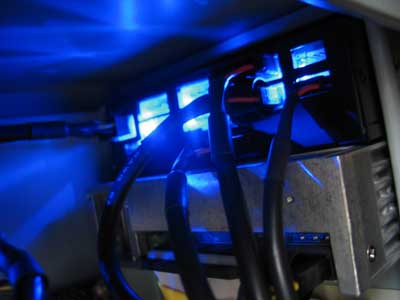 Testing & Conclusion
For a lot of the readers, this is probably the most important part of any product review: testing and performance under different kinds of working environments. The tolarance level for most PSUs nowadays is +/- 5% from the nominal voltage. With that in mind I recorded minimum, maximum and average rail values (both idle, loaded and overclocked states).

Channel Well Tech PSU seems to lose voltage in 3.3v/12v rails. Not by much, but it's a deadly situation when overclocking the CPU. Just a note that I wasn't able to bump the clock to 2.5GHz on this power supply.

Tt PowerStation does really well at both idle and loaded states. Tolarance level does not go over 3.1%. During the testing my multimeter has not recorded any values below default rail voltages. When system is idle and not overclocked we get average of 3.40 volts on the +3.3v rail, 5.09 volts on +5.5v rail and 12.26 volts on +12v rail.

Thermaltake's PurePower PSU performs marvelously when system is in idle/loaded and overclocked state. Voltages do not fluctuate as seen with Channel Well PSU. Overclocking the processor to 2.5GHz @ 1.475v (default 1.8GHz) gives us tag higher voltages, but the tolarance level is still within +/- 5 percent range.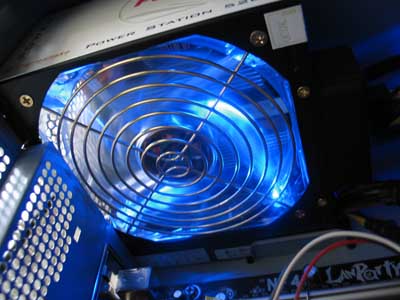 In a nutshell, Thermaltake's modular PSU is a good performer in its 500 class. Although I wasn't able to overload this power supply (not even getting close to 500 Watts), it's obvious — this Thermaltake 520W model is stable even when overclocking the CPU to 2.5GHz from standard 1.8GHz and accordingly adjusting voltages. The only potential problem I noted is the whole PowerStation device "thing" I have nothing against flexibility and benefits coming from innovative components such as this one, but in the long run it plays too much of a decisive factor with this product.
As I understand, Thermaltake wants clearer product diversification and that certainly is a big plus. The whole idea of PST / mini PST is to ease one's cable management experience and make it as pleasurable as possible. As for price, Thermaltake PowerStation 520W is available for as low as $132 over at TheNerds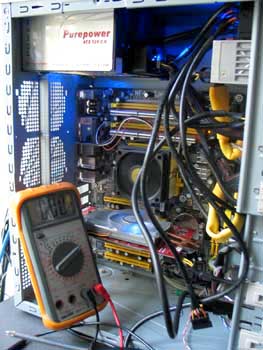 A handy tool — multimeter + Tt PowerStation 520W PSU inside
Pros:+ Stable
+ Flexible design
+ Modular cable management
+ Dual 12v rails
+ Good Amp delivery across all rails
+ SLI / Dual PCI-e ready

Cons:
– Unworkable without PST module
– Power Station device is too long
– Might seem a bit pricey
For innovative design, flexibility and most importantly great stability Thermaltake PowerStation 520W
gets the rating of 8.5
(Very Good) out of 10
and Bjorn3D.com Seal of Approval.