The battle for 2GB DDR kit supremacy has begun… mostly because of Battlefield 2 and its high demand on system memory. Check out this quick look at Corsair's upcoming flagship 2GB DDR kit – the TWINX2048-4400PRO.
Introduction
---
By now, most of you have probably heard that Battlefield 2 performance actually can be improved by going from 1GB of system memory to 2GB. For so long, it seemed that only the hardest core geeks splurged to get 2GB, insisting that they actually saw benefits from such an upgrade. Now, games like Battlefield 2 are driving the "need" for 2GB of RAM more than ever before. It's safe to bet that more and more games in the coming months will also benefit from the doubling of today's standard RAM amount. By mid-2006, most enthusiasts will probably have taken the plunge, or maybe they've already started their Christmas lists just to put a 2GB kit at the top of the list.
All of the top memory companies are of course more than happy to meet this new, increased demand. Corsair, in a partnership with Asus, recently released a 2GB low-latency PC3500 kit. The company doesn't plan to stop there though, as it is also releasing a 2GB PC4400 kit, which happens to be the focus of this article. The kit won't be on shelves for at least a couple more weeks, so consider this article a preview of what you can expect from the TWINX2048-4400PRO.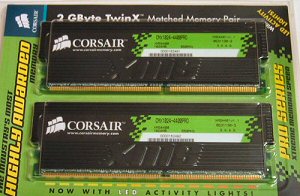 Closer Look at the TWINX2048-PC4400PRO
---
Since this is a PRO kit, these modules feature Corsair's original LED activity lights and the extra large heat spreader. In case you aren't familiar with the LEDs, you can check them out in the pictures below.
This particular 2GB kit is rated to run at 550MHz DDR or PC4400 at 3-4-4-8 2T timings (CAS-Trcd-Trp-Tras). The 2T command rate might make some of you unhappy, but as you'll soon see, this RAM runs quite fast with a 1T rate. For you hardcore enthusiasts out there wondering, the memory ICs used for these modules are the Infineon CE-5.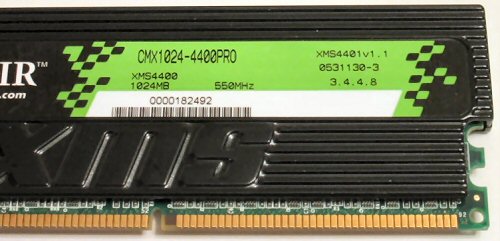 Since this is a TWINX dual channel kit, the two modules (1GB each) are tested as a pair and then packaged as a pair if they pass rigorous testing at Corsair's labs.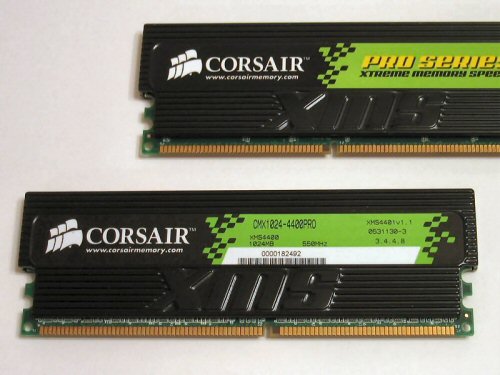 Test System
---
AMD Athlon 64 3800+
DFI LANParty NF4 SLI-DR Motherboard (review)
Memory 2: Corsair TWINX2048-4400PRO
Maxtor 120GB Serial ATA 7200RPM Hard Drive
Windows XP Pro with Service Pack 2

Performance
---
Memory Bandwidth
Although the TWINX2048-4400PRO kit's rated timings are 3-4-4-8 2T, I did most of my testing with a command rate of 1T since it offers much better performance. I found the highest memory speed at CAS level 2, 2.5 and 3. I tested these speeds using SiSoftware Sandra 2005's memory bandwidth test and compared a couple key speeds to Corsair's 1GB 3200XL kit. You can see the results in the table below.

You can see that the TWINX2048-4400PRO kit is cable of running a very respectable range of speeds and timings. There's no point in buying a 4400 kit and running it at 400MHz, but in case you want to, you should be able to run 2-3-2-5 1T timings without a problem. With the kit I was supplied, I actually was able to hit 450MHz at CAS 2 with a command rate of 1T, a nice little feat. At CAS 2.5 and command rate 1T, I was able ot reach 500MHz, and at CAS 3 and command rate 1T, I was able to reach 550MHz, the kit's rated speed. This is actually better than the kit's rated 2T, so I was pleased by these results.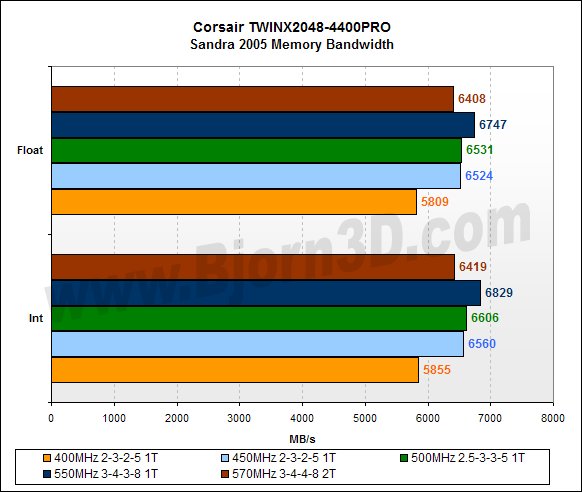 The maximum speed I attained with this 2GB kit was 570MHz (285MHz HTT), and that was at the kit's rated timings of 3-4-4-8 2T. While the extra speed is nice, the 2T command rate kills any bandwidth gains you might get from the raised clock…and then some. The 550MHz 3-4-3-8 1T results are much better than the 570MHz 3-4-4-8 2T results, and the culprit is the command rate.
1T vs 2T Command Rate
Based on the dramatic drop in performance I noted while running these tests after increasing the command rate from 1T to 2T, I feel it's important to report the following test results. It only takes a couple comparisons to really show you how important the 1T command rate is for top performance.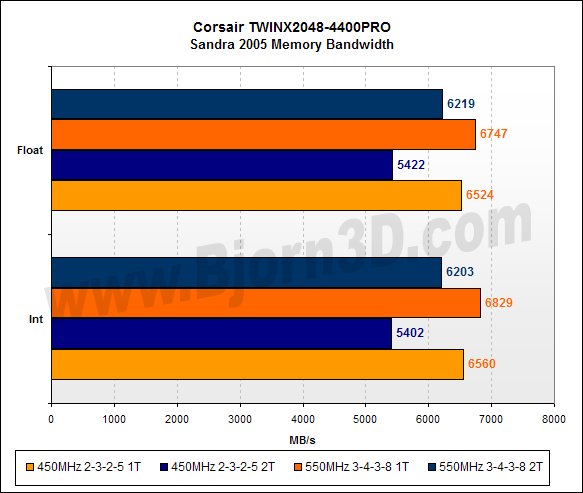 Conclusion
---
Corsair's TWINX2048-4400PRO kit is an impressive high density, high performance kit that is worthy of your attention if you are considering the jump onto the 2GB bandwagon. The kit performs very well at a wide variety of speeds, including low latency DDR400. If you do snatch up this kit, I recommend taking the time to figure out if your highest 1T speed outperforms your highest 2T speed. While not all kits will reach 550MHz at 1T like mine did, I'm betting most will get close. You'll have to surpass 550 by quite a bit at 2T to make up for the loss in performance once you switch from 1T.
Keep your eye out for this kit to hit shelves possibly some time in November. I'm not sure how much it will cost, but you can bet it will be more than $325, the price of Corsair's recently released TWINX2048-3500LL kit.
Pros:
+ Activity LEDs
+ Big heat spreaders
+ Impressive performance
+ Reached rated speed at better timings than spec'd
Cons:
– 2T spec'd command rate
– Not sure of price currently