If you can't quite justify a 7800 GTX but still have a nice budget for pixel crunching, then you really need to (and probably are) consider a 7800 GT. Check out this review of Gigabyte's 7800 GT, which we compare to Gigabyte's 7800 GTX and a reference 6800 GT.
Introduction
---
When NVIDIA introduced us to the 7 Series GPUs with its current flagship GeForce 7800 GTX, we were quite impressed. Most people, though, aren't going to buy flagship hardware, so they wait for the little brothers of the flagship. Currently, the only "little brother" released has been the 7800 GT.
A quick look at the specifications reveals that the 7800 GT is a slightly crippled 7800 GTX, which actually is not a bad thing if you are a 7800 GT. Although the GT has less power under the hood, it still performs quite well when compared to the GTX. Follow along and keep reading to learn about the first retail GT offering to hit our test benches – the Gigabyte GV-NX78T256V-B.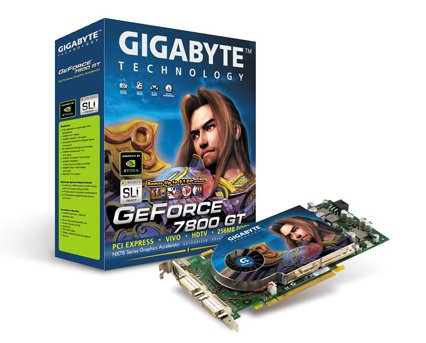 Features & Specifications
---
Powered by NVIDIA GeForce 7800GT VPU
Supports PCI Express and 20 pipelines
Integrated with the industry's best 256MB GDDR3 memory and 256-bit memory interface
Supports HDTV function and HDTV cable enclosed
Supports VIVO function for video editing
GIGABYTE's Turbo Force Edition guarantee
NVIDIA SLI Ready
NVIDIA CineFX 4.0 engine
Microsoft DirectX 9.0 Shader Model 3.0 support
64-bit texture filtering and blending
NVIDIA Intellisample 4.0 technology
NVIDIA PureVideo technology
NVIDIA ForceWare Unified Driver Architecture (UDA)
NVIDIA nView multi-display technology
OpenGL 2.0 support
Dual DVI-I, TV-Out and D-Sub (by adapter)
Specifications
| | | | |
| --- | --- | --- | --- |
|   | 7800 GTX | 7800 GT | 6800 Ultra |
| Graphics Bus Technology | PCI Express | PCI Express | PCI Express & AGP |
| Memory Interface | 256-bit | 256-bit | 256-bit |
| Memory | 256 MB GDDR3 | 256 MB GDDR3 | 256 or 512 MB GDDR3 |
| Core Clock | 430MHz | 400MHz | 400MHz |
| Memory Clock | 1.2GHz | 1.0GHz | 1.2GHz |
| Pixels per Clock (peak) | 24 | 20 | 16 |
| RAMDACs | 400 MHz | 400 MHz | 400 MHz |
While the 7800 GTX boasts 24 pixel pipelines and eight vertex shading units, the 7800 GT features 20 pixel pipes and seven vertex units. Additionally, the GT's core clock is 30MHz slower than the GTX, and its memory clock is 100MHz (200MHz effective) slower. On the positive side of things, the GT has a lower peak power consumption than the GTX (15W less to be exact). The GT's peak power consumption is 85W.
Closer Look & Bundle
---
Closer Look
While the 7 Series launch has been quite exciting in terms of performance and features, it has been less than exciting in terms of originality. You really can't blame NVIDIA's partners; it's important to have products on the shelves quickly. I used to enjoy watching for the creative coolers that came out with each launch, but those days are sort of paused right now. The Gigabyte GeForce 7800 GT only varies from the NVIDIA reference design in one way – the sticker on the cooler. This is actually quite common in the 7 Series world right now. The other common change is an out-of-the-box, warrantied overclock, which Gigabyte hasn't embraced wholeheartedly yet.
All of the memory chips and the GPU are covered by the cooler, which is covered by the mug of some Gigabyte knight guy. Like other high-end PCI Express video cards, the 7800 GT features a 6-pin power connector.
More and more high-end cards are going dual-DVI, and the Gigabyte 7800 GT is no exception (as you can see in the first picture below). Don't fret if you only have a VGA input on your monitor; Gigabyte includes an adapter for you. Above the two DVI connectors is the VIVO connector. In the last two pics below, you can see a couple close-ups of the heatsink and fan.
Bundle
Gigabyte GV-NX78T256V-B
Driver/Software CD:

CyberLink PowerDVD 6
ForceWare Drivers

CyberLink PowerDirector 3 ME
Game: Xpand Rally (full)
Game: SpellForce (full)
VGA-to-DVI adapter
HDTV VIVO cable
Power Connector
Manual
The bundle is pretty decent, especially considering that the GV-NX78T256V-B is one of the cheapest 7800 GTs on the market (at the time of this writing). I have yet to play either game, but at least one should interest most buyers. Xpand Rally is a racing game while SpellForce is an RPG/RTS game.
Test System & Benchmarks
---
Test System
AMD Athlon 64 3800+
DFI LANParty NF4 SLI-DR Motherboard (review)
Video Card 1: Gigabyte GeForce 7800 GTX – DirectX 9.0c, ForceWare 78.01
Video Card 2: Gigabyte GeForce 7800 GT – DirectX 9.0c, ForceWare 78.01
Video Card 3: NVIDIA Reference GeForce 6800 GT – DirectX 9.0c, ForceWare 78.01
Maxtor 120GB Serial ATA 7200RPM Hard Drive
Windows XP with Service Pack 2
20″ Dell LCD Monitor – max resolution 1600×1200
Benchmarks
3DMark03 v3.6.0 – default settings and 4xAA / 8xAF
3DMark05 v1.2.0 – default settings
AquaMark3 – 4xAA / 8xAF, high quality
Half-Life 2 – NoAA / 2xAF and 4xAA / 8xAF
Doom 3 1.1 – NoAA / High Quality and 4xAA / High Quality, both with highest details set in game
Far Cry 1.3 – NoAA / 1xAF and 4xAA / 8xAF
X2: The Threat, Rolling Demo – automatic quality set in benchmark with antialiasing, bumpmaps and shadows enabled in benchmark
Benchmark Results – 3DMark03
---
Let's start things off by looking at the feature and game tests in 3DMark03 to see how well the 7800 GT performs compared to the 7800 GTX in fill rate and shader tests.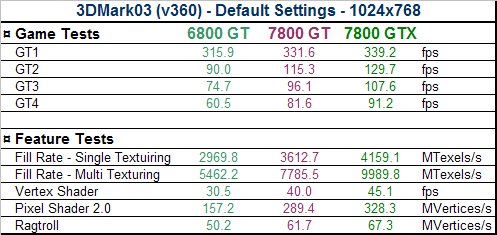 You can clearly see the effect of having one less vertex unit and four less pixel pipes. Nevertheless, the 7800 GT posts impressive results. Here is a graph of the game test results.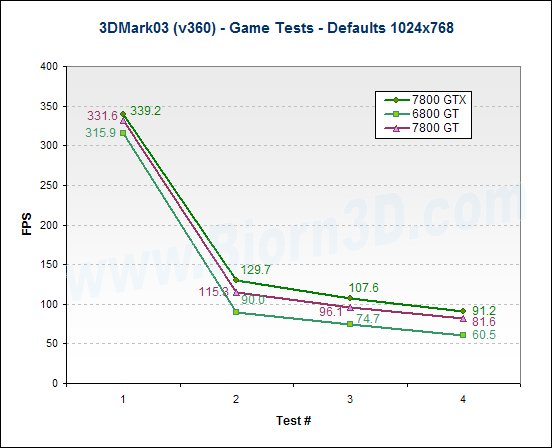 Finally, here are the basic 3DMark03 test results. The 7800 GT performs just as expected.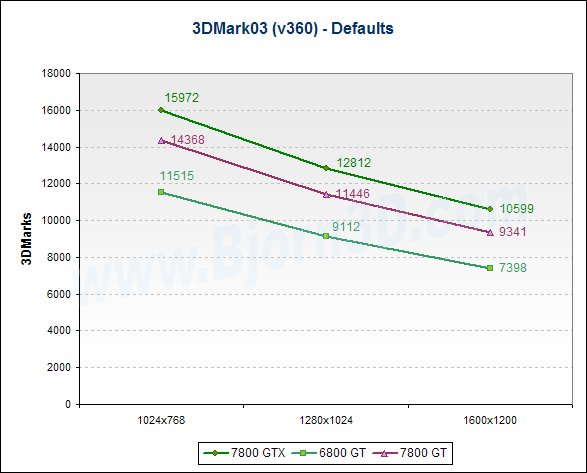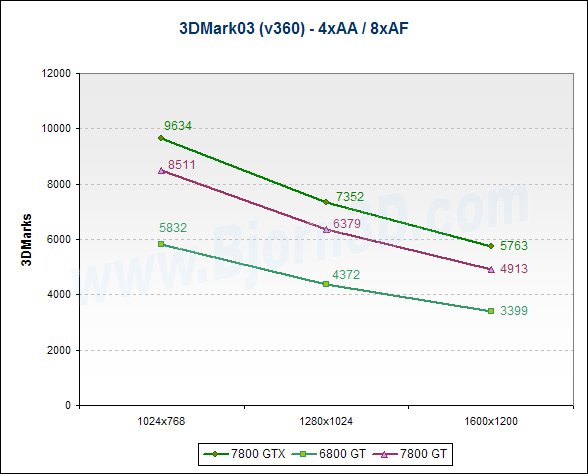 Benchmark Results – 3DMark05
---
Although it might seem a little redundant, I feel it's worth a quick look at the feature tests in 3DMark05 as well.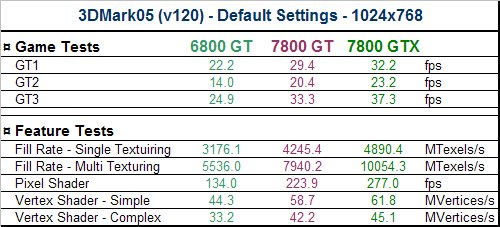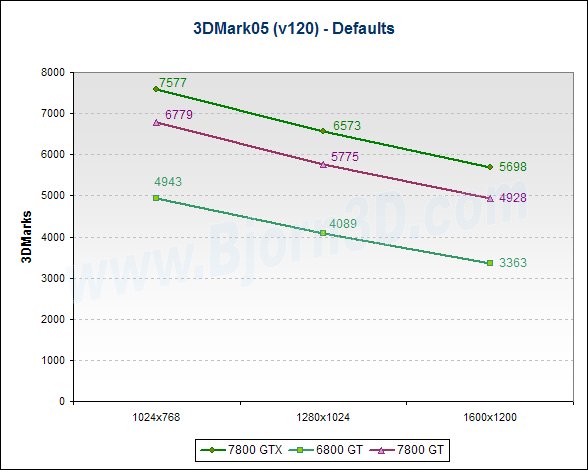 Benchmark Results – AquaMark3 & X2: The Threat
---
AquaMark3
The AquaMark3 benchmark is based on an actual game engine, and some parts of the benchmark can really stress even the most modern cards. I ran the benchmark with 4xAA and 8xAF in the application and "Application Preference" set in the driver control panel.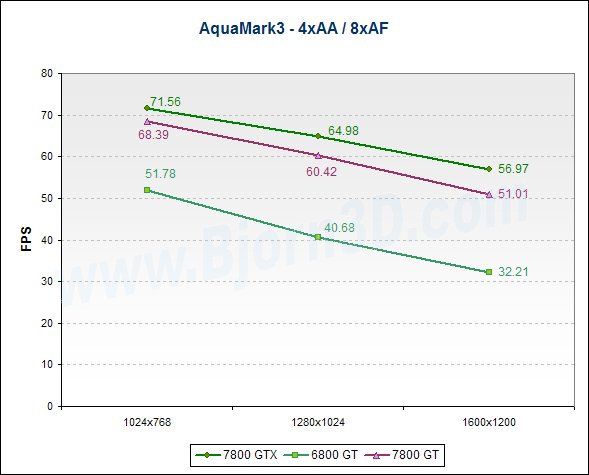 X2: The Threat Rolling Demo
This demo is also based on a game, and that is X2: The Threat, of course. The Rolling Demo renders a bunch of different game scenes and reports scores for each scene and an average score in frames per second (FPS). The chart below just shows the average. This benchmark was run with bumpmaps, shadows and anti-aliasing set to "On" in the application and with "Application Preference" set in the driver control panel.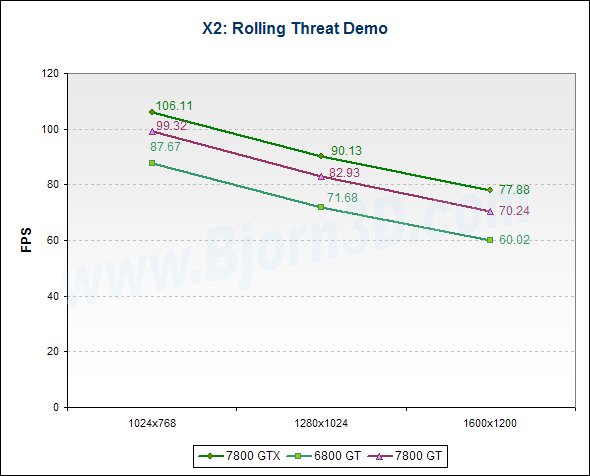 Benchmark Results – Doom 3
---
While it can play fairly well on low-end systems at lower resolutions, Doom 3 can really punish a system if you crank up the details and resolution. I ran the included demo1 timedemo with quality set to high and AA turned off and also with quality set to high and AA set to 4x in the game.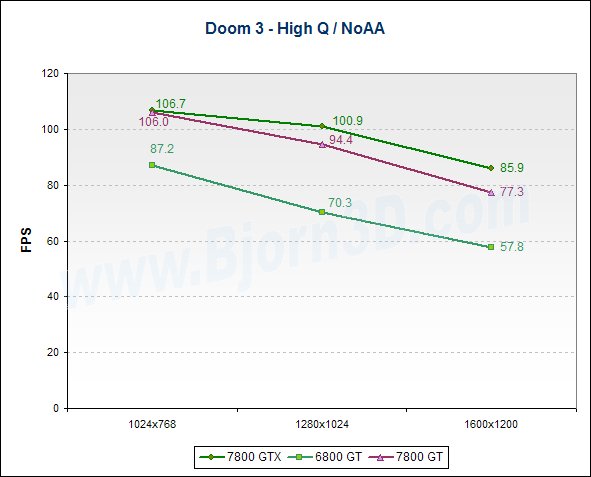 Benchmark Results – Half-Life 2
---
Like Doom 3, Half-Life 2 is a popular game with oustanding graphics. To benchmark Half-Life 2, I used the HL2 benchmark utility created by HardwareOC. I used the included HOC d3c171 map demo and Guru3d demo5 for testing. Luckily, I got these benchmarks done a while ago, before the recent Steam update.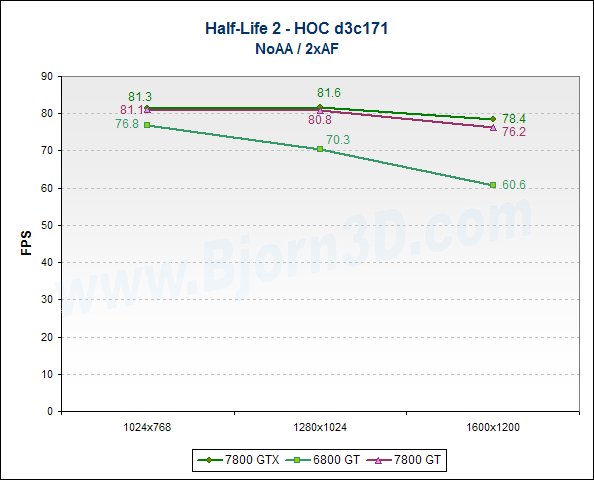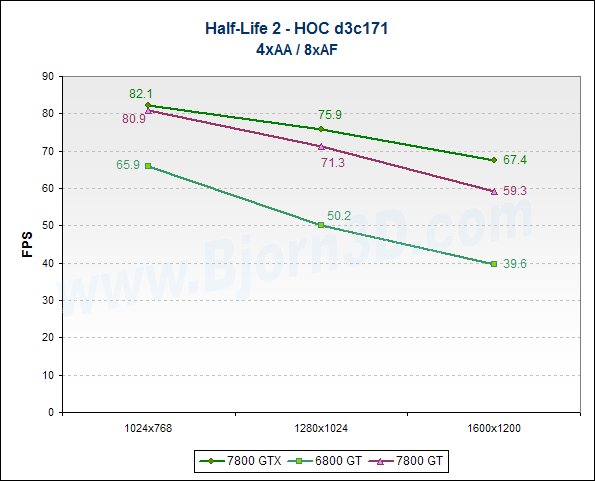 The pattern here is exactly what you should expect. As the rendering gets tougher (higher resolution and higher AA / AF), the 7800 GT falls more behind the 7800 GTX. Still, the results with this demo show that the 7800 GT can put up playable frame rates all the way up to 1600×1200 with 4xAA and 8xAF.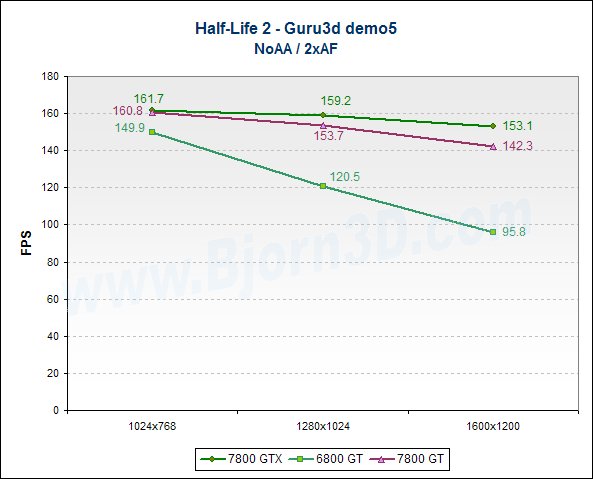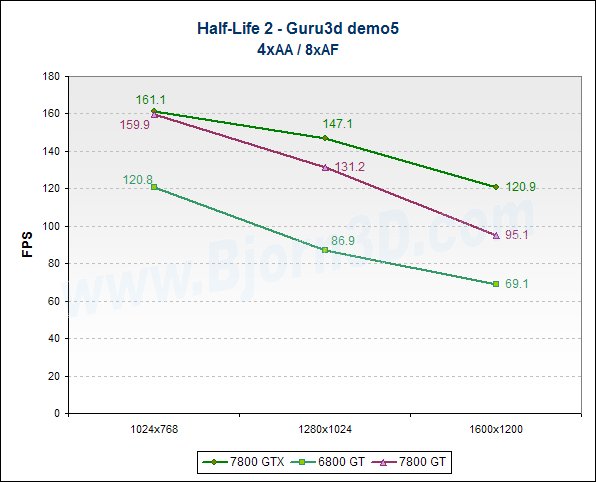 This results in this demo show pretty much the same thing that I pointed out above. The 7800 GT proves to be a great card for those who like playing HL2 at high resolutions with eye candy turned on.
Benchmark Results – Far Cry
---
Once again, I used a benchmarking utility from HardwareOC to benchmark this game. This time I used the HOC volcano and river demos for testing.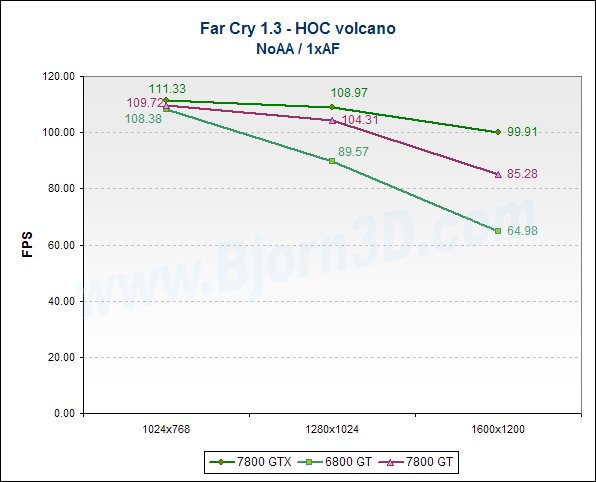 The volcano map demo shows us the same thing that the HL2 results did.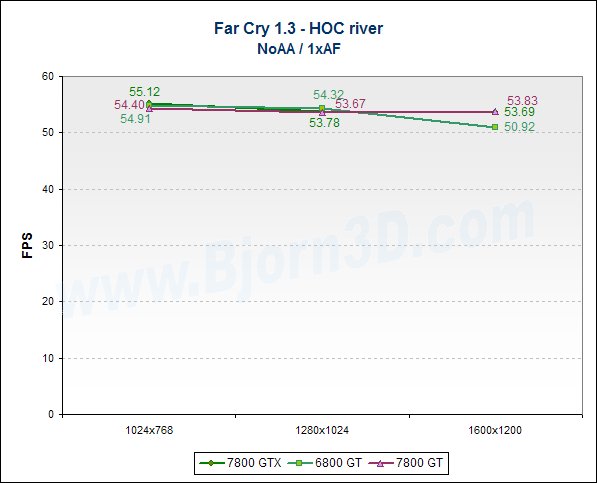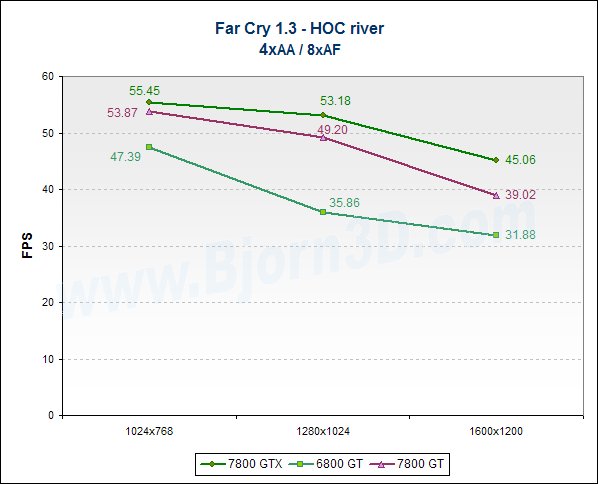 The river map demo proves to be a bit more challenging to the test system and is CPU-limited with AA disabled and 1xAF. The 7800 GT shows that it can perform very close to 7800 GTX when 4xAA and 8xAF is turned on.
Overclocking
---
Before wrapping things up, we of course have to take a quick look at the overclocking performance of the Gigabyte 7800 GT. Recall that the default core and memory clocks are 400MHz and 1,000MHz, respectively. I was able to reach a stable overclock of 465MHz and 1,130MHz, but graphic anomalies appeared in the 3DMark05 benchmark.
After a bit of tweaking and tinkering, I settled on a stable and anomaly-free 455MHz and 1,075MHz. The resulting performance gain in games was 3-11%, depending on resolution and AA / AF setting.
Conclusion
---
Unfortunately, I didn't get a pair of 7800 GTs from Gigabyte for testing, so I was only able to show you single-GT performance. In the near future, we'll post up some 7800 GT SLI performance results. I know many of you have or plan to buy a single 7800 GT with the intention of getting a second one later on. This seems to be a very sound plan, as my results show that the Gigabyte 7800 GT is a great performer.
Although around $100 cheaper than the 7800 GTX, all of this great performance and decent bundle will still put a hurtin' on your wallet (unless you have a money tree). Both Newegg and ZipZoomFly are selling this card for $385, a fair price for a damn good card.
Pros:
+ Great performance
+ Decent bundle with two full version games
+ Add another later for SLI action!
Cons:
– Price hurts the average person's wallet
– No life-time warranty like several other AIBs
Final Score: 9 out of 10 and Bjorn3D Seal of Approval