If you're in the market for a new CPU cooler that you want to be able to forget it's doing its job because you can't hear it, you should read this review of Thermaltake's Golden Orb II.
Introduction
---
Although there seem to be more and more new options for cooling CPUs, the traditional fan sitting on or in a heatsink configuration is still by far the most common. Basically, there are two common options for consumers to choose from with this configuration – a small- to medium-sized fan that spins fairly fast or a large fan that spins slowly. (I realize this is an overly simplified view, but most coolers in PCs today do fit this mold, especially if you consider direct PC sales.) Slower spinning usually means lower noise level, but the larger surface area of the fan's blades moving the air usually results in an equivalent airflow when compared to a smaller, faster-spinning fan.
For its Golden Orb II,Thermaltake decided to go the route of the slow-spinning, large-diameter fan. This makes it ideal for people looking to limit the extra noise coming from their PC. The fan also includes a blue LED to add a nice glow to a PC case. The Golden Orb II also features a pure copper base and is compatible with most Intel LGA775 and AMD socket 754, 939, and 940 processors.
For this review I decided to see how it would work with a dual-core processor – the Pentium D 820. I already had Intel's stock retail cooler, so this provided a perfect opportunity for a comparison of the two.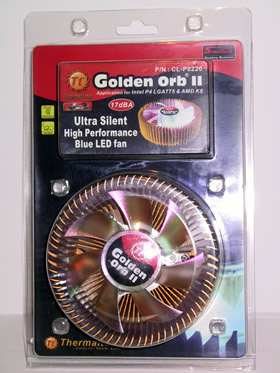 Specifications & Features
---
More details on this CPU cooler, including an installation animation, can be found at Thermaltake's website. Here's a break-down of the specs and features:
Specifications:
| | |
| --- | --- |
| Part Number | CL-P0220 |
| Heatsink Dimension | 120 x 63 mm |
| Heatsink Material | Copper core and aluminum extrusion (66 fin) |
| Fan Dimension | 100 x 24 mm |
| Fan Speed | 1600±10% RPM |
| Maximum air flow | 35.43 CFM |
| Noise | 17 dBA |
| Expected Lifetime | 30,000 hours |
| Connector | 3-pin |
| Weight | 752 g |
Features:
Compatible with the following processors: Intel Pentium 4 (LGA775), AMD Athlon 64 (754/939) and 64 FX (939/940), AMD Sempron (754), AMD Operton (940)
Near silent fan (17 dBA) with blue LED
Pure copper base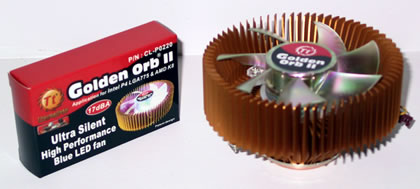 Package Contents:
CPU cooler
Parts for Intel installation
Parts for AMD installation
Installation Manual
One packet of thermal compound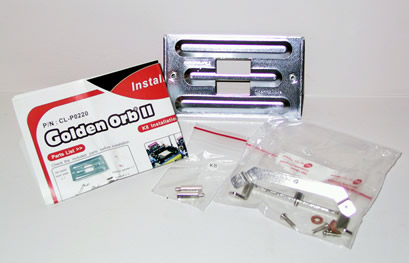 Installation
---
If you've installed a stock Intel CPU cooler for a Socket T (LGA775) CPU, you know that it is very easy. I would say easier than any other cooler installation because you simply put it down in the right place and snap down four pegs to lock it into place. Unfortunately, the Thermaltake Golden Orb II installation does not share this quality. Like most non-Intel LGA775 CPU coolers, the Golden Orb II requires removing the motherboard to install the bottom mounting bracket. Of course, this isn't a big issue if you're building a new system. But, if you're replacing the stock cooler like I did, you're in for an installation that takes a lot longer than that of Intel's stock cooler.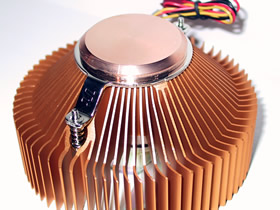 It's important to remember, though, that the cooler is too heavy not to have such a secure method of installation. I wouldn't want it installed in my PC in a less secure way. It's just too heavy for that. The installation certainly was not difficult at all, just a little more time-consuming than some. But it's really a small price to pay for potentially cutting down the noise produced by a system.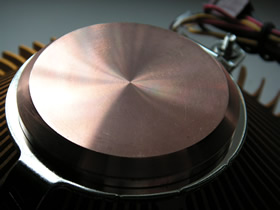 A key thing to keep in mind before buying a large CPU cooler like the Golden Orb II is that it might not fit in your current configuration if you have other tall components around the CPU socket or a very cramped case. Of course, Thermaltake designed the Golden Orb II to be as accomodating as possible, with its sloped heatsink. Here's a side-by-side comparison of the Intel and Thermaltake coolers in my test system:
Performance
---
Although Thermaltake does not list the Pentium D as a compatible processor, it is an LGA775 processor, so I installed the Golden Orb II on the 820 in my Intel test system. I compared its performance to Intel's stock cooler. Although the Thermaltake cooler comes with a packet of thermal compound, I used Arctic Silver 5 for both coolers to eliminate that as a possible variable.
Thermaltake equipped the Golden Orb II with a three-wire connector, which means that it can not take advantage of "smart" fan control offered by a lot of motherboards on the market today. That's too bad because that is a very nice feature. This means that there is no way to control the fan's speed, which should not be too big of a problem for most people. The fan runs at a constant speed that keeps it efficient and very quiet simultaneously. The Intel stock cooler does feature the fourth wire for speed control, so I measured the performance of it with the smart fan feature enabled and disabled, which is controlled in the BIOS.
To load the CPU as near a constant 100% as possible, I ran Sandra 2005 in its burn-in mode with 20 iterations of the CPU arithmetic and CPU multi-media tests.
Test System Configuration
Intel Pentium D 820 (2.8 GHz)
Biostar I945P-A7
Kingston KHX6000D2K2/1G (2x512MB 750 MHz DDR2) (review)
2 x Seagate Barracuda 7200.7 SATA NCQ 160GB hard drives in RAID 0 (article)
Leadtek WinFast PX6800 GT TDH (review)
Microsoft Windows XP with Service Pack 2
Forceware 77.77, DirectX 9.0c
| | | | |
| --- | --- | --- | --- |
| Cooler | CPU Load | Avg Temp (° C) | Avg Fan Speed (RPM) |
| Intel Stock – fan on full-time high-speed | Idle | 28 | 3245 |
| Intel Stock – Smart fan | Idle | 38 | 1310 |
| Golden Orb II | Idle | 31 | 1750 |
| Intel Stock – fan on full-time high-speed | ~100% | 46 | 4200 |
| Intel Stock – Smart fan | ~100% | 56 | 1550 |
| Golden Orb II | ~100% | 53 | 1750 |
I was actually surprised at how much better Intel's stock cooler does when the fan is running at high speed compared to the Golden Orb II. However, there is a definite trade-off, though, because it was much louder in this scenario. Overall, the Thermaltake cooler performs well and does a good job of letting you forget it's there.

Conclusion
---
The Thermaltake Golden Orb II is a very capable CPU cooler. It is compatible with all modern, mainstream CPUs and provides a quiet cooling solution that most anyone would probably be happy with. For tweakers who want to be in control of everything in their case, this certainly would not be a cooler on their radar. Also, the Intel cooler performs better when running at constant high-speed, but this better performance comes at the price of much more added noise when compared to the Golden Orb II's noise level.
Pros:
+ Good performance
+ Quiet cooler
+ Compatible with many different CPUs
Cons:
– Heavy weight requires bracket installation, which can be a pain in an existing system
– Large size could restrict installation of other things around it