With Cg being integrated into the big three of DDC application and given that the Quadro FX is the most advanced workstation graphics solution at these modest price points, NVIDIA's Quadro FX1000 and Quadro FX2000 are poised to be big hit.
NVIDIA Quadro FX Preview
NVIDIA's efforts are not limited to the desktop market, where our Bjorn3D readers typically concentrate their interests. NVIDIA has been and will remain to be a major stake holder in the workstation market. Currently, NVIDIA holds 65% of the consumer and workstation graphic market share. Today, NVIDIA is announcing its workstation version of the Geforce FX, called the Quadro FX.
Workstations
The workstation market is actually very diverse. Where I work, we use off the shelf Dell computers. We have several CADD (Computer Aided Drafting and Design) technicians who use desktop Dells just like the rest of us. Except that they use dual head video cards (commonly Matrox G200 PCI cards which they refuse to retire) for the expanded desktop working environment. I consider this to be the absolute bottom end of the workstation market. Above us are two more in-depth segments, including DCC (Digital Content Creation) and more advanced CADD services which are used for large scale industry projects. From what I understand, these higher market segments often upgrade their hardware and multi-processor system are not uncommon.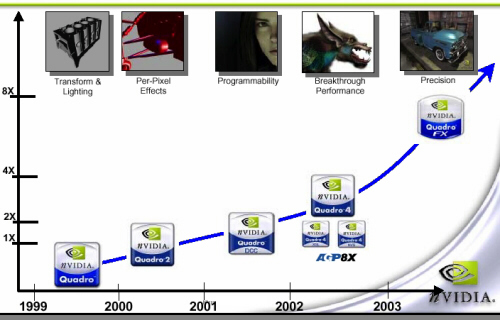 NVIDIA, in releasing the Quadro FX, is creating a broad line-up of workstation graphics capable of fulfilling the wide variety of workstation requirements.
Technology
NVIDIA is announcing two models of the Quadro FX, the FX1000 and FX2000. Both cards are based on the GeForce FX technology. You can read our full GeForce FX preview HERE. Similar to the GeForce FX, the Quadro FX workstation cards are running DDRII SDRAM. NVIDIA has told us that both cards will run 128MB of DDRII and that the FX2000's RAM is 30% faster than the FX1000's. NVIDIA has also taken steps to insure that these new cards will work in any system, in case some workstation motherboards do not have an AGP bus which will supply enough power to the video card, NVIDIA has included a power connector for a four prong power supply lead. Both cards also have 400MHz RAMDACs.
NVIDIA has described to us the FX1000 as being 1.5x the performance of their former, top Quadro4 980 XGL….and, as NVIDIA commonly does, this model will be released at the same MSRP as the former Quadro4 980 XGL: $1,295 and an ESP of $900.

Features of the FX1000 include:

Single slot thermal solution
Dual single link TMDS
Stereo connector

The FX2000, will not be as shown here. NVIDIA has informed us that the FX2000 will utilize the dual slot thermal solution, similar to what we saw previewed for the GeForce FX.

The FX2000 will also support Genlock and Framelock features via a daughter card which will require a second slot. NVIDIA tells us that they've worked out a way to intigrate this daughter card with the thermal solution, in order to keep this set-up at only using two slots.

Other features of the FX2000 include:

Dual DVI
1 dual link TMDS Display
Stereo connector

The FX2000 should be 200% faster than the Quadro4 980 XGL and 25% faster than the FX1000.

Beyond the physical details of the cards, the core abilities of MVIDIA's FX line-up should lend themselves well to the advanced DCC designer who needs features like:

12-bit sub-pixel accuracy,
16x full scene anti-aliasing,
128-bit floating point precision,
16 textures per pixel,
single pass volume rendering,
65k vertex instructions,
Genlock/Framelock,
6 user defined hardware user clip planes

As far as the core, NVIDIA has actually beefed up the GeForce FX core for the Quadro FX line-up. The one, significant change is the doubling the space available for shader programs to 2048 instructions.

Effectiveness

| | |
| --- | --- |
| | NVIDIA's success with these workstation cards will rely largely on it's effectiveness in the DCC market, where it will be most used in OpenGL and DirectX development. In order to ensure it's success, NVIDIA has worked hard to get their own cross API compiler into the major DCC applications…and they've succeeded. Accompanying NVIDIA's press launch today, is the announcement that the big three of DCC apps, Maya, Softimage XSI, and discreet have integrated NVIDIA's Cg right into their applications, such that direct Cg encoding and compilation can be done in real time. |

With this level of industry integration and given that the Quadro FX is the most advanced workstation graphics solution at these modest price points, NVIDIA's Quadro FX1000 and Quadro FX2000 are poised to be big hit.

Expect to see the Quadro FX1000 and FX2000 hit the streets in early February.