USB flash drives are wonderfully simple and useful. Belkin's offering is no exception. It's stylish, compact enough to fit in a USB slot without muscling other devices out of the way, and performs as well or better than its peers.
Introduction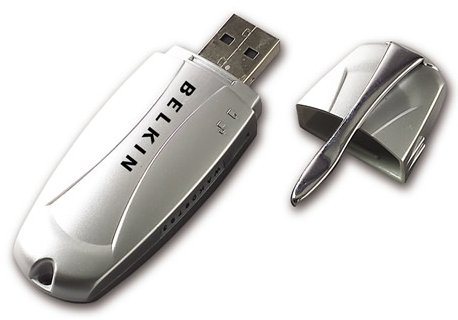 It wasn't long ago that 32MB of memory was worth what we pay for gigabytes of storage today. You can't even buy 32MB RIMMs today! Imagine if someone had told you back then that someday soon you'd be able to carry 32MB of non-volatile storage on your keychain and it would plug into nearly any PC without rebooting, installing drivers, or tweaking configuration files. You'd have said that person was whack.
We're talking, of course, about USB flash memory drives. Specifically Belkin's USB Flash Drive. We've reviewed a number of these devices lately and Belkin was kind enough to send us a 32MB review unit.
Features and benefits include:
Saves and backs-up documents presentations, downloaded music and videos, high-resolution photographs and virtually any file.
Provides an excellent solution for mobile professionals
Comes in 16,32, 64,and 128MB capacities
Requires no mechanical drive; plugs into your computer's USB port, for plug-and-play functionality
Detects as a removable disk by your system, automatically
Features write/delete protection switch
Requires no separate power supply or battery
Provides reliable data retention
Comes with a 3-Year Belkin Warranty and FCC, CE approval
The Belkin Flash Drive comes with a USB extension cord, driver diskette, and neck lanyard.
The drive is encased in handsome silver plastic. It features a clip for wearing in one's pocket or, for the ultimate in geek chic, a loop for the included lanyard for wearing around one's neck. It also has a write protect switch to prevent accidental erasure and a small, red LED that indicates when the drive is in use (hint: don't remove the drive when the light is flashing, you may lose your data).
Setup & Installation
Setup up for Windows XP, Me, and 2000 is extremely simple: Plug in the drive and Windows will recognize it as a mass storage device and assign it a drive letter. Once it is installed the flash drive works like any other writable storage device. You can save to it, drag and drop files to it, and read and execute files from it. Belkin includes an installation booklet that covers the basics well enough, just in case this is your first experience with a mass storage device.
Windows 98 users will have to take the extra step of installing drivers before using the drive. Belkin's included drivers come on a 3.5″ diskette. That's not something you see too often anymore, but chances are if you're still using Win 9x you haven't tossed your floppy drive yet. It's worth mentioning, however, just in case you are legacy-free and need all your drivers on CD. The drivers are available for download from Belkin's Web site as well.
The Belkin Flash Drive installed and performed flawlessly the first time out in Windows XP. Windows 98 worked equally well and seemlessly once the driver was installed.
Flashing
As we've noted in previous reviews of flash devices, and in our "Best & Worst of 2002", we regard these mini storage units as one of the Wonders Of The Computing Age. They are fast, efficient, and they work without messing around with them. The Belkin is no exception to this rule.
The form factor of the drive is small enough to where it can be plugged directly into a USB port without blocking the access of other ports. If, however, your USB ports are in the rear of your PC you may want to use the included extention cord. Better yet, get a USB hub and leave the back of the PC to dust bunnies.
We used several methods to test the performance of the Flash Drive. The method was SiSoft Sandra's File System Benchmark. As with our previous reviews of flash drives, the Belkin obliterated the standard 3.5″ floppy and was substantially quicker than a 100MB Zip drive. The Belkin also fared well against the other flash drives we've tested, scoring above the median.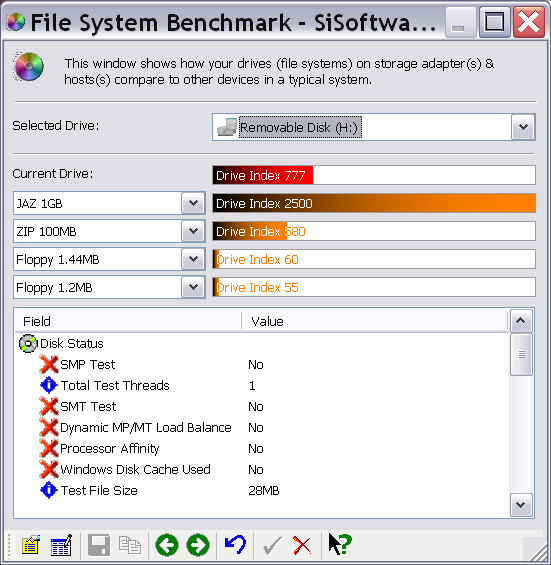 Next we copied a block of files from a hard drive to the Flash Drive. 21.8MB of MP3's transferred in 35.07 seconds (.80MB/s), again above the median of drives from previous reviews. The Flash Drive works the same as any other writable drive on a PC, you can 'save as' to it, copy files from Windows Explorer, or anything else you can think of with your fixed disks.
We used Windows Media Player to play the MP3 files and a MPEG file once the MP3's were removed. All file playbacks were smooth and stutter-free.
Conclusion
USB flash drives are wonderfully simple and useful. Belkin's offering is no exception. It's stylish, compact enough to fit in a USB slot without muscling other devices out of the way, and performs as well or better than its peers. Additional features such as the write protect switch, pocket clip, neck lanyard (useful for sneaker net, not just for stylin'), 3-year warranty, and USB extension cord make the Belkin USB Flash Drive a very strong contender in a crowded field.
We're awarding the Belkin USB Flash Drive a score of 8.5 out of 10 and the Björn3D Seal of Approval.