Logitech's MX line of mice includes a mouse suited for everyone, from basic users to hardcore gamers. The MX 300 and MX 500 are excellent mice and are definitely worth a look if you need or want a new mouse.
Introduction
---
Logitech has been a leading mouse designer and manufacturer for years now. It also has been a very innovative company, which is necessary to stay competitive with the other big cheese in the giant mouse maze (sorry, I just had to) — Microsoft. Today, we have two members of Logitech's MX Series of Performance Mice on deck — the MX 300 and MX 500. Both mice of course sport Logitech's newest MX Optical Engine, which "features improvements to nearly every aspect of the system, outperforming previous designs and establishes a new benchmark in optical tracking." In order to develop the new technology under the hood of the MX mice, Logitech partnered with Agilent Technologies to create a new 800 dpi sensor that captures up to 4.7 megapixels every second. What this means to the user is smoother, more accurate mousing on more surfaces than in the past and for faster hand movements. I guess it's like going from Mickey Mouse to Mighty Mouse … or something. 🙂
Many of you have undoubtedly already read or heard the good things about the king of the MX family — the MX 700 Cordless Optical Mouse. It's rechargeable, optical and cordless but still works well enough to be used for gaming! What else could you want? Okay, it could be free, but that's not going to happen. The MX 500 is the corded brother of the 700. The main differences between the two are the colors (the 700 is silver and dark blue while the 500 is dark gray and black), the presence of a cord and the price (the 500 has an MSRP that is $30 less than the 700). Other than that, they are basically the same mouse. The 300 on the other hand is the entry level mouse in the MX line, and it is your basic Logitech mouse that you are used to but with the nice dark gray and black finish and an ambidextrous design.
The MX 500 and MX 300
---
Optical mice have been quite popular for several years now for good reason. They have many benefits, including ease of maintenance and the ability to track over more surfaces than a ball mouse. When they first came out, optical mice left something to be desired when gaming. They just weren't fast enough for the quick mouse motions necessary in some games, like FPS games for instance. Optical technology has come a long way though in the last six months or so. Hence, you don't have to worry about slow response times with the MX family of mice.
MX 500 Features [product site]
Engineered for Advanced Precision and Control
New benchmark in optical systems combines high resolution and high frame rate to achieve superior performance.
Ground-breaking new engine captures more data every second, measuring even the smallest movement.
800-dpi sensor ensures unparalleled accuracy.
Cruise Control™ system combines two buttons with scroll wheel to ease scrolling through long documents or web sites.
Quick Switch Program Selector moves you between active documents and programs.
Two thumb buttons let you move forward or backward between pages.
Sleek contoured shape fits snugly into your right hand.
Five-year warranty.
MSRP: $49.95 USD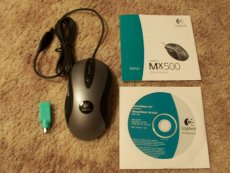 MX 300 Features [product site]
Advanced Precision and Performance
New benchmark in optical systems combines high resolution and high frame rate to achieve superior performance.
Ground-breaking new engine captures more data every second, measuring even the smallest movement.
800-dpi sensor ensures unparalleled accuracy.
Quick Switch Program Selector moves you between active documents and programs with one touch.
Leading-edge design incorporates comfortable rounded curves that fit left and right hands.
Never use the scroll bar again with a high-precision scroll wheel that speeds you through documents.
Five-year warranty.
MSRP: $29.95 USD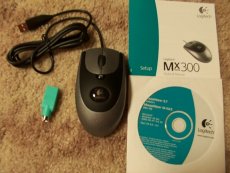 MX Engine
MX™ Optical Engine Maximum Performance Specifications
Image Processing: 4.7 megapixels/sec
Resolution: 800 dpi
Acceleration: 10g
Speed: 40 inches/sec
Package Contents – Same for Both Mice
Quick start guide
MouseWare Driver CD
USB-to-PS/2 adapter
As you can see, both mice boast some great features. The MX 500 is geared towards the user wanting something more from his/her mouse than just a left and right button to click. This mouse has a total of 8 buttons, including the scroll wheel, and they are all customizable. It includes the new Quick Switch Program Selector button (the second button located below the wheel) and the Cruise Control system (the two small buttons directly above and below the wheel). On the right side of the mouse, there are two thumb buttons that allow you to move forward and backward between pages. Please note that this mouse is designed for right-handed people. I am right-handed, and it is pretty comfortable. The areas designed for thumb and pinky placement are just right for my hand.
If you look closely at the first picture below, you can see that the main left and right mouse buttons are a little different from your typical mouse. The buttons are not completely 'cut out' like you normally see with mice. There are apparently no bottoms to the buttons. The MX 500 works just like any other mouse with regular buttons though. You just click in the normal area where you'd expect to click. This design adds to the sleek style and cool looks of the mouse.
On the other hand, the MX 300 is designed more for the average user who wants a good mouse but not necessarily the top of the line. It would be a great mouse for the typical office worker or student, and it fits the budget of more people. Lefties will also of course be happy to see that it's an ambidextrous mouse, which means that left handers and right handers can use it comfortably because of its symmetrical design. The 300 also includes the Quick Switch Program Selector button. Both mice also include a 5-year warranty.
Using the Mice
---
Installing the mice is quite simple, as it should be. I first removed the drivers for my MS Intellimouse Optical. Then, I plugged in one of the MX mice and installed the MouseWare included on the driver CD. MouseWare is a nice little application that lets you customize your Logitech mouse to fit your needs. I had no problems getting both mice to work on my Windows XP Pro system.
The MX 300
The MX 300 is a decent mouse, but once you get used to the MX 500 or other bigger mice like the MS Intellimouse Explorer (which is what I use at work), you won't be happy with a smaller mouse like this unless of course you have a small hand. As I mentioned above already, the 300 would make the average user pretty happy. The buttons are nice and big, and the scroll wheel rolls smoothly and evenly. I'm not sure how much the Quick Switch Program Selector button would actually get used, but it is a nice feature. You can get a feel for how the Quick Switch works in the picture below.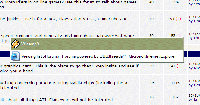 Basically, it works similar to using Alt-Tab to quickly switch between open applications, but you do get a nicer looking and more detailed list of apps with the Quick Switch button. I found the Quick Switch button to work well on the 300, but I'm more likely to just use Alt-Tab since I don't seem to remember the Quick Switch button is there.
The MX 500
Of the two mice, I definitely prefer the more advanced MX 500. I see it as a mouse for people who use their PCs A LOT and know that it is worth spending a little extra for a great mouse. I also like having all the buttons (8 is a lot for a mouse!), even if I may not use them all the time. For example, the Cruise Control buttons, which are designed for "rapid scrolling through large Web pages and long documents by just holding the buttons above and below the scroll wheel," are a great idea. Instead of having to scroll down about 20 times on a long page, you can just hold down the small, conveniently located Cruise Control button. It might sound kind of silly, but until you can actually see/feel the difference, then you probably won't think it matters much. Trust me though, once I get in the habit of using the Cruise Control buttons, they may become as indespensable to me as a scroll wheel. If not, then I have two extra buttons that I can program to do other useful tasks. The Quick Switch Program Selector button seems fit this more advanced mouse a little better than the 300. Don't get me wrong; it works exactly the same on both. I just prefer the design and the way it's implemented on the 500. Maybe it's just how nicely the Quick Switch button fits in with the center column of buttons (the Cruise Control buttons and Scroll wheel are above Quick Switch, creating a nice line or colum of buttons). The other very useful buttons that I wouldn't want to do without are the Forward and Back thumb buttons located on the side directly above the thumb rest. Say goodbye to that back button on your browser! These can be programmed for other functions, but I don't know why anyone who surfs the Web regularly would ever change them to something else. It saves me a lot of time and effort since I tend to go back frequently when cruising sites. The final analysis of the mouse is probably what most of you care about…gaming performance. Well, I have to say that I have no complaints at all after getting the latest version of MouseWare, but I did have some issues at first when using the 500 in games (I would have had the problems with the 300 too if I hadn't hooked it up after finishing up with the 500). To make a long story short, Logitech's drivers basically weren't allowing for scrolling to work at all in many, or all perhaps, games. This is a serious issue for me since I scroll up and down to change weapons in games. I mostly play FPSs, so it was very irritating! I contacted someone at Logitech and was told that new MouseWare would fix the problem, and thankfully it did. I downloaded and installed the newest MouseWare drivers (version 9.75), which came out in November, and then I was able to switch weapons the way I wanted to in No One Lives Forever 2. So if you get this mouse or are thinking about it and you depend on the wheel in games, make sure you visit this download page. With MouseWare 9.75, I found the 500 to perform flawlessly in Aquanox and No One Lives Forever 2. It kept up with any quick movements I made, and my hand never felt uncomfortable. All of the buttons and the scroll wheel worked great. I don't see why any gamer wouldn't be happy with this mouse.
Conclusion
---
Both mice work great thanks to the new MX optical engine. I never felt like the cursor was too slow for my mouse movements, and I was able to mouse on a variety of surfaces without problems (desktop, mouse pads, CD cases, paper, etc.). In addition to the great performance of these mice, they also feature very attractive designs. They are both dressed in dark gray and black, which looks pretty cool if you ask me. Plus the 300 is designed for both right handers and lefties while the 500 is a very comfortable and capable right-hander's mouse.
The only thing that really bothered me about these mice was the problem I mentioned above with the MouseWare, but since that has been fixed, I have no major complaints. I am still trying to figure out if I like the MX 500 or MS Intellimouse Explorer better though. The Explorer has a very natural and comfortable feel in my hand, but the 500 also fits under my hand quite naturally. I really can't pick a winner between the two, but I am going to donate my Intellimouse Optical to my girlfriend and use the 500 as my new mouse for my main system. I just can't pass up all the features and bigger size.
The MX 300 earns a score of 8.5 out of 10. It is a great basic mouse that throws in a little extra. It is comfortable and is a great option for left-handers. Recommended!
The MX 500, on the other hand, gets a 9.0 out of 10. As a right-handed mouser with an average size hand, I find it to be very comfortable, and its performance is top-notch. After installing the latest MouseWare, I had no problems using it in games. Enthusiasts will really appreciate all the buttons and the ability to customize each button's function. Highly recommended!