Leadtek's WinFast TV2000 XP Deluxe personal digital video recorder has many great features, is a solid performer, and a good value.
Introduction
We reviewed the WinFast TV2000 XP personal digital video recorder back in June of 2002. When talking to Leadtek about their nForce2 motherboard we had just finished reviewing, they asked if we wanted to look at the TV2000 XP Deluxe. We, of course, jumped on the offer even though we didn't know the difference between the two units.
So what is the difference between the 2000 XP and the 2000 XP Deluxe? Stereo!! The older XP model did not support stereo, and the newer XP Deluxe does. A few other things have changed as well. The remote is improved, and the remote control receiver cable is longer. Software versions have been updated, and the drivers are Windows XP Certified.
What is a personal digital video recorder? Let Leadtek fill you in:
WinFast TV2000 XP Deluxe is your best personal digital video recorder with video editing & authoring.
It allows broadcast TV viewing, stereo FM radio, live video display and video communication on a PC with the finest quality and optimal performance.
The VCR-like WinFast TV features give you the control of TV browsing, image/video capturing and audio/video adjustment.
With CoolCommand that includes remote control, WinFast TV2000 XP enhances your TV experience and FM listening.
Features & Specifications
New Full Function Remote control. Easier, friendly fancy user interface.
PIP ( picture in picture): One for live and the other for captured program. And master video can be alternative. The slave video can be displayed with any size and anywhere.
Time-Shifting: You can pause, rewind live television and instant replays.
De-interlace: Make the best quality for fast-motion video. No noise and flicker on the edge of motion objects.
Capture format profile: Support friendly setting for MPEG-1/MPEG-2/MPEG-4/WMV/VCD/DVD video and MP3/WMA audio encoding format.
Supports Video Streaming(WMV/WMA format) for Web Broadcasting and Network Video/Audio sharing.
Provides full version of Ulead Video Studio 6.0 and Cool 3D 3.0 for Video Editing and VCD/DVD/SVCD Authoring.
Supports NetMeeting for video conferencing.
All-in-one control panel: Friendly graphics user interface, not only support TV and FM programs online, also TV captured and FM recorded files playback in playlist.
Supports playlist for video/audio playback, several files can be played seamlessly as one file.It can play with a CoolCommand remote control and hot-key with keyboard.
Supports MPEG-1/MPEG-2/WMV video codec and MP3/WMA audio codec configuration to get the smaller file size for capturing.
Supports De-interlaced function to get high quality of motion video.
Make pre-scheduled recordings of TV and FM broadcasting programs, to achieve the features of Video & Audio On Demand.
Preset TV and FM channels with preferred name.
Watch high-quality TV with dbx-stereo in full screen or a scalable window.
Bridging video to PC from VCR, camcorder, LD/VCD/DVD player.
Support video mail communication.
Optional on-board FM receiver, MTS, and Teletext features.
 

WinFast TV2000 XP Deluxe

WinFast TV2000 XP

Hardware Interface
32-bit PCI 2.1 bus mastering
Compatibility
Graphics drivers must include DirectX 8.1 software Video Standards
Graphics drivers must include DirectX 8.1 software
Video Standards
NTSC, PAL or SECAM TV Tune
NTSC, PAL or SECAM
TV Tune
NTSC, PAL I/DK, PAL BG/DK, PAL M/N, SECAM LL, SECAM BG for respective model
Full 181 channels supported
FM Tuner
Stereo FM 76Mhz ~ 108Mhz (for Japan only)
88Mhz ~ 108Mhz (elsewhere except Japan)
Video Display
True color overlay in scaleable video-in-a-window
Video Format
RGB32/RGB24/RGB15/YUY2 Drivers
RGB32/RGB24/RGB15/YUY2
Drivers
WDM drivers for Windows 98SE/ME/2000/XP
Connectors
2 F-connectors for RF TV and FM signal inputs
1 Stereo phone jack for audio output
1 phone jack for I/R sensor
1 MiniDIN 6-pin connector with one S-Video and 1 RCA connector for Video input
1 MiniDIN 8-pin connector for S-Video, stereo audio input or Philips camera
1 Stereo phone jack for audio input
1 RCA yellow jack for composite video input
Bundle software
WinFastDVD from Leadtek
Video Studio 6.0 from Ulead Cool 3D
 
3.0 from Ulead
 
Package Contents
WinFast TV2000 XP Deluxe card
WinFast TV2000 XPcard
WinFast TV drivers/utilities CD-ROM
1 MiniDIN A/V cable
1 stereo audio cable
Remote control & batteries
IR sensor plug
FM antenna cable(FM version only)
User's manual
Minimum System Requirements
One available PCI 2.1 compliant slot
Pentium II 300MHz or higher compatible PC 64MB of system memory
MS Windows 98SE/ME/2000/XP
Graphics sub-system with DirectX 8.1 or above
16-bit sound card
Operating systems support
Windows®98/98SE/ME/2000/XP
Review System
AMD Athlon XP 2700+ CPU
Asus A7N8X Deluxe Motherboard
768MB Corsair XMS 3200 DDR SDRAM
Western Digital 120GB SE Hard Drive
48x12x48 Visiontek Extasy CD-RW
52x Acer Open CD
GeForce4 Ti4600 Reference Graphics Card
Installation & Setup
Because the XP Deluxe differs so little from the XP, please refer to the original XP review here for detailed installation and setup information.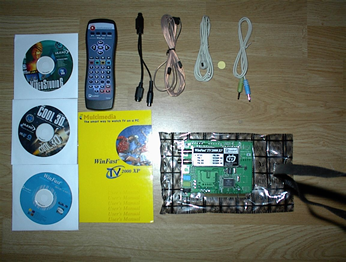 Usage
As you can see from the specifications, a lot can be done with the 2000 XP Deluxe. We used it for recording, time shifting, and listening to the FM radio broadcasts. For the most part, every function has worked very well. We did find that when recording at 640×480 resolution, you may want to use something besides the included WinFast PVR to play back the video. Winfast PVR stuttered at times, but Windows Media Player and NVIDIA's NVDVD did not have the same problem.
We also like the fact that you can record from FM broadcasts just as easily as video broadcasts. Westwood One has a lot of concert programs that I can't always listen to live. It has been very nice to be able record them and listen to them later.
Conclusion
The WinFast TV 2000 XP is a great value at an MSRP of $99.00 (street price of $69.00 at newegg.com).
Pros:
Easy installation and setup
Microsoft Certified Drivers
Ease of use
Cons:
Play back at high resolutions stuttered with included media player.
Final Score:8.5