For a speedy, reliable and portable storage solution, you really can't go wrong with SmartDisk USB 2.0 Portable Hard Drives. At 7200RPM and 80GB, there isn't much that can't be put on this hard drive. It's a simple and convenient way to trade and back up files, especially if you have Windows XP.
Introduction
---
How many times have you been hanging out with a friend, and he/she started playing tons of MP3s you wish you had? Or maybe he/she had a couple big movie files you wanted, but you didn't have any way to copy them? The small USB flash drives have become very popular in the last year, but you can't really put much on them, unless you are lucky enough to be able to afford a 512MB or 1GB one. Most of us don't belong to that tax bracket, so we have to come up with another way to get 10GB worth of stuff off our amigo's PC and onto our own. That's where a nice portable hard drive comes into play.
External and portable hard disk drives (HDDs) come in many different sizes, speeds and styles. You can get a 5GB one that fits in your palm (similar to the SmartDisk FireLite reviewed by Bryan) or a 20 gigger that is a little bigger and a little faster or even a 200GB 7200RPM drive that closely rivals your PC's hard drive. You can also get USB 1.0 and 1.1, USB 2.0 and FireWire flavors of portable HDDs. So depending on your desires and needs, you could definitely find something that suits you. Today, I'll be taking a look at a 80GB USB 2.0 portable hard drive from SmartDisk.
Specifications, Features and Package
---
Specifications
Data Transfer Rate:
• USB 2.0 High Speed Mode — Up to 480Mb/s
• USB 1.1 Mode — 12Mb/s
Dimensions:
4 7/8 in. (H) X 1 1/2 in. (W) X 7 3/8 in. (D)
123.825 mm (H) X 38.1 mm (W) X 187.325 mm (D)
Warranty: 1 year
System Requirements
Available USB 1.1 Port or USB 2.0 Port
CD-ROM Drive
Windows Users
• Pentium II class processor or higher
• Windows 98SE, Millenium Edition, 2000 or XP
• 32 MB RAM or more
Mac OS Users
• G3 processor or higher
• Mac OS 8.6 – 9.x, Mac OS X 10.1 or higher
Features
Versatile
• Back up files to one safe location
• Transport files between computers
• Store your photos, MP3 music files and digital videos…do anything you want and everything you need.
Easy To Use
Quick installation: just plug it in and you're ready to go. (Windows 98SE requires driver)
Compatible
Works with USB 2.0 or USB 1.1.
Speedy
USB 2.0 data transfer speeds allow you to work more and wait less.
Shock Resistant
Air mount design suspends the disk in a cushion of air, protecting your data while also keeping drive noise to a minimum.
Keep It Cool and Quiet
Alloy housing and innovative air flow design cools the drive naturally – no noisy fans!
Fits Your Desk Space
Unique design can be positioned vertically or horizontally to fit anywhere on your desktop.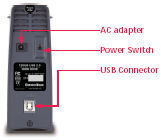 Package Contents
• Portable hard drive
• AC adapter with power cord
• USB 2.0 cable
• User Guide
• Software CD
Installation and Performance
---
Installation
Installing the 80GB SmartDisk portable HDD is as simple as installing any other USB device in Windows XP. All I had to do was plug it into a USB port, and it was ready to go. In order to get the fastest speeds, you of course will want to plug it into a USB 2.0 port if you have one available. Most newer motherboards will have at least two USB 2.0 ports available, but if you don't have any, you can always buy a USB 2.0 hub or PCI card, which are manufactured by many companies like SmartDisk and Belkin. If you are interested in getting a card, you can check out Bryan's Belkin 2-port USB 2.0 PCI card review here. Or you can look back here soon for a review of one from SmartDisk. If you don't have USB 2.0 available on your system, you can always just use a USB 1.1 port.
Once you plug the HDD in, it shows up in Windows Explorer as the next drive you have available. Then you simply treat it like any other drive you have in your system. Drag and drop files, open and edit files, create and delete files, etc. In the picture below, you can see how the drive shows up in Windows XP. Additionally, you can see that the drive comes formatted with a FAT32 file system and is actually only 76.6GB, which is typical for a hard drive since all companies seem to measure 1GB as 1 billion bytes.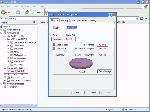 As I said, the drive is extremely simple to set up and use in XP, but if you have Windows 98SE, you will have to install the driver that is included on the CD. In addition to this, the only other hassle this drive presents is having to plug in the power cord and making sure you turn it on after you plug it into a USB port. (Yeah, I guess I did say that all I had to do was plug it into a USB port above, but I lied. 😉 ) When I initially plugged the power cable into the drive and into the wall and then hooked up the USB cable, XP was telling me that there was an error trying to set up the USB device. I scratched my head for a couple minutes and wondered what was going on. I quickly realized that I had neglected to flip the power switch on the back of the unit to the "on" position. D'oh! Once I got it figured out and correctly set up, I was greeted with a green glowing light on the front of the drive, indicating that it was ready to get filled up with data.


Performance
To test the performance of the SmartDisk portable hard drive, I used the device on two different machines — my main rig (listed as Test System 1 below) and my home theater PC or HTPC (Test System 2). As you can see, the Chaintech motherboard in my main system already has USB 2.0 ports, but I had to install a USB 2.0 PCI card (the SmartDisk USB 2.0/Firewire combo card that I will be reviewing) in my HTPC to take advantage of the drive's true potential.
Sandra File System Benchark
The drive scored pretty well in the Sandra File System benchmark — Drive Index of 20208. You can see a screenshot of this benchmark below on the left. The image on the right is my main system's score — Drive Index of 28464. This is with a Western Digital 80GB SE HDD. SmartDisk's portable HDD compares quite favorably to the average hard drive thanks to the USB 2.0 connection.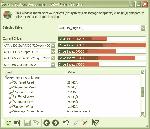 Actual Performance
Instead of having a long dialogue about each little real life test I ran, I decided to just make a simple table showing what I did to test the drive.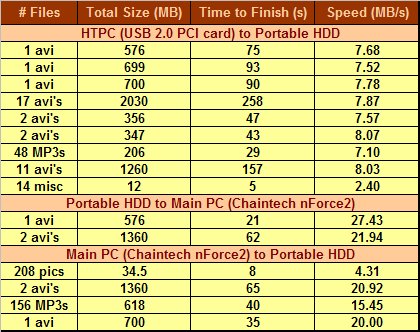 As you can see the drive performs very well when transferring files from my main PC (Test System 1 listed above) to the portable HDD, consistently achieving speeds around 20MB/s. Even though the portable HDD cannot really keep up with my main PC's HDD, I decided to reverse this test to make sure SmartDisk's device performed as expected, which it did. When I look at the rest of the table though (the top section), I find myself scratching my head and wondering, "What's going on here?" The speeds aren't quite as high as you'd expect, and I'm not sure why. That is the very reason that I did so many tests with that setup (my HTPC with a USB 2.0/Firewire PCI card installed). I expected the PCI card speeds to compare more closely to the USB 2.0 mobo speeds. Regardless, 7-8MB/s is much faster than USB 1.1 speeds. For example, I plugged the drive into a USB 1.1 port, and it took 190 seconds to copy a 175MB file (0.92MB/s). After hooking the drive up to a USB 2.0 port on the PCI card, it only took 22 seconds to transfer the same file (7.95MB/s) — more than 8.5 times as fast. Twenty seconds is much more tolerable than over three minutes to me!
As I performed the speed tests, I touched the drive casing to see how hot it was getting. Surprisingly, it only gets a little warm. I doubt it ever really gets hot. Additionally, the LED blinks red or is solid red while copying files to or from the drive. One of the final tests I did was to make sure that opening and accessing files directly from the drive while in an application was quick enough to be useful. I opened several movie files and MP3s that were stored on the portable HDD from within Windows Media Player, and they played quickly with no playback problems.
Conclusion
---
SmartDisk really has a winner here with their 80GB portable HDD. It is a great solution for sharing, backing up and transferring MP3s, movies, important files, etc. to your other or your friends' PCs. USB 1.1 devices have always been quite handy in the right situations, but now with USB 2.0, you have that plus real speed. I've been wanting a quick and easy 'external' backup solution for a while now, and I'm quite pleased with the performance and potential of the SmartDisk USB 2.0 portable hard drive.
Pros:
Great aluminum casing design
Fast and portable!
Quiet
Stays cool
Cons:
No included backup software, carrying case or other extras like several competitors offer
SmartDisk offers this drive in 60GB, 80GB and 120GB flavors. The 80GB drive I reviewed is listed at $199 on SmartDisk's web site right now while the 60GB one is on sale for $150. The price is of course a little high compared to regular internal IDE hard drives, but SmartDisk doesn't seem to cut corners on quality, so you can feel confident you are getting a good product. I have had no problems so far with my review unit, and the build quality is excellent.
For its great performance, a nice design and high quality, I'm giving the SmartDisk 80GB Portable Hard Drive an 8.5 out of 10.