RGB has entered yet another part of your PCB build
There are many RGB SSD's showing up on the market but the TForce Delta R RGB SSD is the first to come across our bench.
Love it or hate it RGB is only getting more prevalent. RGB started getting into PCs as lighting swapped from cold cathodes to LED strips. Soon came standard 5050 style RGB strips which used an external remote to control them. Then we got into motherboard headers and other devices controlling these single color strips. Fans of course got in on the action soon enough with their own independent controllers. Then addressable RGB entered the scene, while addressable RGB has been around with specialty lighting and devices it was far from mainstream.
A new generation of addressable products started to arrive. From multi mode fans from the likes of industry veterans such as Corsair to  a lot of offshoot brands looking to cash in on the new trend. At this point I cannot think of many parts that RGB has not touched, and one which I never would have thought of is the SSD. since many PC cases now have ways to display your 2.5″ SSD, it only stands to logic that SSD would be a natural inclusion but it is one of the last parts I can think of to get the RGB treatment.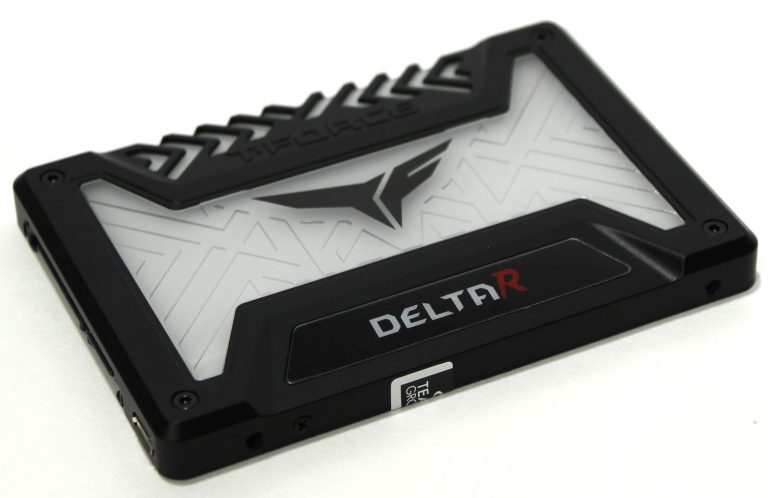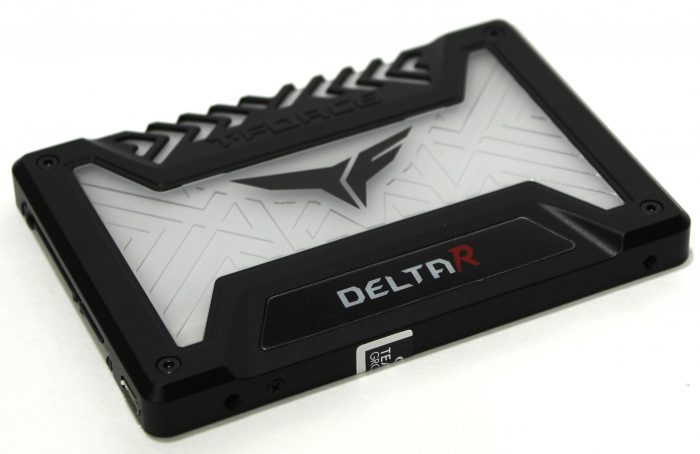 The TForce Delta R RGB SSD is the exact model we have in hand today. The reason I mention this is that Team Group has three total models in their RGB capable SSD units.
Team Group TForce Delta R RGB 250GB SSD $ 59.99

This is the drive we have today, offers full RGB rainbow effect flowing pattern and is NOT adjustable

Team Group TForce Delta S RGB 250GB SSD $XX.XX Unknown availability

This unit is single color RGB (Full SSD illuminates a single color)

Team Group TForce Delta RGB 250GB SSD $79.99 Newegg

This unit allows fully addressable control of the RGB LEDs
This price point puts The TForce Delta R RGB SSD 7 dollars more than one of the most popular SATA SSDs on the market at the same capacity. The Samsung 860 EVO is presently sitting in the $52.99 at  and this is mentioned to give a understanding of what you are paying extra for the RGB effect.
Features
This is where we pick some of the marketing points the manufacturer offers, then we explore them through our testing.
Largest luminous RGB area with the ratio of 5:3

What this means it is has a large illuminated area for the RGBs

Built-in water flowing lighting with RAINBOW mixed color effect (Can't be controlled or synchronized by other software)

This is a very strange one as I came to find out that the RGB cannot be adjusted or controlled. It is a constantly flowing rainbow pattern.

Suitable for motherboards with USB 9PIN headers

This drive uses a USB 9 pin header even though it has no way to adjust the RGB

Read/write speed up to 560 MB/s. 4 times faster than traditional HDD

This should keep up with the best in the market in regards to SATA based storage

2.5-inch hard drive with 9.5mm in height

This is a bit thicker than the 7mm parts we see that can fit in and ultra thin notebook, but being RGB its not made for that.

Support S.M.A.R.T. technology
Supports TRIM

Once again standard for any SSD

Three years product warranty with free technical support service.

Decent warranty, matches the gamer series form Kingston, while Samsung offers 5 yr or 150TBW whichever comes first.
With those out of the way now lets see what we get with this card.