Glaive Testing
The first thing I did after opening the Glaive was give each thumb rest a try and see how each affected the in hand feel. It was surprising how each rest gave the Glaive a completely different feel. I immediately thought about how great of an idea this was as it allows the Glaive to fit an immense amount of grip styles, maybe all of them. I chose the wing style rest and went on to open CUE. My current system is red and white so my Glaive got that color treatment. We have featured in-depth reviews of the CUE software many times over here on Bjorn3D.com and imagine most PC gamers are at least familiar with the software. To be precise, CUE is powerful, simple, works flawlessly and gives intense customization options.
Gripping the Glaive is immensely comfortable. The design feels large in my hand, maybe too large, at the same time all buttons are within perfect reach and nothing feels out of place. Immediately I note the Glaive's PMW3367 sensor is extremely precise. I was using the M65 PRO RGB when the Glaive arrived, the M65 Pro has a 12K DPI sensor which certainly isn't a slouch. Even still I noticed the difference in precision right away. For such a large feeling mouse Corsair has managed to achieve a perfect weight and ninja-like agility, it really is surprising the Glaive is so robust but also so light and fast.
For performance, I have no oddities to report. My testing time with the Glaive was a pleasant interaction. Everything is spot on, everything is customizable, everything works perfectly. It's almost bothersome when you can't find something off about a product. You start to wonder, Have I overlooked something? Could it really be so flawless? I was only able to find one aspect of the Glaive I did not like: The static blue DPI indicator lights. To me, it makes absolute zero sense to put single color lights on an RGB device. Here's a precision tool that can be fully customized to be perfectly matched to your current color scheme, hope you like blue. While this point is extremely small and most probably won't care, it's the only odd thing about the Glaive that stood out to me. Other than that the Glaive is a dream.
Corsair Glaive RGB Gaming Mouse – Conclusion
The Glaive surprised me at every turn. It truly is a dream mouse with all the features you could ask for. While something like a mouse is an extremely personal item, with about a million factors deciding whether it will be a good fit for you personally, no gamer can deny this mouse has all the tools needed to handle the role and suit your needs. The Glaive is extremely comfortable and I can not stress enough how precise the PMW3367 sensor is, even before using the surface calibration utility. The LED placement is just right, not too much, not too little. Being able to change up the grips means almost certainly you can find a grip that is perfect for your style. In the style department, the Glaive is kinda modest and extreme at the same time. Same goes for the feel and agility. Corsiar has outdone themselves with the Glaive RGB.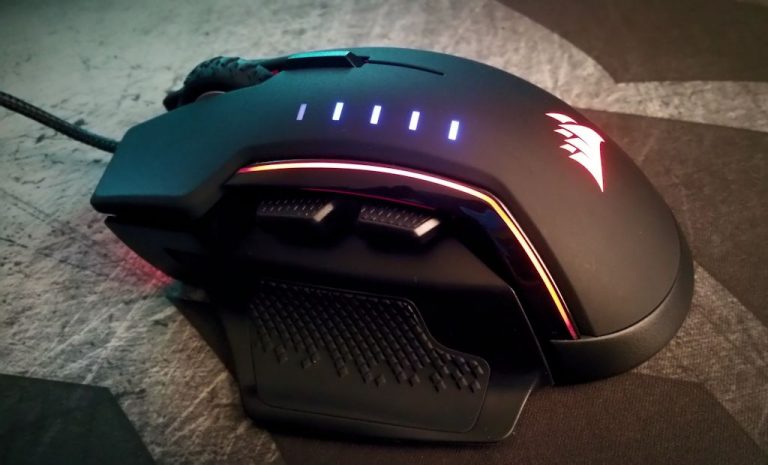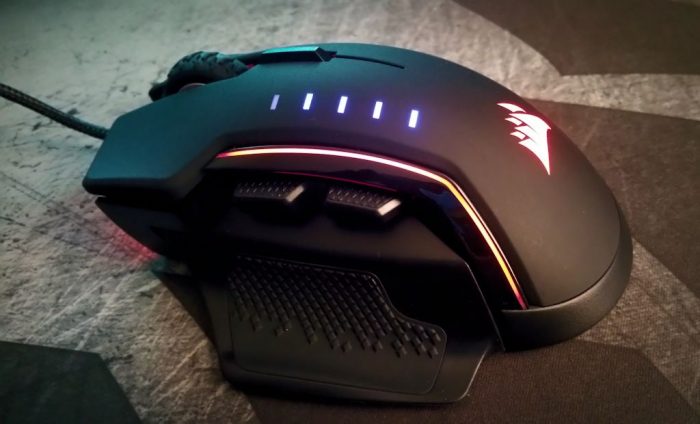 Corsair Glaive RGB – Pros

Corsair M65 PRO RGB Cons

16,000 DPI extremely precise optical sensor
RGB lighting
Changeable Grip System
Corsair Utility Engine
Omron Switches
Top Tier Quality