Final Thoughts and Conclusion
We checked out several wireless remote control outlet offerings and they all operated in much the same way. A couple offered five outlets with two remotes, a couple of dollars cheaper than Tudia Cous, but lacked the same range or blocked both electrical outlets, making the Tudia Cous a no-brainer choice. Prices on the Tudai Cous range from $29 – $37 for 5 outlets and two remotes, depending on the vendor you choose. We found it easiest to use sticky notes until we learned which outlet serviced which station. The outlets are numbered 1 – 5 and we had some confusion at first, but quickly knew each outlet's position and were moving the remote closer as we grew to depend on it.
Here's the downside. For some unknown reason, Tudia Cous went with a 12V A23 battery, and it's a non-standard size. We sent a request to Tudia for a link to a replacement, but these should be the replacement you need (). The batteries aren't horribly expensive so we won't count that against Tudia, but a standard battery size is a bit of an omission. We confirmed with Tudia any 12v A23 battery will fit, so if needed use the link above to locate compatible batteries.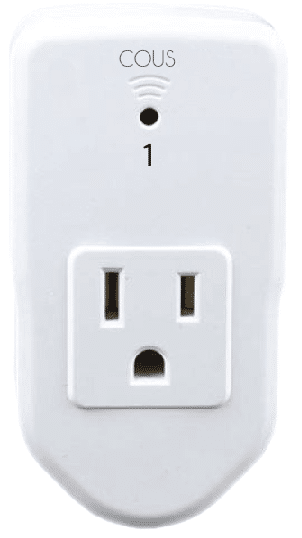 We like the ease of installation of the Tudia Cous. We also like not having to link phones to the outlets which makes them ideal for casual controlling of appliances, lamps fans and saving standby power. The fairly low tech solution to a common problem for around $35 makes it a product worth looking at, especially if you have elderly or mobility impaired people in your household. For those of us where mobility isn't an issue, it's a nice little luxury you should treat yourself to. 

Pros
Cons

Price
Ease Of Install
Low Tech Approach
Mobility Impaired Friendly
Two Remotes