Corsair Utility Engine
Configuring RGB Backlighting
K95 RGB PLATINUM supports the full spectrum of RGB color. In addition, the platform utilizes a new controller which expands upon the lighting colors in comparison to the previous generation K95 RGB keyboards. The keyboard, by default on startup, will be in Standard Mode, and display one of our new default patterns known as "Spiral Rainbow." We have included other patterns selectable through the drop down menu for users to select immediately. Some patterns will also have additional options to toggle the speed and/or the direction of the lights by clicking on the pencil icon after selecting the effect.
Below is you can see examples of 3 lighting modes, as stored by default in 3 onboard memory profiles.
In hardware playback mode (with hardware profiles), the following predefined lighting effects are available: SPIRAL RAINBOW, RAINBOW WAVE, VISOR, RAIN, COILOR SHIFT, COLOR PULSE, COLOR WAVE, TYPE LIGHTING (KEY), TYPE LIGHTING (RIPPLE) and STATIC COLOR.

Up to 3 profiles can be defined and stored onboard via three small chips freeing the K95 Platinum from having to have CUE software while on the run.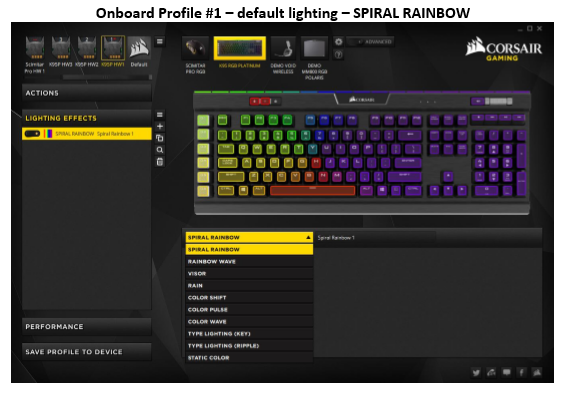 'Shown with the Spiral Rainbow profile enabled (profile 1 default) CUE is a full featured lighting and macro controlling software package used for many of Corsair's products.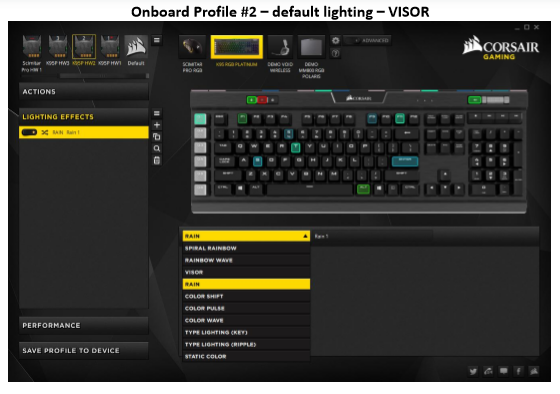 Shown with the Visor minimalist profile engaged  (profile 2 default) each profile can be customized as needed and stored onboard.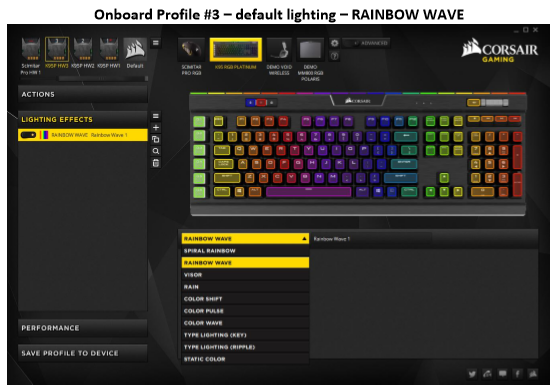 Profile 3's default is Rainbow Wave, but we would suspect the serious gamer to set game specific profiles for their favorite games.