CMSTORM Havoc
Cooler Master has quietly been marching to the forefront of high-end, affordable gaming gear, and when it comes to getting your money's worth, Cooler Master is just darn hard to beat. Having had hands on a half dozen or so Cooler Master mice in the last few months, the attention to detail and giving the end user what they want has Cooler Master is spot on hitting the nail on the head. You can peruse the Cooler Master lineup and almost everyone out there can find something to fit their hand and gaming style. While many companies hold you hostage for a sawbuck ($100) or more, Cooler Master will put a state-of-the-art, hands-down, no-compromise instrument of gaming destruction in your hand for less than half of some of the competitors.
The CMSTORM HAVOC has just about everything than can be stuffed on a mouse and is sold at the $45 price point. Currently if you look on Amazon we've seen a $20 rebate on the HAVOC which would probably mean Cooler Master is taking a loss on the HAVOC just to get people to try their product. Generally when a manufacturer has that kind of confidence to get word of mouth you are looking at a good product.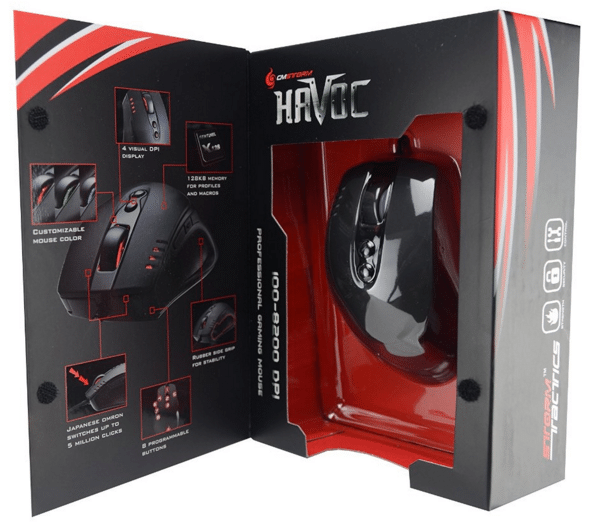 The HAVOC comes impressively packaged in a lift top box so you can get a glimpse of it in all its glory before you make your decision to shove it under your coat and run screaming out of the storem yelling "It's mine, all mine". On a more serious note, the packaging is both very protective and informative, and geared for both shelf and hanging displays. Ours arrived in flawless condition, despite a shipping box that looked like it had gone ten rounds with a pit bull.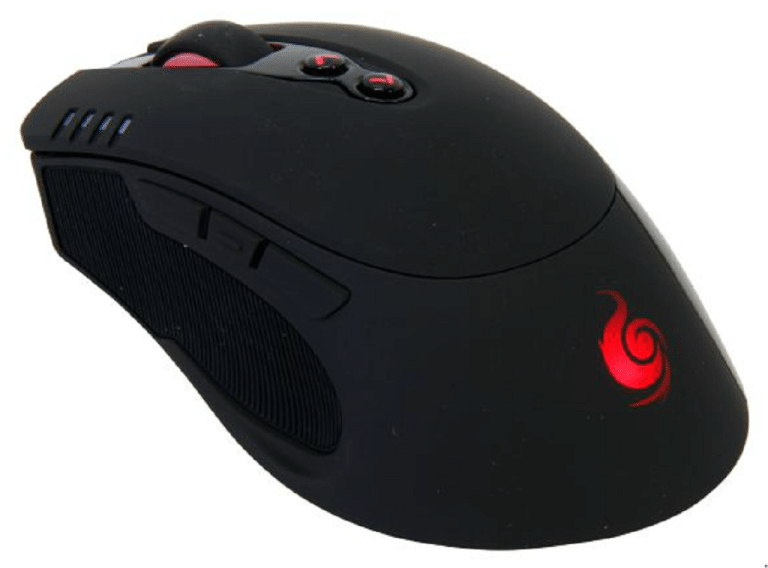 The CMSTORM Havoc was designed for precision gaming and incorporates an Avago 9800 laser sensor, capable of driving 8200 DPI at an acceleration of 150 inches/s. The lift off distance for the HAVOC is 1.3MM and it stops tracking and freezes the pointer on the screen making it easier for habitual "mouse lifters" to keep track of their pointer. The mouse is capable of 1000HZ polling, which some companies have dubbed Ultra-Polling, and has a 1ms access time, so when the rubber painted surface of the mouse is in your palm it reacts instantly, with zero lag and actually feels like an extension of your arm. The painted rubber coating is a new one for us, and it's quite silky to the touch and your palm grips it nicely, preventing it from slipping. There is really no fatigue factor with a palm grip mouse this ergonomically built, and you can easily tell that it was designed to fit your hand in a natural manner.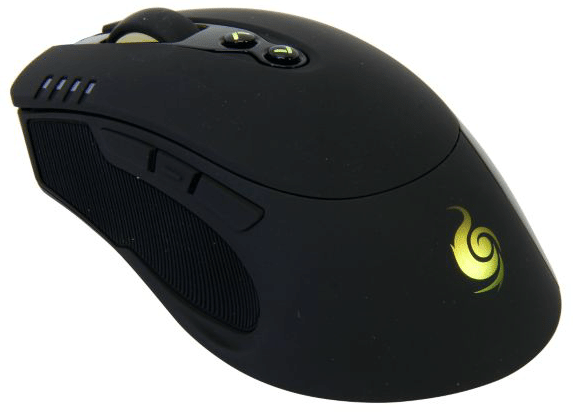 The HAVOC can be adjusted to 7 different LED colors, which should be plenty to color coordinate with your system, and eliminates the overhead expense of 16.8 million color RGB, most of which would be covered by your hand anyway.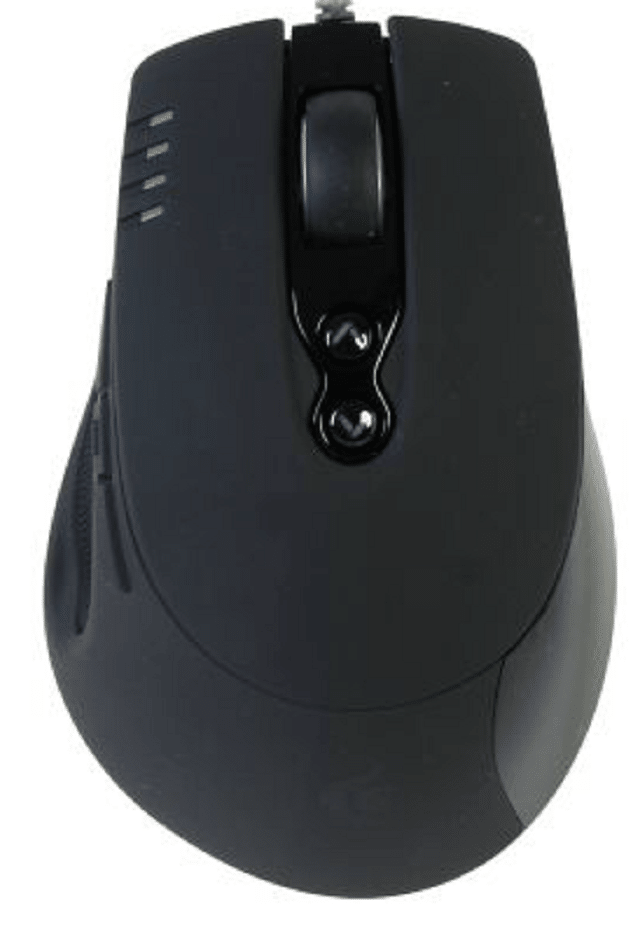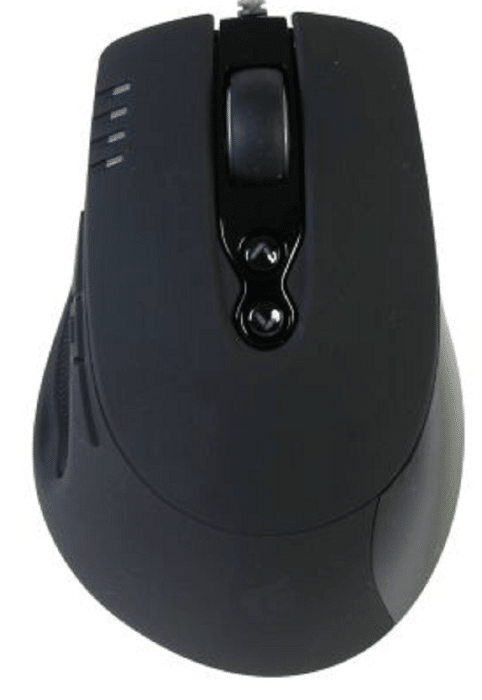 On top the mouse you have DPI up and down and a smooth scroll wheel. As we mentioned, the painted-on rubber surface is soft and comfortable in the hand. There are 8 buttons on the mouse, all programmable, and you can use the Storm Tactix force multiplier to switch button profiles, effectively increasing the number of buttons from 8 to 15. When it comes to switches, under the buttons Cooler Master chose high-quality Japanese Omron micro-switches that are rated at 5 million clicks each. The on-board 128k of memory can store 4 profiles so you can carry your profiles on the mouse itself and not have to install software at the LAN party and recreate your profiles.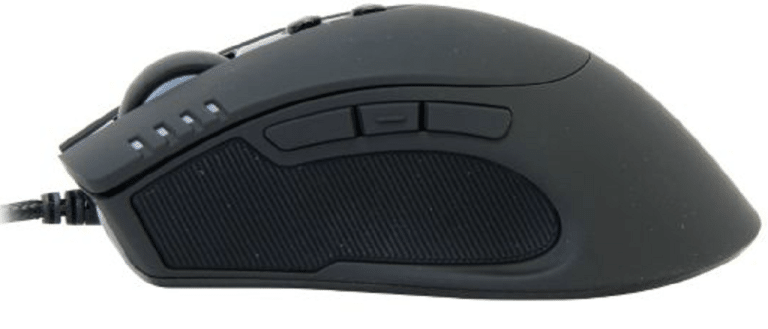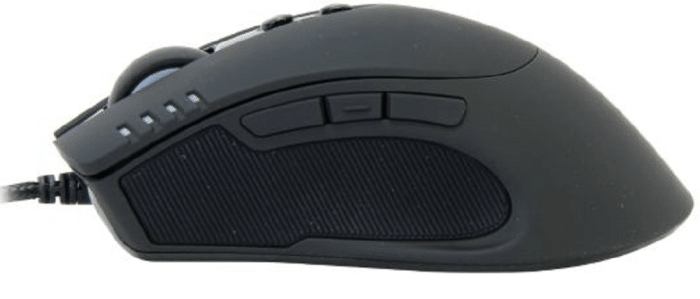 The left side of the mouse has a rubberized grip and just a slight ledge to rest your thumb on. The center button is your Tactix button, switching profiles on the fly like a force multiplier, increasing the effective keys from 8 to 15. The thumb keys are properly positioned so that they fall naturally under your thumb and there's almost no learning curve in figuring out which button you're activating.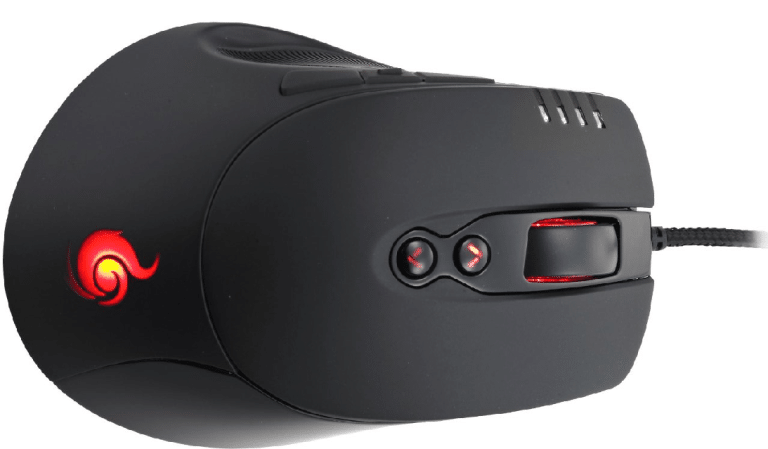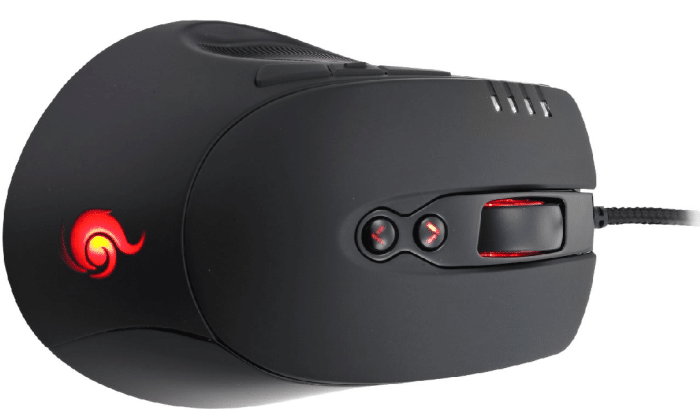 Seen from the top, you get a look at the thumb skirt and simplicity of the ergonomic shape. You know you have a well designed mouse in your hand from the first second you touch it. The HAVOC isn't particularly heavy, but it doesn't have that flimsy feel so many mice have. When we detect the slightest flimsiness we place the product on the wall of shame and sentence it to death by dust. There's no chance of that with the HAVOC, which would make an excellent LAN party mouse, where mice have been known to come up missing. It's got the precision and features you need, but isn't as large a target for sticky-fingered jealous gamers. We are sorry, it's just a fact that mice go missing at LAN parties. One minor deterrent is drilling holes in two IO plate covers and feeding the USB connector through the holes then screwing them into the chassis. At least the light fingered ones have to work at removing your mouse.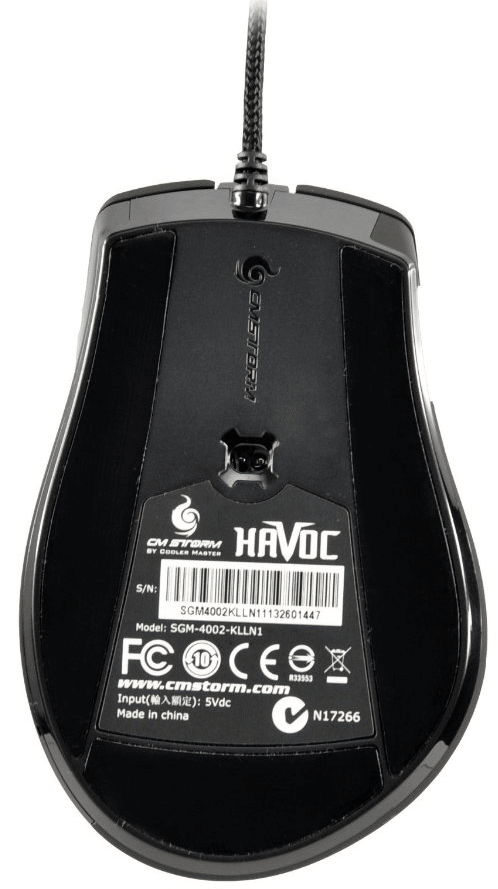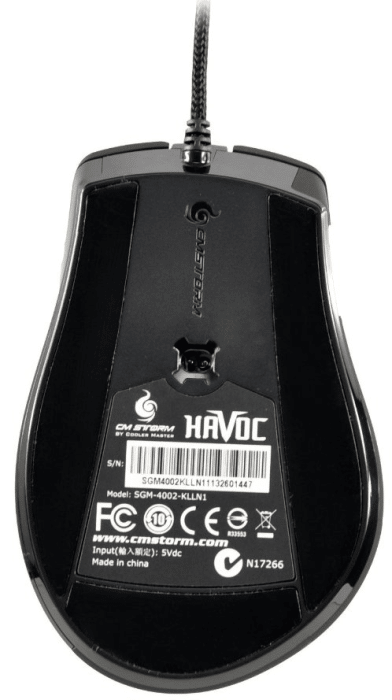 The bottom of the CMSTORM HAVOC shows its name, model information, and the standard accompanying labels and warnings.
COOLER MASTER HAVOC Conclusion
The Cooler Master HAVOC is a lot of mouse for a mid-ranged price; it uses a high-quality Avago 9800 laser sensor, and Omron micro switches. Expected button

life is 5 million clicks on the 8 programmable buttons. The rubber side grip and rubberized paint isn't going to slip in your hand, and the ergonomic shape makes for comfortable palm gripping. Cooler Master built in 128K Memory for up to 4 stored profiles to let you take your favorite macros and key assignments with you on the road. The lighting colors of the mouse are adjustable to match your boxer undies if you choose to let those hang out. You get a generous 1.8M cord which should give you plenty of room to connect to your computer in most situations.
Now as far as game play, the 100 – 8200 DPI with on-the-fly adjustment didn't hurt our feelings any, but there were quite a number of head splattered opponents screaming "cheat!". You know what cheat means usually, you have a lower lag time, better equipment, or they need to stay on the porch with the little dogs. Don't get caught on the porch with the little dogs, pick up the HAVOC or one of its high end brothers or sisters and howl with the big dogs.
Just an editors note: A short time back the HAVOC would have been total Gold but the market has been flooded with lower cost, high-end, heavily featured mice. On the same note, we wouldn't hesitate to walk into a LAN party swinging the HAVOC around our finger, popping a "We're going to trounce you swagger, then buy you a Red Bull" look.