CM Storm Mizar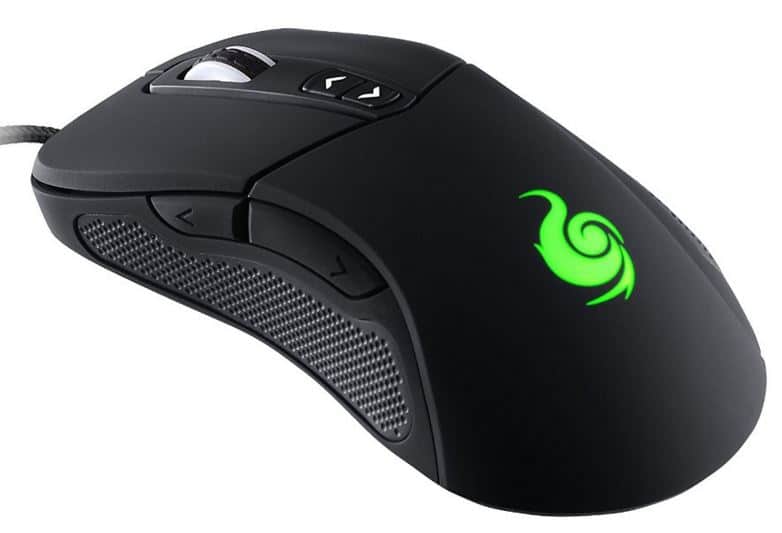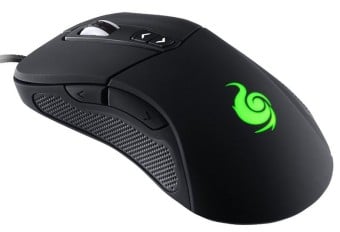 Overview
The CM Storm Mizar is a full size gaming mouse inspired by classic right handed, ergonomic mice of days past. While the inspiration comes from traditional mice, the technology inside does not. The Mizar comes equipped with an 8200 DPI, Avago-9800 precision laser sensor, 7 programmable buttons, customizable LED lighting, quick DPI profile switching, macro capability and large reinforced rubber pads on both sides which make for some comfortable gaming. The CMStorm Mizar has the tools and design it needs to be a great mouse, especially in the $60 price range. It will all come down to how Cooler Master has put this budget gamer together, let's take look.
Features and Specifications
7 Programmable Buttons –
Set the 7 buttons on the Mizar to pretty much whatever your heart desires, including macro assignment.
Sculpted Ergonomic Grip –
The CM Mizar can accommodate different grip styles thanks to it's design. Though the large contoured design is geared toward palm style grip it will also suit those with a more claw style grip. The Mizar's size will fit nicely into most hands regardless of size. The large rubber compound areas feel great in hand and keep the Mizar right where you grip it.
On-The-Fly DPI Settings –
As is to be expected on any mouse worth its salt today, the Mizar has on-the-fly DPI capability, allowing gamers to fine tune the desired sensitivity in real time to adhere to ever-changing gaming conditions, all the way up to 8200 DPI.
RGB LED Illumination –
The Mizar features an illuminated scroll wheel, two illuminated buttons, and a 7-color customizable CM Storm logo located in the palm.
Software –
The CM Mizar has its own software which you will want to grab and utilize your mouse to it's full potential. Here you can customize each of the 7 programmable buttons to your liking. Next, head over to the advanced tab and set your desired DPI level by profile and lighting options. Continuing through the tabs you will find Macro, Profiles, Library, and Support tabs.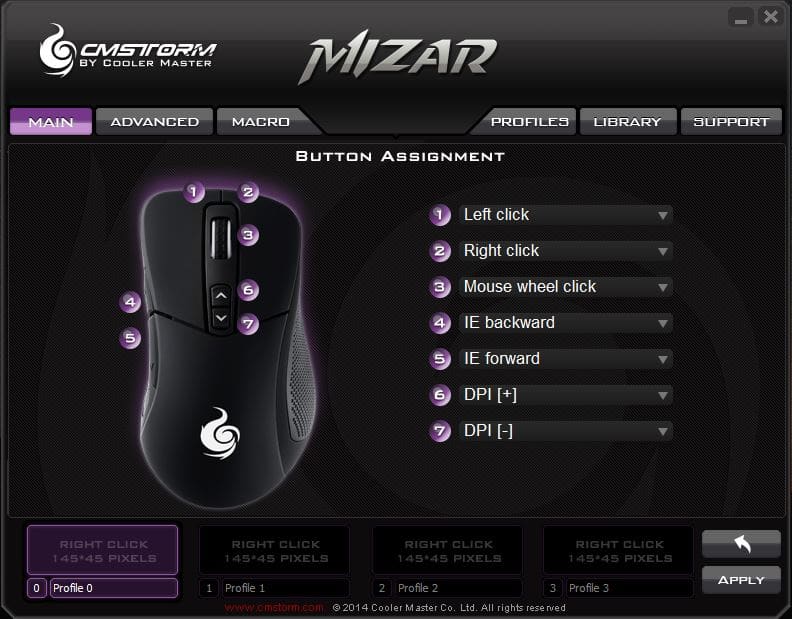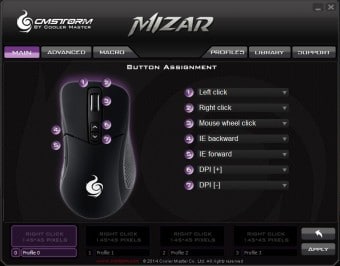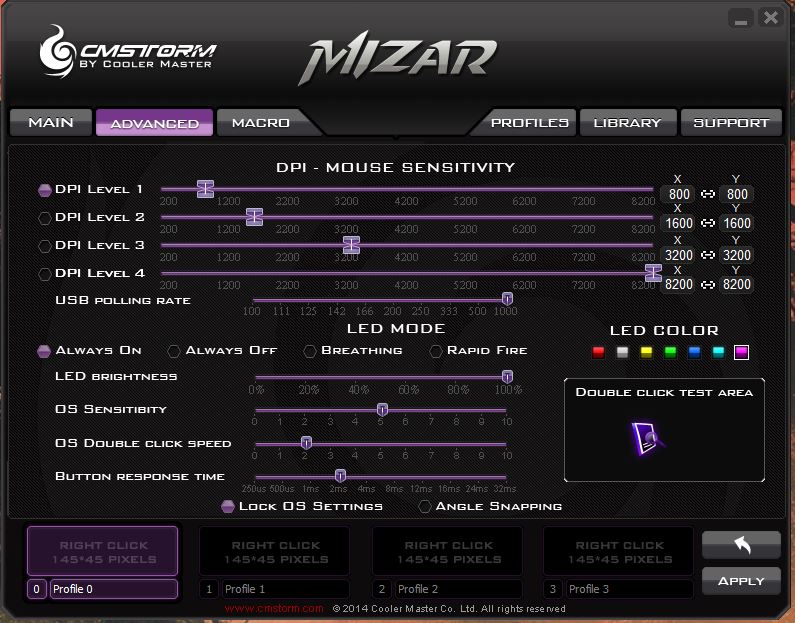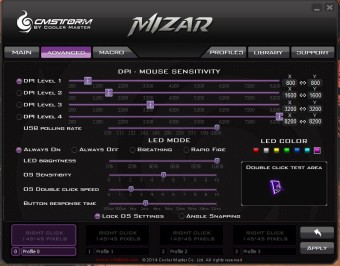 The Mizar software feels a bit dated or incomplete, it's slow and we feel it could have been executed better. The software does adequately get the job done however.
Specifications
Model Number
SGM-4005-KLLW1
Grip Type
Palm
Material
Soft Touch Paint
Color
Black
LEDs
Yes, 7 colors
Sensor
Avago ADNS-9800 Laser Sensor
CPI / DPI
Up to 8200
Tracking Speed
150 ips
Lift Off Distance
< 2.1mm
Polling Rate
1000 Hz / 1 ms
Angle Snapping
YES
Mouse acceleration
30 g
Programming Profiles
4
On-board Memory
128KB
Programmable buttons
7
Special Features
Sculpted ergonomic grip design
Connector Cable
USB 2.0
Braided
1.8 m / 70.9 in
Dimensions L x W x H
124.8 x 60.4 x 40.2 mm
4.91 x 2.38 x 1.58 in
Weight
121 g / 0.27 lbs
Weight (without USB Cable)
100g / 0.22lbs
Packaged Dimensions
156 * 66 * 220 mm
6.1 * 2.6 * 8.7 inch
Packaged Weight
300g / 0.66 lbs
Warranty
2 years
Software
YES
Accessories
NO
Closer Look
Packaging
The Mizar's packaging is a bit more embellished, but keeps with the same overall design. A one flap design lets you view the mouse, and a quick rundown of features on the back gets you up to speed.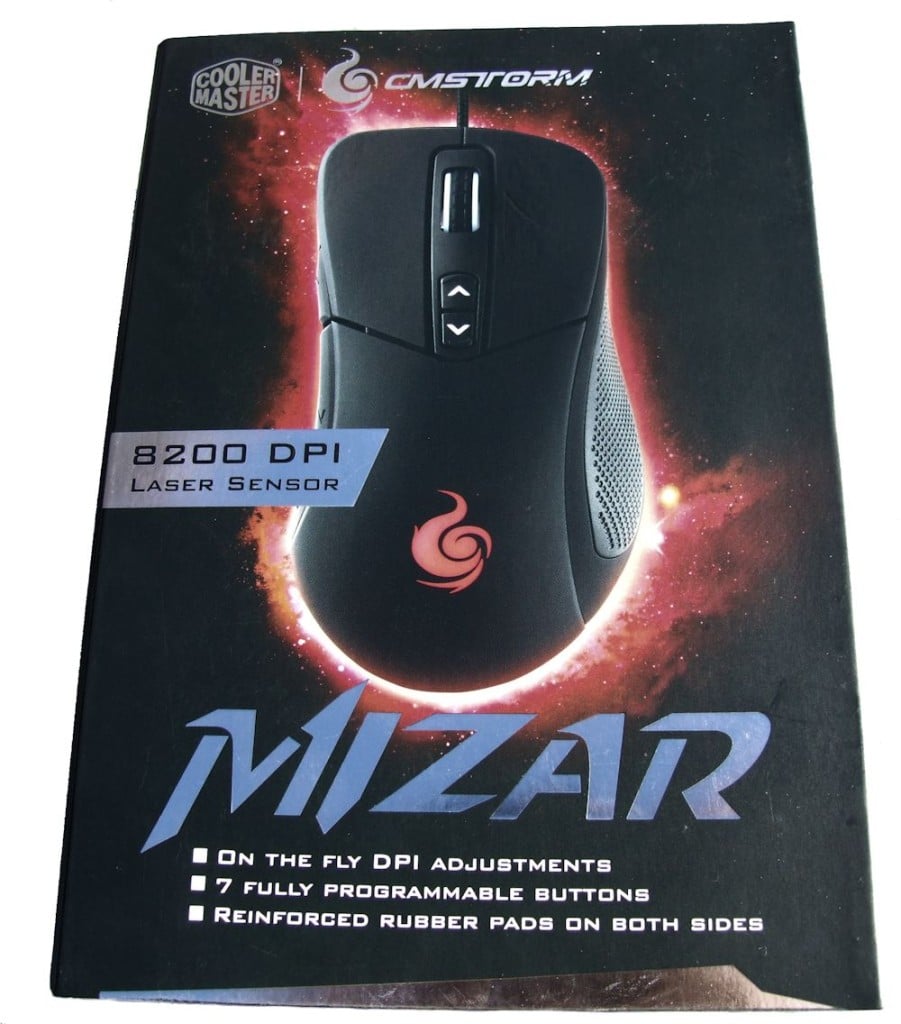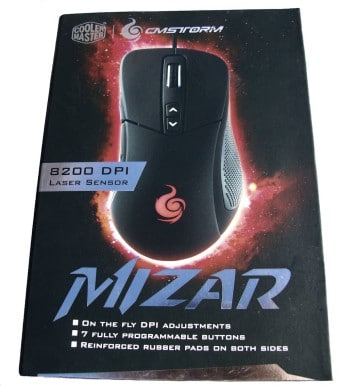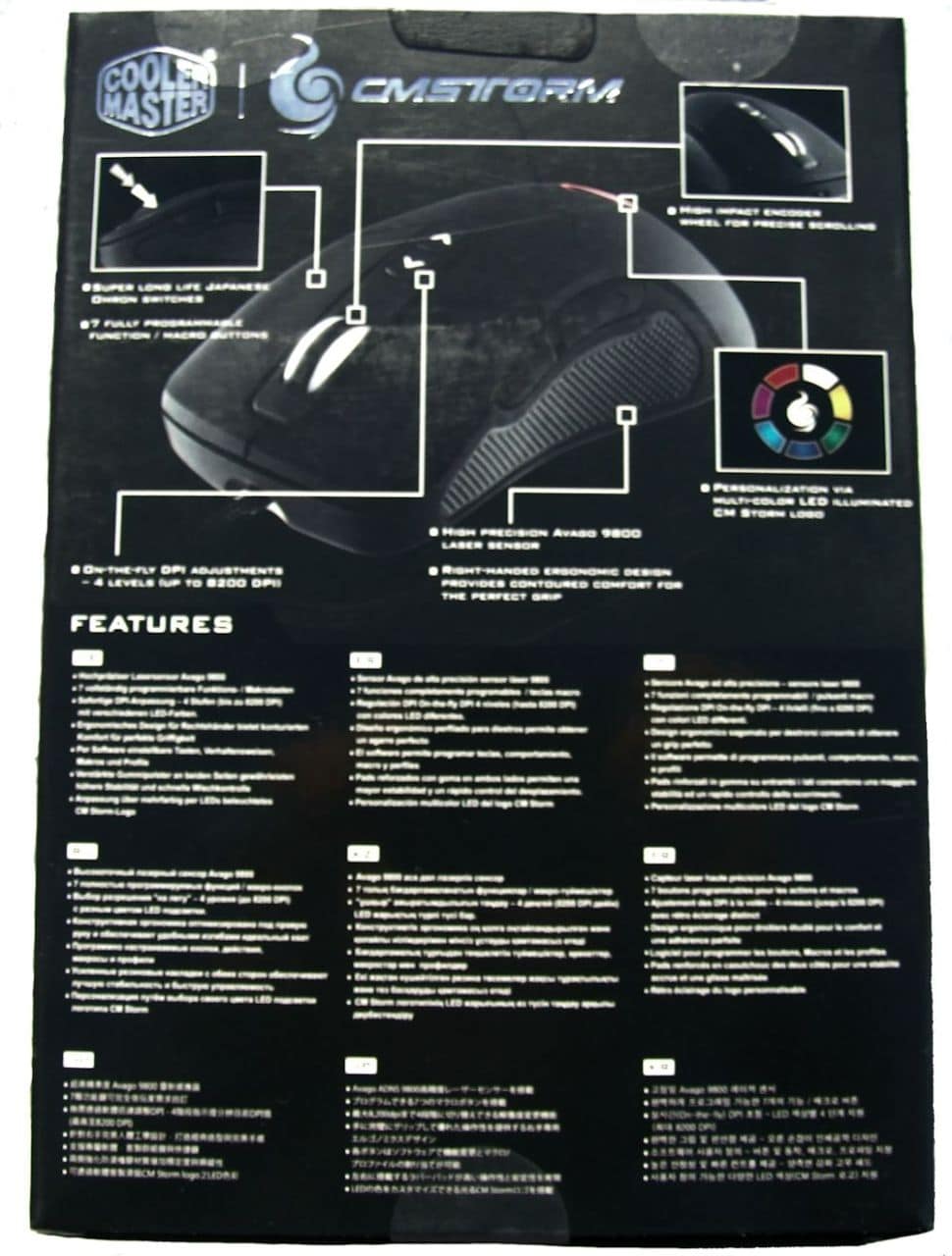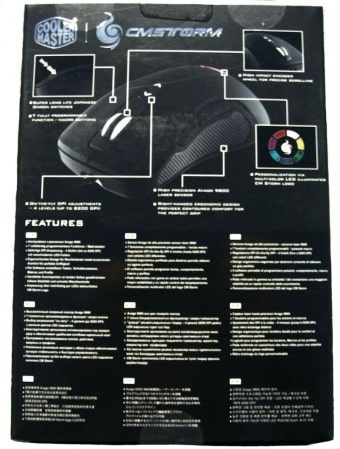 CM Storm Mizar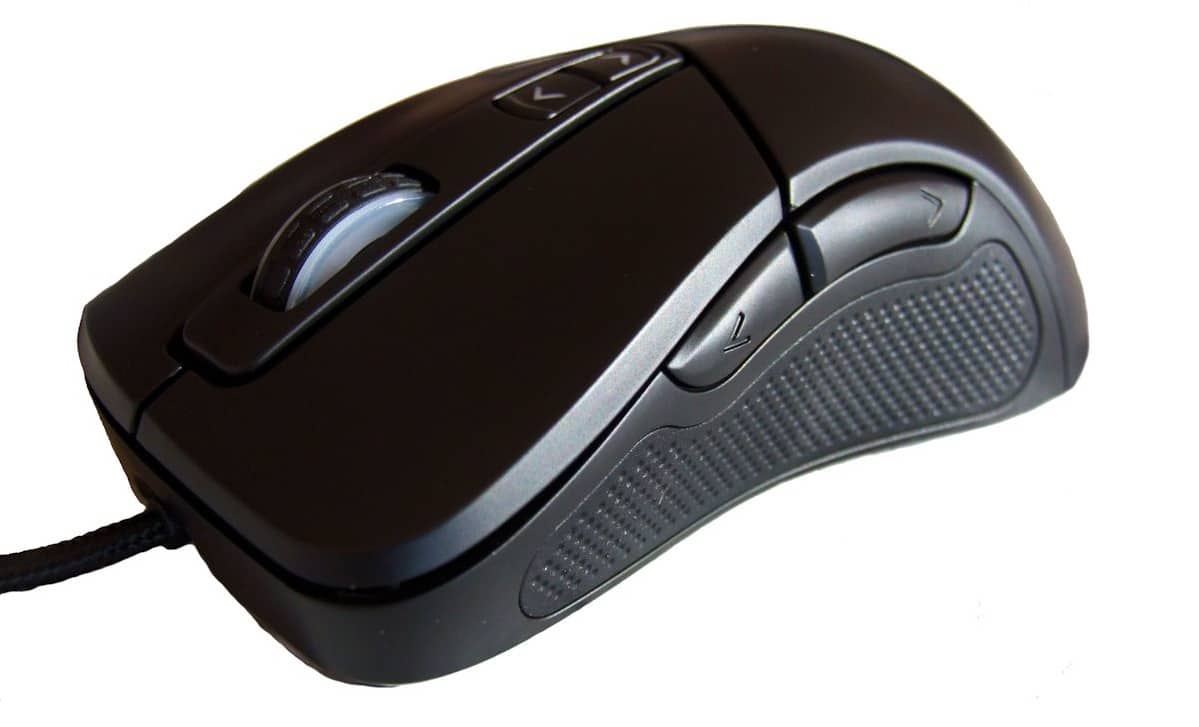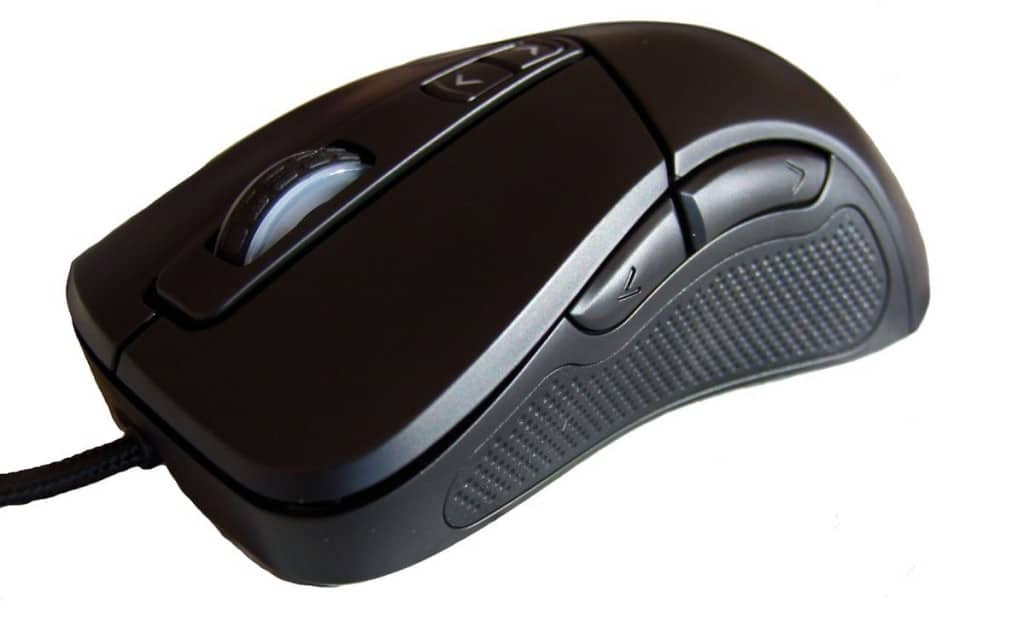 At this angle we can see all 7 of the buttons available for customization on the CM Storm Mizar. One LMB, and one RMB button surround the scroll wheel/MMB and two quick-change profile buttons above the scroll wheel. On the side we get two more buttons which sit atop a nice, large, comfy, rubber compound area. All the buttons have a crisp, defined click. The scroll wheel has very light scrolling resistance.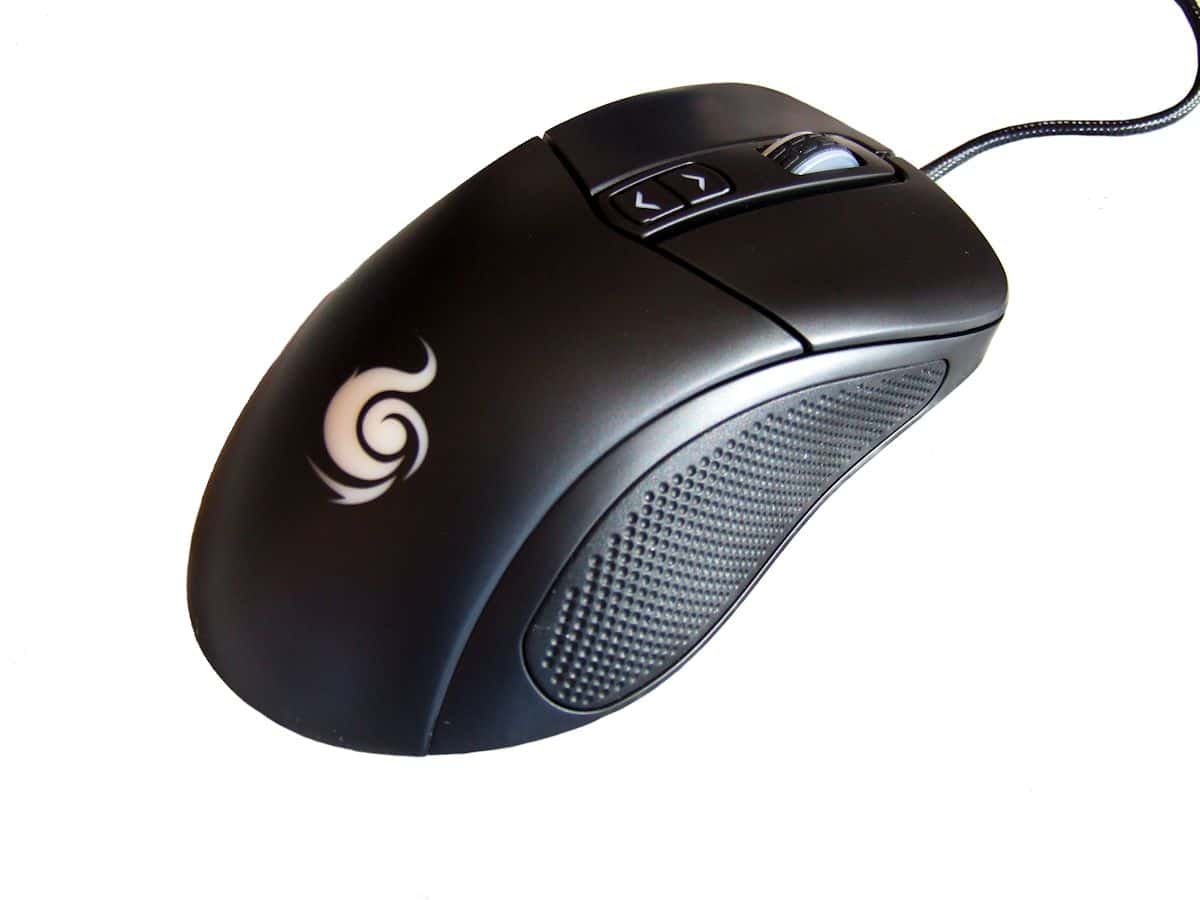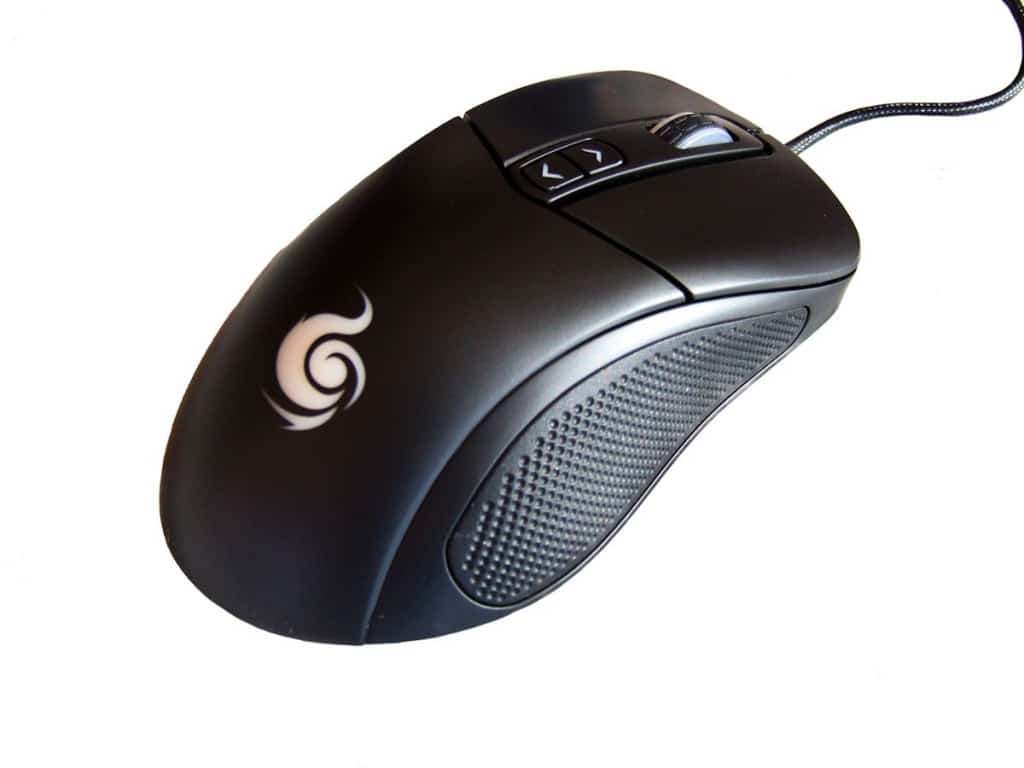 Taking a look at the other side of the Mizar, we don't find anymore buttons, as this mouse is designed for right-handed function. We do get another large rubber compound area to make your pinky finger feel like a king. The feel of the compound is spot on, and is comfy to the touch, but also feels durable enough that it isn't going to erode away from use at an unreasonable pace. This mouse is extremely comfortable in hand.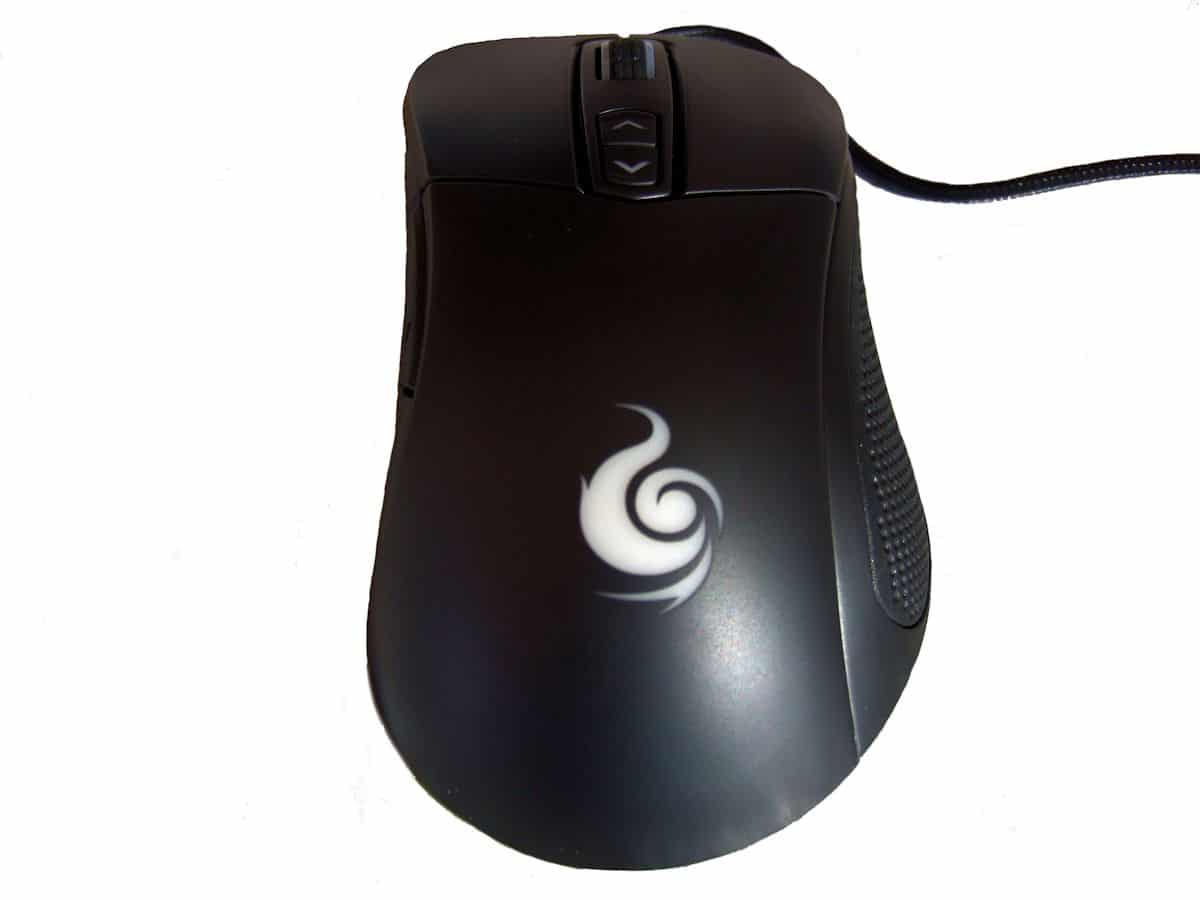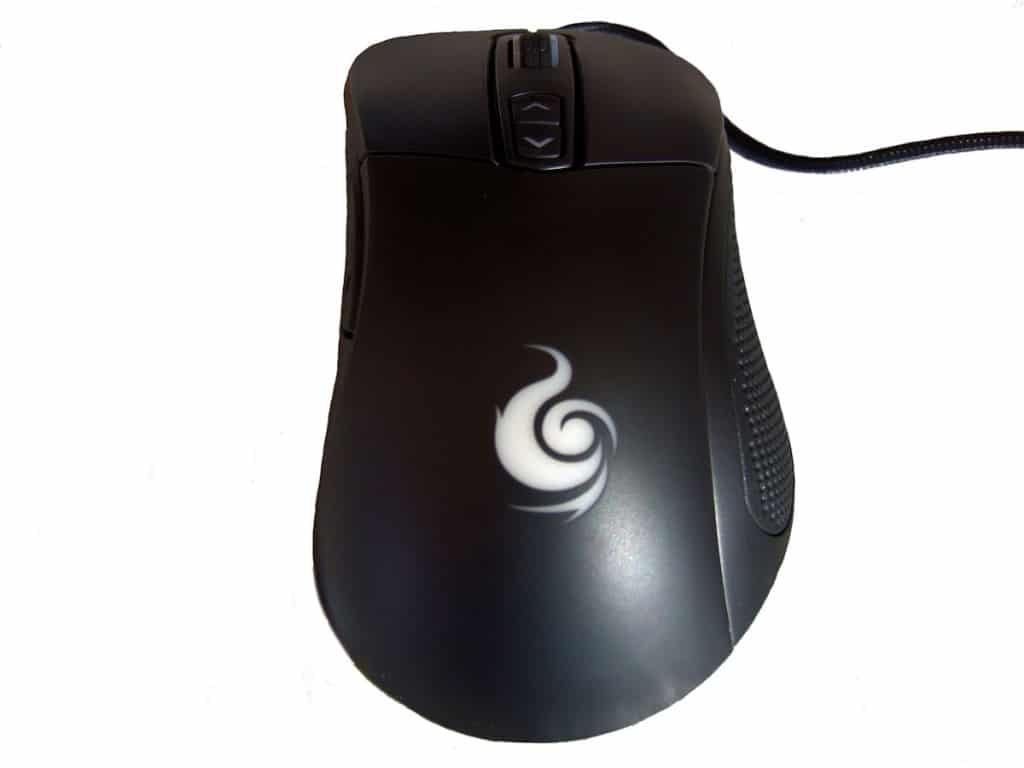 The LED configuration on the CM Storm Mizar is a curious system. While the scroll wheel and DPI buttons are illuminated, they are set to static white in color and remain as so. On the CM Storm logo you get 7 different color options as seen above in the Mizar software screens. Each DPI profile has a set color to indicate its selection. Unfortunately, your palm will almost always cover the logo, so it's a catch-22 design.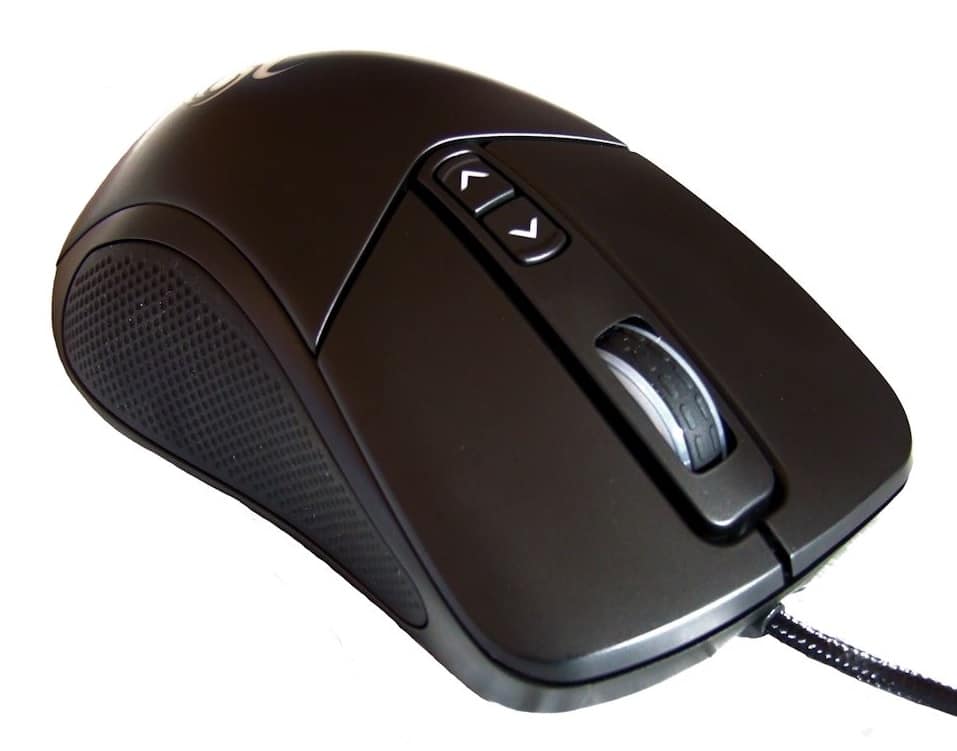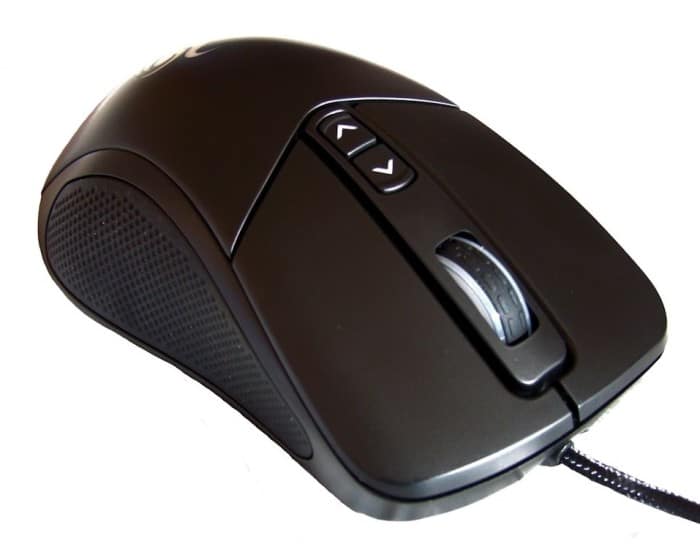 On the inside of the Mizar we get the previously mentioned Avago ADNS-9800 laser sensor, a prevalent component in the gaming mouse scene. With up to 8200 DPI, it has all but the most demanding of users covered. There is also a Holtek MCU with 128KB of on-board memory for profile control, as well as managing the 7-button configuration.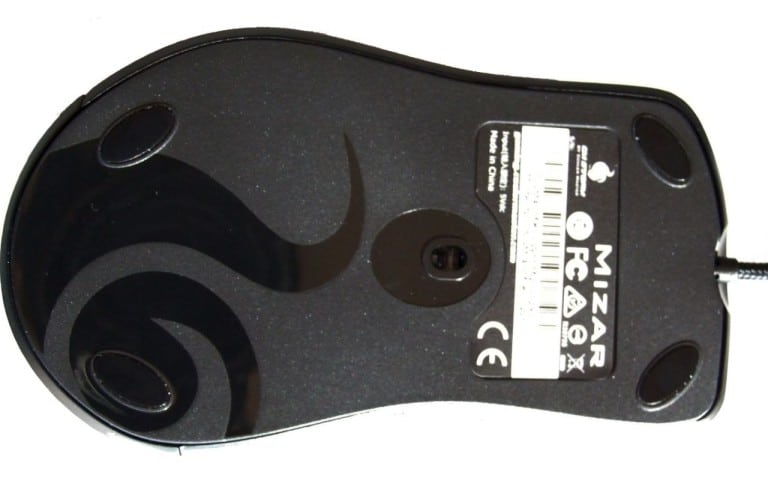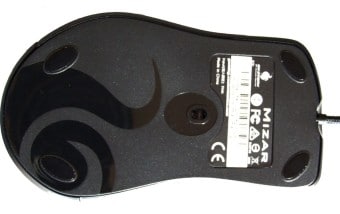 Looking at the bottom of the CMStorm Mizar shows the Teflon feet, insuring the Mizar glides smoothly across your gaming surface. These smooth feet, combined with the Mizar's low weight of just 100g, makes the mouse quite agile. There is also a design on the bottom, which like the palm logo, you will nearly never see. Some design options in places that are in more visible locations would have been welcomed.
Usage
As the Mizar is a gaming mouse we dove into our gaming library and put in some time with a few of our favorites. We gave the Mizar a shot at a few FPS titles then moved on to other environments such as MMO, RTS, and RPG. The Mizar's right handed ergonomic design is easy to get used to and the learning curve should almost be non-existent for most. After several gaming sessions, our number one praise would have to be the Mizar's in-hand feel; the design, combined with the two large rubber areas, offers a very comfortable experience.
CM Storm Mizar Conclusion
The Mizar's best feature, in our opinion, is the ergonomic design. The Mizar will greet most user's grip styles and usage patterns with little or no learning curve. This is

one of the most comfortable mice we have in the lab, believe it or not. Even after hours of gaming and normal usage, we have no mouse-induced fatigue to report, only VIP comfort levels.
The Mizar has all the tools of an epic gaming mouse: quick DPI change, great comfort levels, an Avago ADNS-9800 precision laser, 7 programmable buttons with macro capability, on-board memory with savable profiles, LED options, and a dedicated software manager. The Mizar's software is the main thing that really holds this potentially legendary mouse back. The software needs an overhaul at best. It gets the job done, but it isn't a satisfactory experience to use.
We shopped around and were able to find the CM Storm Mizar for as low as $45. For that price point the Mizar becomes a solid deal. We can handle the troubling software and a few interesting design choices for that cost. When in-hand playing a game, the Mizar is right on point and is an effective budget frag machine. This mouse does what it claims to do, is beyond comfy, has a solid list of features, and to top it off, the price is right.