introduction
Anidees is a hardware manufacturer that we here at Bjorn3D have not had a chance to work with until recently. While they design and create cases like the AI8 we are taking a look at today, they also offer various USB charging devices, as well as Raspberry Pi and Beagle Bone cases. Offering support for a plethora of component sizes, the AI8 case takes us back to a time when full-size towers were all that was available on the market. Towering in at 530mm, the AI8 is a monolith of a case, ready to provide you with ample space for your next build. First impressions are always important, so lets see how Anidees handles theirs via the AI8.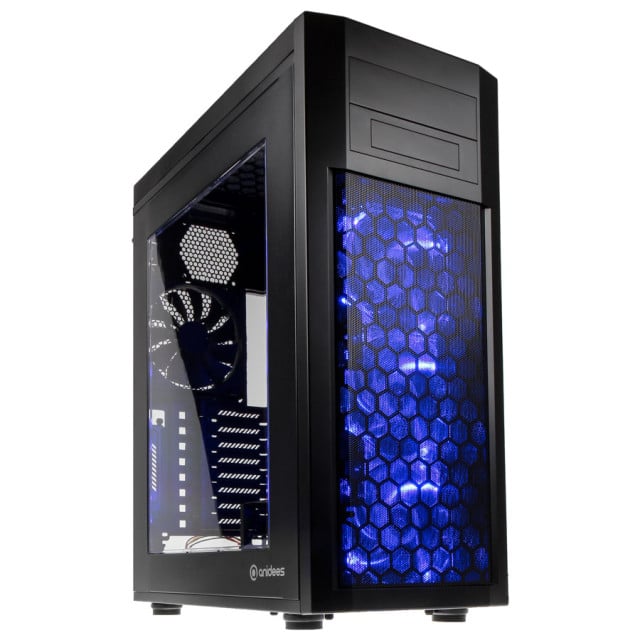 standout features
As with all products, there are a few standout features on the AI8 that we would like to cover. Without standout features to differentiate one product from another, we would live in a pretty boring world. Lets take a look at a few things that make the Anidees AI8 stand out from the crowd.
Integrated Fan Hub – The AI8 offers up a five node, 3-pin fan controller that is controlled via a 2-way switch located on the top of the case. While this isn't anything overly impressive, the ability to control that many fans is pretty nice, considering the fact that this case supports up to six fans.
Dual-PSU Design – While most builds won't take advantage of this feature, it is nice to have it available. And those builds that choose not to use the upper PSU mount will have plenty of room to install and route their liquid-cooling systems if they choose to go that route.
specifications
Listed below are the specifications of the AI8. The AI8 is offered in black only, but with the option of a windowed side panel. Our review unit features the large windowed side panel.
Available Color: Black
Material: Steel body / Plastic + Mesh bezel
Dimension: 440*230*530mm (D / W /H )
Weight: 8.5 kg / 18.7 lbs
Motherboard Type: M-ITX,M-ATX,ATX,E-ATX
5.25" Drive Bay: 2
3.5" Hidden: 4
3.5" Exposed: 1(converted from one 5.25''Drive Bay)
2.5" Drive Bay: 4(2 from 2.5"HDD Cage)
I/O Panel: USB3.0 *2,USB2.0 *3 ,Fan Controller,Audio* 1,Mic *1
Expansion: 8
Fan Control: H Mode=12V, S mode=0V, L Mode=5V
Cooling System:
Front: 120mm Blue Led fan * 3,1100RPM (Included), 2x140mm
Rear: 140mm x 1 (included)
Top: 140/120mm x 2 (optional)
Power Supply: Standard ATX PS2 / EPS (optional)
Maximum Compatibility:
Graphics Card Length: 355mm (Remove HDD Cage)
CPU Cooler Height: 175mm
Water Cooling:

120/140/240/280mm Rad with on the top (Optional)
240/280/360 mm Rad in the front (Optional)
120/140 mm Rad in the rear (Optional)
closer look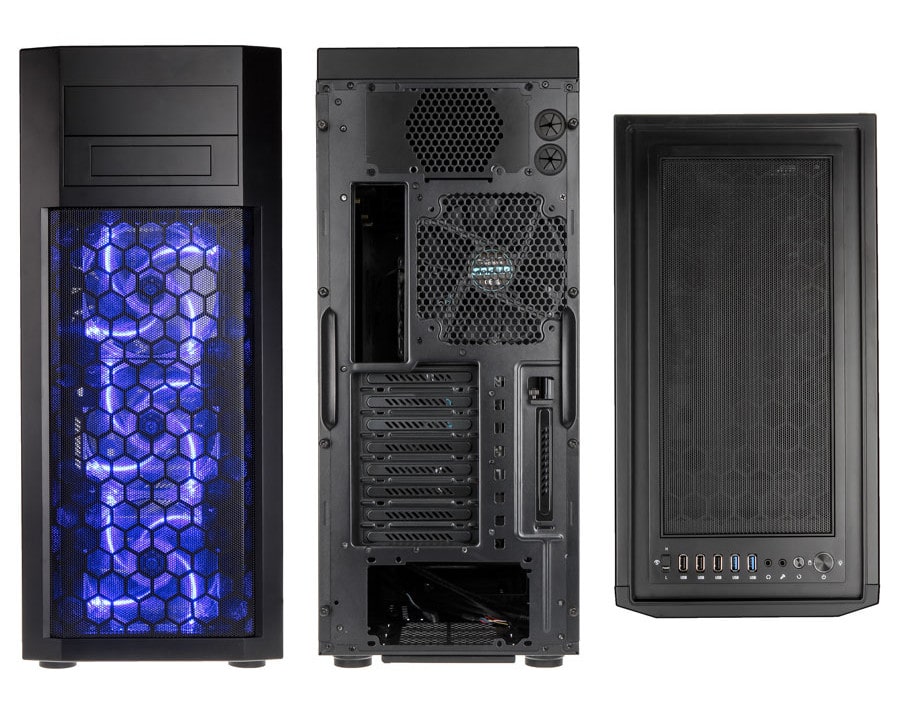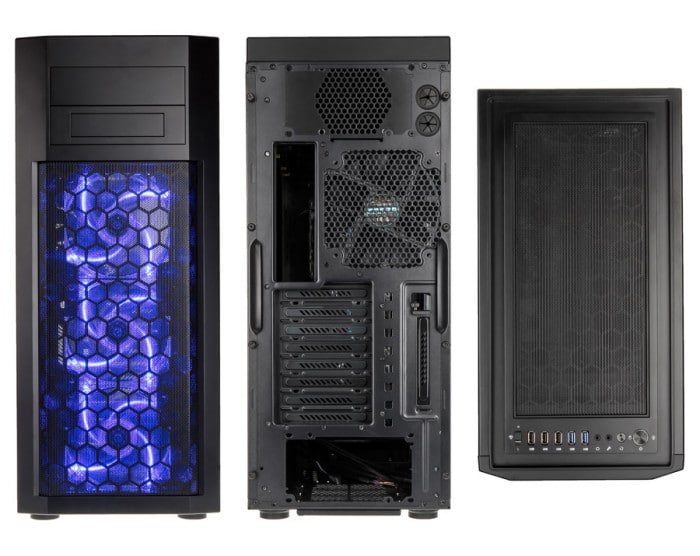 exterior
Monolithic is how we first described the AI8 case, and we are sure most readers would agree. The AI8 is available with or without a side-panel window, and only comes in a black color scheme. And while the case looks quite monolithic, it doesn't seem to have the weight that one might associate with a case this size. With a steel body and plastic front panel, we were surprised at the relatively light weight of the AI8. The top portion of the plastic front panel of the case provides room for two external 5.25″ devices, with one having a cutout for users that still require an externally accessible 3.5″ device. Just below the drive slots is a long section of perforated mesh that provides a bit of filtration for the three included 120mm blue LED fans that reside inside. The mesh has a honeycomb support backing that provides a bit of extra support and structure to the intake.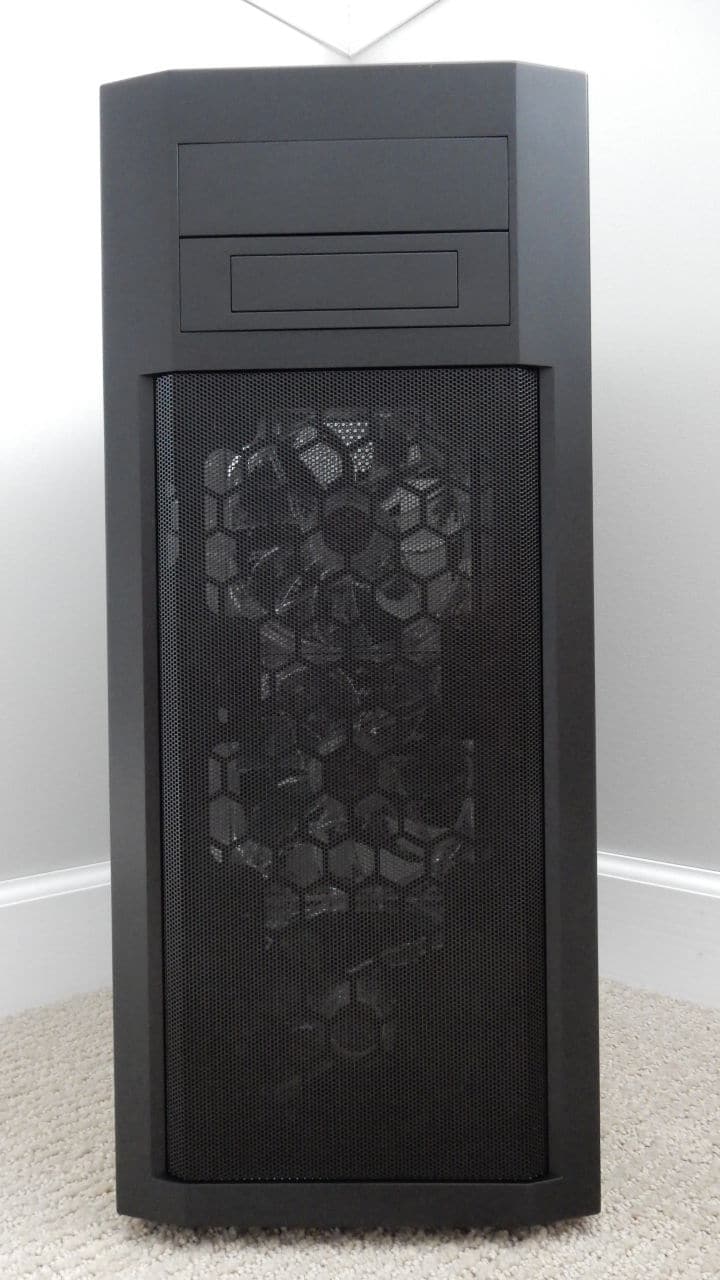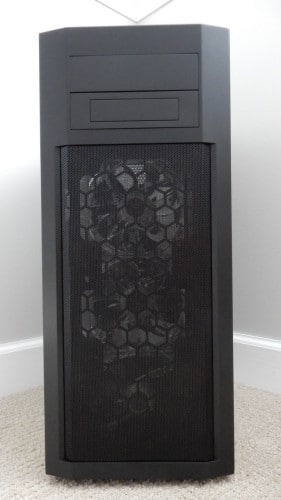 At the front of the top of the case is a row of ports, switches, and buttons that should provide plenty of usable functions for most users. Starting from the left we have a 3-way fan controller with a high and low setting, as well as a "silent" option which is really just an "off" setting. This switch controls the internal 5-node, 3-pin fan hub. Next up are three USB 2.0 ports, two USB 3.0 ports, headphone and microphone jacks, and the reset and power buttons, each with their own built-in LED indicator. Just behind the ports is a "click to remove" mesh filter that protects the two 120/140mm fan/radiator mounts below.
The left side panel of our case came equipped with a large window, one that takes up nearly the entire side of the case. We have been seeing this large type of window more and more often lately, as opposed to the somewhat smaller windows found on many earlier windowed cases. A small Anidees logo and brand name sits to the bottom right of the case window. The right panel is as plain as they come, and both panels are held in place via four thumb screws.
Working our way from the top to the bottom at the back of the case we have a cutout for a secondary power supply, as well as two holes with rubber grommets to allow for external cooling solutions. The top PSU cutout is populated with a cover plate with mounting holes and perforation for an optional fan.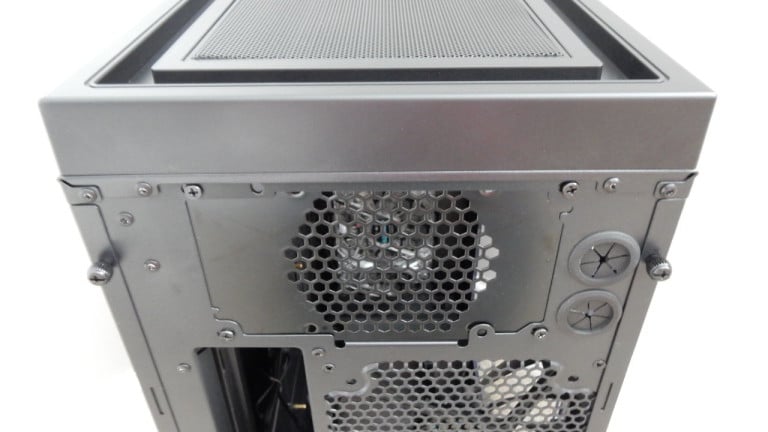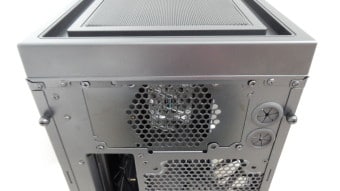 Just below is the cutout for the motherboard's I/O ports, as well as another included 120mm fan. Moving down provides access to the eight expansion card slots, and the bottom-mounted PSU slot. Depending on personal preference and system build, either PSU location could be utilized for a build. Four round rubber feet keep the AI8 in place, and a rear-removable filter also adorns the bottom of this case.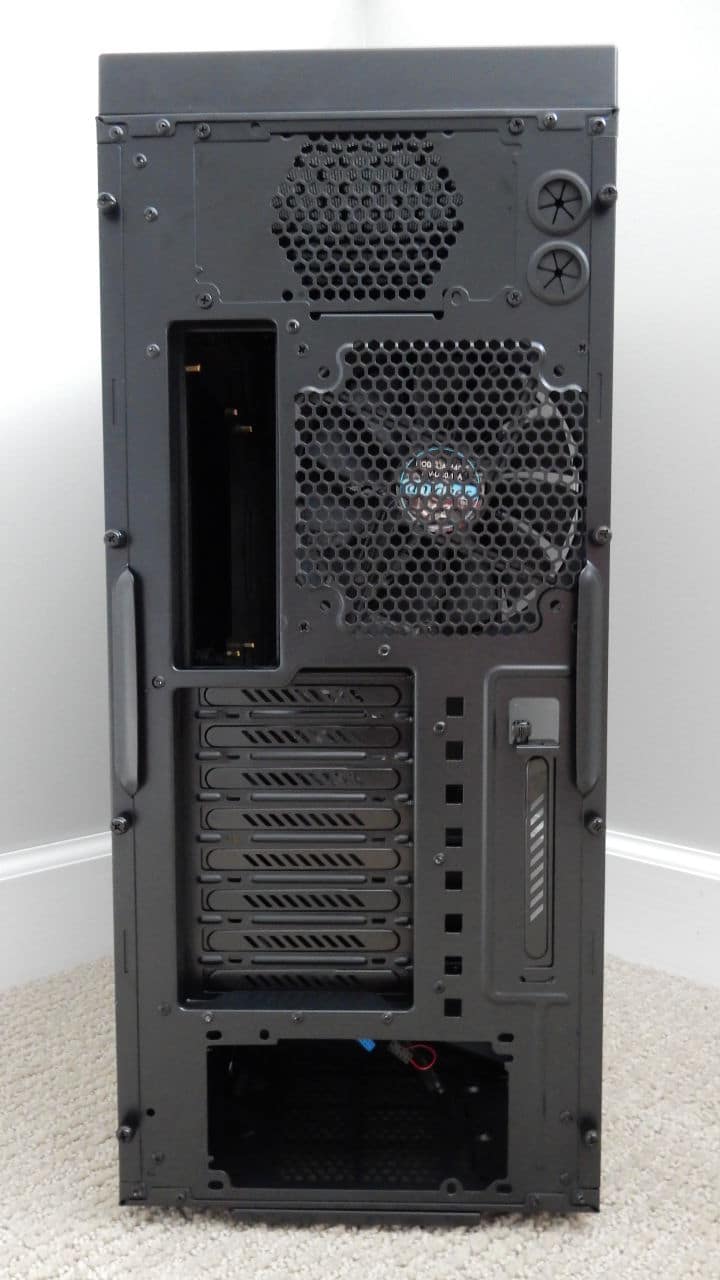 interior
Once we have the sides removed from the AI8, we are greeted with a fairly bare case interior. Thankfully, Anidees has continued the black paint scheme inside the case as well, and no sharp edges or corners were encountered at any point in our review of the AI8. The rear wall of the case has ample cutouts for not only the CPU mounting area, but cable management as well. Multiple rubber grommets provide a clean look for routing your cables to the various locations within the case.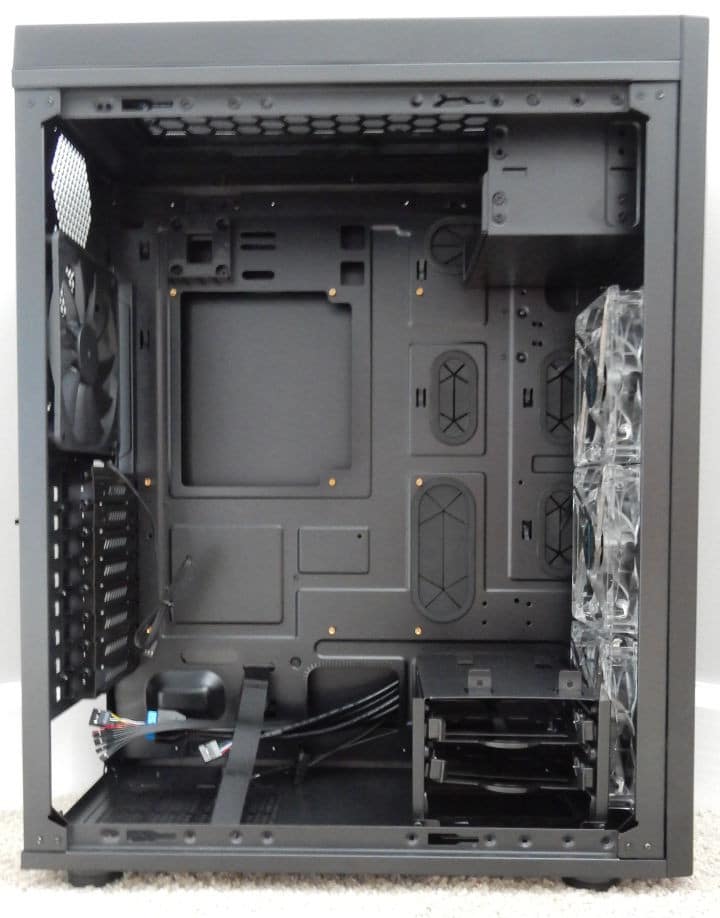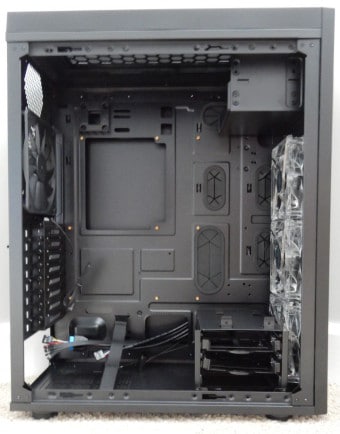 Up top there are two 5.25″ drive bays for optical drives or other devices of that size. Directly below the 5.25″ bays are three 120mm blue LED fans that come pre-wired to the included fan controller. These fans can also be swapped out for two 140mm fans, or even a 360/280/240mm radiator.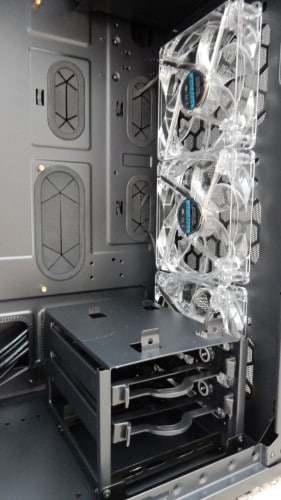 Right behind the lower 120mm fan is a drive cage that can handle two 3.5″ drives via plastic drive trays, as well as a spot for a 2.5″ drive to sit on top of the cage.Filtration for the bottom-mounted PSU is provided via a removable mesh filter that can be pulled out from the rear of the case.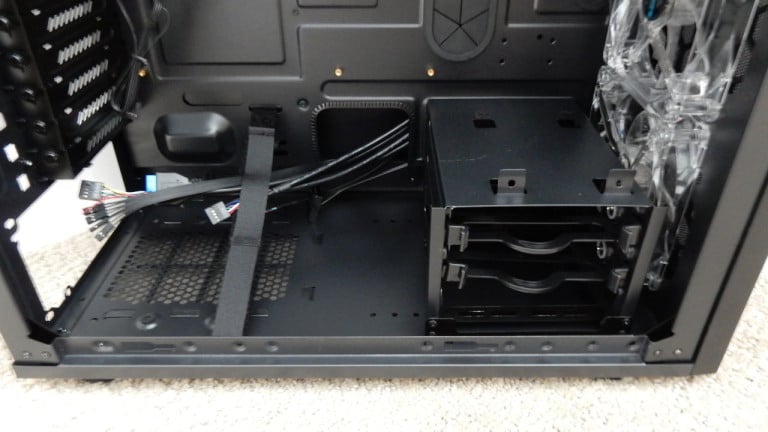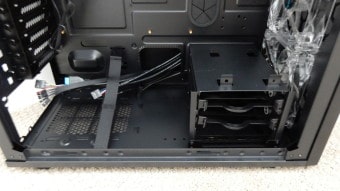 Out back we see the included 140mm fan, as well as the perforated expansion slot covers and secondary PSU cover plate. Two round rubber grommets allow for exterior routing of liquid cooling systems.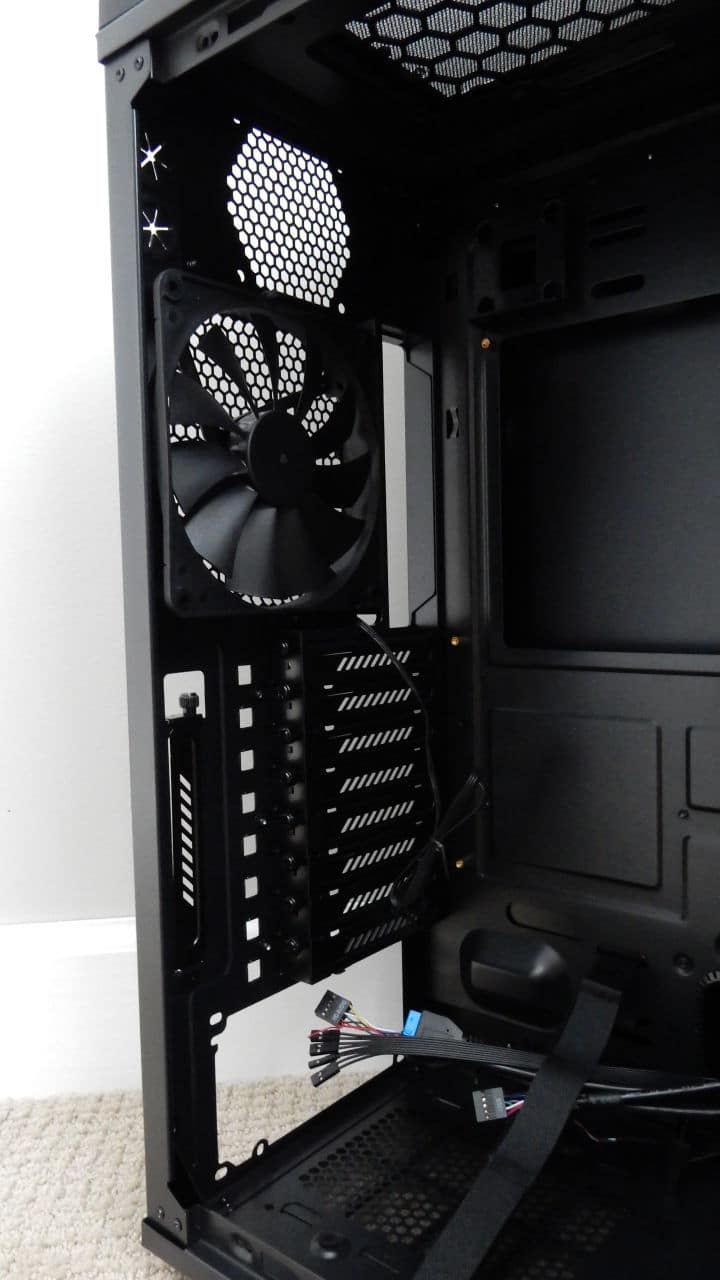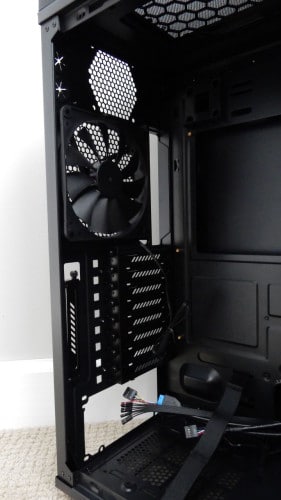 The top fan/radiator mounts come un-populated and supports a variety of fan and radiator sizes. This top mounting location is easily accessible by simply clicking the top cover off.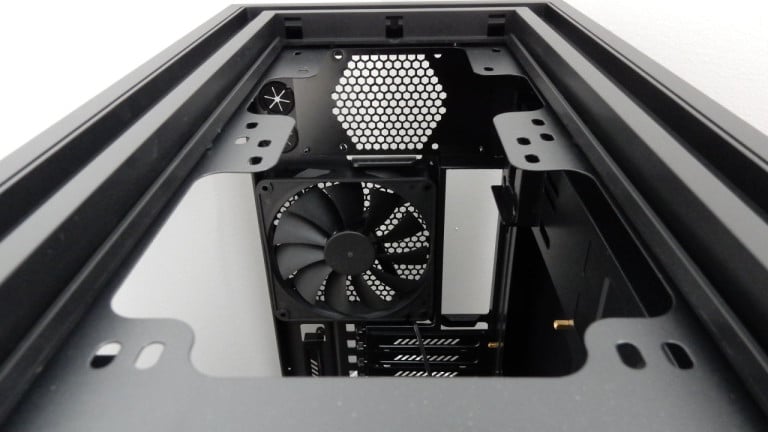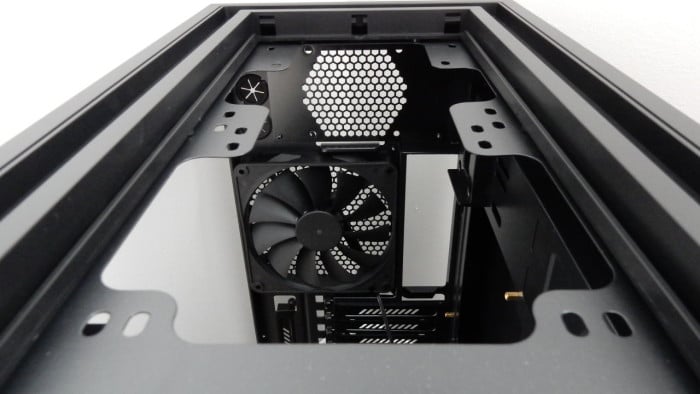 Removing the right side panel reveals quite a bit of room to work between the motherboard tray and the panel itself. The large CPU cutout is a very nice feature, as it really helps expand the range of motherboards and CPU coolers that will be able to take use of this feature. Two SSD drive trays are attached to the back panel and sit just below the CPU cutout. With no real need for cooling with regards to most 2.5″ SSDs, this is a great spot for keeping them hidden if you so choose.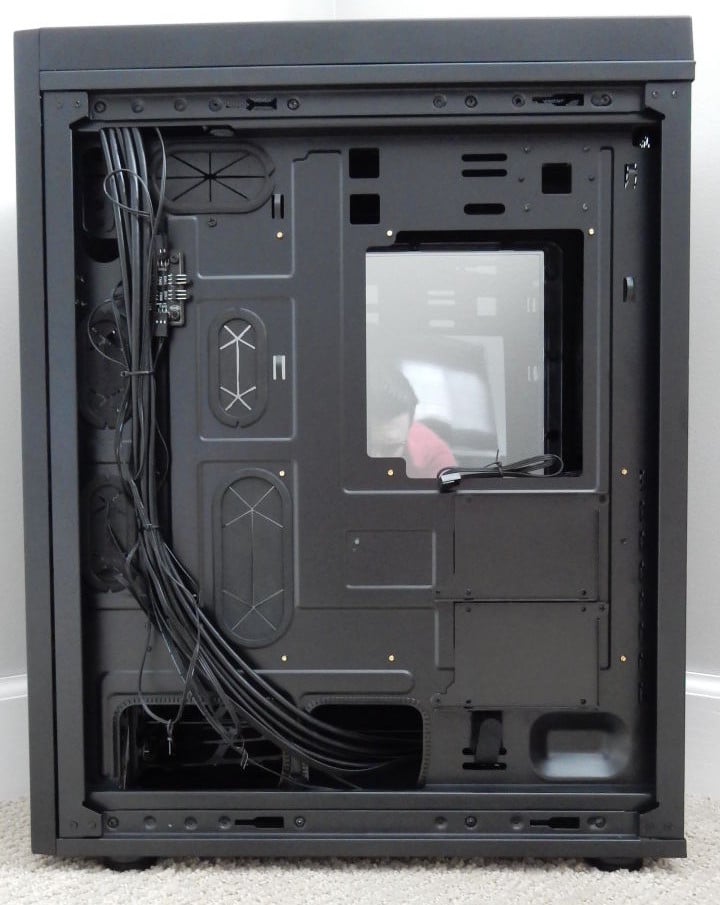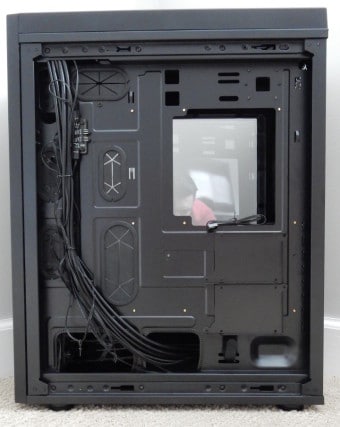 installation
Test Setup
Case
Anidees AI8
CPU
AMD Phenom II X4 975 BE
Motherboard
ASUS M4A88TD-V EVO/USB3
Ram
PNY DDR3 1600, 8GB
CPU Cooler
Arctic Cooling Freezer 7 Pro
Storage Drives

Samsung 840 Pro 120GB SSD
Seagate Barracuda Green 2TB

GPU
ASUS ENGTX460 Direct CU
PSU
Corsair TX750W
As with most cases, installation was pretty straightforward with the AI8. With plenty of room to work, installing all of the components and routing cabling was a stress-free task. Many times in smaller cases it can be a real headache getting all of the required cabling to not just connect to the proper locations, but to get that cabling hidden for both aesthetics and improved chassis airflow. One thing that  we noticed when installing our 3.5″ drives was that the drive trays are very flimsy. This is due to them being a tool-less design, so some flexibility is needed in order to allow the pins to insert into the sides of the drives. Many times users looking to find a large case are interested in packing it full of hard drives to use as a server. Unfortunately, there really isn't much in the way of drive bays in the AI8, which came as a bit of a shock to us, considering the overall size of the case. As can be seen in the second image below, even with a non-modular PSU, there is plenty of room to route and hide extra cabling in the AI8.
conclusion
From the moment we saw the shipping box, we knew that the AI8 from Anidees would be a beast of a case. While that is true of its size, thankfully the AI8 didn't come with the associated extra weight that can accompany a case of this size. The fully-painted steel and plastic build materials were assembled in a way that impressed us, and the snag-free interior kept our hands free from harm during the install process.
With room for multiple liquid cooling radiators, and coming with an included four fans, the AI8 could be a good place to start when considering a first-time liquid cooling build. Just having the extra room to work with really makes installing liquid cooling a much easier process. Pair that up with easy access to the CPU mounting plate via a quite large motherboard tray cutout, and you have a good base to build upon.
Even though the Anidees AI8 doesn't feature anything too flashy in its design, it is still a good looking case that seems to be more concerned with function over form.
The AI8 can be found on Newegg for $110USD. The non-window version is available there for just $99USD. Shoppers in the UK can check out Overclockers UK to get their hands on the AI8. Keeping the price of this case low, while still providing all of the expected standard features of a case, helped us in deciding to award the Anidees AI8 the Bjorn3D Best Bang For The Buck award.

Anidees AI8 Pros

Anidees AI8 Cons

Plenty of room for large builds
Many options for mounting radiators
Competitive pricing
Four case fans included