Kingston HyperX Savage USB 3.1 Gen 1 128GB Drive
Thumb drives are growing in capacity and speed as SSDs drop in price and increase in capacity. Today's portable storage looks much different than just a few years ago. My first USB drive review was a Panda USB 1.0 drive with a blazing speed of 1.3MB/s read (at the time). Now we have SSD drive enclosures with USB 3.0 and 3.1 connections, but they remain somewhat bulky and require accessories to be carried.
Road warriors need data at their fingertips, and that's best done with all-in-one thumb drives. Speeds and capacities on those range from old 512MB models, up to modern 1TB capacities, with the most affordable iterations in the $69 dollar range providing 64GB, while the 128GB models normally found in the $90 – $100 range. For under a hundred dollars you can get premium Kingston HyperX Savage USB 3.1 Gen 1 128GB thumb drive capable of 350MB/s read and 250MB/s write.
Now we've seen SSDs in enclosures with dongles to keep track of, and while they are potentially cheaper, the ease of use of a thumb drive is a great bonus. You may go the direction of an external SSD for portable storage if you want to fiddle and fumble during your presentation and save a couple of bucks. Then there are those that would prefer to reach into a jacket pocket and pull out a sharp looking standalone drive, pop the cap, and amaze the meeting members with a sharp-looking, massive-storage, thumb drive.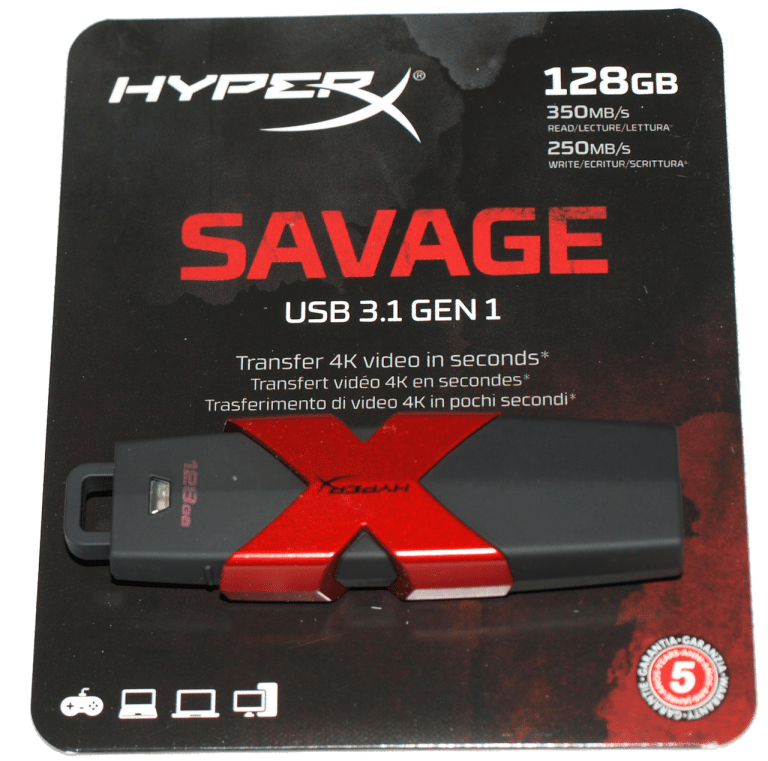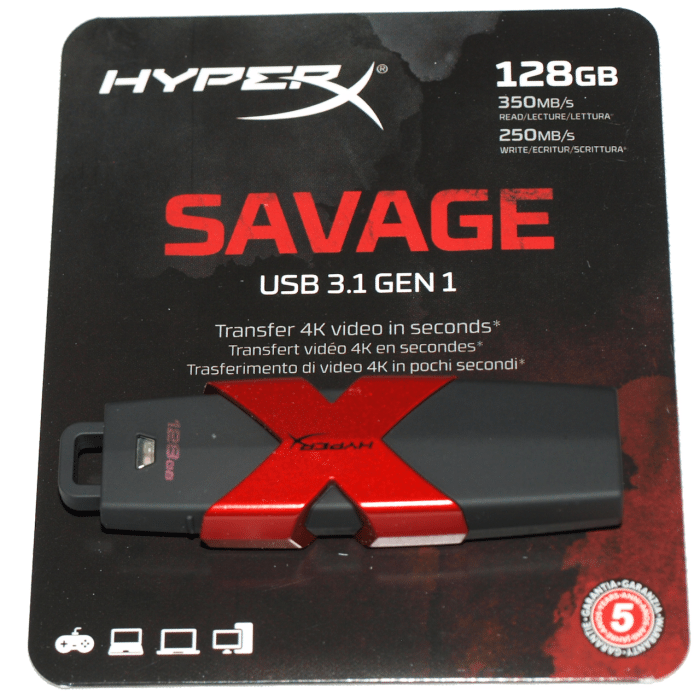 Being USB 3.1 by itself would limit the end-user demand for the Savage USB 3.1 128GB drive, so it is backwards compatible with USB 3.0 and previous generations of USB ports. Your best speeds will come from USB 3.1, with USB 3.0 not doing a shabby job.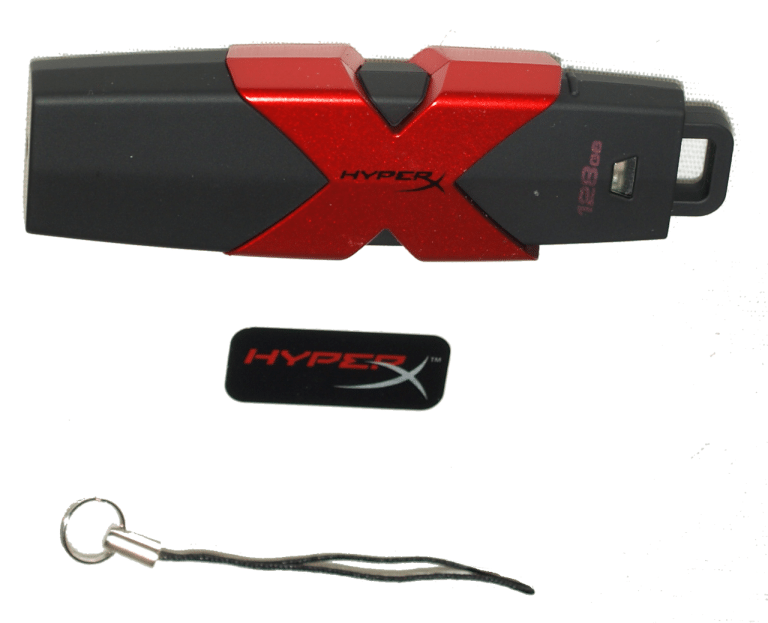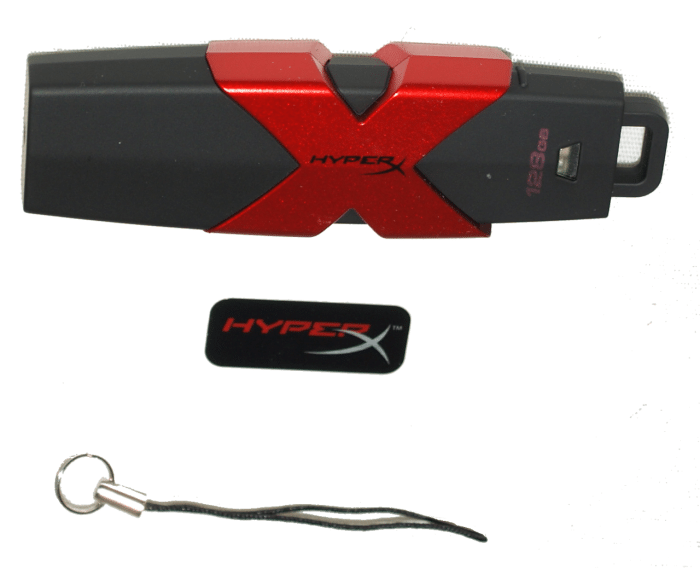 The bundle with most thumb drives is small, but Kingston ponied up for a HyperX Sticker and well designed lanyard. With the lanyard attached to the drive, you can still clip on the cap over the lanyard, keeping your cap from getting lost. By now, every corner store should offer a bin of $2 replacement USB drive caps, as we are sure enough have been lost to fill a couple of trash trucks worldwide.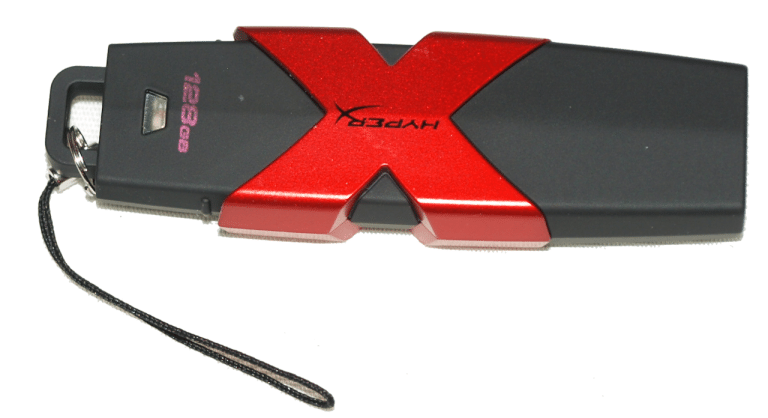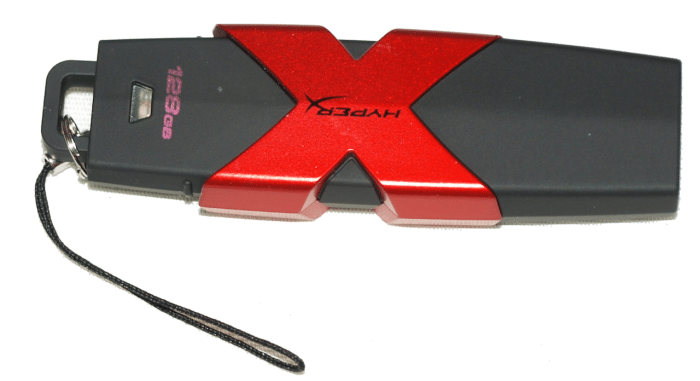 Looking at the HyperX Savage 128GB drive itself, we attached the lanyard, which we recommend using, even if you go for a key ring drive. Even in that configuration you can still put the cap on the lanyard end to keep track of it. Now look at the classic red and black design; that's sure to turn heads when whipping it out for meetings or LAN parties.
Specifications
Capacities:

64GB, 128GB, 256GB, 512GB

Speed: USB 3.1 Gen 1 (USB 3.0):

128GB–512GB: 350MB/s read, 250MB/s write
64GB: 350MB/s Read, 180MB/s write

Dimensions:

76.3mm x 23.48mm x 12.17mm

Operating Temperature:
Storage Temperature:
Backwards compatible with USB 3.0 and USB 2.0
Guaranteed:

Five-year warranty with free technical support

Compatible with:

Windows® 10, Windows 8.1, Windows 8, Windows 7 (SP1), Windows Vista® (SP2), Mac OS X v.10.8.x+, Linux v.2.6.x+, Chrome OS™
Features
Blazing fast transfer speeds
High capacities
USB 3.1 Gen 1 (USB 3.0) functionality
Trend-setting design
Multi-platform compatible
Test Setup & Testing
There's no need to go into full-blown system specifications; we ran tests on Windows 10, fully updated with updates turned off, all drivers 100% up to date, and the latest BIOS installed on the ASUS Maximux VIII Extreme using a 6700K CPU with no portion of the machine overclocked. As you can see, there's plenty of horsepower to drive the Kingston Savage drive without worrying about the machine bottlenecking. We will plainly tell you that there are laptops that will bottleneck the drive. Check your specifications on your laptop and make sure the USB 3 connectivity they claim is up to snuff, or you can still use the drive but some of it's blazing sped may be lost.
Test Results
Anvil's Storage Utilities
Anvil's Storage Utilities is a powerful tool that was designed in order to provide you with a simple means of assessing the read and writer performance of your Solid State Drive or Hard Disk Drive.
The benchmark tool helps you monitor and check the response time of your unit as well as view the system information collected using Windows Management Instrumentation (WMI).
Anvil's Storage Utilities has been designed to be the most comprehensive benchmark tool for Solid State Drives on the market. That does not mean that you can't use it for conventional platter based drives as well, but you do get the most out of the program when you test the speed and performance of SSDs with it. The program has gone through a series of beta and release candidate builds already, and is currently available as Release Candidate 3. It is usually linked from this forum thread, which currently is not the case for the RC build which you can download here directly. You can't use previous builds as they are set to expire automatically.
You can run a benchmark right away by selecting a drive from the menu at the top right, or check out the settings first to make sure everything is configured correctly here. Here you can simulate a compression level of the test file, e.g. database, application or uncompressed, and whether you'd like to use the same test file on consecutive runs or generate a new one every time. As far as benchmarks go, you can run a standard SSD benchmark that is testing read, write, or both performances of the drive, or run threaded IO benchmarks only.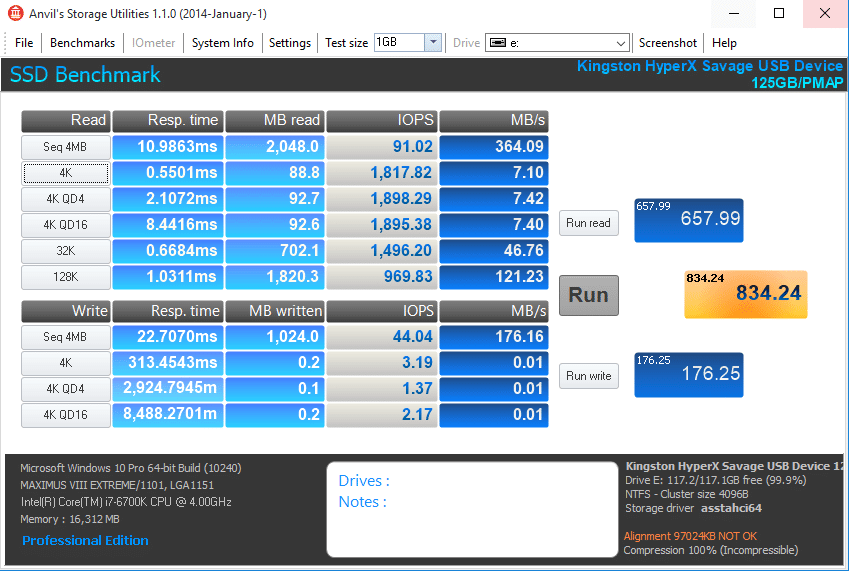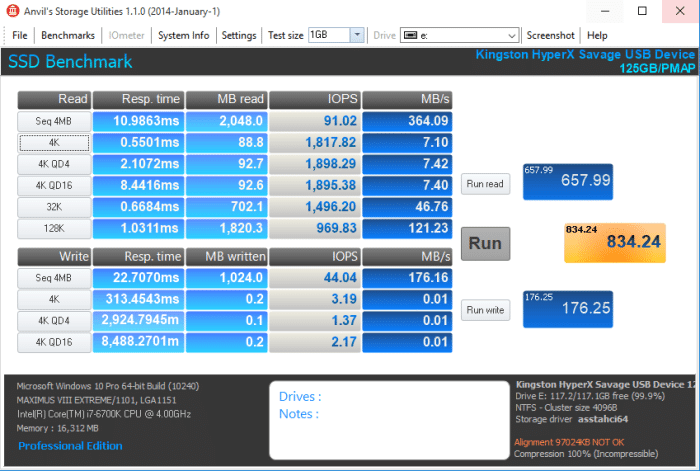 Anvil's read portion shows us 364MB/s, well above the 350 MB/s advertised on the drive. The write portion hit 176 MB/s, a little short, but that's just due to Anvil's testing methods. Lets move on to ATTO and see what it has to say.
ATTO
Assess the performance of your HDD and run thorough hard disk drive tests to determine read and write speeds by using this powerful application
In case you notice it takes a considerable amount of time to read or write data, you might want to put it to the test and see if everything is in order. ATTO Disk Benchmark is a software solution designed to help you measure the performance of your system, by running a series of tests to determine hard disk speed.
ATTO is almost the industry standard for reporting drive speed from the manufacturer and we will be running multiple passes of ATTO to check on the learning portion of the SSD.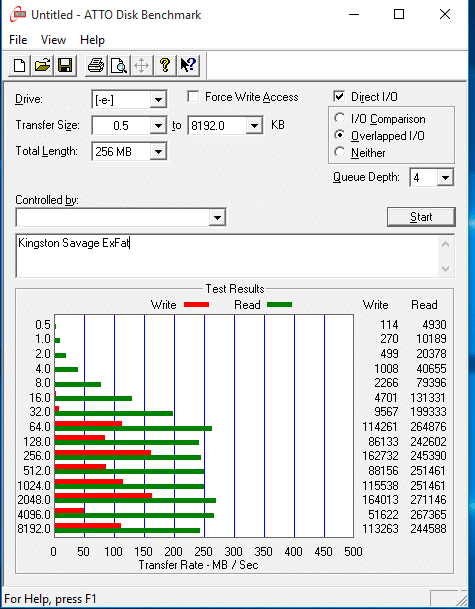 The drive can formatted plain FAT, but we couldn't let that go, so we formatted to exFAT and hit 271MB/s read and 164MB/s write.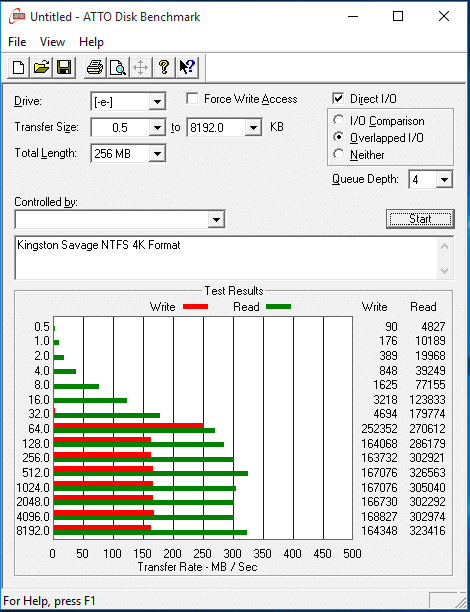 Switching to the NTFS format with 4K blocks, we hit 323.416 MB/s read and 252 MB/s write, so between test utilities we have hit 350MB/s and 250 MB/s read. This shows us that Kingston is covered for performance points within given specifications.
CrystalDiskMark
CrystalDiskMark is a disk benchmark software.It measure sequential reads/writes speed,measure random 512KB, 4KB, 4KB (Queue Depth=32) reads/writes speed,select test data (Random, 0Fill, 1Fill),provide theme support and Multi-Language support.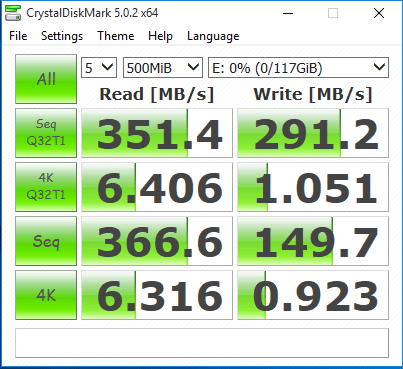 CrystalDisMark makes no bones about it and shows us what we needed to see; 351 MB/s read and 291 MB/s write, and the rest is just data for you to look at. Most portable data transferred from the Savage drive is going to be a blink of the eye and over, unless it's video media.
HD Tune Pro
HD Tune Pro is a hard disk / SSD utility with many functions. It can be used to measure the drive's performance, scan for errors, check the health status (S.M.A.R.T.), securely erase all data and much more.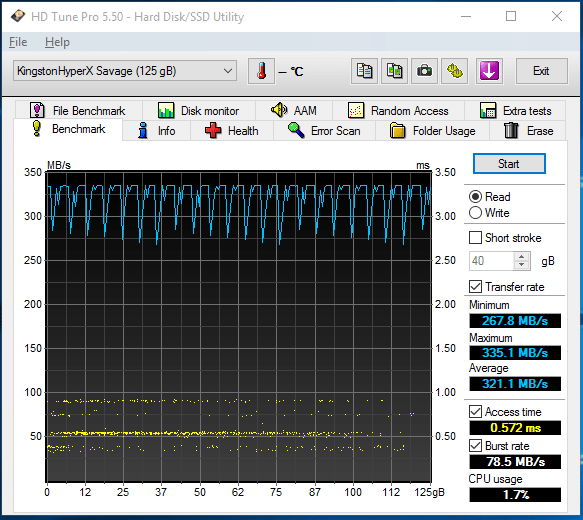 HD Tune pro shows us a speed of 335.1 MB/s max and what we are more interested in is the 321.1MB/s average, with a blazing fast access time of 0.572 ms, and reasonable 1.7% CPU utilization.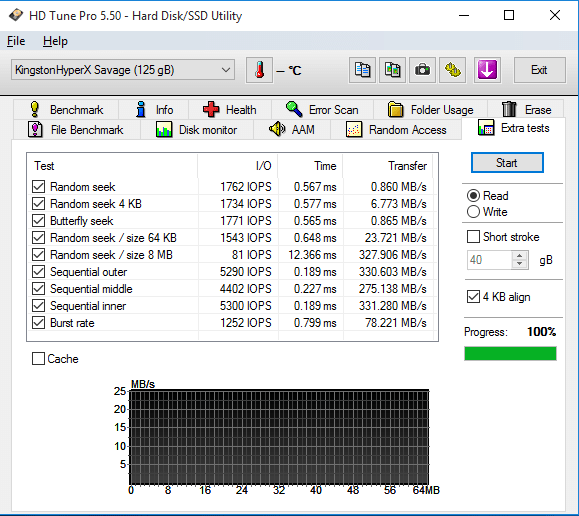 Hard Drive Tune Pro Extra tests flesh out the info available and we see the highest speed at 327.906 MB/s in 12.366 ms with 81 IOPs.
System Reported Properties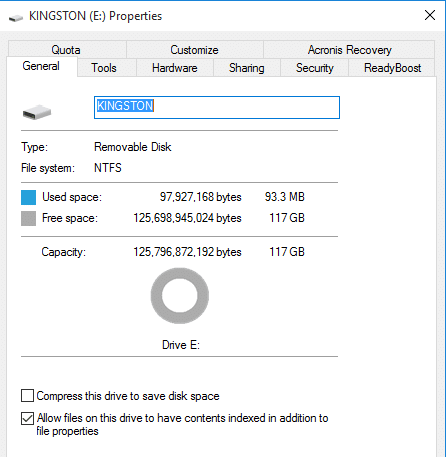 The system properties show us the 117GB expected and a capacity of 125,796,872,192 bytes, so everything looks to be as reported from Kingston.
Final Thoughts & Conclusions
The Kingston HyperX Savage USB 3.1 Gen 1 128GB did indeed transfer at 350MB/s read and 250MB/s write. Now, take an external drive enclosure and dongle and

shove it in your pants pocket and walk around a bit. Take the external out and put in a HyperX Savage USB 3.1 drive in the same pocket and walk around a bit. There's your difference; complete portability and no extra accessories.
Sure, you can cobble together a $20 external drive chassis, throw an SSD into it, and wait for it to fail when you need it most, or you can pick up a Kingston HyperX Savage 128GB USB 3.1 external thumb drive and get props from co-workers and fellow gamers on the style and portability.
We like Kingston as a brand, and we love Kingston products because they just work with no hassles and no drama. Their support desks are staffed by live humans to talk to, and have several excellent support options, and in this case the Savage drive has a 5-year warranty. That tells you how much faith Kingston has in it.
How much faith do we have in it? It's earned a spot on our test bench and if need be, in our pocket. That 350 MB/s read and 250 MB/s write will be welcome speeds transferring our data and re-imaging drives for many years to come. Just try to beat that for under $72!
Pros
Cons

Price
Ease Of Installation
Balance Of Speed & Storage Space
Style
Smart Portable Storage
5-Year Warranty

Huge Block Transfers Like Drive Images Bog Down A Little