EVGA Z170 FTW – Final Thought & Conclusions
The EVGA Z170 FTW is a solid performer and OC's well and EVGA's long standing commitment to quality over marketing sensationalism shows. At first look we aren't the happiest with the PCI-e layout and with the Z170 chipsets inherent limitations your SLI or Xfire will be limited to dual slot cards period. The proximity of the first and second slots which utilize the CPU's 16x PCI-e bandwidth are spaced so close together that any cards beyond 2 slots width simply will not fit. While physically closer affects latency to some small extent the decision to space for dual slot cards only is a bit of a glaring omission.

EVGA went with high quality components like International Rectifier VRM and integrated MOSFET's, they are appreciated features and make a big difference in temperatures and overclocking. So much so that EVGA left a heat sink off four of the chokes above the CPU, (See the picture below) Now those chokes and that setup might not need a heat sink but we would certainly be more comfortable with a chunk of heat dissipating aluminum on top and a heat pipe to keep them cooler. That being said we achieved as high an overclock as any other Z170 board and you'll have to decide for yourself if omitting the heat sink is a sin or not.
Performance on the charts is as good as any other board out there and EVGA's commitment to quality components shows on even the most demanding OC we could put on it. BIOS is a bit simple for our tastes and the simplicity makes it easy to use but the simple intuitive BIOS might not be meaty enough for more meticulous overclockers looking for a peck of BIOS options.
The omission of USB 3.1 will likely cost EVGA some sales as few people want the extra expense of an add on PCI-e USB 3.1 card and even then that precludes any frontal USB 3.1. What we see when we look at the EVGA Z170 FTW is money spent on high end hardware and not on extra features. The board itself isn't without some impressive amenities like 7 PWM fan headers that can be switched to DC mode. To top that off there are 5 Smart Fan headers and all have some form of control on them and if you've noticed all the Z170 vendors seem to have focused on Fan controls perhaps more than is really needed. No one turns down extra fan headers but with 7 on board it leaves one wondering if perhaps a couple of those could be omitted and the money spent for USB 3.1 or other amenities.
Many Motherboards today are covered with flashy colors limiting the choices for a well color coordinated system but EVGA's 6 layer black PCB and all black motif shows that EVGA has been listening to the end user community looking for motherboards as a backdrop on which to paint their personal preferences. Everything about the board is black except for the CPU socket and EVGA logo on the silver band. Even the I/O plate is brushed aluminum Black completing the black motif but it might be to mute for some peoples tastes and if you like bling flashy motherboards you might want to look at others before committing to the stealth look of the EVGA Z170 FTW.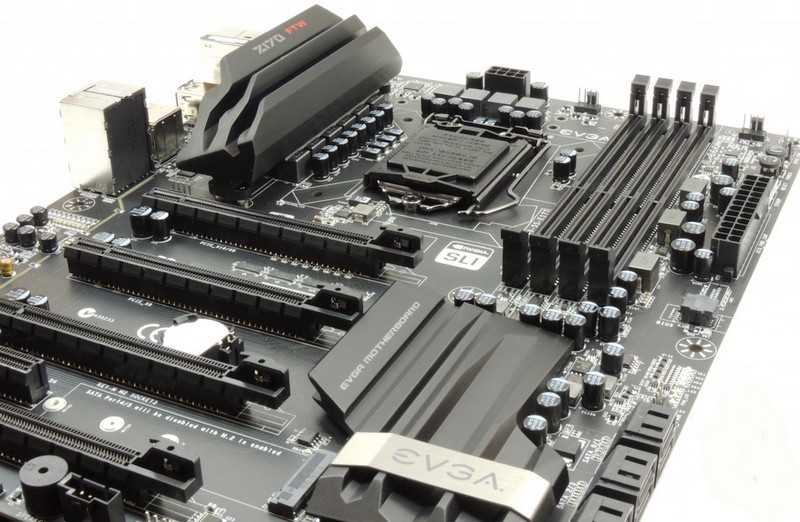 Performance is one category that did not leave us divided. The EVGA Z170, as seen in the bench portion performed as well as, and in some environments outperformed motherboards costing quite a bit more. Power management is well handled on the Z170 FTW , from a technical aspect everything is right on point. Overclocking was no problem and while the new BIOS is pretty streamlined everything is there and ready to do its job for all but the 1% most demanding OCers.
Originally the EVGA Z170 FTW was pushed out at an optimistic price of $220 but normal prices are now in the $189.99 range with $20 rebates if you do your purchase research carefully. EVGA faced two choices with the EVGA Z170 FTW and those were mountains of features and cheaper hardware or heavy hitter hardware with fewer features. EVGA stuck with quality over features and the performance shows that quality. International Rectifier and all digital VRMs don't come cheap but are a must for serious overclocker.
There are other things to consider when buying a board like RMA policies and technical support and EVGA excells at both and is currently the only company that will stand behind the warranty and is the only manufacturer that will stand behind the warranty even if a waterblock has been installed. Tech support runs 24/7 and you get a 90 day "Step Up" program so if you find yourself wanting you can option to go for the Classified board and pay only the difference in price. EVGA not only supplies quality the provide peace of mind with solid tech support, Step up Program and relaxed RMA policies.
Overall we are beyond pleased with the performance of the EVGA Z170 FTW, there are a few things that we questioned like the SLI / Xfire spacing, no USB 3.1 and a seemingly omitted heat sink, but those are primarily personal preference options. So while the EVGA Z170 FTW flexes it's high end hardware muscles you'll have to decide if the quality components and attention to detail outweigh features you may or may not have a use for.