Benchmarks
PCMark 7

PCMark is a computer benchmark tool developed by Futuremark to test the performance of a PC at the system and component level. In most cases the tests in PCMark are designed to represent typical home user workloads. Running PCMark produces a score with higher numbers indicating better performance. Several versions of PCMark have been released though scores cannot be compared across the different releases since each includes different tests.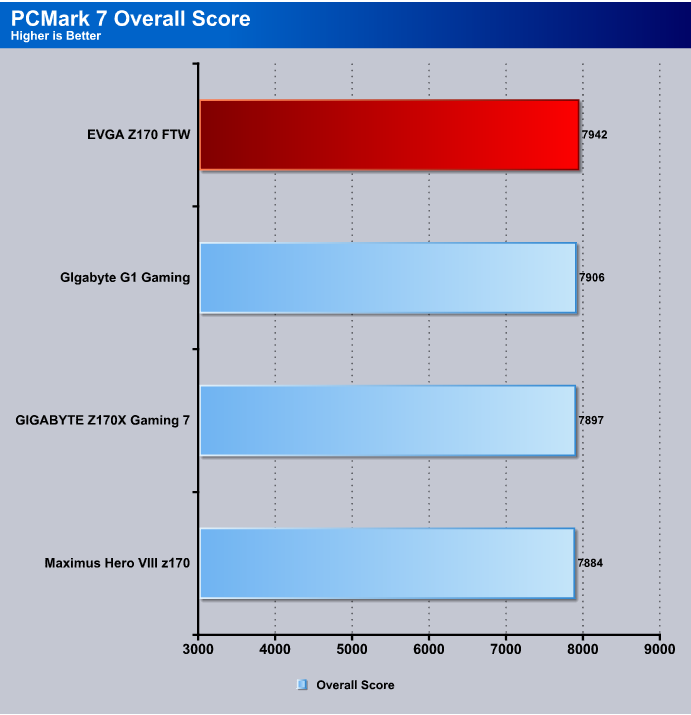 Good job Z170 FTW, you beat a board costing twice as much here.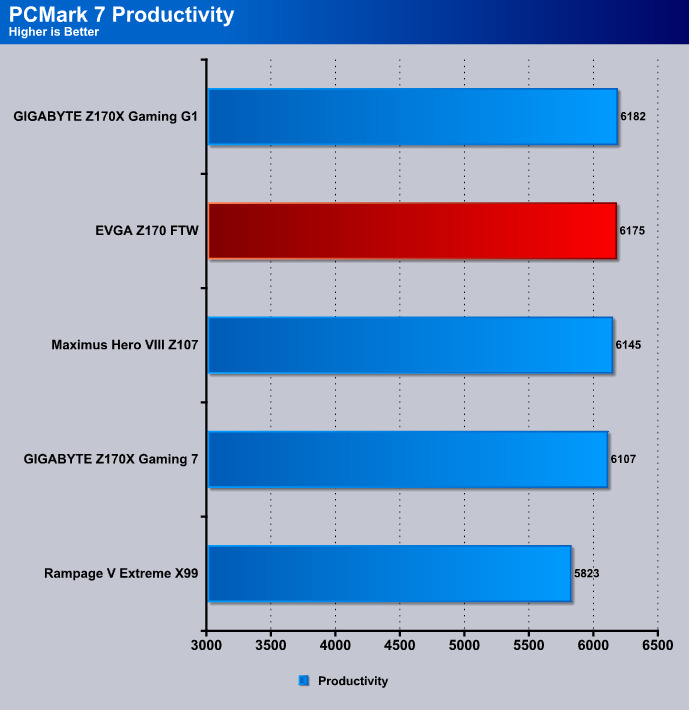 A difference of only seven points. SEVEN POINTS CORAL.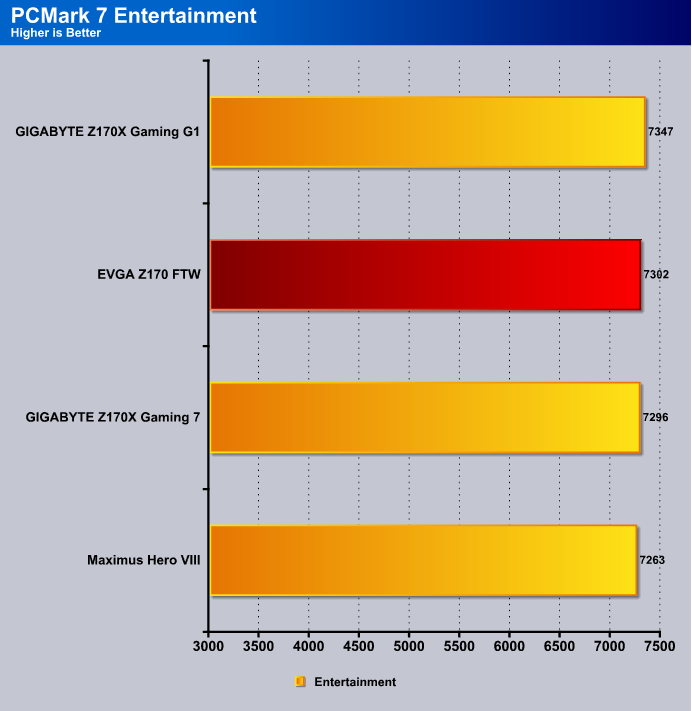 The EVGA Z170 FTW just keeps holding it's own.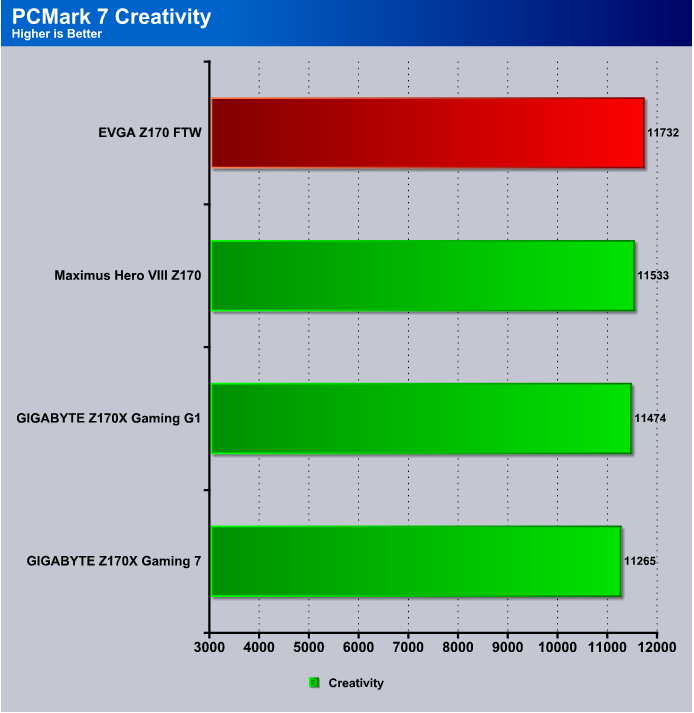 This test was not the usual extremely close result. The Z170 FTW pulled ahead by 199 points here.
Super PI Mod 1.9
Super PI is a single-threaded benchmark that calculates Pi to a specific number of digits. It uses the Gauss-Legendre algorithm and is a Windows port of a program used by Yasumasa Kanada in 1995 to compute Pi to 232 digits.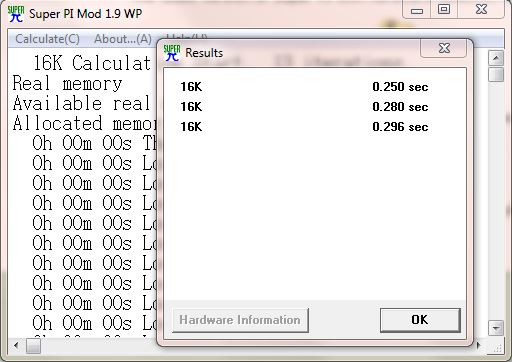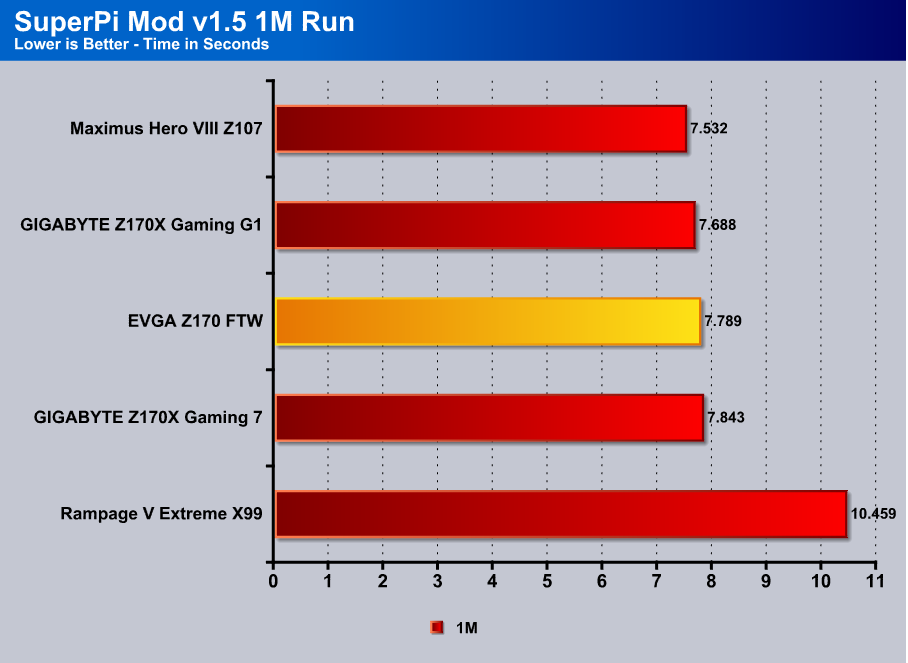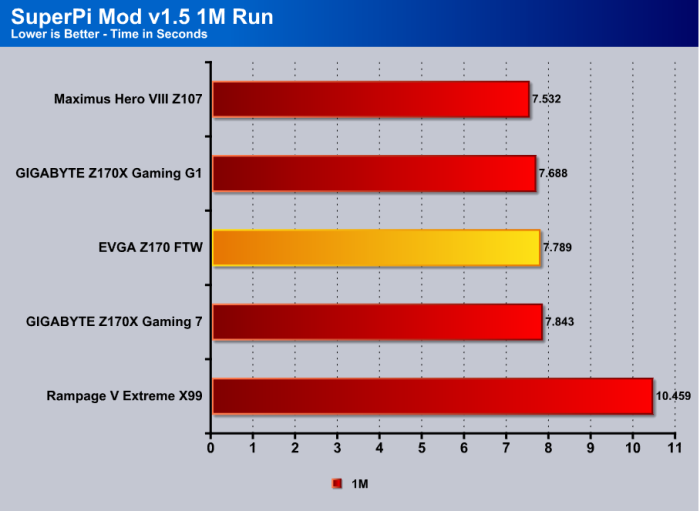 SuperPi is a single core program and shows similar results as well across the tested motherboards.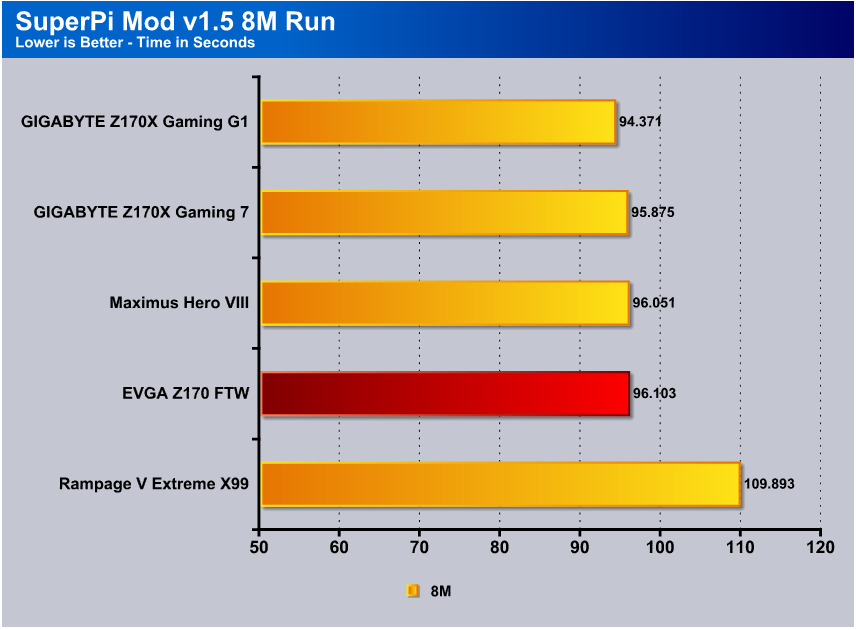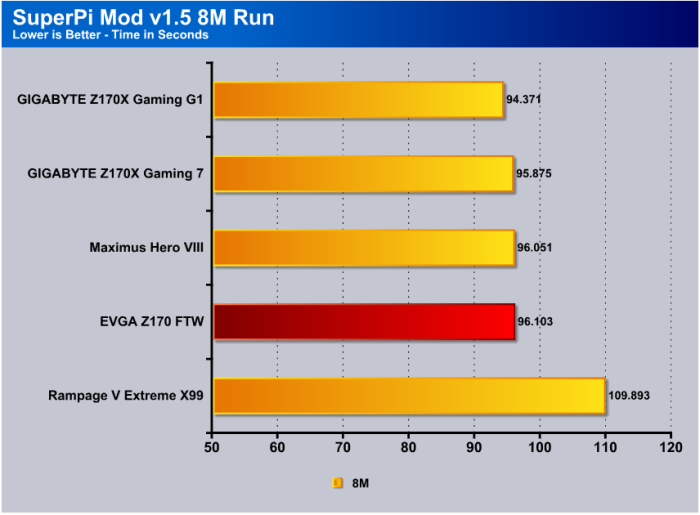 wPrime
wPrime is a leading multithreaded benchmark for x86 processors that tests your processor performance by calculating square roots with a recursive call of Newton's method for estimating functions, with f(x)=x2-k, where k is the number we're sqrting, until Sgn(f(x)/f'(x)) does not equal that of the previous iteration, starting with an estimation of k/2. It then uses an iterative calling of the estimation method a set amount of times to increase the accuracy of the results. It then confirms that n(k)2=k to ensure the calculation was correct. It repeats this for all numbers from 1 to the requested maximum.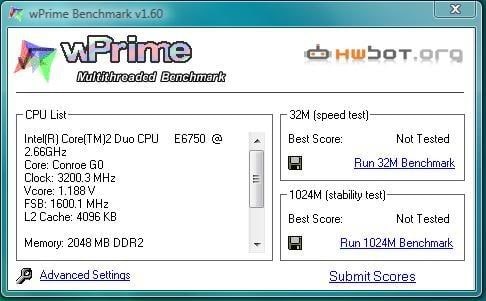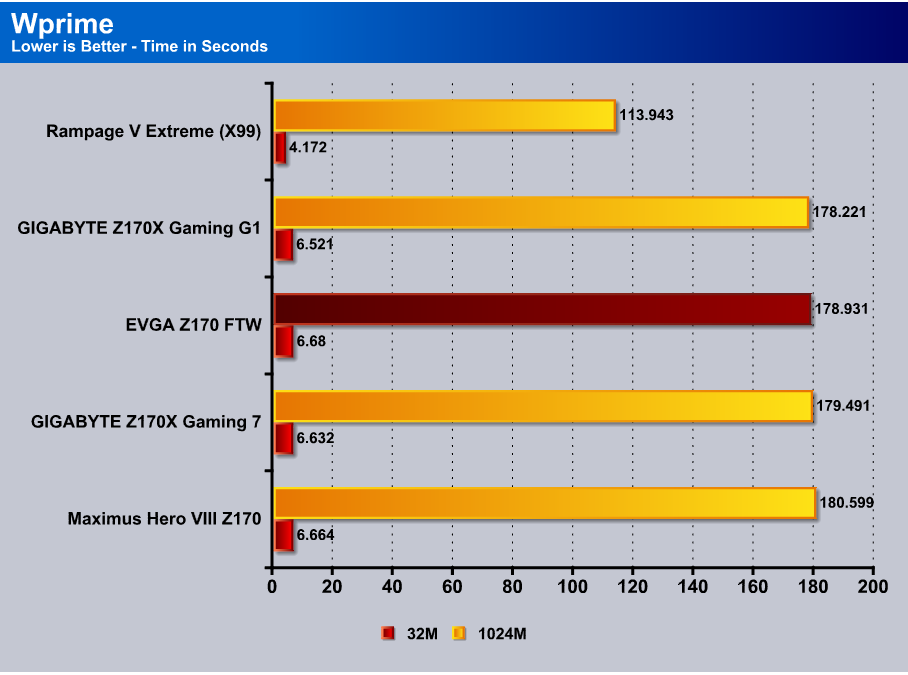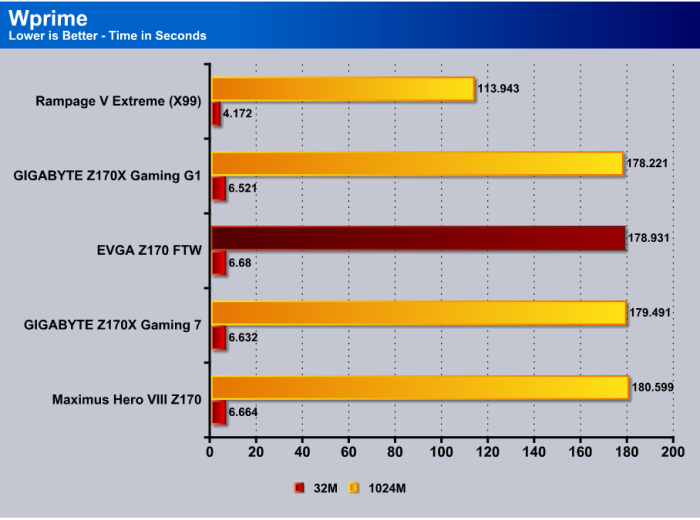 Rampage board owned this bench like it was it's job.
CINEBENCH R15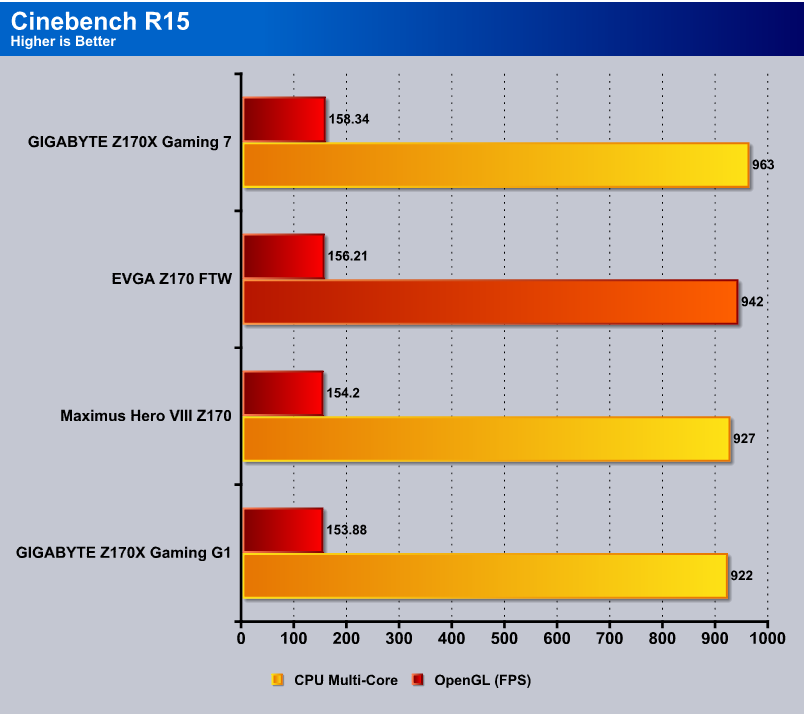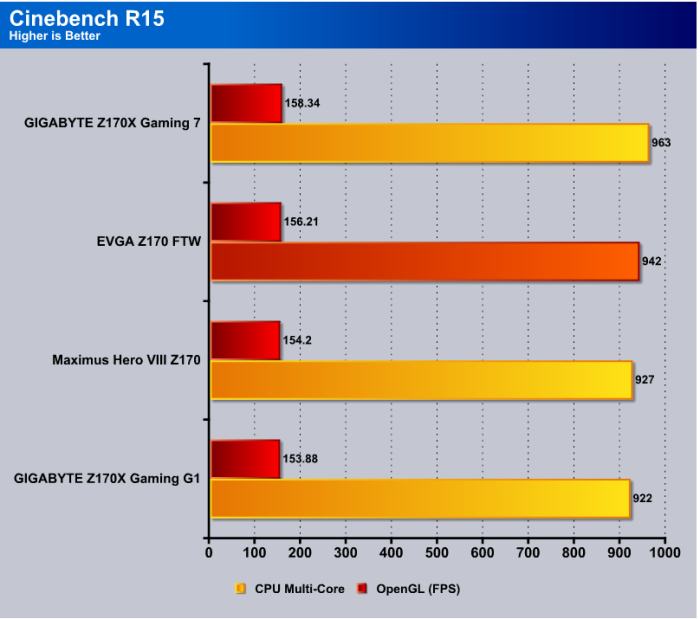 Cinebench shows the Z170 beating the Maximus and the Z170X G1, and only trailing the Gaming 7 by a small amount.
x264 HD
Simply put, x264 HD Benchmark is a reproducible measure of fast your machine can encode a short HD quality video clip into a high quality x264 video file. It's nice because everyone running it will use the same video clip and software.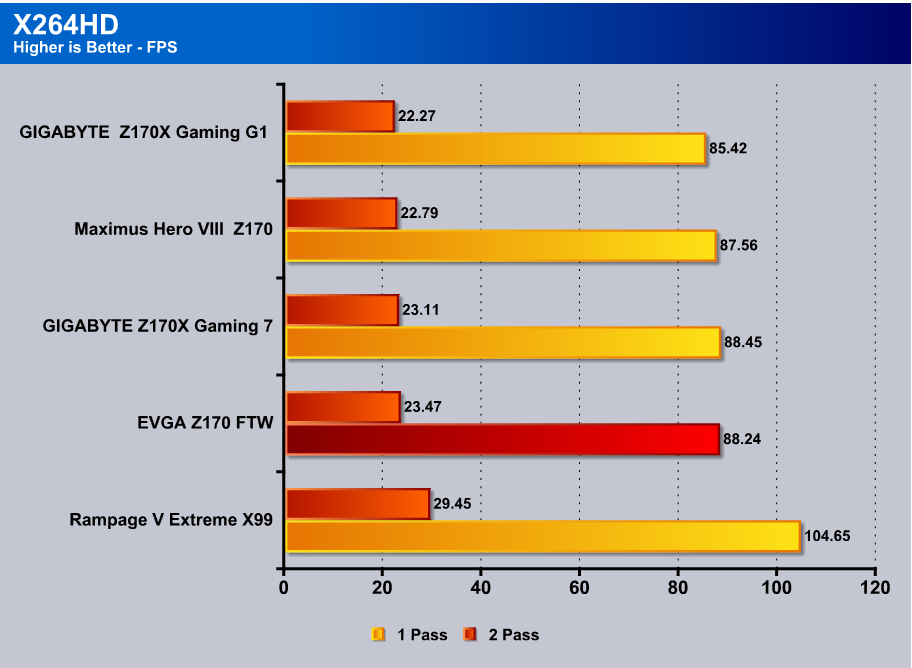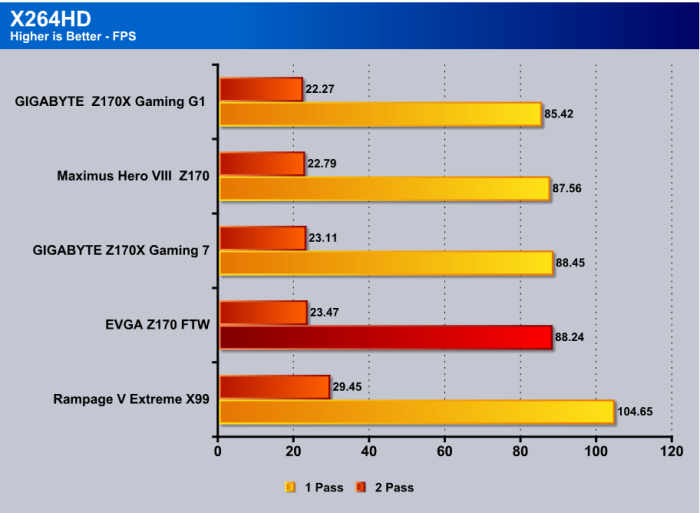 Surprisingly the Rampage X99 pulled the win here with the Z170 FTW and the rest of the Z170 boards doing about the same.
Unigine Heaven 4.0
Heaven Benchmark, with its current version 4.0, is a GPU-intensive benchmark that hammers graphics cards to the limits. This powerful tool can be effectively used to determine the stability of a GPU under extremely stressful conditions, as well as check the cooling system's potential under maximum heat output. It provides completely unbiased results and generates true in-game rendering workloads across all platforms.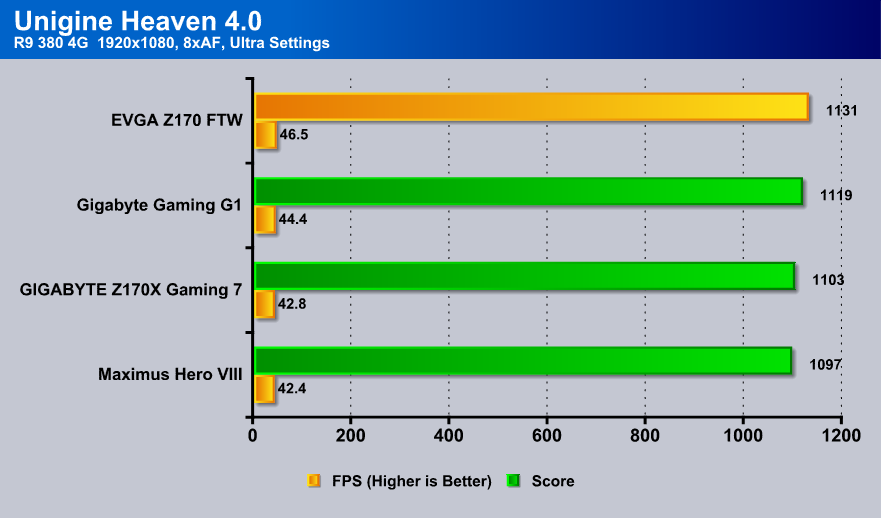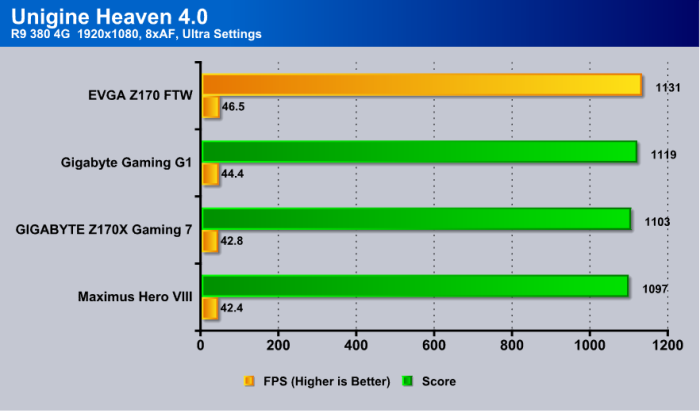 Z170 FTW showing again it can best motherboards of twice the cost in some environments.
Handbrake
We used a 900K Big Buck Bunny video and trans-coded it from AVI to MP4 three times, we added up those 3 runs and averaged the scores reported here.
Here is a detailed breakdown of HandBrake's features:

Built-in Device Presets—Get started with HandBrake in seconds by choosing a profile optimized for your device, or choose a universal profile for standard or high quality conversions. Simple, easy, fast. For those that want more choice, tweak many basic and advanced options to improve your encodes.
Supported Input Sources—Handbrake can process most common multimedia files and any DVD or Blu-ray sources that do not contain any kind of copy protection.
Outputs:

File Containers—MP4 and MKV
Video Encoders—H.264 (x264), MPEG-4 and MPEG-2 (libav), and Theora (libtheora)
Audio Encoders—AAC, CoreAudio AAC/HE-AAC (OS X Only), MP3, Flac, AC3, or Vorbis/li>
Audio Pass-thru—AC-3, DTS, DTS-HD, AAC and MP3 tracks

Additional features:

Title/ Chapter Selection
Queue up Multiple Encodes
Chapter Markers
Subtitles (VobSub, Closed Captions CEA-608, SSA, SRT)
Constant Quality or Average BitRate Video Encoding
Support for VFR, CFR and VFR
Video Filters—Deinterlacing, Decomb, Detelecine, Deblock, Grayscale, Cropping and Scaling
Live Video Preview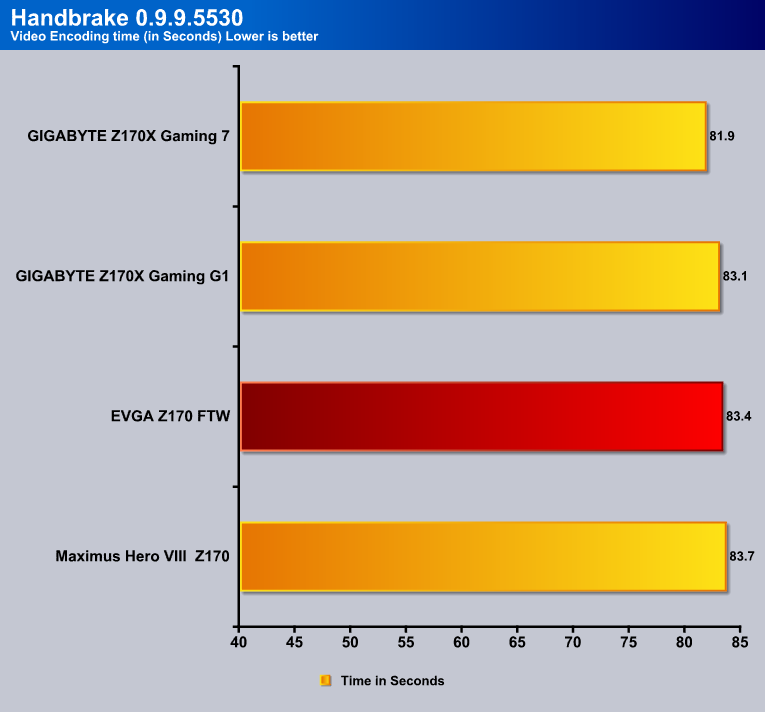 All of the Z170 motherboards run a tight race across the board.
RealBench
RealBench uses real, open source applications to test your PC as it would perform in RL. Although it can be competitive, it's not primarily designed to be more hardcore and time-consuming – it's a benchmark for everyone.
Select the three tests and run the benchmark to get your result. Each test uses different parts of your PC subsystem, so all areas are covered. Share the result here on the forum to compare to others, or, compare to pre/post overclocks and pre/post upgrades to get maximum value from your PC.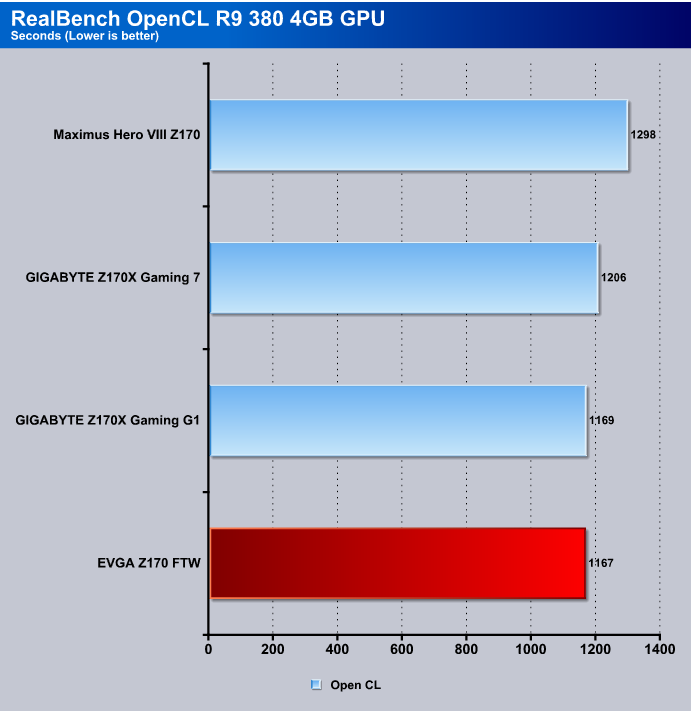 The FTW taking the lead in Realbench OpenCL but as usual it's a close run.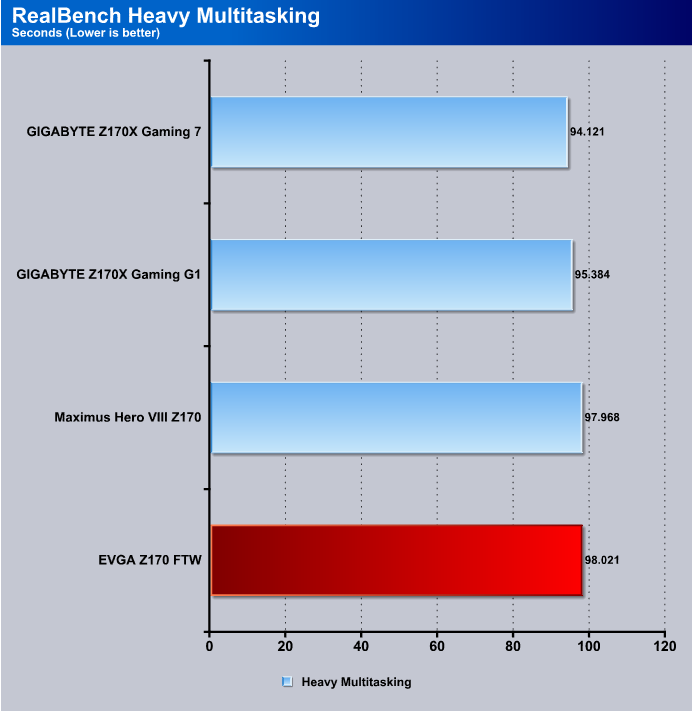 Another pretty close call with FTW falling a bit short here.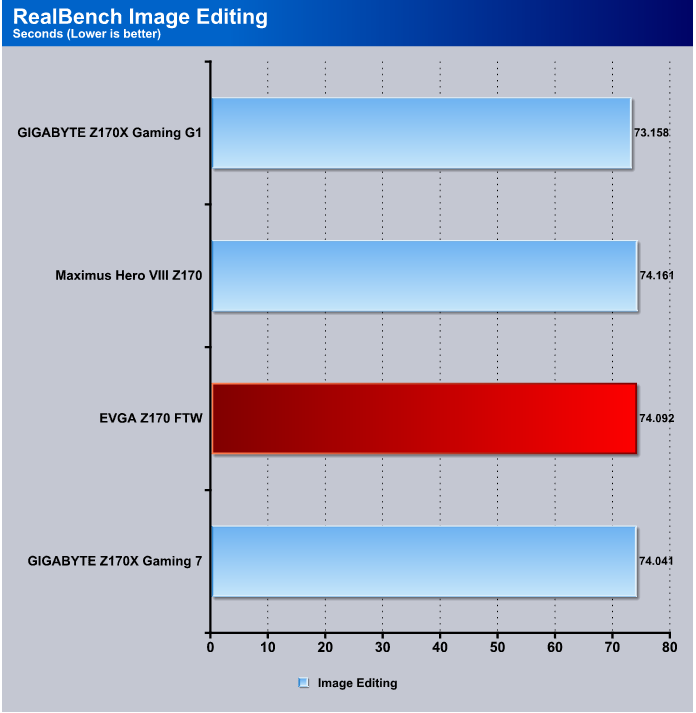 Now that is a battle ! Factoring the general variance we see on consecutive benchmarks we'll call this a tie.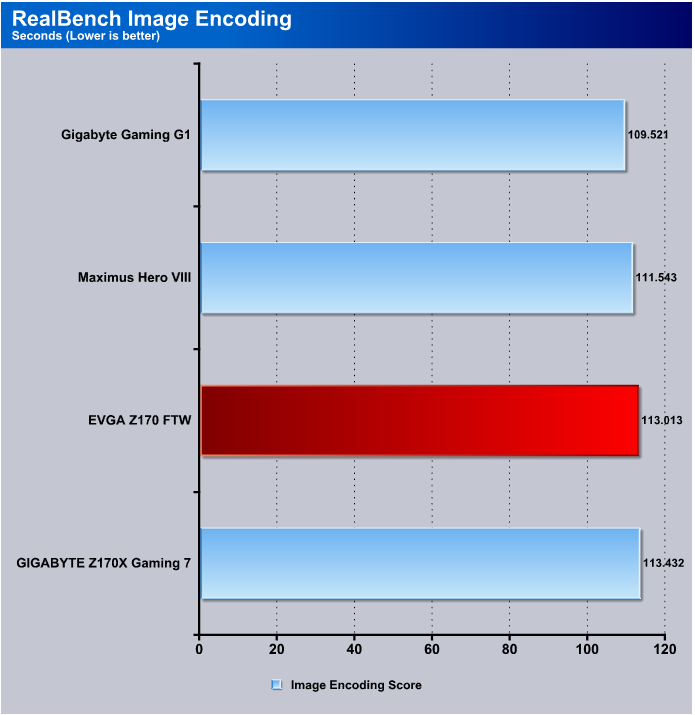 RB Image Encoding also shows all boards doing a great job with Z170 FTW not far from the top.
SiSoft Sandra
Designed as a complex utility for analyzing your computer's software and hardware abilities as well as running various tests to stress out components separately, SiSoftware Sandra Lite is one of the most resourceful apps in its category. It includes numerous options that require significant time to get used to if you're not familiarized with this kind of software. Suffice it to say, it targets power PC users.
When it comes to hardware data, it is possible to get a complete overview on the computer (e.g. processors, memory, graphics), storage adapters and devices (e.g. drive geometry, S.M.A.R.T.), mainboard, chipsets, busses, processors, power management, display and video adapters, GP (General Purpose) processors and accelerators, printers and faxes, and so on. Regarding software, the application shows details pertaining to the logical drives, file types, fonts, media devices, operating system, memory usage, processes, modules, services and drives, and more.
There are multiple types of benchmarks available, such as SIMD processor units, ALU and FPU processors, as well as financial analysis. Any tasks that you frequently perform can be added to a favorites list for quick access, while information from any area can be generated into a report and exported to file for close inspection and safekeeping. Modules that you don't need can be easily deactivated. In addition, it is possible to monitor the environment of your computer.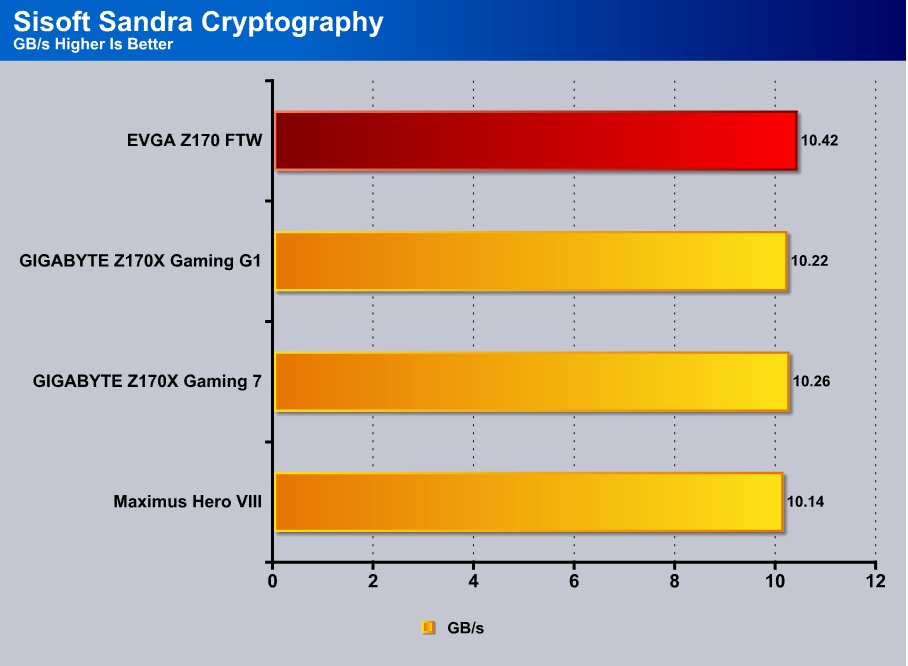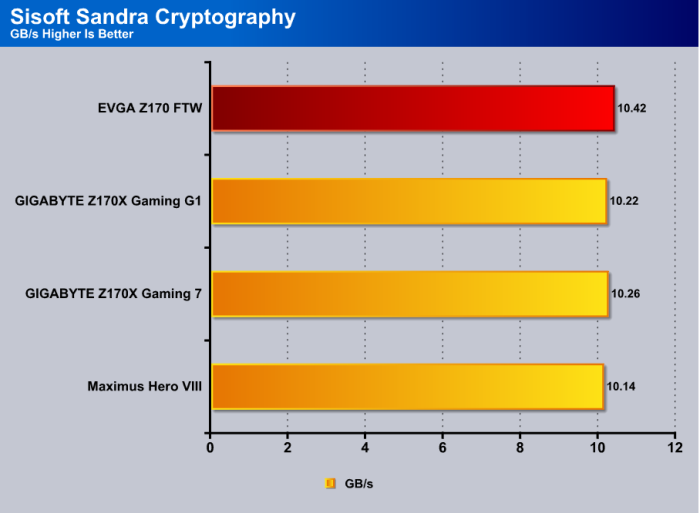 All boards produced an almost identical score in the Cryptography portion.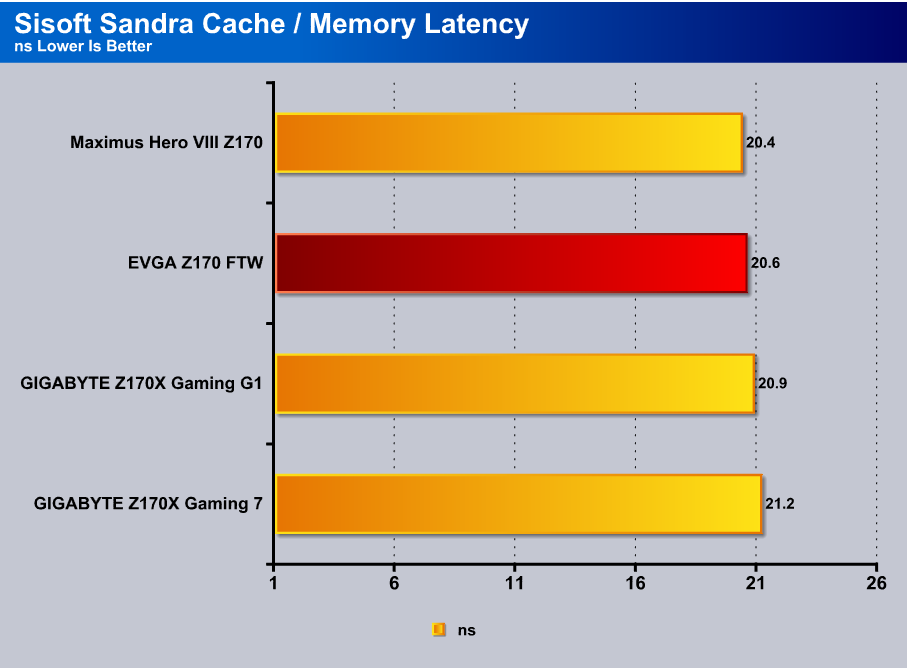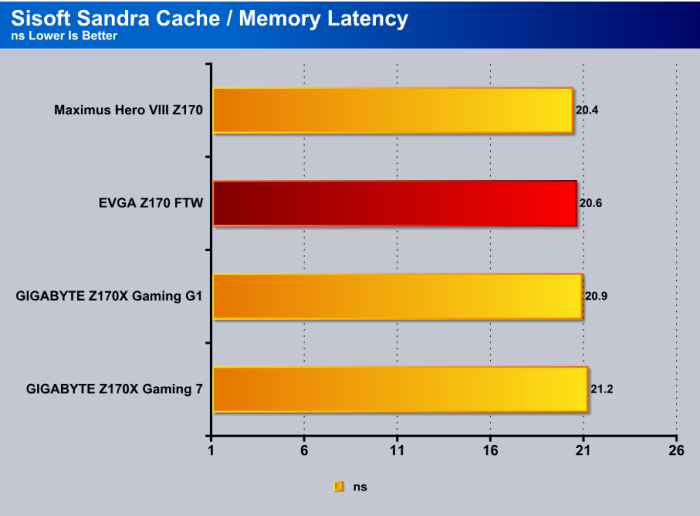 The Cache Memory latency test is neck and neck with a .2ns difference favoring the Maximus Hero board.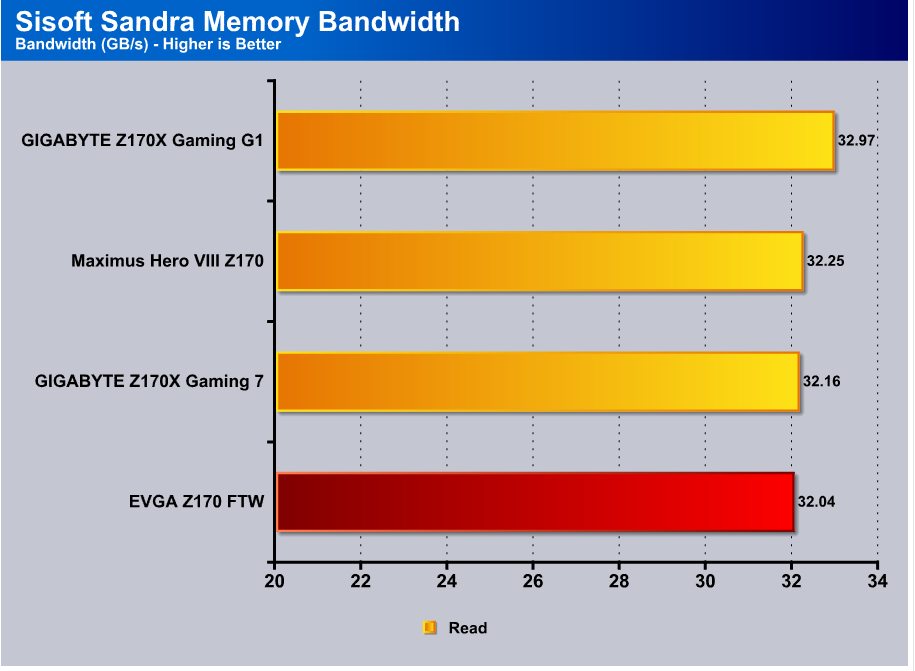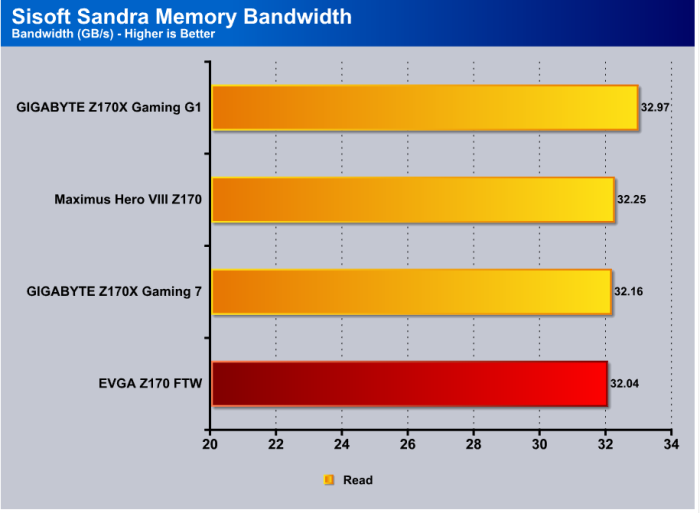 As we have seen in the past many of the Z170 motherboards produce nearly identical results in many of the testing environments.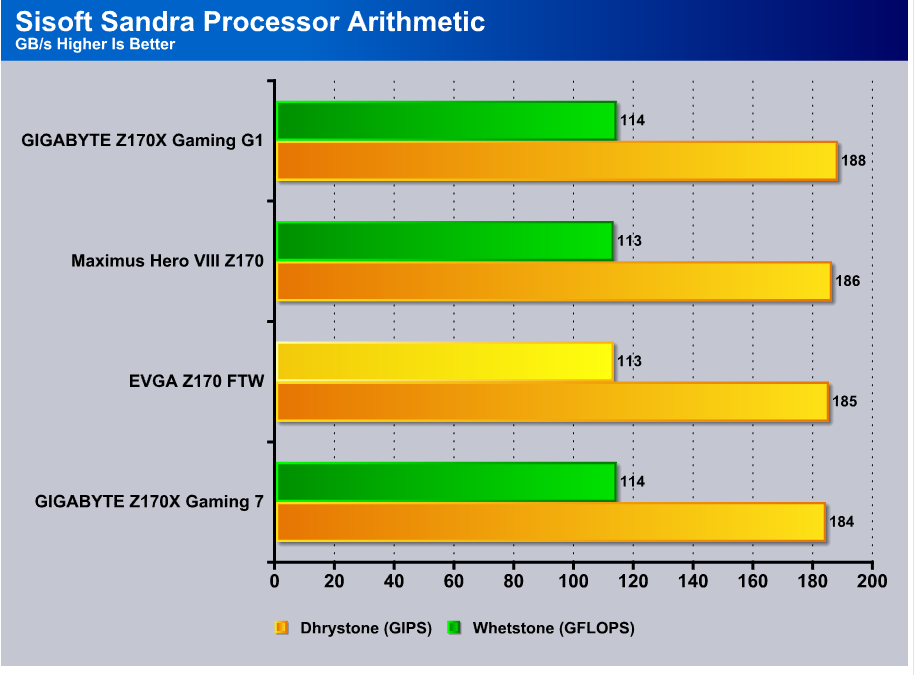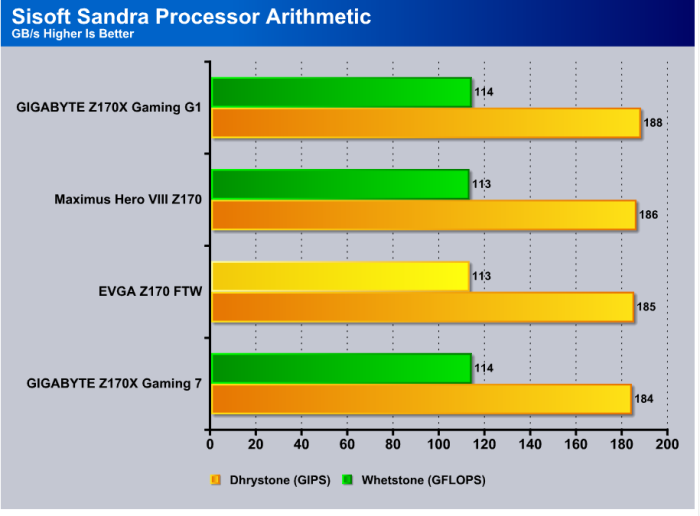 All data considered we can pretty much call this bench portion a tie.
TrueCrypt
TrueCrypt is a discontinued source-available freeware utility used for on-the-fly encryption (OTFE). It can create a virtual encrypted disk within a file or encrypt a partition or (under Microsoft Windows except Windows 8 with GPT) the entire storage device (pre-boot authentication).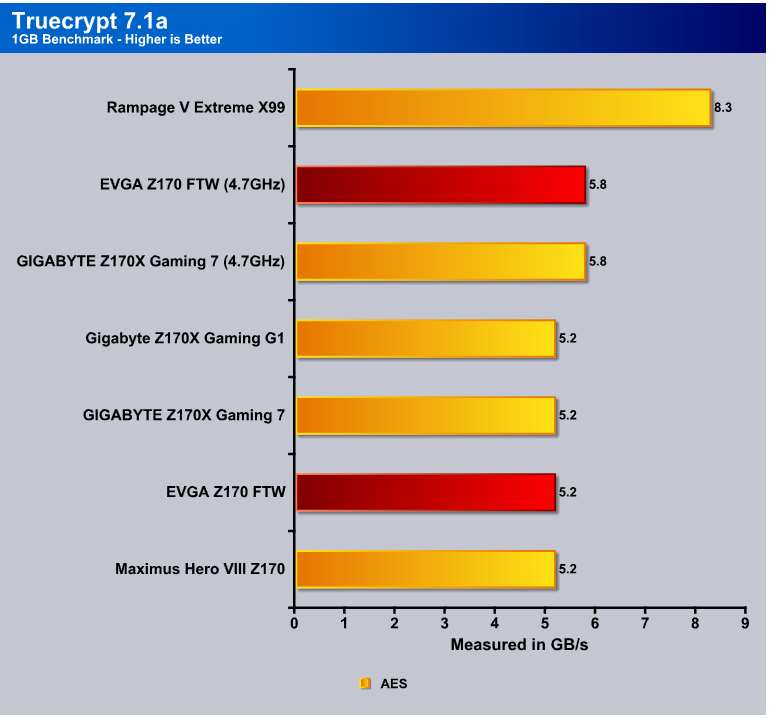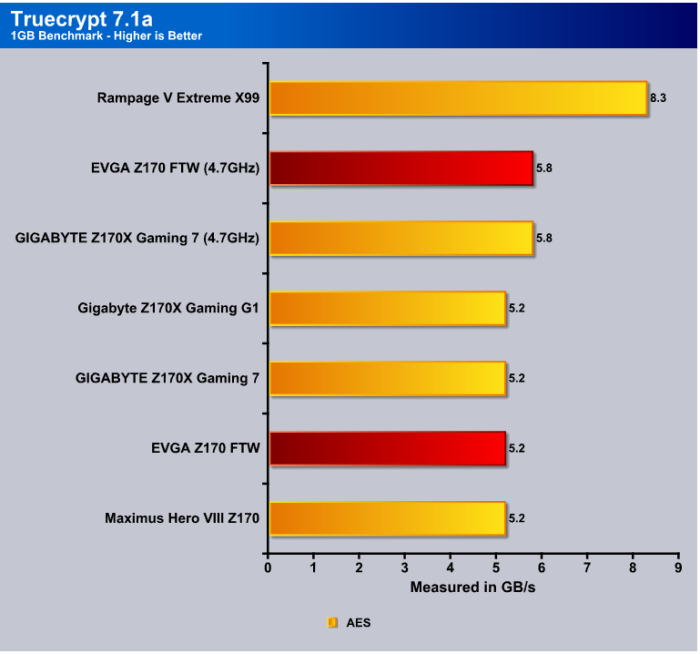 The X99 surprising us again with a lead in the TrueCrypt bench, while unsurprisingly the Z170s all tie.
Metro 2033
In 2013, a nuclear war occurred, forcing a large amount of Moscow's surviving population to relocate to underground metro stations in search of refuge from the outside world. Eventually, those who settled in the underground train stations evolved their homes into independent station-countries. Soon, new factions grew, ranging from the independent "Rangers" to the communist "Red Line" faction to the "Fourth Reich" which constantly engages in skirmishes with the former group. As these small states began to evolve, the Red Line and the Fourth Reich entered a permanent state of war, as both sought to control the metro and its resources. As the war raged, those stations who refused to join either side were massacred by the militants, raided by bandits, or outright destroyed by the Dark Ones – paranormal, otherworldly, mutated humans who live on the ravaged surface. While most of the stations are controlled by the three factions, several stations are abandoned, some have independent tribal rule, while some are occupied by the Dark Ones. Within one of those stations is where the events of Metro 2033 unfold.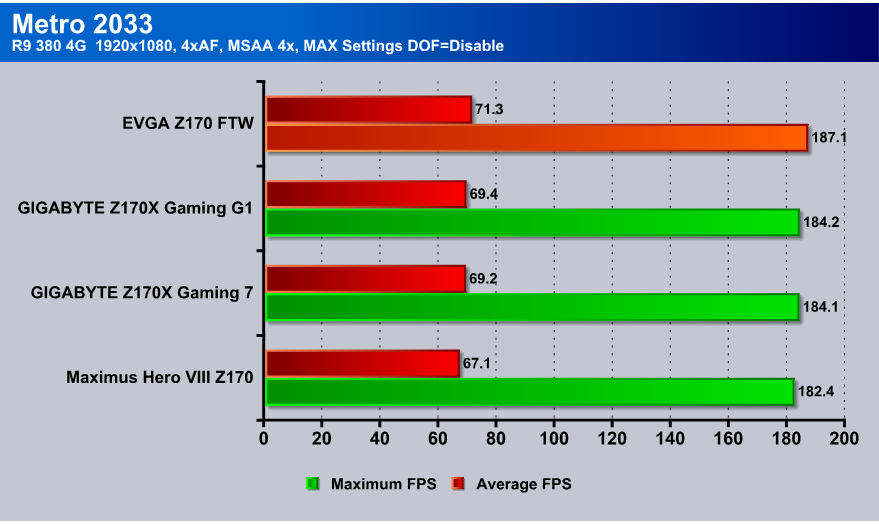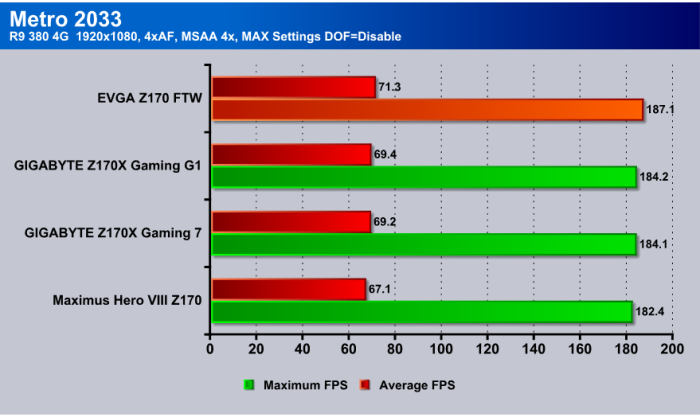 Testing games on motherboards really get's down to the motherboard's ability to allow the chosen GPU to operate at optimal output. With the same GPU and processor we see see about the same results. The EVGA Z170 got the top score though if only by a bit.