Testing
The Groovy Duo is a unique Bluetooth speaker combo, unlike most stereo Bluetooth speakers that achieve stereo sound by having several drives in one unit. The Groovy Duo achieves stereo sound via two separate speaker units that the user can position. While this approach LUXA2 took is inherently more complicated and requires two separate units and two of most parts, I can assure the users that the thinking behind this is sound and sounds amazing. While the Groovy Duo is a pair it can also be used as a single unit for mono sound, it is best used in its Groovy Duo pair for true stereo sound.  During the testing phase I used a Samsung Galaxy S4 and ASUS Transformer tablet to test the sound quality and features of the Groovy Duo.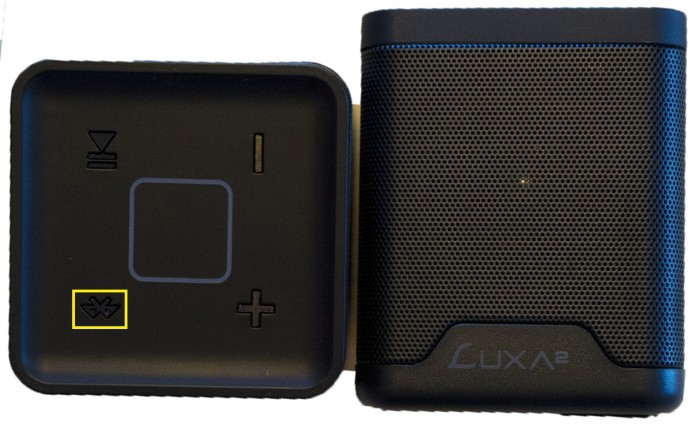 Pairing the Groovy Duo is a fairly simple procedure, to start the process you press and hold the power button that is located on the back of the speaker at the bottom. Once you hear an audible tone and it will start flashing depending on if you are using it in mono or stereo configuration.   To pair the speakers you will find a Bluetooth symbol on the top that you press and hold till the square led stops flashing.   For mono the LED will be blue and for stereo green.
LUXA2 Groovy Audio Center App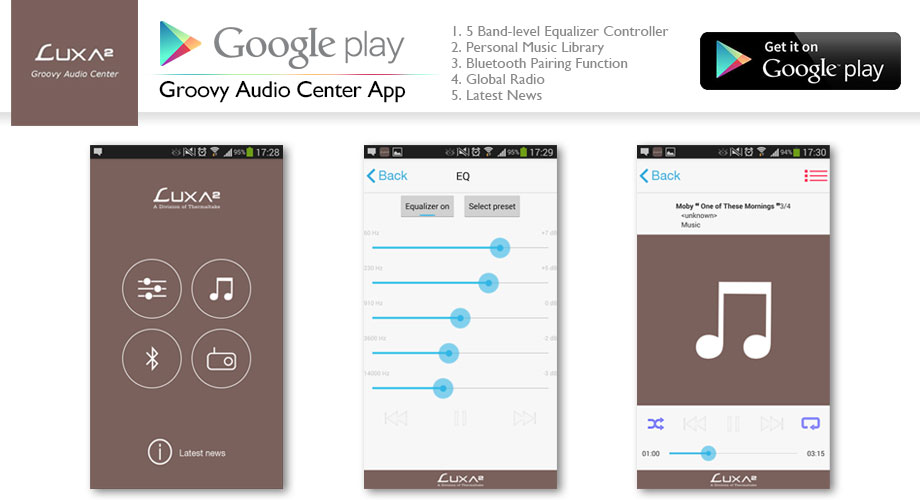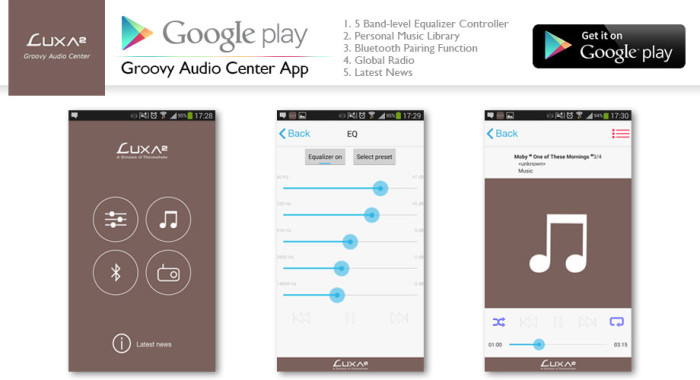 Once you have the speakers paired to your device you can use your standard media player that is included with your phone or via the LUXA2 Groovy Audio center that you download to your device.   The software can be downloaded via iTunes or Google play. The Groovy Audio Center app is calibrated for the Groovy Duo's components and includes features like a 5 band equalizer, personal music library, Bluetooth pairing function, Global Radio and latest news.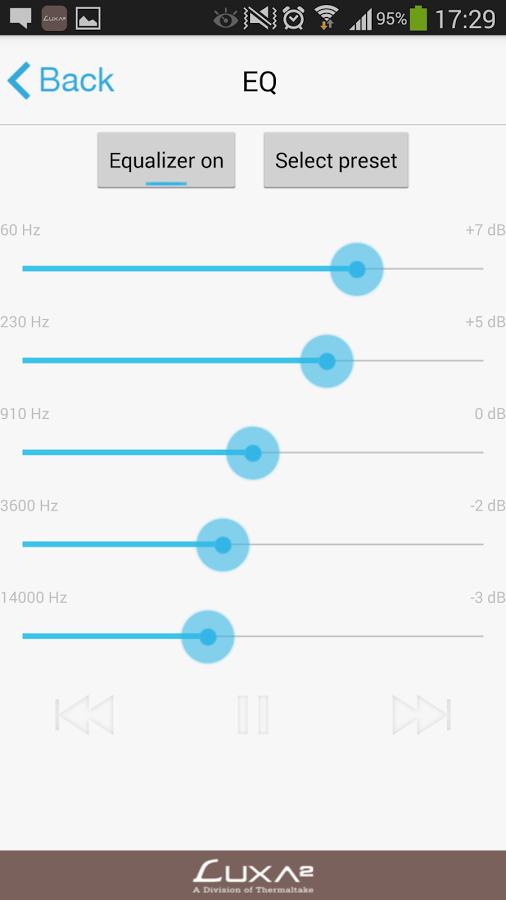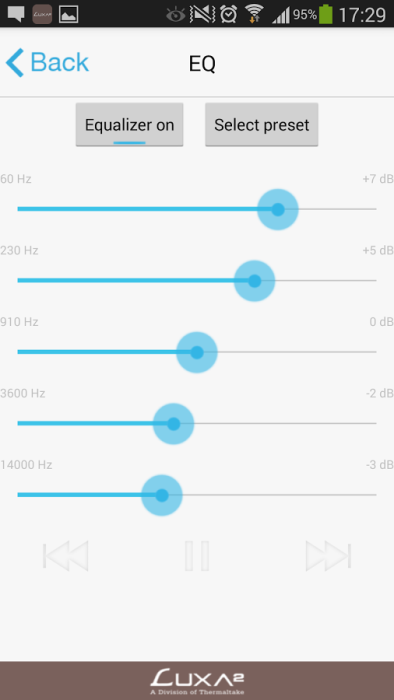 The equalizer has 5 adjustable levels starting with the 60 Hz, 230 Hz, 910 Hz, 3600 Hz and 14000 Hz all adjustable on a slider that you can move back and forth to your desired preference.   There is also preset options that you can select from depending on your taste in music.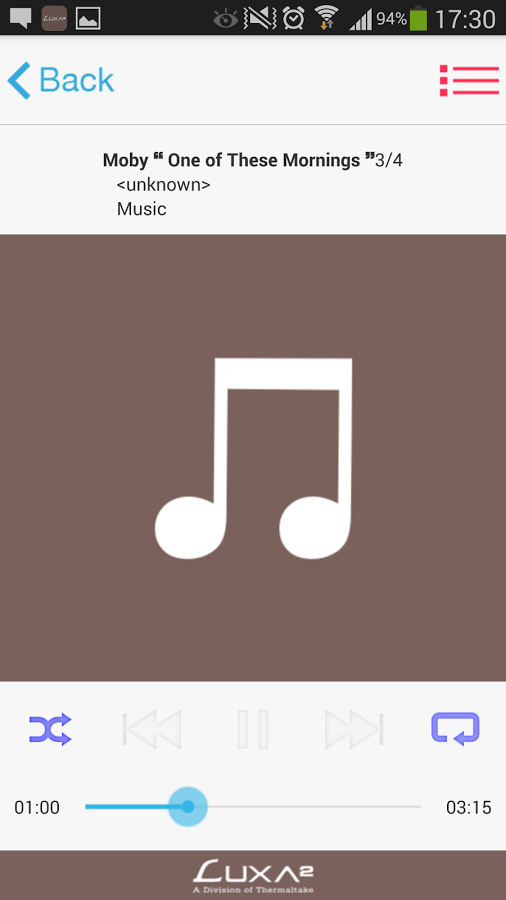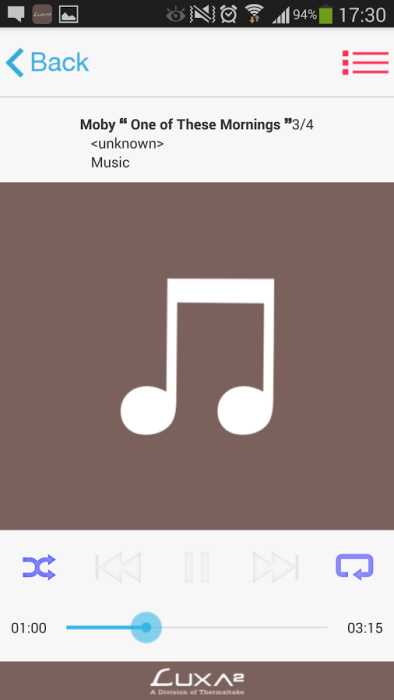 The personal is exactly what it says it is the application interfacing with your personal collection that is on your phone. Through this you can access your library through categories like Artists, Albums, Songs, Playlists, Genres and Files options. Each of these allows the user to search alphabetically or type the name into the search function. One tidbit that I initially had trouble with was to play a song you have to press and hold and select play from the menu, if you simply touch the song you want it just goes to a playlist.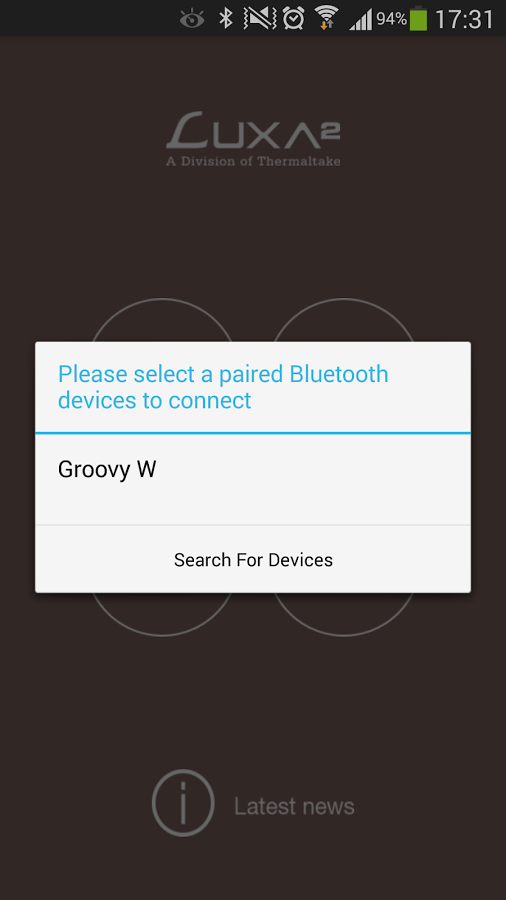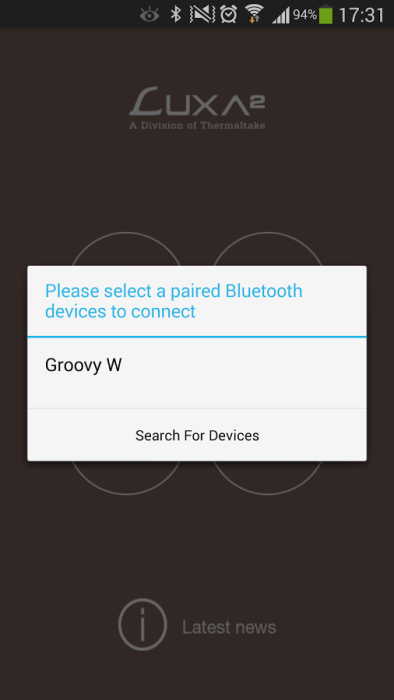 The Bluetooth pairing function works similar to that on your device and you are allowed to pair it with other devices, half of the time I paired it with other devices. The pairing capability is very similar to the what is found on your device so there is not much to discuss in detail here.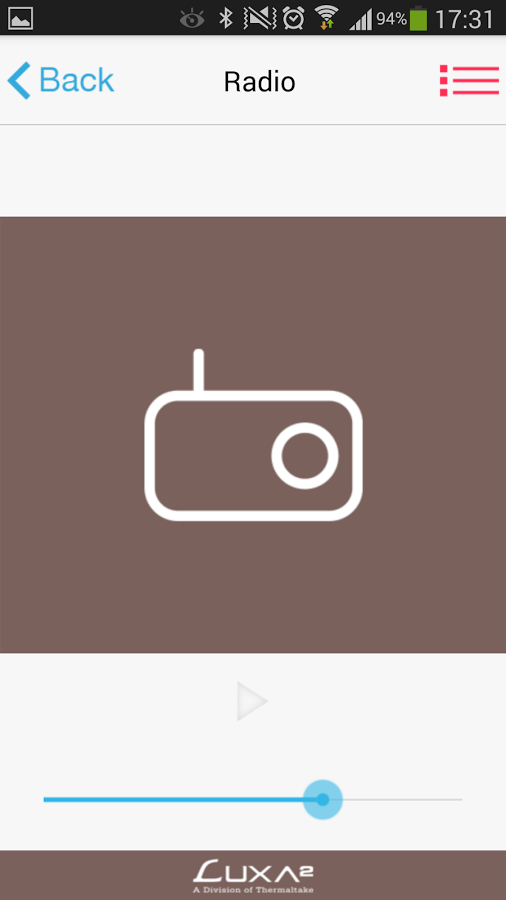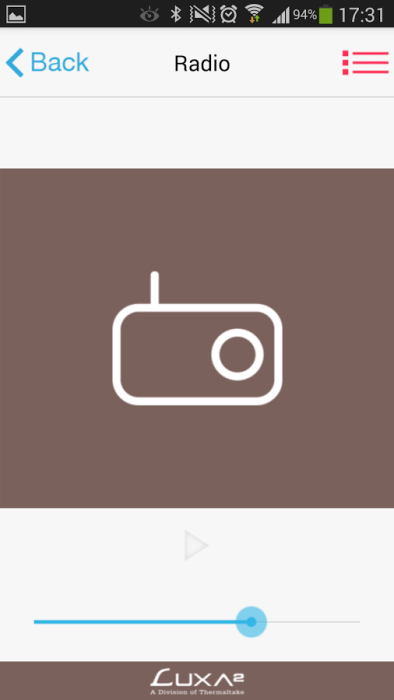 The Global Radio function is what I found really set the application apart from other media players. Not only is this a global radio but it also is regional one that allows the user to search even by their state or their local area. In addition to this the user can also search by music genre, talk radio, sports and by country and continent.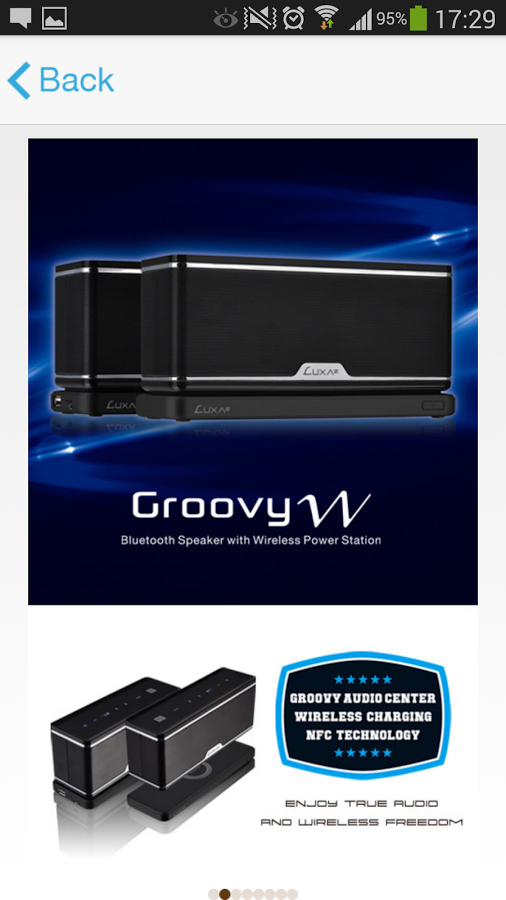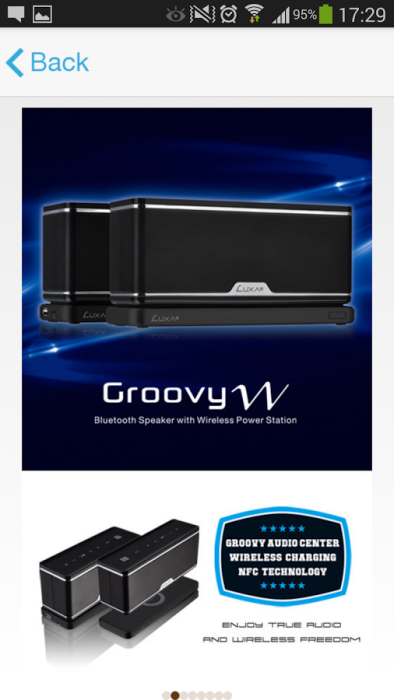 The latest news tab in the app is a little misleading since it only shows you the latest products by LUXA2 and is one feature besides taking a look to see what it was I never used again
Battery Life
The Groovy Duo features two 900mAh / 3.7V Li-Polymer batteries, one for each unit giving each speaker 8 to 10 hours of playtime. During testing we achieved 9 hours of constant use with the volume turned up near maximum and during a second stage of testing we achieved over 10 hours at medium volume level. With the LED lights on each unit on all the time I feel that this might have a slight impact on the battery life and I wish that they LED lights would turn off after no direct inputs on the on board controls.
Sound Quality
The Groovy Duo exhibits exemplary sound quality for its size and design.   During our in-depth and exhausting testing the Groovy Duo really shined and proved itself with every type of music and several movies.   The sound quality was crystal clear up until the upper end of the volume range, near the top end you notice distortions. However this is only a minor issue since before you reach this the Groovy Duo's volume is exceptionally loud while remaining crystal clear.
The audio as mentioned is crystal clear with good highs and mids and overall good overall balance all all-around.   If you are looking for a unit that is more focused towards bass then I would suggest looking towards other products that are more geared towards your tastes.