As a hardware- reviewer it is sometimes easy to forget that not everyone needs a super fast big computer and instead are looking for something in the other end, a small, silent computer that works for more modest applications. Zotac is a company that excels in that sort of small mini-PC's and today we are testing their Zbox Nano CI540 Plus, a palm-sized computer that comes with a Core i5-processor, 4 GB ram and a SSD. Add to that a completely fan-less design and USB3.0-support as well as 802-11ac-WIFI and we have a very attractive computer in a small package.
Specifications
The Zbox Nano CI540 actually comes in two versions. The one we are reviewing is the Plus-version which includes a SSD and 4 GB of memory. The non-plus version omits that and lets you choose both the size of the memory as well as what SSD to put in. In our case we got the version with a 64 GB SSD:
| | |
| --- | --- |
| Product Name | ZBOX CI540 nano Plus |
| | |
| --- | --- |
| Manufacturer | Intel |
| Chipset | N/A |
| GPU | Intel HD Graphics 4200 |
| | |
| --- | --- |
| Name | Intel Core i5 4210Y (dual-core, 1.5 GHz) Intel Turbo Boost up to 1.9 GHz |
| Socket | N/A |
| Frontside Bus | N/A |
| | |
| --- | --- |
| Memory Type | DDR3L |
| Memory Speed | 1600 MHz |
| Slots | 1 x 204-pin SODIMM |
| Capacity | 4GB (up to 8GB) |
| | |
| --- | --- |
| DirectX | DirectX 11.1 |
| OpenGL | OpenGL 4.3 |
| | |
| --- | --- |
| Ethernet | 10/100/1000Mbps |
| WiFi | 802.11ac + Bluetooth 4.0 |
| | |
| --- | --- |
| Analog | Stereo output |
| Digital | 8-ch via DVI-HDMI adapter, S/PDIF |
| | |
| --- | --- |
| Hard Drive | 64GB SSD (2.5-inch) |
| Optical Drive | N/A |
| Memory Card Reader | 3-in-1 (SD/SDHC/SDXC) |
| | |
| --- | --- |
| DVI | N/A |
| HDMI | 1 |
| DisplayPort | 1 |
| SATA | 1 (SATA 6.0 Gb/s) |
| eSATA | 1 |
| IDE | N/A |
| PS2 | N/A |
| Serial Port | N/A |
| USB Ports | 2x USB 2.0 on front, and 4x USB 3.0 on back |
| Firewire | N/A |
| COM Port | |
| | |
| --- | --- |
| Cooler | passive cooling without cooling fan |
| | |
| --- | --- |
| Content | 1 x ZOTAC ZBOX CI540 nano Plus 1 x WiFi antenna 1 x VESA mount 4 x Mounting screws 1 x AC adapter 1 x Power cord 1 x Warranty card 1 x User manual 1 x Quick Install Guide 1 x USB drive with O/S driver 1 x Driver disc |
The ZOTAC ZBOX CI540 nano Plus comes with a lot of connectivity options including both USB2- and USB3-ports, gigabit ethernet, 802.11ac and eSata as well as both a DisplayPort and a HDMI port for video output.
We did get the 64 GB version and to be fair we would recommend getting the non-plus version and putting in 8 GB and a 256 GB SSD but in the end it depends on what you want to do with it.
Closer Look
The Zbox CL540 Plus reminds us of the Zotax Zbox Nano AQ01 Plus we reviewed 1 1/2 year ago. One big differences are of course that the AQ01 Plus used a AMD CPU/GPu and wasn't fan-less while this is using an Intel CPU/GPU and is fan-less.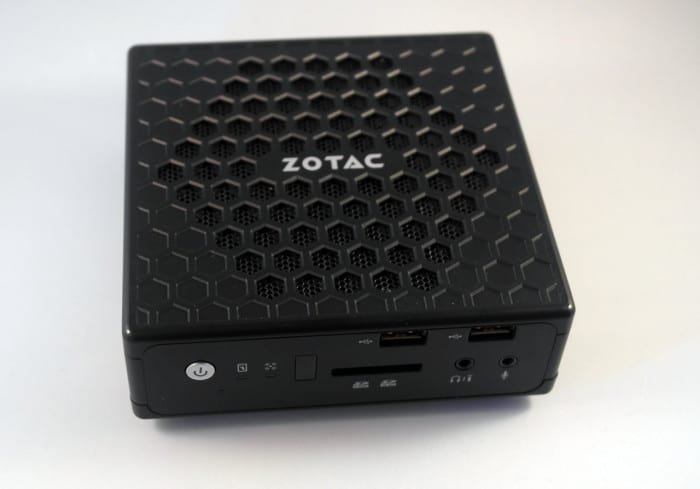 At first we thought the whole case was acting as a heat-sink but there actually is a heat-sink inside which handles that. the outside of the case has mesh-net all around to let the warm air vent out. Be advised that the little case will indeed become warm.
The Zbox Nano CI540 comes with a wide array of connection options. On the front we have two USB2-ports, a memory reader and connections for headphones and microphone. On the back we find 4 USB 3.0-ports, eSata, gigabit ethernet and both a HDMI- and a DisplayPort-connetor for your monitor or TV. Last but not least we can attach an antenna to get the WiFi up and running.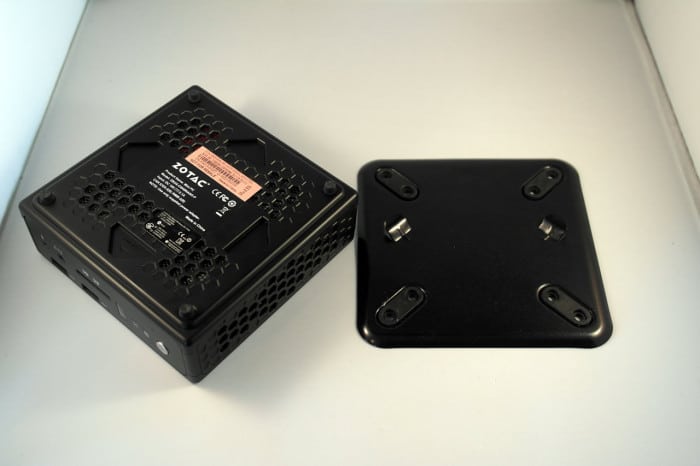 Zotac includes a VESA-backplate that can be screwed to any TV or monitor that supports the VESA-standard (basically most TV's and many monitors). The Zbox Nano CI540 can then be attached to the backplate and hidden behind the TV or monitor.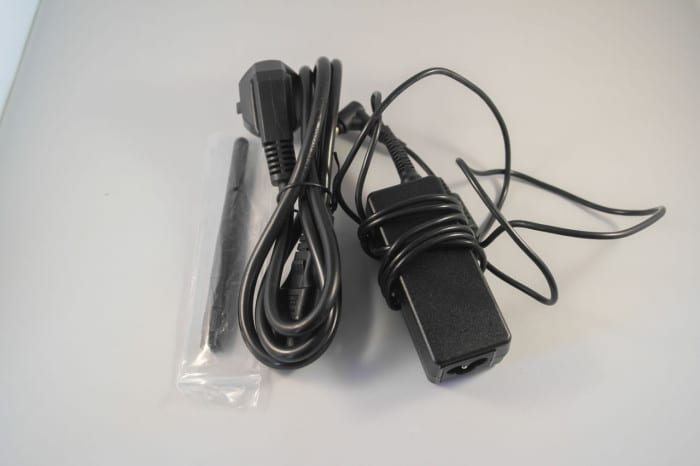 We get a small 19V/2.1A power supply (fan-less of course) and a antenna for WiFi.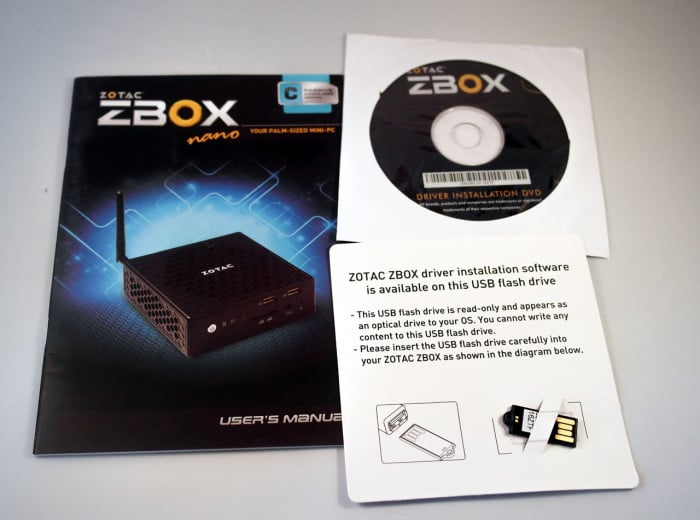 Since the Zbox Nano CI540 does not come with an optical drive Zotac had to solve the problem of how to include drivers. The solution: a read-only USB-stick. We really would like to see this more in other products too.
Looking inside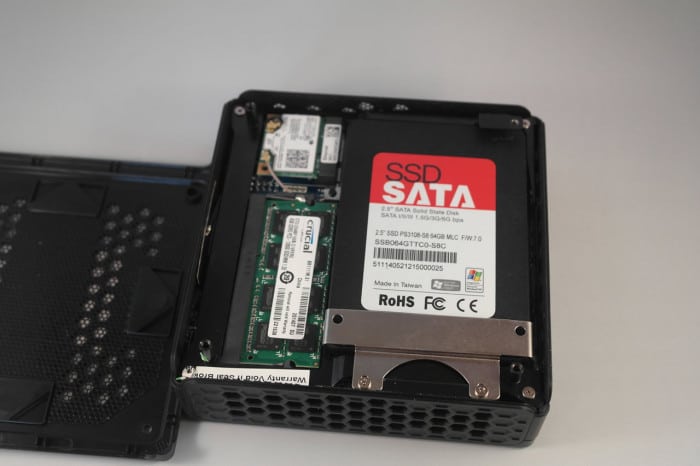 It is easy to get inside the computer. All you have to do is remove the small rubber-feat which also has a screw in them. Right away you get access to the SSD, the memory and the WiFi-adapter. You can actually also remove the motherboard and get access to the other side. We did this to make sure that this unit did not have a plastic sheet over the thermal pad, something a few review units have had. It is supposed to be fixed and not on production units and ours did not have this issue. As we mentioned before the Plus-model already comes with memory and SSD but we still think you should get your own SSD and possibly a bit more memory instead of 4GB. Upgrading the WiFi-adapter also can be an idea.
Performance
We decided to go about the testing of this little PC a bit differently. We know it is not the fastest PC around with its low clocked Core i5 and HD 4200 graphics so it certainly will not be a gamer's machine, at least not if you decide to have locally stored games. So we decided to look at this little PC a but differently.
First of all we decided to use it as a Windows 10 test-bed. The benchmarks all were done with the Windows 10 Preview build 1066 which was the last one in the fast track at mid-july, just 2 weeks from the launch.
We also decided to focus on the ability of the Zbox Nano CI540 as a media streamer streaming movies via Plex from a NAS and as a game streamer streaming games via Steam from a few other machines in the house.
"Streaming worked fine although we feel the quality even at high is a bit lower than expected with some artifacts present. We did not however encounter any lag or sluggish feeling and playing Geometry Wars Evolved via Xbox one backwards compatibility was surreal and great. As the feature gets out of beta we are sure we might see some improvements."
Windows 10
Installing Windows 10 was easy and all the component in the computer was properly found and configured.
SSD-performance
ATTO Disc Benchmark
As the industry's leading provider of high-performance storage & network connectivity products, ATTO has created a widely accepted Disk Benchmark freeware utility to help measure storage system performance. As one of the top tools utilized in the industry, Disk Benchmark identifies performance in hard drives, solid state drives, RAID arrays as well as connections to storage. Top drive manufacturers, like Hitachi, build and test every drive using the ATTO Disk Benchmark.
Left: 64 GB SSD in Zbox. Right: Samsung EVO 840 256 GB
In ATTO Direct I/O with Overlapped I/O produces the best benchmark numbers and in general is the test used by most major manufacturers to gauge the speed of their drives. ATTO uses compressible data and gives the manufacturers good benchmark numbers. The 65 GB SSD that is included with the Zbox Nano CI540 Plus performs in par with a 256 GB Samsung Evo 840 SSD.
Anvil Storage Utilities
Anvil's Storage Utilities is a lightweight application developed specifically for helping you perform benchmark tests for assessing the performance of a solid-state drive (SSD) or hard disk drive.
Since this is a portable program, it is important to mention that it doesn't leave any traces in the Windows Registry. You can copy it on any USB flash drive or other devices, and take it with you whenever you need to test the performance of your SSD or hard disk drive on the breeze.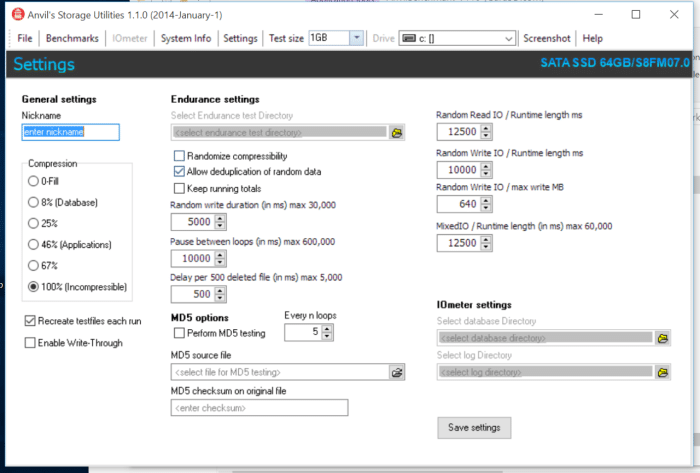 The software allows us to choose how compressed the data is. A 46% compression ratio is a good match to "real-world" data and will give us a good idea how the SSD works during real use.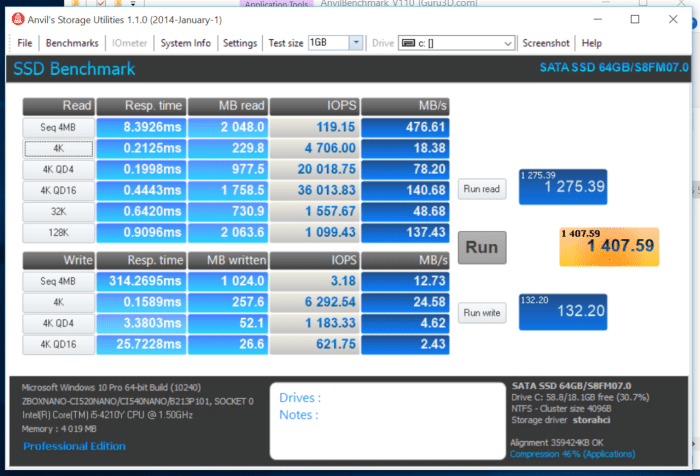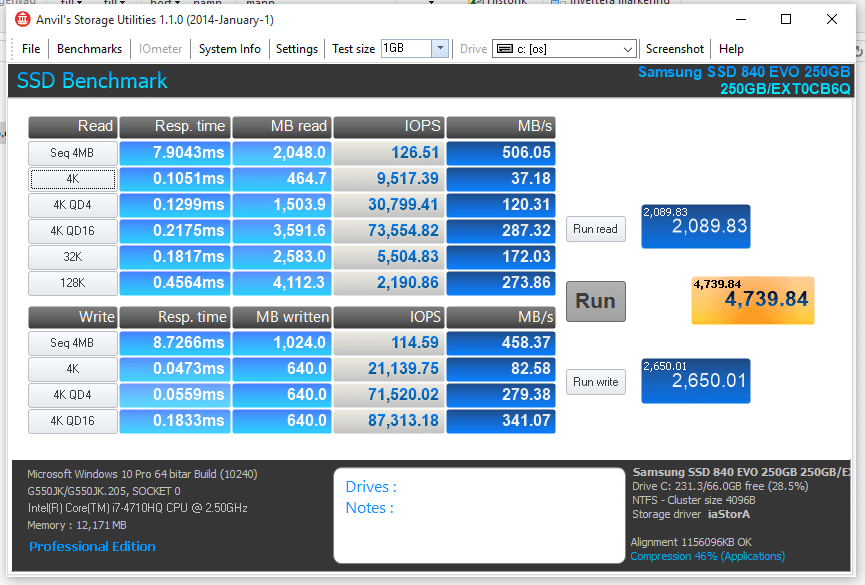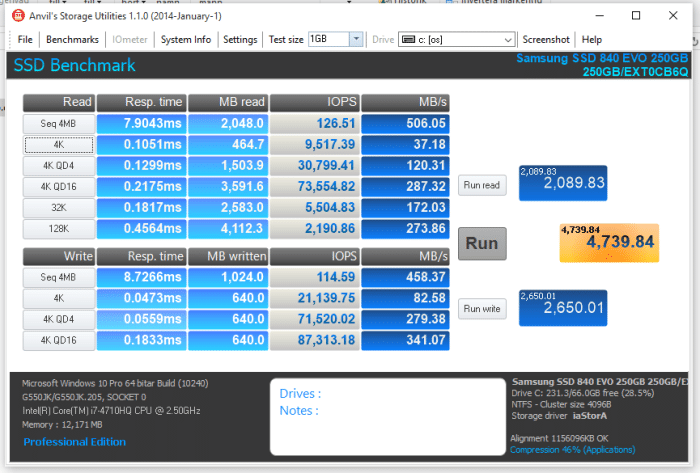 WIn this case we see a big difference between the two SSD's. The included 64 GB SSD still is faster than  a regular HDD but if you want the best SSD-performance you better upgrade. We should mention that during all our testing we never felt the system felt sluggish.
WiFi-performance
To test the WiFi-performance we connected the computer to a Asus AC3200-router. Speed over the internet was measured via Bredbandskollen.se and Speedtest.net. As we have a fiber-connection to the internet with speeds around 450 Mbps download and 140 Mbps upload we knew that the internet-connection would not affect the score.
| | | |
| --- | --- | --- |
| | Download (Mbps) | Upload (Mbps) |
| Bredbandskollen.se | 179 | 118 |
| Speedtest.net | 192 | 98 |
The result was decent with a download speed at around 180 -190 Mbps and an upload speed of around 100-120 Mbps.
Media streaming
We used the Plex app to stream from our Plex-server in the garage. As expected the streaming worked fine.
Game Streaming
Today it is possible to stream games over the local network just like you stream video. Steam Home Streaming is the main way to do it but with Windows 10 Microsoft also now are offering you to stream Xbox One games.
We tested both these methods while the Zbox Nano CI540  Plus was connected via WiFi. This is not the best way to do it and we noticed occasional issues.
Steam Home Streaming
To get Steam Home Streaming going all you need is that the two computers are on the same network and have Steam loaded (there are ways to get it working over the internet but we leave that out of this review). You then get the option to start a game by streaming it.
We tested a few games including Lego Jurassic Park (hey, I love to play those with my kids) and at first it worked fine. However – after a while all games froze up with some weird artifacts. This however also happened when doing Steam Home Streaming from the Asus gaming laptop, although later, so we figured it was a SHS-issue, not a Zbox-issue. After some messing with the settings on the host computer (which uses a GTX 980 Ti-card) it worked better.
Verdict: Steam Home Streaming itself is not the most stable technology right now but when you get it to work it looks and works fine on the Zbox Nano CI540 Plus.
Xbox One to Win10 Streaming
One of the new features in Windows 10 is that it will be able to stream games from an Xbox One. We of course tested that with the, at time, latest Win 10 version (Build 10240) and our Xbox One which is in the preview program.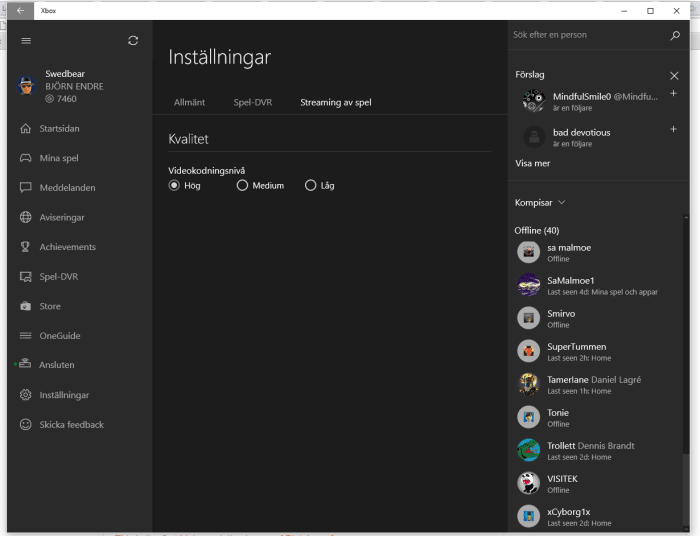 After we set up the Xbox One to accept streaming we just need to use the Xbox app from the Windows Store and connect. We can set up a quality setting (Hög = High, Låg = Low) but that can also be changed while streaming. Then all we need to do is to choose "Stream" and we get connected to the Xbox One and mirror its dashboard.
Streaming worked fine although we feel the quality even at high is a bit lower than expected with some artifacts present. We did not however encounter any lag or sluggish feeling and playing Geometry Wars 2 via Xbox one backwards compatibility was surreal and great. As the feature gets out of beta we are sure we might see some improvements.
Verdict: Streaming from a Xbox One works great although we would like to see a bit higher bitrate when using the high quality setting.
Temperatures
Since this is a fan-less design we expect it to get hotter than if we had a fan. The Corei5 used should still work fine up to 100C so there is some head-room.
| | |
| --- | --- |
| | CPU Temp |
| Idle | ~45C |
| ~6 hours with CPU at full speed | ~75C |
| 1 hour Plex videostreaming | ~65C |
| Gaming via Stream Home Streaming | ~65C |
The Zbox Nano CI540 Plus definitely heats up if you use it at full load over a longer time period and this is something also noticed when we feel the case on the outside. It is warm but not so warm we cannot touch it. However, even though we see CPU-temperatures up towards 80C this is mainly when we have used it at high load a longer period and we still are far from the 100C max temp for the CPU. At idle the CPu is still at 45C and it takes a while for the system to cool down after you have used the computer as there are no fans that can push the warm air out.
Conclusion
The Zbox Nano CI540 Plus is yet another interesting little computer from Zotac. Its main feature is its fan-less design which makes it ideal as a media PC or a PC in an enviroment that values silence. It is not the fastest machine but for many users it is adequate and offers enough performance. Together with Steam Home Streaming or Xbox One => Windows 10 streaming it even can work as a gaming client although it depends on how good your network is.
The Zbox Nano CI540 Plus can be found  while the . Those $100 gets you 4 Gb memory and a 64 GB SSD. If 64 GB is enough you might as well go for the Plus-model, otherwise we would recommend the non-Plus version and add your own SSD and memory.
Pros
Cons

Completely fan-less
Small footprint
Decent performance
Can handle streaming video and games
Easy to upgrade memory, SSD and WiFi-module.

Ageing chipset
Gets hot
64 GB SSD and 4 GB memory on the low side.
A bit pricey compared to newer Intel Nuc and even newer Zotac Zbox