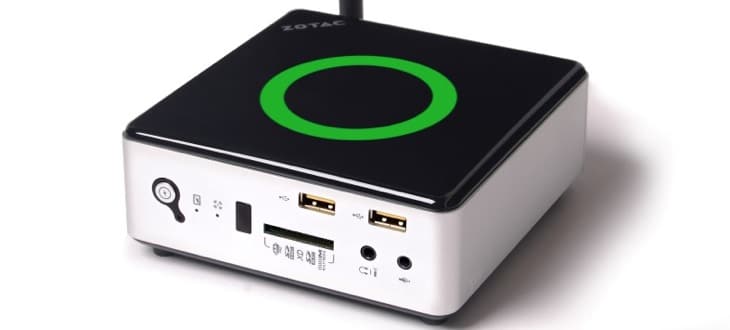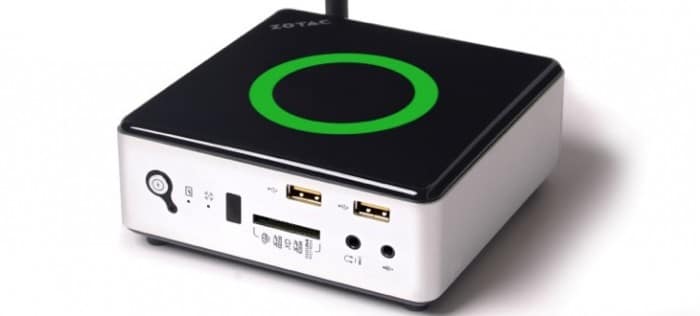 While Zotac maybe is most knows for their graphics cards they also are specialized on small motherboards and small desktop systems. Today we are reviewing one of those tiny small desktop PC's: the Zotax Zbox Nano AQ01 Plus. This is a very small PC that even comes with a VESA-mount so it can be attached to a TV ore monitor and be out of sight. It has a Quad-core AMD "Kabini" APU, the A4-5000 while a Radeon HD 8330 provides us with the graphics muscles. This is not a gaming machine, even though the GPU should benefit from the Mantle API, but promises to work well as either a media PC, a kitchen PC or even a bedroom PC. Does it have what it takes to compete with tables and other tiny PC's? Continue to read to find out.
THE FEATURES AND SPECIFICATIONS
As we mentioned in the introduction this is a tiny PC that comes with AMD's latest "Kabini"-APU, the A4-5000 which is a quad-core CPU running at 1.5 GHz (as we write this AMD has announced a slight upgrade, the A4-5001, but the ZBox Nano comes with the "older" version). 
Inside the Zbox Nano AQ01 we find a lot of nice features. On the communications front there is support for 802.11ac/n/g/b/a + Bluetooth 4.0 which of course is very nice. The 802.11ac support means that we can stream to the Zbox and hope to get enough speed so that we can stream even higher resolution video. The Bluetooth-support also means we can hook up wireless Bluetooth-keyboard and mouse and not be tethered to the case as well as connect other products like phones and tablets to transfer stuff to it.
The motherboard on the Zbox Nano AQ01 supports up to 8 GB memory via a single DIMM. The Plus-variant we are reviewing here comes with 4 GB pre-installed.
The motherboard also supports one 2.5"-SATA HDD or SSD. The Plus-variant comes with a 500 GB HDD 5400 rpm pre-installed. There is no operating system pre-installed so that has to be bought extra.
We get 5 USB 2.0 ports and 2 USB 3.0 ports as well as a Gigabit Ethernet port, a HDMI-connector and a DisplayPort-connector. This means the Zbox Nano AQ01 can support 2 displays at once.
The computer also has a 7-in-one card reader so you can read all the usual memory cards.
On the sound front we get 8-channel sound out via HDMi or optical out and the HDMI-port supports bitstreaming.
Review Overview
Performance - 6.5
Value - 7.5
Quality - 7.5
Features - 8
Innovation - 7
7.3
The Zbox Nano AQ01 Plus offers a lot of features in a small foot-print.