Asus Strix R9 390X  Gaming 8G OC
The Asus Strix R9 390X Gaming 8G OC boasts a core clock of 1070MHz (20MHz factory OC) with 8 Gigabyte of GDDR5 running at 6000MHz and pushing that memory across a 512-Bit wide bus. The GPU is equipped with a tweaked out Hawaii Core now named Grenada and is based on a 28mm fab on a large 438mm2 Die containing 2816 Shader Processors and a whopping 6.2 Billion Transistors.
To clear up any misconceptions the R9 390X is based on the Hawaii GPU released late in 2013, the silicone used is the same but with enough tweaks to warrant the new name Grenada. The Asus Strix R9 390X has 8 Gigabytes of memory. While it is based on the Hawaii core Grenada is more like a distant cousin than a reiteration of R9 290x and you should see as much as a 10% increase in performance over R9 290X and in the GPU world often 10% is a completely new model.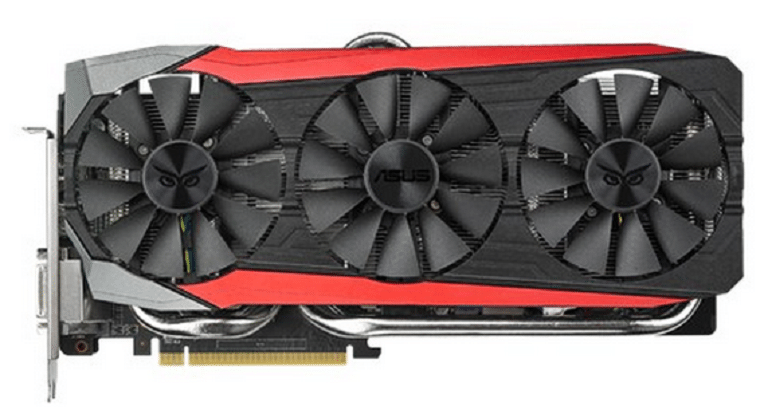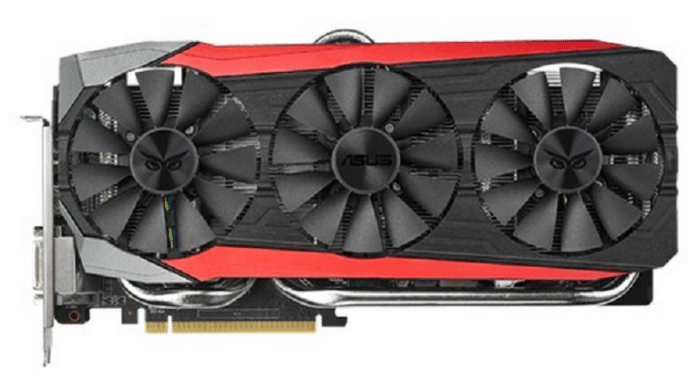 Asus packed the Strix R9 390X  with so many goodies it's hard to comprehend a reference model 390X even being related to the Strix. Just for starters they packed on DirectCU III cooling with a Triple Wing-Blade 0dB fan design. We can hear the wheels in many heads turning "So what a fancy name for the cooling design", well unclick those gears and get ready for an eye-opening 10MM heatpipe design. Those 10mm heatpipes are the largest GPU heatpipes we've seen to date. Now pack 3 Triple Wing-Blade 0dB fans on top the DirectCu III and you get 30% better Cooling and 3x Quieter performance than reference designs. The biggest thing for us is an effective design with quiet operation and Asus has delivered that with its innovative cooling design.
We were rather impressed with the large (Industry Leading) 10mm heatpipes, The heatpipes literally dwarf anything in the GPU industry. We ran this puppy up to 100% GPU load on the first two tests on 3DMark and those beautiful 10MM heat pipes were transporting a huge amount of heat away from the  large 438mm2 Die GPU Core, so much so it was uncomfortable to the touch. Lets take a look at an exploded view of the GPU on a graphic provided by Asus.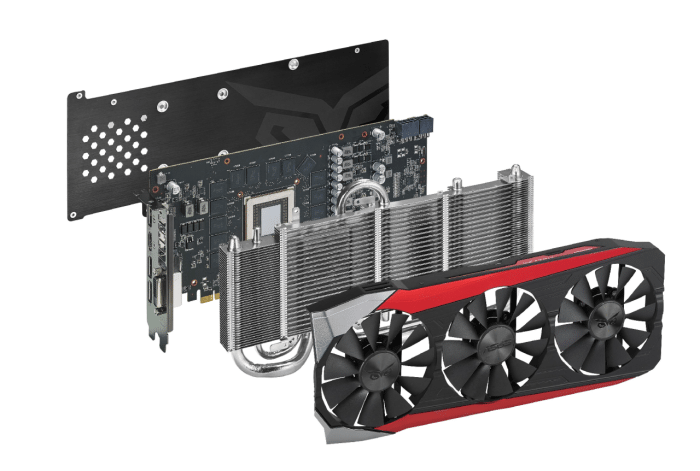 Starting at the back is a premium metal shield / backplate then the bare custom R9 390X. Asus didn't mess around with DirectCU III and added the two 10mm Heatpipes right in the cluster of four total heatpipes woven in and around the full length cooling fins then slams 3 0dB Triple Wing Blade fans on top the full length heatsink. Lets take another look at a graphic of the heatsinks core baseplate.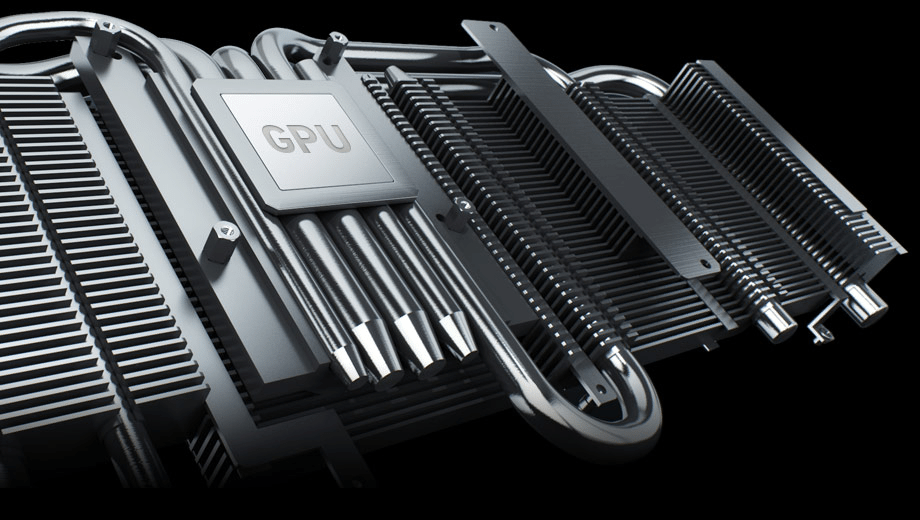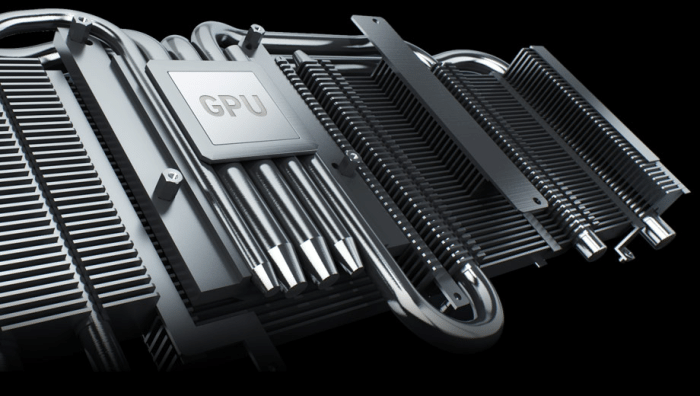 Now we are sure that the GPU baseplate doesn't say GPU on it and the point here is all 4 heatpipes run directly through the baseplate then two split to the left and two to the right whisking away as much heat as possible on that massive headsink / fin design. Notice the difference in the size of the two center heatpipes, those puppies are 10mm each and having touched both the large and small pipes during full load the 10mm pipes are extremely effective and set this cooling design head and shoulders above others. All this precision set us wondering what Strix really was so we looked it up.
Derived from an ancient Roman and Greek word Strix means the keenest hearing and best eyesight  Strix means detecting the slightest sound or movement in your environment and reacting to it.
Asus's Auto Extreme Technology with Super Alloy power II takes GPU building out of the hands of people and puts it into robotic hands eliminating the human error factor and doing the entire build in a Flux free environment. For those who have never worked with flux it's a nasty product used in soldering, braising and welding. For the most part on GPU's it's soldering in the form of solder baths, drop the components into the sockets and glide it over the top of a vat of solder then slowly cooling the solder so the components are soldered in place. Most Soldering processes use flux which forms a bubble about the point of contact while the product is being soldered. Most solder also leaves a residue that has to be brushed off, Asus has removed solder from the manufacturing process, removing solder from that process removes potential contaminants. Asus has reduced power consumption while manufacturing GPU's and eliminated the solder bath, you have to admit moving delicate electrical components over a bath of molten metal and flux is an antiquated process long overdue for retirement.
Model

Core
Speed
Memory
Speed

Memory

Memory
Interface

Directx

CrossFire

Output

Strix
R9 390X
1070
MHz
6000
MHz
8 GB
GDDR5

512-bit

12

Yes

DL
DVI-D/DL DVI-D/HDMI/DP
Strix
R9 390
1050
MHz
6000
MHz
8 GB
GDDR5

512-bit

12

Yes

DL
DVI-D/DL DVI-D/HDMI/DP
Strix
R9 380

980 MHz

5500
MHz
2 GB
GDDR5

256-bit

12

Yes

DL
DVI-I/DL DVI-D/HDMI/DP
Ref
390X
1050
MHz
6000
MHz
8GB
GDDR5

512-bit

12

Yes

DL
DVI-I/DL DVI-D/HDMI/DP
Asus has three Strix models on the shelves now, the R9 390X we have for review, the R9 390 both containing 8G of GDDR5 but then for some odd reason the Strix R9 380 gets 2GB of GDDR5 which brands it as a 1080P card, We've had hands on R9 380s and 4GB of GDDR5 on each card plays a role.
Another innovative step Asus has taken is 8 Phase Super Alloy Power 2, by using higher quality components on the graphics cards they enhance longevity, reliability and power efficiency. As a byproduct of 9 Phase Super Alloy Power 2 you get less heavy load buzzing and thermal levels that are up to 50% cooler than previous designs, at least according to Asus.
GPU Specification Overview
 
AMD Radeon R9 290X
AMD Radeon R9 290
AMD Radeon R9 390X
Strix R9 390X Gaming 8G OC
Shader Processors
2816
2560
2816
2816
Texture Units
176
160
176
176
ROPs
64
64
64
64
Core Clock
727MHz
662MHz
–
–
Boost Clock
1000MHz
947MHz
1050MHz
1070MHz
Memory Clock
5GHz GDDR5
5GHz GDDR5
6GHz GDDR5
6GHz GDDR5
Memory Bus
512-bit
512-bit
512-bit
512-bit
Memory
4GB
4GB
8GB
8GB
FP64
1/8
1/8
1/8
1/8
Transistor Count
6.2B
6.2B
6.2B
6.2B
Manufacturing Process
TSMC 28nm
TSMC 28nm
TSMC 28nm
TSMC 28nm
Architecture
GCN 1.1
GCN 1.1
GCN 1.1
GCN 1.1
GPU
Hawaii
Hawaii
Hawaii/Grenada
Hawaii/Grenada
Launch Price
$549
$399
$399
TBA
Now taking a peek at the comparison chart you see that The Asus Strix R9 390x Gaming 8G OC has the same beefy hardware R9 290X had but the core runs 70MHz faster and the memory runs 1000MHz faster. It's far to easy to look and forget that on top R9 290X's hardware is 2 years of maturing the silicone and like a fine cheese you get better yields with age. That's the case with the Asus Strix R9 390X Gaming 8G OC, you have to remember they tacked on DirectX 12, a more mature faster core, faster memory, and an additional 4GB of GDDR5 taking it out of the Hawaii range and morphing an already good design into Grenada. Just about everything on the Asus Strix R9 390X Gaming 8G OC is custom, from cowling to fans and electrical components on the PCB this beast is strictly Asus technology surrounding an AMD core.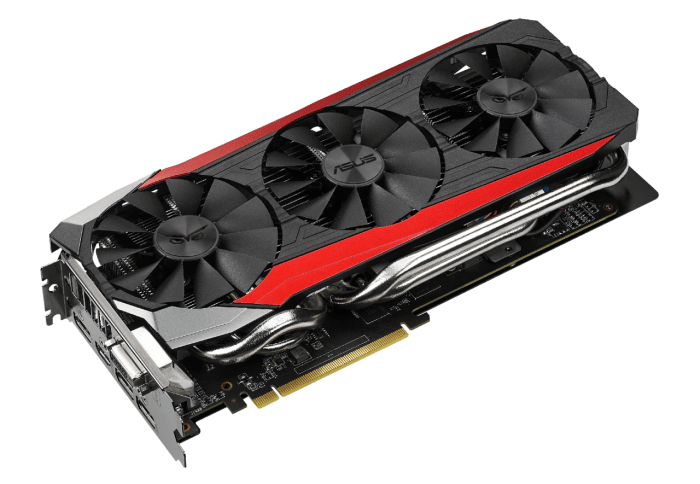 Now at first glance we see a GPU that is not only a full-sized GPU this thing is huge and full length. The three 0dB fans looked a little off but those big beautiful 10mm heatpipes quickly drew our eyes giving us a moment of Geek Eye Glaze.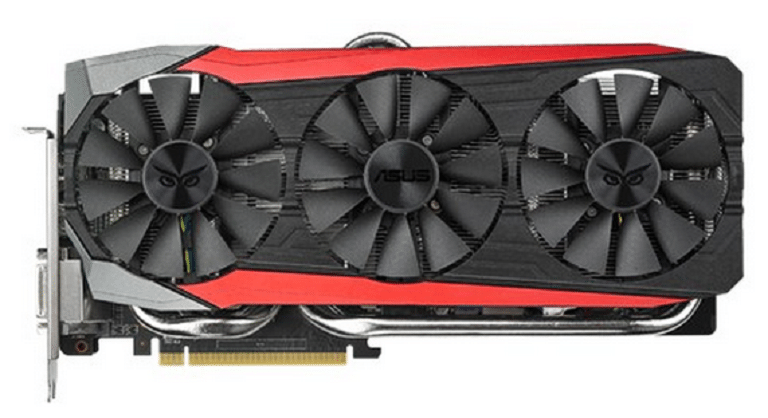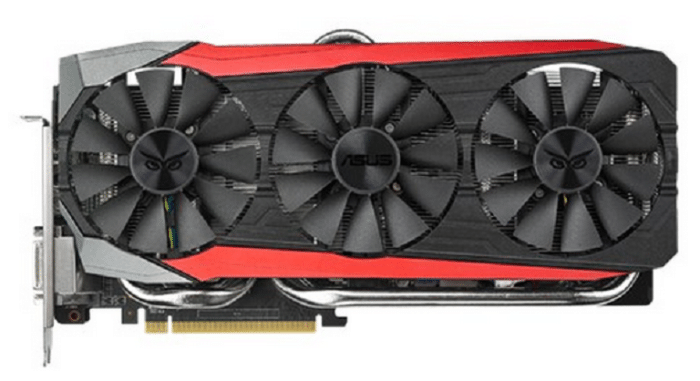 We still get a mild shock when we realize AMD GPU's the Asus Strix R9 390X Gaming 8G OC has no top XFire connecter, XFire is now handled through the PCI-E bus leaving a cleaner looking card design.

The Strix R9 390X Gaming 8G OC runs off an 8 pin connector as well as a 6 pin connector both PCI-E of course. The connectors are a bit to recessed and partially down behind the cowling so we flipped the card around and got another shot.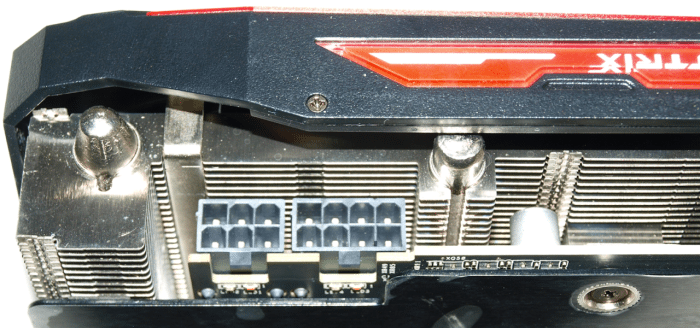 From this angle you can see how recessed the PCI-E power connectors are, this top mounting arrangement needs a notch in the PCB to work and is stationed between two heatpipes and a little tricky to get the power connectors in. The proximity to the PCB makes you feel like you need to exert extra care not to damage that center PCB and the cables will rooster tail out of the top of the GPU. Being a full length card that's pretty normal but we can still wish for end mounted connectors that don't shove the cables up toward the window in windowed chassis.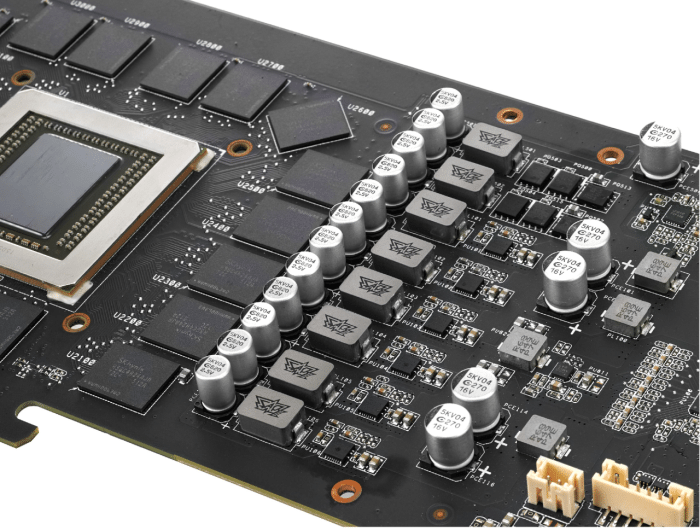 Looking at a little naked Strix R9 390X Gaming 8G OC you get a peek at the large core surrounded by SK Hynix memory chips, 12 solid capacitors and 8 super high quality alloy chokes in an 8 phase digital power design Asus calls 8-phase Super Alloy Power II. We are a bit surprised that a top card like the Asus Strix R9 390X Gaming 8G OC isn't using a 8 + 2 ten phase design like we've seen on some cards but with good 8 phase using high quality components we shouldn't have any problems.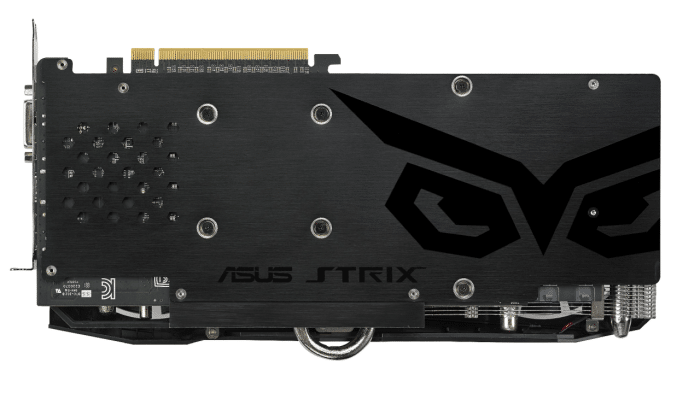 The metal backplate bears the Asus Strix with Owl eyes design and serves well to protect the components under the backplate and its primary function is to prevent PCB warping over time. Large heavy GPUs mounted in a normal chassis tend to warp over time and the appearance of metal backplates to prevent warping is much appreciated.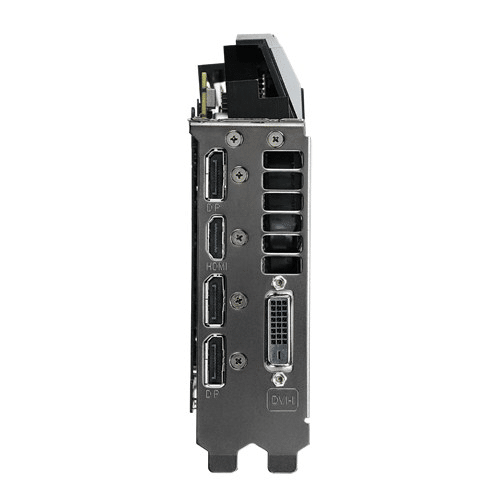 Catching the business end we get 3 Display-port (full-sized) a HDMI and a DVI-L port which should cover most modern monitors. If you happen to have a VGA 15pin DSUB monitor you will need to find an adapter as none is provided in the bundle.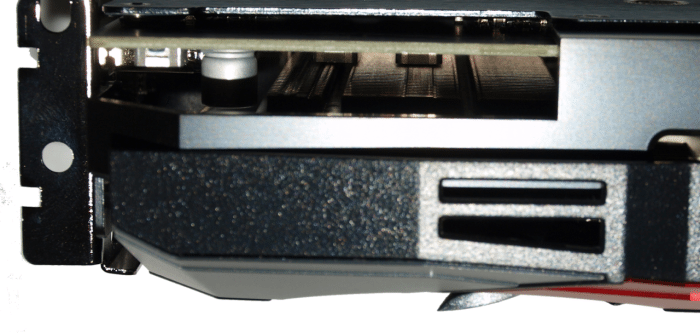 Notice the little black fan tip extending beyond the cowling, it's not readily obvious if this is camera angle so let us assure you it's not camera angle the blade does indeed extent out of the cowling.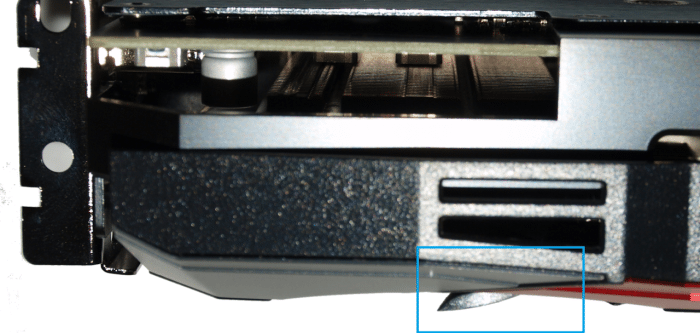 In case you were doing a head scratch we dropped a blue box around the protruding fan blade. Don't get us wrong that's not a point detracting design it's just something to be aware of and we've started to see more open cowlings and fans that extend out of the cowling.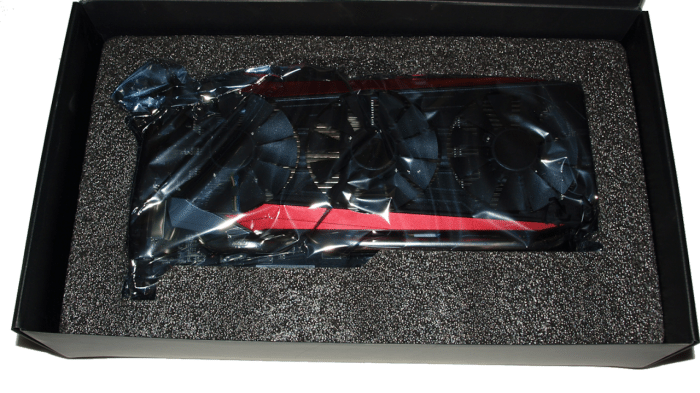 We don't usually cover packaging but the Asus Strix R9 390X Gaming 8G OC was so beautifully protected in a bed of resilient foam it's worth mentioning. Face it most GPU's are reasonably packaged but we've seen a move to clam shells, bubble wrap with GPU's left sliding around in excess box space and cost cutting on GPU packaging in general so it might be time to start covering packaging again. In this case Asus went above and beyond and used resilient heavy-duty foam to surround and protect your investment. Trust us when we say delivery men aren't the gentle  creatures on the planet.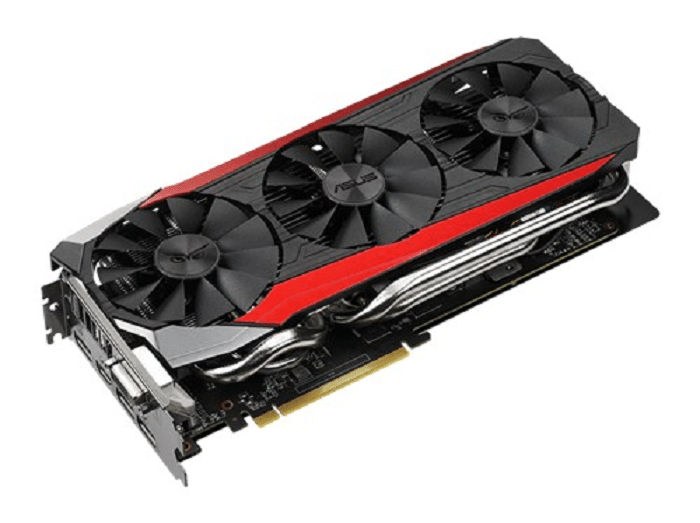 Rather than leave you with a mummified GPU in anti static bag we wanted to end the section with a little Geek Eye candy so there's a shot of the Asus Strix R9 390X Gaming 8G OC before its maiden voyage in the test bed.