Synapse Software & Testing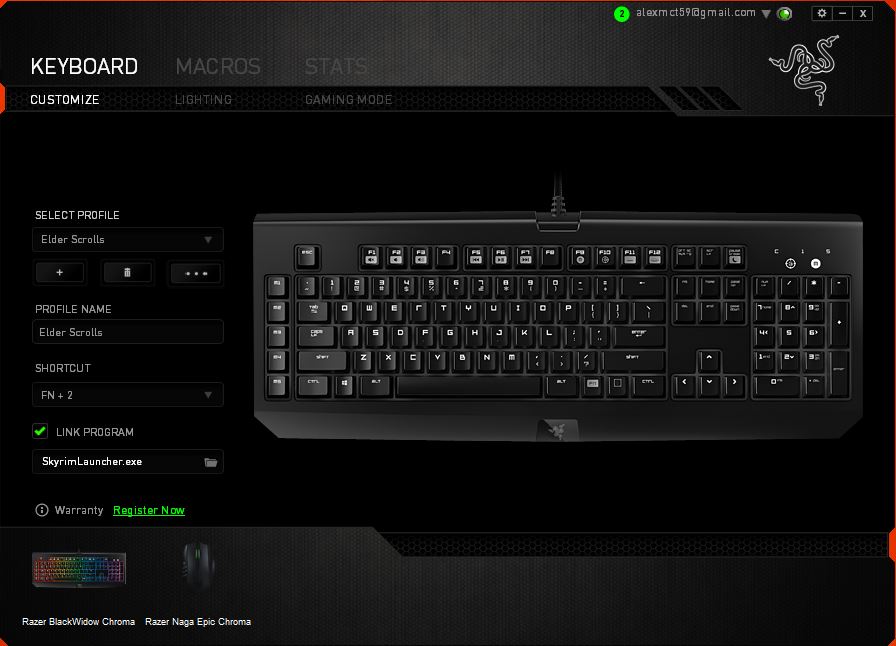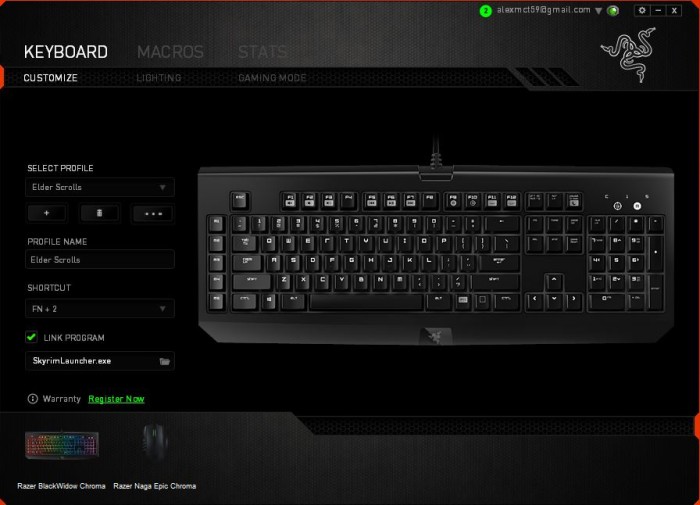 After installing the Razer Naga Epic Chroma, we opened Synapse and saw our much-loved Razer BlackWidow Chroma and it had a profile already set for Elder Scrolls V: Skyrim which uses buttons 1 – 8 like an MMO.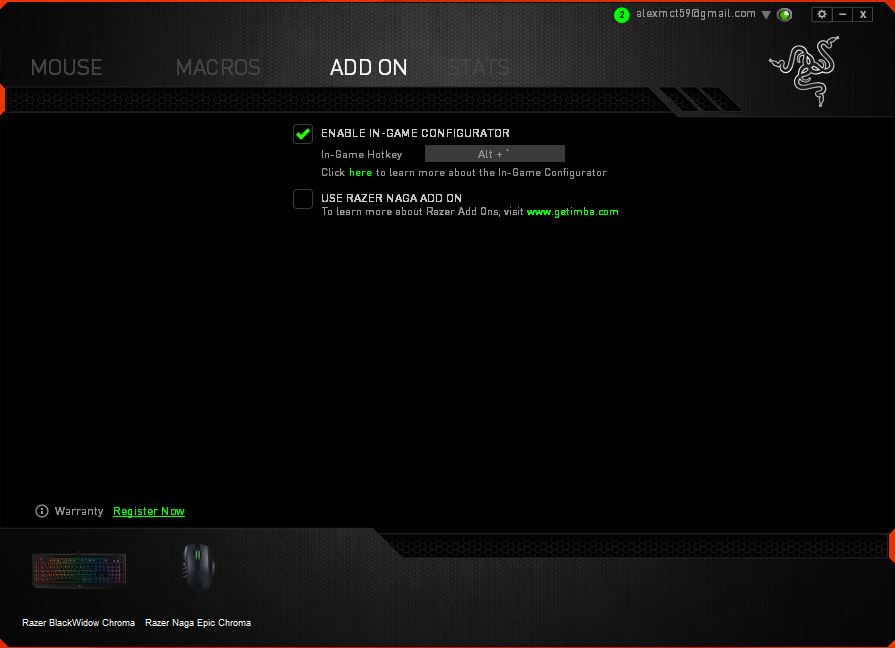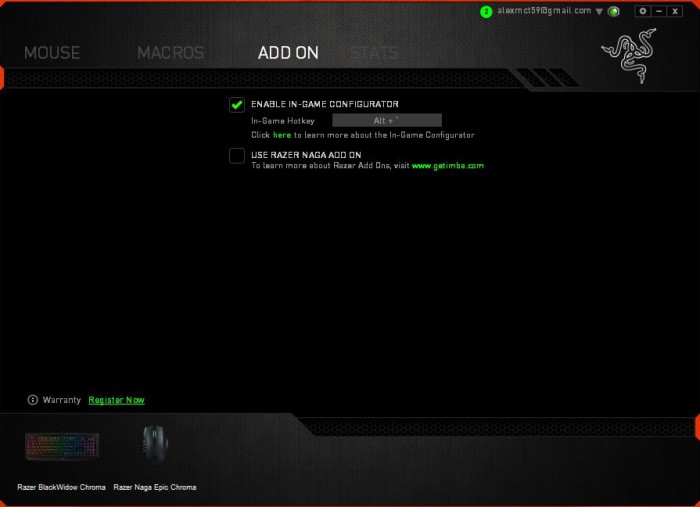 We went in and enabled the in-game configuration which is activated by "ALT + ~" so we could add what we wanted to the Naga Epic Chroma on the fly.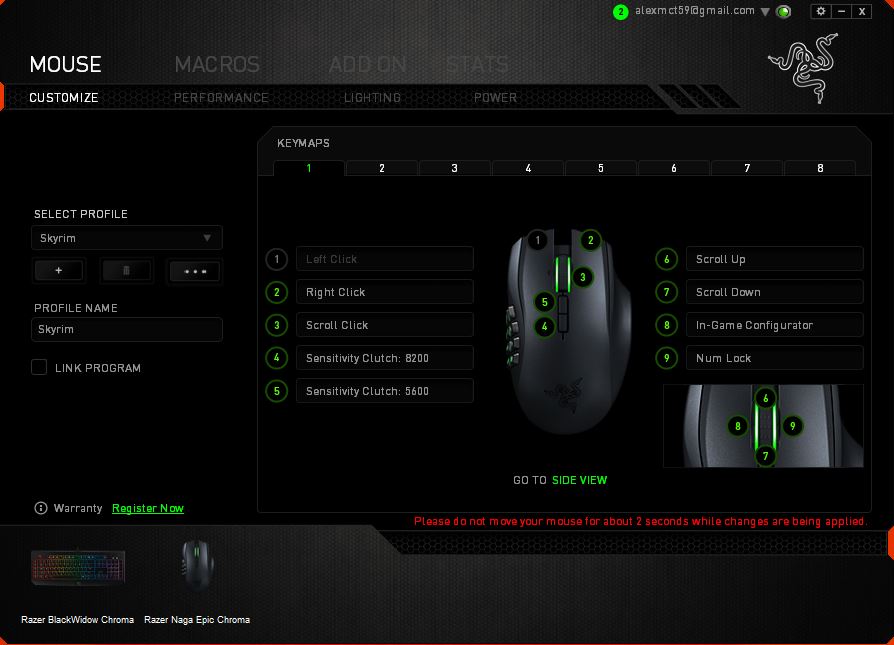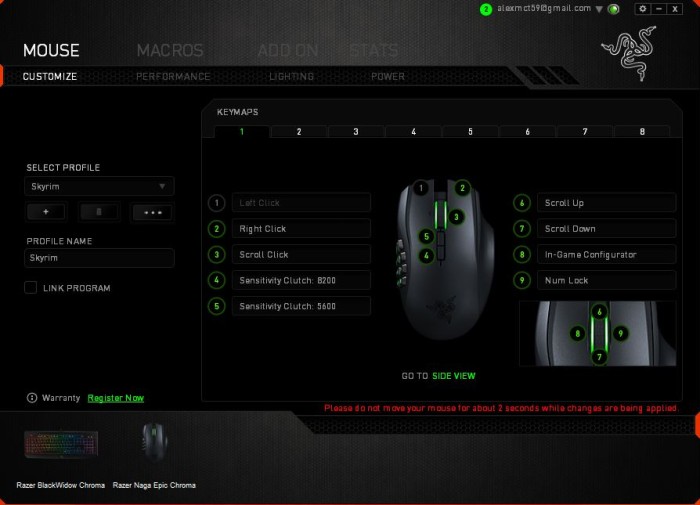 In this shot you can see our patch for not having on the fly DPI, and we set the Naga Epic Chroma for 8200 DPI on Button 4 and 5600 DPI on button 5.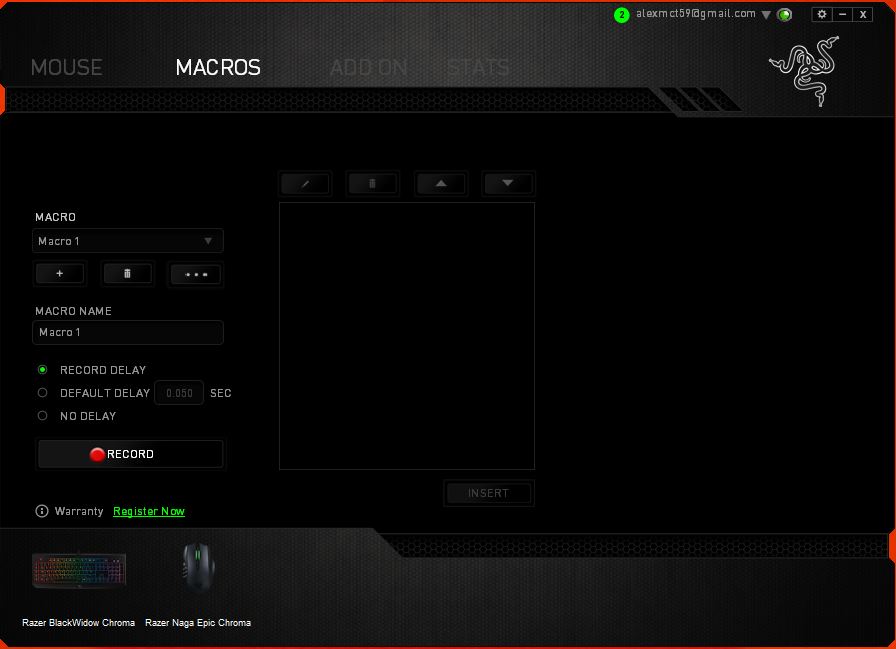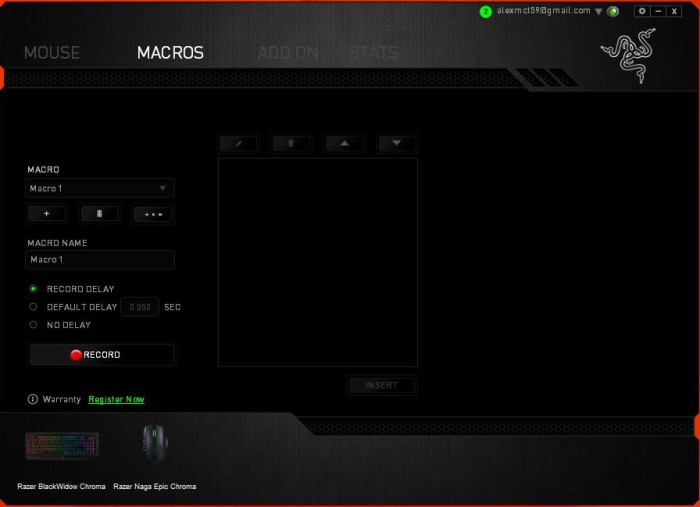 We peeked into the Macro page but hey we can do Macros in-game so we decided it would be easier to use the in-game configuration for them. It's a bit of a spoiler, but lets just say the Synapse software requires a steep learning curve.
Lets go ahead and take a look at a short video (1 Minute 43 Seconds) of the Naga being used in Elder Scrolls V: Skyrim.
Just as a short recap of the video, we loaded The Elder Scrolls V: Skyrim. Once loaded, we did a mouse wheel left click on the Naga Epic Chroma and instead of the in-game configuration,  we got the "~" in-game command line. You will find that Razer choosing "~" as the in-game configuration loader is extremely short-sighted. Most games we tried it in are set for the in-game command line to respond to "~" as default. We were able to assign the quick keys numbers and use the side pad on the Naga to trigger spells. The beauty of the Synapse software and the Naga Epic Chroma is that if you can't do things one way you can build a work around.
Skyrim uses 1 – 8 for a quick menu, so the Naga side buttons came in handy when we assigned the quick spells a number and used them to switch spells.
You can get your Naga Epic Chroma Manual from Razer and take a look at the detailed instructions. One disappointing thing we did discover is that the in-game configuration is only guaranteed to work with a select list of games seen below.
Starcraft II: Heart of the Swarm
World of Warcraft
League of Legends
Firefall
Guild Wars 2
Dota 2
Ragnarok online 2
World of Tanks
Diablo 3
Path of Exile
DC universe Online
DnF (Tencent game)
Eve Online
Lord of the Rings Online
Star Trek Online
Razer says the in-game configuration will work with some other games, but these 15 are guaranteed to work. Once or twice we did get it to load into Skyrim, and it worked great in World of Tanks, but you'll have to accept the learning curve and work at it to learn the Synapse software and Grid Assist Display.
There are options for functionality outside strictly MMO games, and we've seen many reviews that merely said "Oh well, it's an MMO mouse and it rocks at that, but in other games it's worthless". They didn't spend the time with the Naga Epic Chroma that we did, because we found ways to map keys in every game we tried it in, so shame on the naysayers.
We tried Elder Scrolls V: Skyrim, Crysis 3, World of Tanks and Starcraft 2, and in every single game we found advantageous uses for the Naga Epic Chroma.