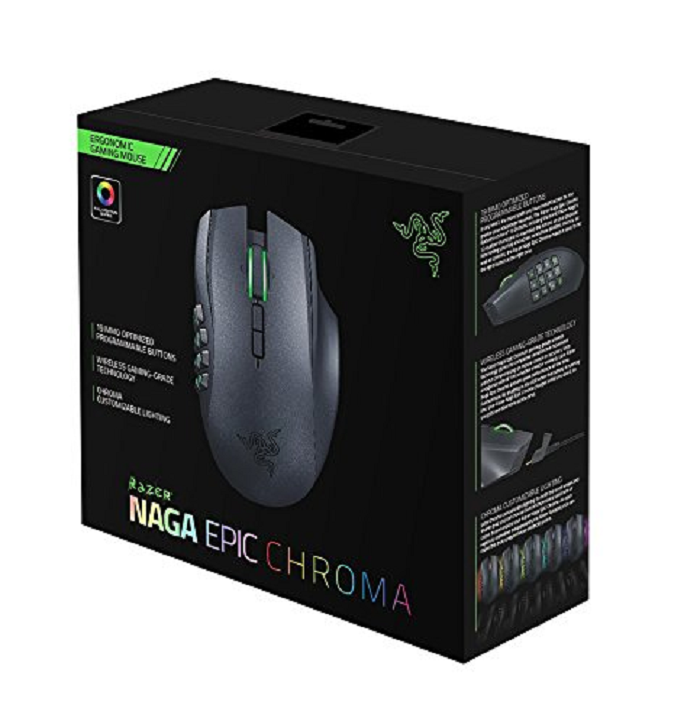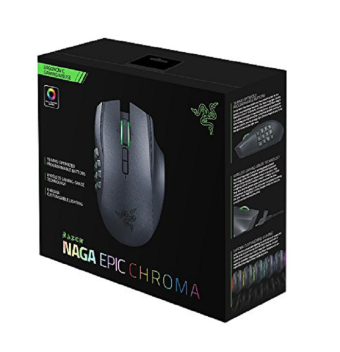 Packaged in standard "Razer Black", the box contains plenty of information and specifications to help consumers make an intelligent choice about their purchase.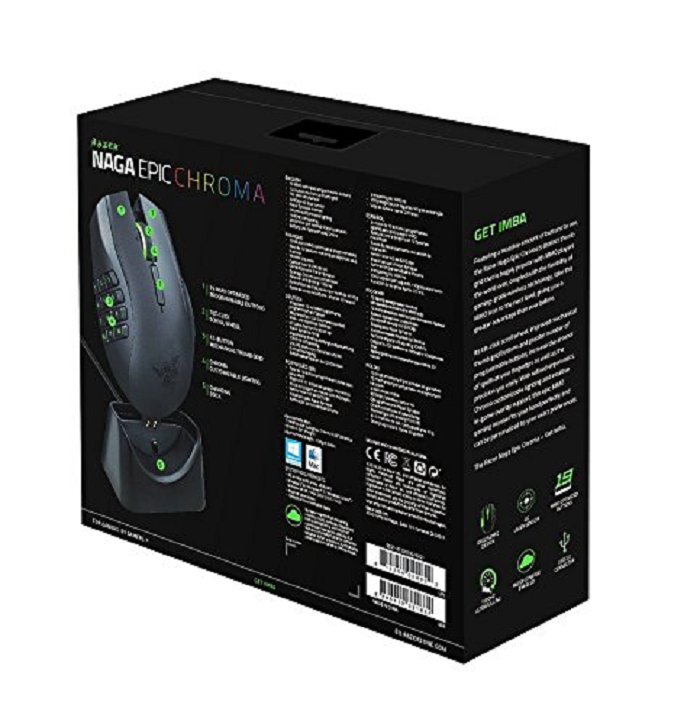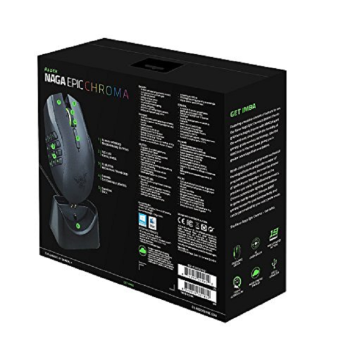 The back of the package shows the docking station which is both a receiver and charging station for the Naga Epic Chroma. While we are fans of wireless chargeable mice, we have a couple of issues with the way the Naga Epic Chroma is set up.
The docking station is a little bulky to want to have sitting on our desktop taking up real estate. Yes, it's the receiver for the Naga's wireless signal, so you must have the charging station within a reasonable distance of the Naga Epic Chroma. The mouse cord is the attachment to the charging base, so you're stuck with a mouse cord and charging base no matter what. Then, the rechargeable battery (we are assuming Lithium-ion, as no mention of battery type is made) is non replaceable. Lithium-ion and indeed other battery types are limited life items.
At some point in the future you'll be holding a $115 Dollar Naga Epic Chroma with a dead battery that won't hold a charge, at which point you no longer have a wireless/wired mouse, you have a wired mouse, period. Not being able to replace the Naga Epic Chroma's battery is a big "fail" point, as with this expensive of a mouse, you expect more longevity than a battery pack life expectancy.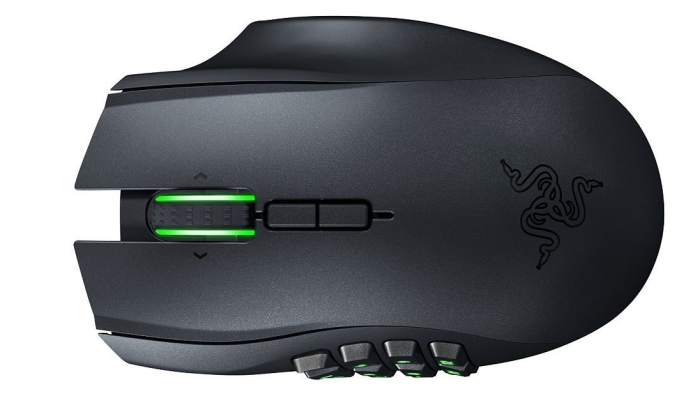 Now as far as the Naga Chroma Epic itself is concerned, the design is little short of perfection for a MMO mouse. Using Razer Synapse, the configuration software for all Razer programmable products, you can easily set what function you want for each key. The built-in ARM 32 processor ensures that every movement of your hand and click of a button is delivered instantaneously. Profile switching completely reconfigures the 12 thumb buttons happen so fast it's like the profile was already there when you asked for it.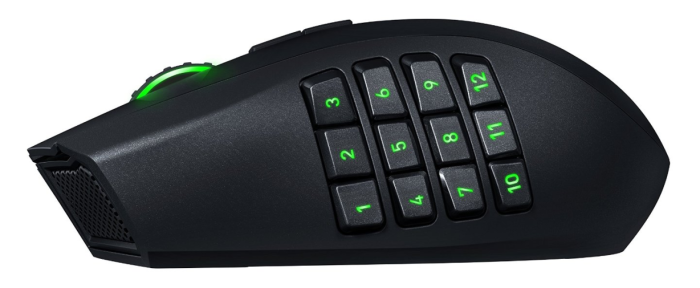 One of the multitude of upgrades the Naga Epic Chroma got is mechanical switches on the 12-key thumb panel. They give a satisfying click when depressed, letting you know your spell is already eating away at the opponent's hit points. You can program unlimited profiles to the 12-key pad, and Synapse makes it easy to program that winning profile.

The Naga Epic Chroma is a right-handed mouse only, but does have a nice finger rest on the left side which is appreciated. Nothing drags down game immersion like dragging fingers across a mouse pad and watching your mouse skip across the screen because of the added drag. Notice Razer's resilient mouse wheel, an oft overlooked, but quite necessary, gaming tool, you an depend on its precision to let you zoom in on targets accurately and reliably. While we can't spare time to test it, Razer claims the scroll wheel is good for millions of revolutions. One of the newer features of the Naga Epic Chroma's scroll wheel is Left and Right Tilt Click, which repeats scroll up or scroll down. We'll have to check it out and hope that isn't a mechanical feature and can be programmed for in-game use.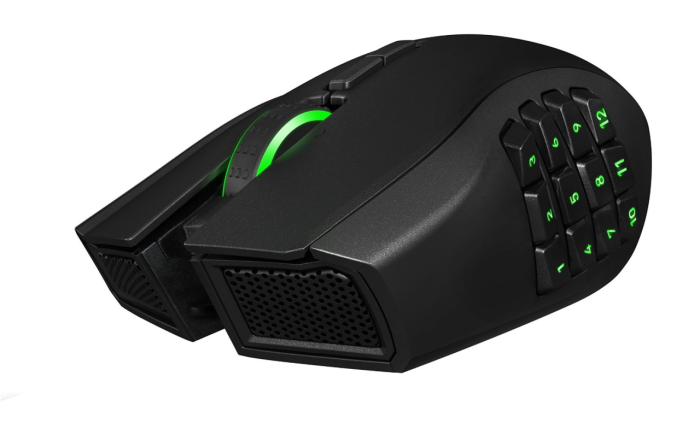 From the front we see the grill on the Naga Epic Chroma and the spot the cord plugs into. On both the Naga Epic Chroma and the docking station we noticed that the mouse cord is hard to remove without puling on the cord which is strictly a no no in the computer world. On the docking station especially, we tried for several minutes and had to resort to pulling on the rubber cord protector. That's not much of an issue since the Naga Epic Chroma is rated at 20 hours of continuous play, but please take care when removing the cord to protect your MMO-crushing Naga Epic Chroma.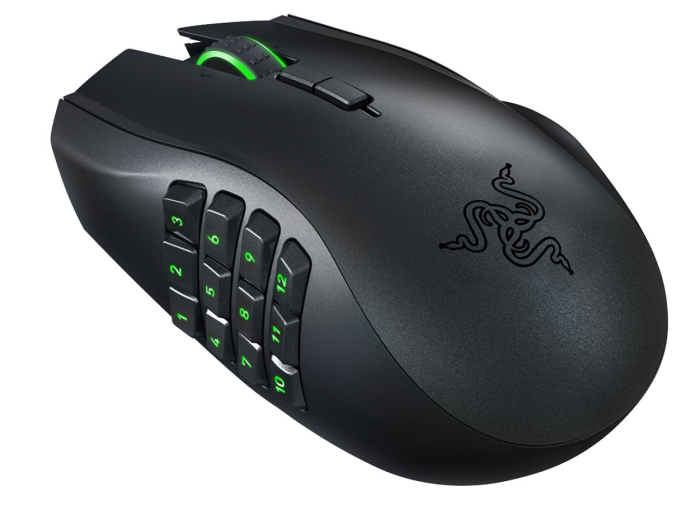 Both the top two "Main" mouse buttons and the 12 mechanical key thumb pad are hypersensitive to the touch. You barely think about clicking the key and the key click is already done and the sound of the button reverberates in your head before the "I need to click" thought even fades.
There are seemingly endless things to discover about the Naga Epic Chroma, like the 1000Hz Ultrapolling. People don't generally understand the reasoning behind Ultrapolling. 125Hz was a common polling rate until some genius found that mice can stutter, specifically micro stutter. Micro stutter isn't bad at 125Hz, but another genius thought "Well let's use 500Hz polling." and 500Hz polling was found to be horrible for mice and they micro stutter very badly. Along comes Ultrapolling at 1000Hz and mice micro stuttering is almost non-existent. To further champion the cause of Ultrapolling, Nvidia recommends 1000Hz for G-Sync so it's not just some random made up specification to make mice look cool and fast.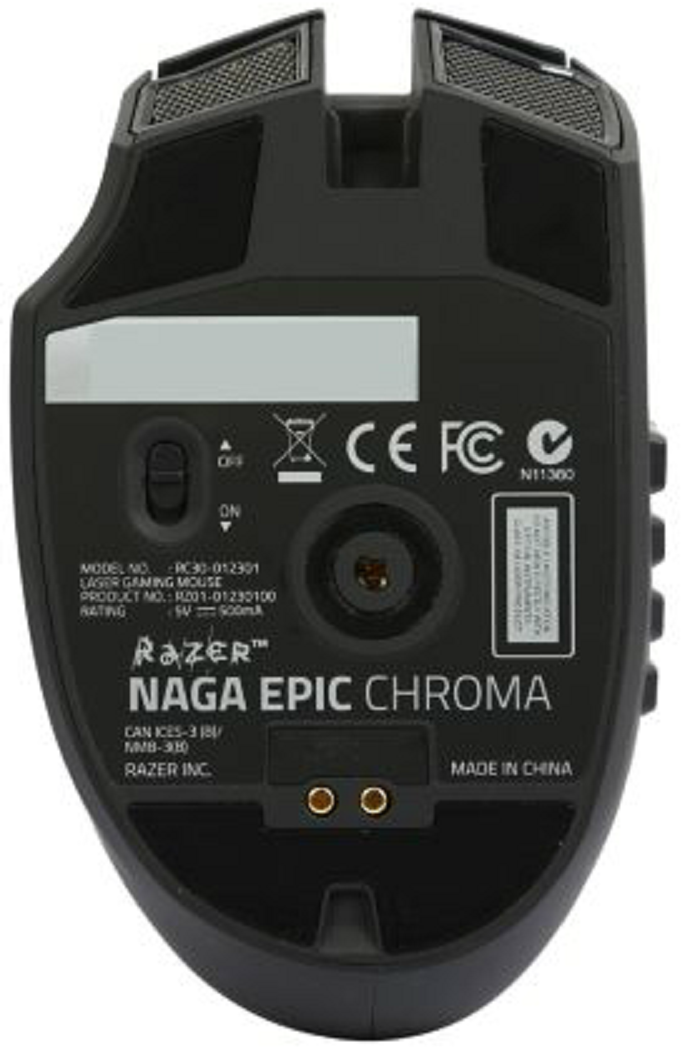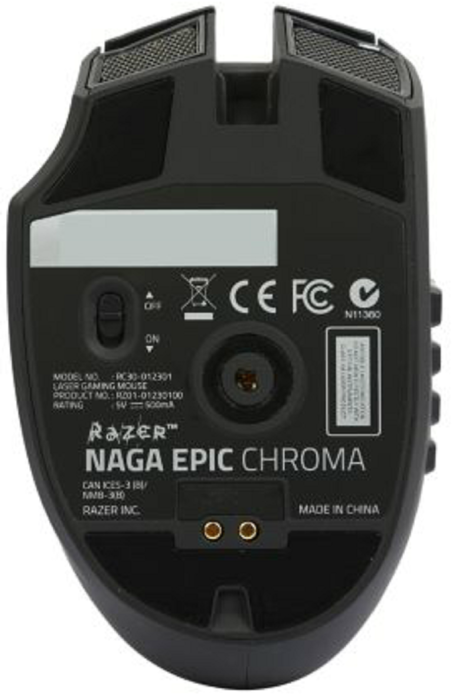 The Naga Epic Chroma is outfitted with an 8200 DPI 4G laser sensor that can capture up to 200 inches per second and has a maximum acceleration of 50G. The Flash may have a problem with the 4G laser sensor and 50G acceleration, but the rest of us don't have to worry about outrunning the sensor on the Naga Epic Chroma.
A feature with nothing physical to show is the Inter-Device communication. With the touch of a key on the keyboard, you can temporarily change the sensitivity of the Naga Epic Chroma. You can interconnect the keyboard and mouse and change profiles on the keyboard using the scroll wheel. Synapse acts like a hive mind, interconnecting and expanding the functionality of your Razer devices so well, that's it's hard to wrap your head around all the possibilities.
So now you have 19 keys to mess with and in the middle of gaming you have many more things to worry about than key assignments. To prevent just left click bashing and right-click blocking, Razer has an on-screen, in-game configuration option.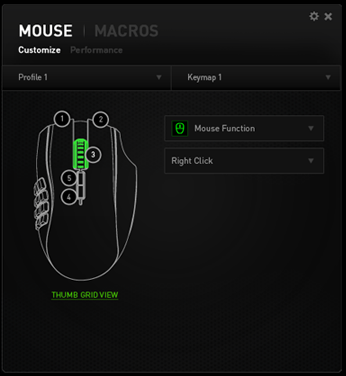 When Grid Assist Display is enabled in-game, you can easily program every key of the Naga Epic Chroma, never again having to drop out of a game to program a needed mouse function. You can even raise or lower the transparency of the Grid Assist overlay as needed to be more prominent, then as you start to learn the grid layout of your keys, fade the transparency so it's there as a muted reminder.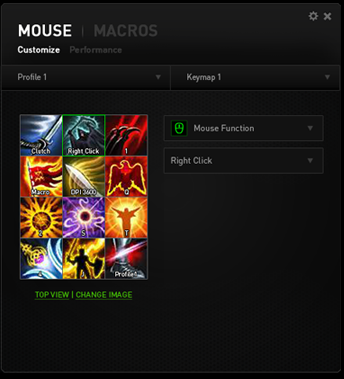 You can even assign the spell's icon to where it's mapped on the Naga Epic Chroma. The 16.8 million colors might not save your life in-game, but at one time or another the in-game configurator will.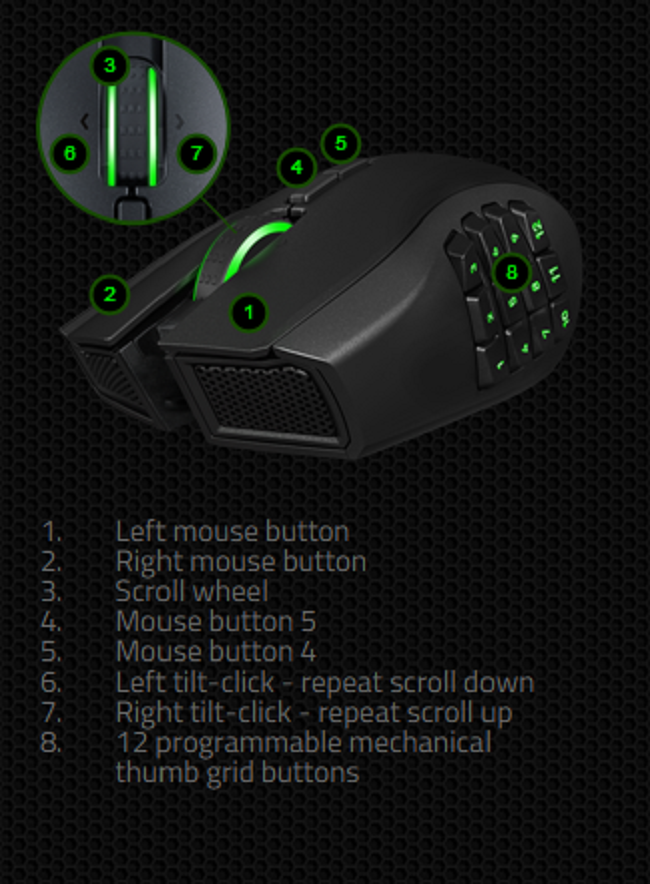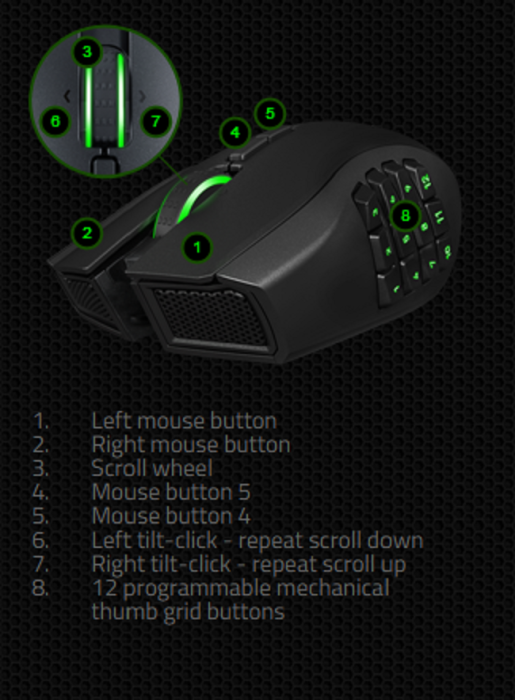 The Naga Epic Chroma has an 8200 DPI 4G laser sensor, so it is capable of 8200 DPI, and since we have to guess, we are guessing an 8200 DPI Avago 9800 Laser Sensor. Glance at the button assignment graphic above, and you will notice that it just says "Mouse button 5" and "Mouse button 4" with no click assignment. Razer omitted DPI on the fly, but you can program buttons 4 and 5 for two different DPI settings and switch between the two. No on-mouse or on-screen visual indicator of DPI is apparent, other than the DPI setting in Synapse. We suppose if you wanted to go extreme, you could create multiple profiles with DPI set differently in each.