Based on a 8200 DPI 4G laser sensor and an ARM 32-bit processor with 19 MMO-optimized programmable buttons, the Razer Naga Epic Chroma is more than just a pretty lit up mouse. Like previous Naga mice it's destined to rule MMO games across the Internet. Any MMO player knows that the more spells you have at your fingertips, the greater your odds are of winning. The Naga Epic Chroma puts those spells and commands at your fingertips, or should we say at your thumbtip? The Naga Epic Chroma lays 12 mechanical buttons under your thumb and is capable of programming multiple sets of profiles for those 12 buttons, presenting you with limitless options. How do you keep track of those options? Razer has you covered with Grid Assist overlay in-game, an in-game visual guide to what your 12 thumb buttons are programmed to. If that's not sweet enough for you yet, how about doing all that while it cycles through 16.8 million true RGB LED colors. If you're not scrambling to pick up a Naga Epic Chroma yet, prepare to feel the wrath of those that embrace its MMO-rocking capabilities.
Razer Naga Epic Chroma, Rainbow The MMO
Razer has blown the shell off the Naga Epic Chroma and packed it with so much technology that we don't understand why it's not the size of a Volkswagen Beetle. Starting with the 16.8 Million RGB colors it's capable of reproducing, it's definitely got every color of the rainbow, but the 16.8 Million colors are just the icing on the cake. Razer redesigned the Naga Epic to have both wired and wireless capabilities. The Naga Epic Chroma is still for die-hard MMO fans and packs a $130 price tag, but if you're into MMOs heavily and other games just for a break, then the Naga Epic Chroma will put you in the driver's seat of any MMO you're rocking.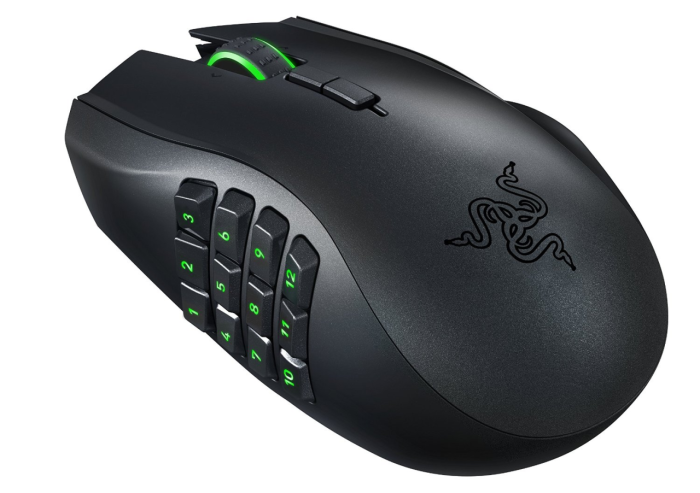 Lefties are out of luck, as the Razer Naga Epic Chroma is strictly for right-handers with its 12 mechanical buttons under the right thumb. Most MMOs have at least 10 spells set to the numbered buttons 1 – 10 and more modern ones have 1 – 12. Many MMO players use a simple mouse with two top buttons, maybe a clickable scroll wheel, and a couple of shoulder buttons giving them three programmable buttons to fire off spells. Razer knocked the ball out of the park here. as you can have 12 spells under your thumb ready to shred your opponent(s) in rapid fire order. While their hands are searching for the 1 – 12 keys atop the keyboard, you can be tossing fireballls, sending Melf's Acid Arrows, and calling creatures from the grave to do your necromancer's bidding.
Specifications
19 MMO-optimized programmable buttons
12-button mechanical thumb grid
Tilt-click scroll wheel
8200dpi 4G laser sensor
Wireless gaming-grade technology
Charging dock
Chroma lighting with 16.8 million customizable color options
Razer Synapse enabled
1000Hz Ultrapolling
200 inches per second/50g acceleration
Zero-acoustic Ultraslick mouse feet
7 foot/2.1m braided fiber USB charging cable
Approximate size:
Length: 119mm/4.68"
Width: 75mm/2.95"
Height: 43mm/1.69"
Approximate weight: 150g/0.33lbs
Battery life: Approximately 20hrs