The Silicon Power A60 2TB: Rugged, Portable, and Affordable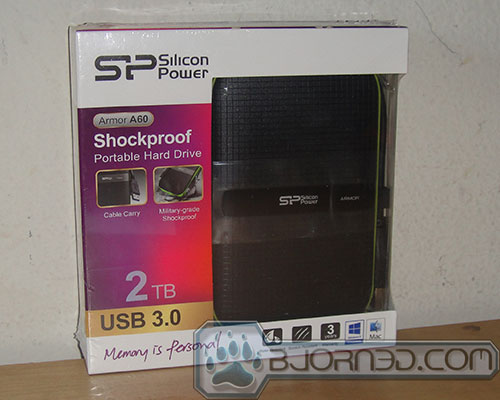 The Silicon Power Armor A60 is the company's rugged portable hard drive that is designed for those who need to carry data on the go. Available in storage capacities of 500GB, 1TB and 2TB, it allows you to bring 300+ DVD movies in your pocket for that long transcontinental flight.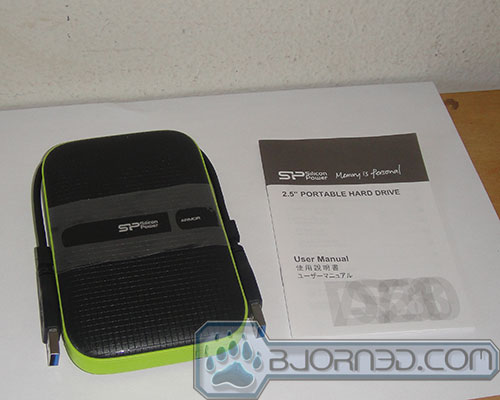 The Silicon Armor A60 is shipped in an attractive package. Inside we find the external drive, USB cable, and the user manual.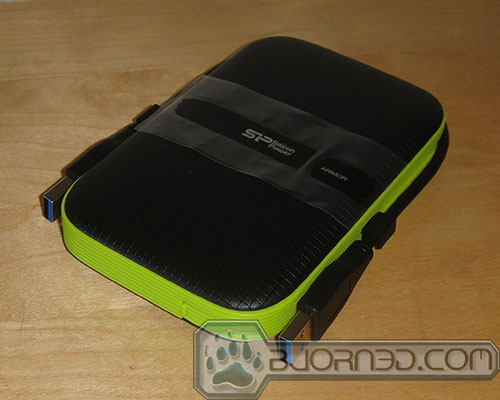 With a name like Armor A60, it is expected that the portable drive is meant to withstand some degree of torture. The Armor A60's exterior is constructed with an ultra-rugged rubber casing with an internal suspension system to protect the hard drive. On the outside, we find a single blue LED light that graces the front of the drive, lighting up when the drive is active. Along with the LED status light there is a single USB 3.0 port for data transfer that is covered by a rubber flap.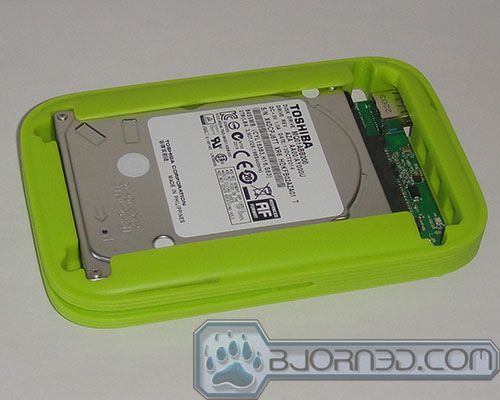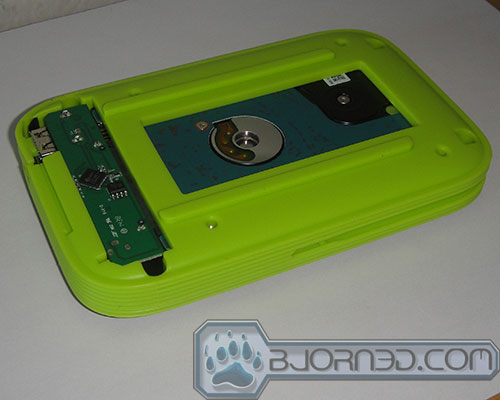 A single piece rubber bumper surrounds the hard drive and the PCB. It also covers any open ports, ie. USB 3.0. The rubber helps to protect the hard drive against accidental drops and bumps, and surrounds the side and the rear of the hard drive. The whole assembly is enclosed with two pieces of plastic covering the top and the bottom. The rubber also covers the USB 3.0 port so that no water can get into the port and damage the device.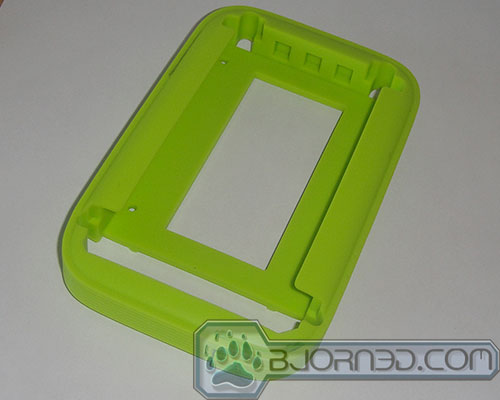 Because of the added protection, the Armor A60 is bulkier and heavier than your typical external drive. It measures 5.5 inches x 0.9 inches x 3.4 inches (14 x 2.3 x 8.6 cm) and weighs in at 228~280 grams, depending on capacity. Despite the size and weight, the unit is actually rather easy to hold onto, thanks to the soft rubber and textured plastic front and back covers. The unit does not slide off your hand or any surface easily. The rounded corner design also helps the drive's in-hand feel so that it does not poke your skin, while at the same time helping you to gain a better grip.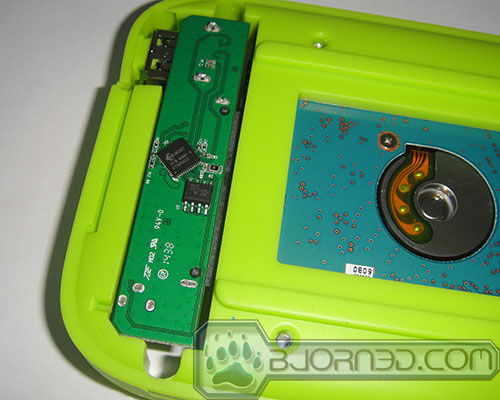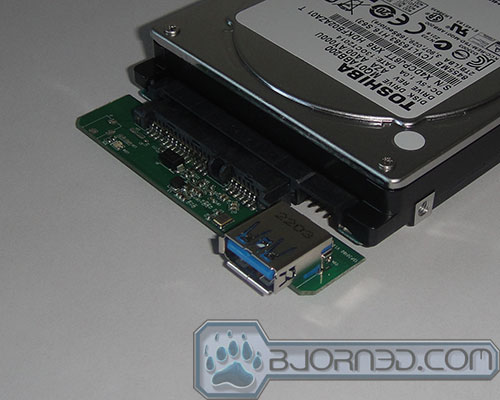 The PCB is very small, containing a SATA data and power connector on one end, and a single USB 3.0 port on the other end. No screws are being used to secure the hard drive to the PCB, so the hard drive relies on the SATA and power connectors to keep it connected. It is unlikely that the drive will dislodge from the connector given to the fact that the rubber casing is there to ensure the drive is not moving around inside the unit.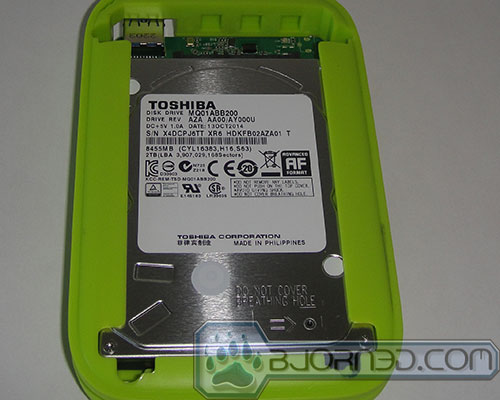 The internal hard drive is a Toshiba MQ01ABB200. It is a four platter, 2.5" SATA II (3Gbps) drive with 8 MB of cache and spins at 5,400RPM. The drive is 15mm tall and weighs in at a hefty 180 grams. It is interesting to see Silicon Power choose such drive as there are other 2.5" drives that are thinner and lighter. For a portable drive, they would seem to be a better choice. It is probably for cost reasons, but we would prefer a lighter drive instead. We are not bothered much by the fact that the drive operates at 3Gbps instead of 6Gbps, as the speed of the drive is far below this anyway. This would only affect the performance if we used a SSD instead. With a SSD it might affect the performance though as USB 3.0 has a theoretical top speed of 5 Gbps but that is not interesting for this review.
We are also not bothered by the 5,400RPM speed, since the drive has a good 12ms average seek time. While 5,400RPM is not the fastest for a mechanical drive, for external storage, it should be fast enough. By spinning at a lower RPM, the drive can consume less power, which for a portable device, is probably more important. A more power efficient drive tends to not drain the laptop battery as fast, giving us more time to work between charges. The drive has a rated active power consumption of 1.7W and 0.7W at idle. the Armor A60 draws power directly from the USB 3.0 port, so no additional power connector is needed. Keep in mind that the power consumption rating is for the hard drive alone and not the entire portable drive. So expect the actual power consumption to be a tad higher when accounting for the controller.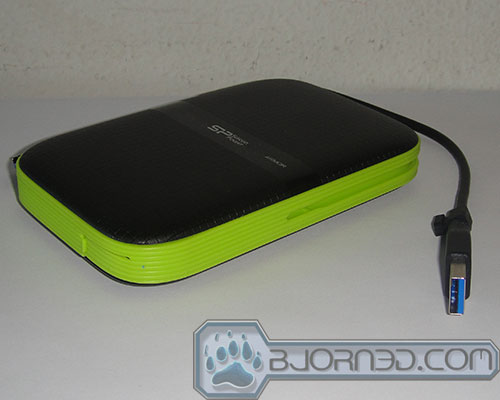 The Armor A60 is USB 3.0 compliant, which is also backward compatible with USB 2.0. USB 3.0 can transfer data up to 5 Gbps compared to USB 2.0 which has a top speed of 480 Mbps. Interestingly, the drive features a USB Type A connector (the same type you use to connect to your PC) instead of the more commonly used Standard-B or micro-B connector that you often find on portable devices. This is not the first time we have seen this connector on an external drive, as other Silicon Power external drives also use this connector. We are not sure the rational behind Silicon Power's decision. Having the same type of connector means that the cable that is used to connect to the PC can be reversed, as the same Standard A plug is found on both ends of the cable. However, it also means that we cannot use more commonly available cables with the drive. So, if we ever lost the cable, we would need to buy a replacement. Luckily such a cable is not too expensive.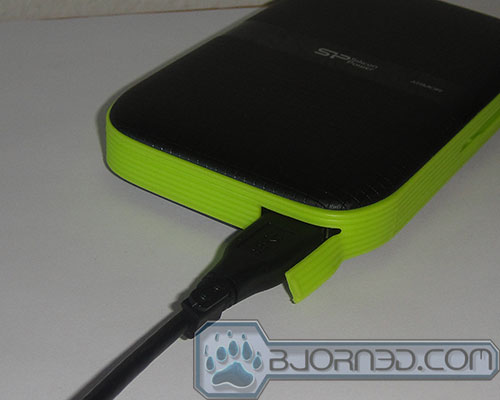 We are not a huge fan of the cable that is included with the Armor A60, as it is way too short at 30 cm (1foot). This cable can be tucked into the drive via two plastic tabs for storage. We are also not too fond of such designs, as we have already lost one of the plastic tabs. It is too easy to lose the cable, as it is really not being secured onto the drive. We would rather see some sort of retractable cable or a way to completely hide and secure the cable onto the device when it is not being used so that it would be easier to carry around. Maybe a carrying case would have been a nice alternative.
Features
Passes the U.S. military drop-test standards MIL-STD 810G Method 516.6 Procedure IV (transit drop test), including specific height free fall test (122cm).
Mark the IPX4 water-resistant level
SuperSpeed USB 3.0 compliant and backwards compatible with USB 2.0
Cable carry design
Advanced internal hard drive suspension system
Easy to plug and use;no external adapter required
SP Widget free download software, providing 7 major back-up and security functions
Specifications
Dimensions: 138.5 x 85.9 x 23.2 mm
Weight: 228~280g (by capacity)
Capacity: 500GB、1TB、2TB
Materials: Plastic, Rubber
Color: Black
Interface: USB 3.0 / USB 2.0 compatible
Data transfer rates: Max. 5 Gbps (USB 3.0 Mode); Max. 480 Mbps (USB 2.0 Mode)
Power supply: DC5V (Power supplied through USB)
Supported operating systems: Windows 8/7/Vista/XP/2000, Linux 2.6.31 or later, Mac OS 10.5 or later
Operating temperature: 5℃~ 55℃
Storage temperature: -40℃~ 70℃
Warranty: 3-year warranty
The Armor A60 passed the US military MIL-STD-810G (transit drop test) and IPX4 waterproof level, offering perfect data protection for outdoor users. This means that the device has a good chance of surviving an accidental drop or water spill. The IPX4 allows the unit to survive when water is splashed onto the device. It does not mean that you can drop the unit in a hot tub and expect it to survive. But an accidental liquid spill from a cup of coffee should not be an issue. Be warned though, it probably would only survive with the USB port covered with the included rubber seal.
The drive is pre-formatted using the FAT32 filesystem in order for to support a wide range of operating systems. It is compatible with Windows and Mac OS. While all versions of Windows (32-bit and 64-bit) since Windows XP are supported, Mac users would need OS 10.5 or later. It also supports Linux 2.6.31 or later. The FAT32 filesystem has a limitation where it cannot store files larger than 4GB, so we recommend that you format it using NTFS if you plan to use it with a Windows PC only, HFS+ for MAC system only, or even better, exFAT if you want greater compatibility between the two operating systems. If you mainly write data to the drive in Windows and just use it to transfer files to your Mac system, you can format it as NTFS, as Mac OS can read NTFS, but cannot write to it. At least not officially; you can Google to find guides to enable NTFS write functionality on your Mac.
The Silicon Power Armor A60 2TB retails at $107 at Newegg as of this article's publishing. The drive comes with 3-year warranty, which is pretty good for an external drive. Most external drives only come with a one or two-year warranty.
SP Widget
The Armor A60 is bundled with Silicon Power's own SP Widget software utility backup tool. The software can be downloaded directly from Silicon Power's site. In addition to the SP Widget, the drive also comes with a 60-day trial version of Norton Internet Security.
The SP Widget application is advertised as providing seven major backup and security functions. Despite the fact that the latest edition of operating systems from both Apple and Microsoft come with native backup utilities such as Time Machine and File History, respectively, it never hurts to have a standalone backup utility that offers additional features.  The SP Widget is certainly no replacement for more feature-rich, third party software offerings like Acronis' True Image, but it does get the job done.
The SP Widget is an executable file that runs as a standalone app without the need to be installed. The UI is simple to use, but the navigation is not the most intuitive and the software seems to be designed for the Windows XP era where the selection window is not resizable. This leads to a situation where reading a long list of folders or a long file name is rather challenging.
Despite the stale UI, the basic backup functions are all there. We have the ability to backup a drive, directory, folder, or files. We can configure the backup as a One Touch Backup function or a Shortcut mode where it will place a shortcut on your desktop to initiate the backup process. The Backup Wizard guides you to configure the backup settings where you give the backup a name, select the files/folders you want to backup, and set the backup time interval and you are done. Unfortunately, the software is missing the ability to select the drive letter (C:\, D:\, etc.) for a full drive or partition backup. This is slightly inconvenient, as if you would want to backup a drive or a partition, you would have to select every single folder under the drive/partition. The software also lacks the ability to select all or none, so it's rather laborious work to configure a backup job. Luckily, if you choose a folder, it will automatically add all of the files and the nested folders. Interestingly, the Backup Wizard works with not only Silicon Power's own drive but with any other drive as well.
The SP Widget also provides the ability to backup the Favorites from Chrome, IE, and Firefox. Many browsers now offer the ability to sync data to the cloud, including bookmarks and favorites, so having such a feature may not be necessary if you already sync your bookmarks to the cloud. Though if you are still uneasy about living in the cloud, such a feature may come in handy.
We are also presented with the ability to encrypt data. The encryption setting UI is rather hard to use, as you are required to select the file you wish to encrypt and then enter the password to encrypt them. Sounds easy enough, but selecting a long list of files is rather tedious. In addition, there are two "File" buttons on the encryption UI that caused a little confusion. It took us a bit of time to figure out that the left File is for revealing the encrypted file, while the right File is to encrypt a file.
I am not quite sure what the "File Classification" does, as the app description says "provide services of file classification & data backup to mobile devices." I am presuming it offers the ability to automatically sync data from the drive to the mobile devices if you place the appropriate file to the appropriate directory of the drive. It is probably designed to be used for the USB On the Go drives and also wireless enabled drives and not our USB 3.0 drive.
The Data in the Cloud is a neat tool that allows you to manage your cloud data. This feature is neat, as it allows you to keep data that you saved on the cloud on the external device. With the latest SP Widget version, 2.0.0.3, it only allows you to sync with Dropbox and not other popular cloud storage services like Google's Drive, Microsoft's OneDrive or Amazon's Cloud Drive. Unfortunately, when we entered our credentials, we were greeted with a message stating that the app is in development mode and can't accept more users. So much for testing that feature.
Performance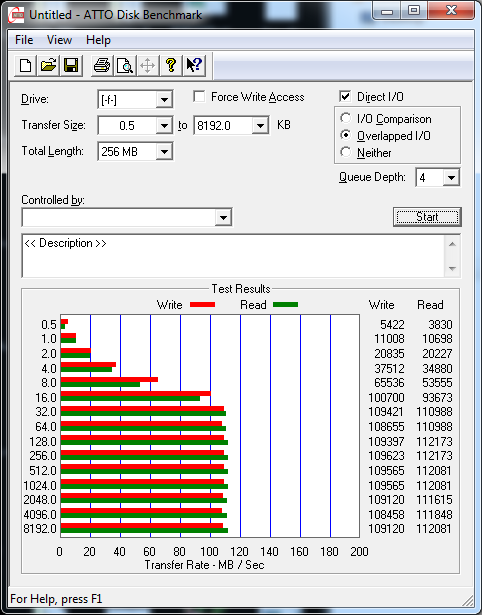 The Armor A60 performs decently, though it is not as fast as Silicon Power's own Armor A80's peak transfer rate. The older Armor A80 is able to reach speeds of 116MB/s for write and read, while the A60 reaches only 109MB/s reads and 112MB/s writes. However, the Armor A60 is able to reach its peak transfer rate at 16KB of transfer size whereas the A80 gets there at a 32KB transfer size.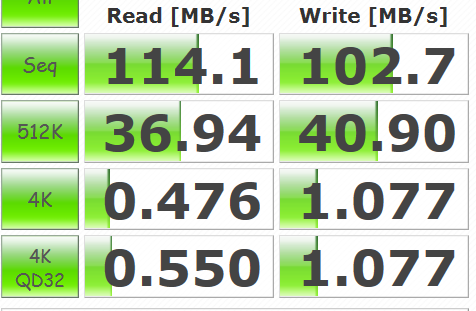 Similarly, the sequential read for the A60 is faster than the A80 but the write is a tad slower, where the A80 achieved 110 MB/s and 109 MB/s, read and write respectively, the A60 scored 114 MB/s and 103 MB/s. The A60's read and write performance at 512K is also a tad slower at 36.94MB/s compared to the A80's 38.64MB/s in read and 40.90MB/s versus 44.20MB/s in write, respectively. The 4K read and write is comparable between the two drives.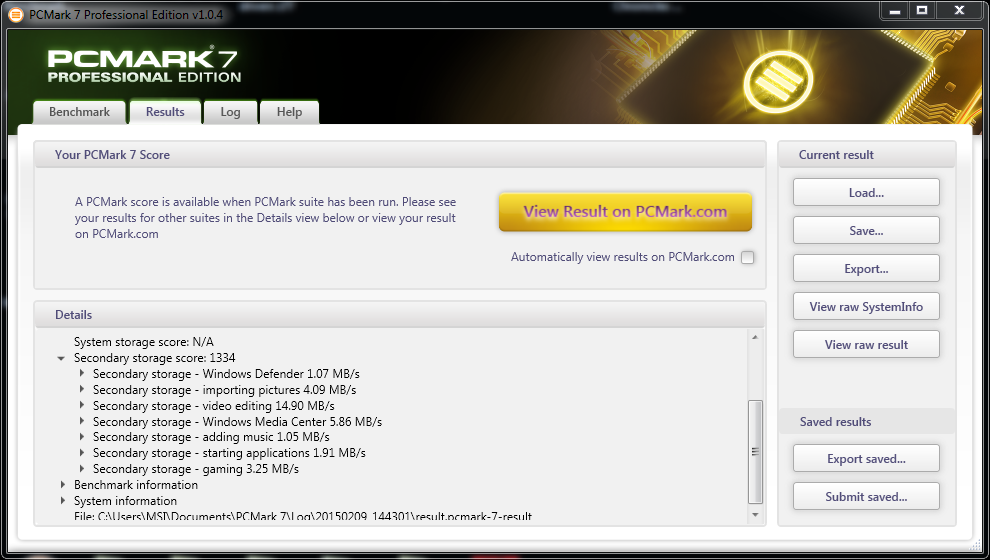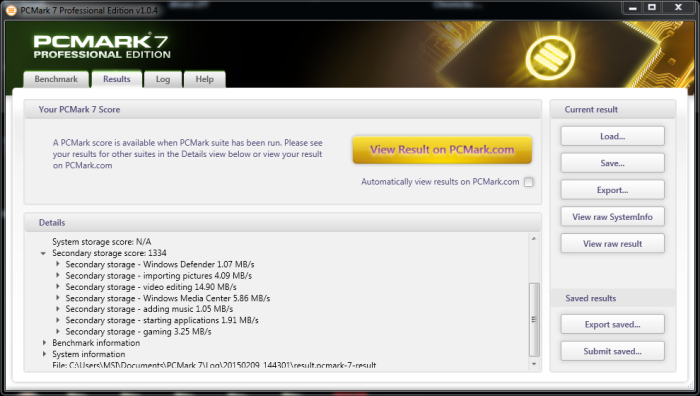 The Armor A60 scored 1334 points in PCMark 7. For a USB 3.0 external drive, it's a rather respectable score.
Conclusion

Silicon Power's Armor A60 is a little, compact, portable external drive that offers plenty of storage space. It has a very good build quality, with a rubber casing and textured plastic covers that help to protect the drive against drops and spills. The performance could be a tad faster if a 7200 rpm-drive had been used but is still acceptable.
At a little over $100, this 2TB drive is rather affordable for a durable portable drive. We have no major complaints about the drive, other than the short USB A to A cable that is somewhat inconvenient to carry around. Plus, it makes it harder to find a replacement to use if it ever got lost. The bundled SP Widget application could probably can use a few upgrades and improvements to the UI, as well as some added functionality.
There are certainly many other external drives on the market, and some are even slimmer and more portable. However, it is hard to find one that offers the same level of protection as the Armor A60 for its price. You can certainly not go wrong with this drive if you are in the market for a rugged external drive.
Pros
Cons

Rugged
2TB of storage space
Water-splash protection
Good build quality
USB 3.0 transfer speed
3-year warranty

USB A to A cable
Short cable
Software needs improvement
A 7200 rpm-drive would have offered a bit more performance.