We just looked at the SilverStone Tundra TD03-E with its revolutionary brazed, full-contact heat sink fins and nickel-coated aluminum extruded CPU water block. We were so excited about its design and performance that we asked the good people over at SilverStone to send us a Tundra TD02-E, the dual radiator version of the Tundra TD03-E. The SilverStone Tundra TD02-E is one of two of SilverStone's first all-in-one coolers that is ready to use out of the box. SilverStone's long tradition of innovation and breaking from the norm to produce higher quality products holds true with its Tundra series Liquid Cooling Systems. While SilverStone's Tundra series may look like some competitors' all-in-one solutions from a distance, up close you can easily spot the quality differences.

"Founded in 2003, SilverStone is an established leader in its field, with an elite team of engineers; we started our quest of providing products that create inspirations.  We have since expanded the lines of products as well as types of products we produce, giving our customers a wide selection of choices.
With distribution centers in different areas of the globe, SilverStone products can be seen all over the world, not just for computer users but also for home entertainment use.  Providing leisure with integration of advanced technologies that is functional and making them enjoyable to use.
Here at SilverStone Technology, we continue to pride ourselves in providing the highest level of standards in designing and manufacturing computer enclosures, power supplies, and accessories.  Our pursuit for the first class aesthetic appeal is relentless; our teams of devoted engineers are constantly searching for the best technologies that suit end-users with different needs and will make our products as technologically sound as they are beautiful."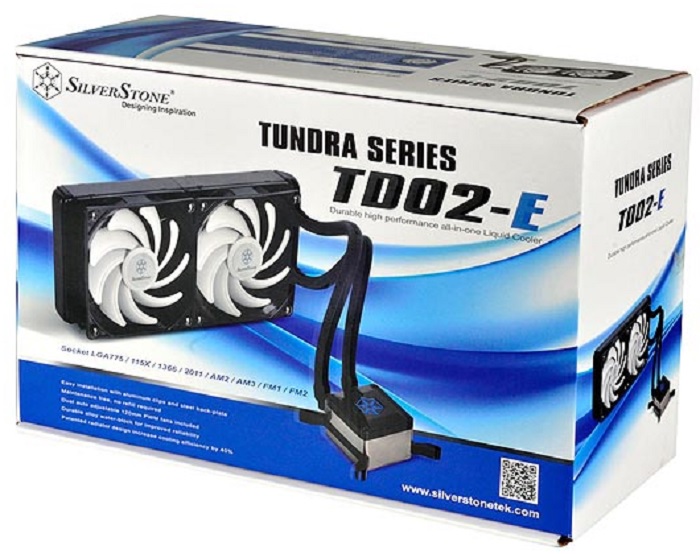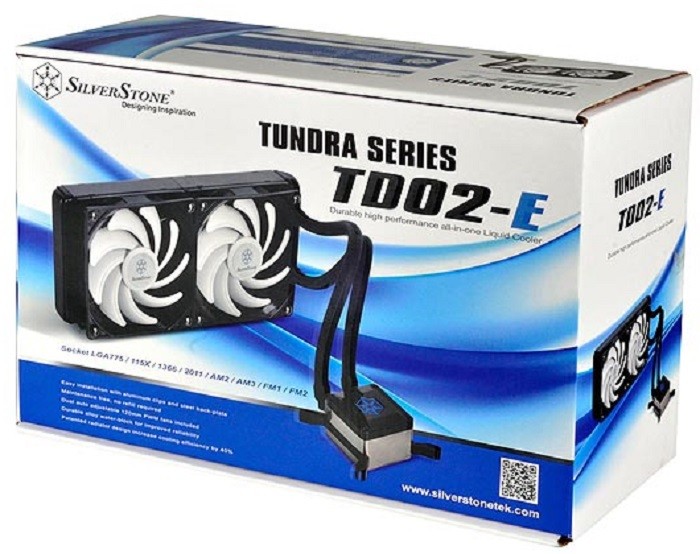 The SilverStone Tundra TD02-E is a sealed unit, all-in-one, zero maintenance (on the coolant) liquid cooling system with a dual radiator and two 120mm fans. The pump is in the block which helps to eliminate the need for a reservoir. The Tundra TD02-E eliminates a lot of obstacles when it comes to water cooling your CPU. Take it from people who have been down the water cooling road many times. Setting up a custom water loop can be a daunting, trial and error task. The SilverStone Tundra TD02-E solves all those pesky problems for a mere $99.99 and that's with free shipping (Amazon). Shop around a bit and you may shave that total by a few bucks.
Specifications
SilverStone




Tundra TDO2-E

Model No.

SST-TD02-E

Water Block
Copper base with nickel-plated aluminum unibody
Block Dimensions
60mm (L) x 55mm (W) x 33.5mm (H)
Pump RPM
2500±200RPM
Pump Voltage
12V (Current 0.28A)
Fans
2 x APA1225M12 DC (12V 0.30A) 120mm
Fan Speed
1500 – 2500RPM
Fan Max Air Flow
92.5CFM @ 35dBA
Fan Max Pressure
3.5mm/H20
Fan Connector

4 pin PWM
Radiator Size

278mm (L) x 124mm (W) x 27mm (H)
Radiator Material

Aluminum
Tubing
Rubber 310mm
Compatibility
Intel Socket LGA775/1150/1155/1156/1366/2011/2011-v3
AMD Socket AM2/AM3/FM1/FM2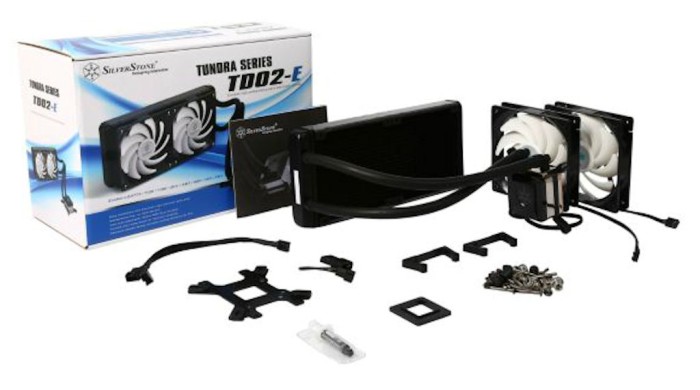 You could spend half a day going over all the individual parts in the SilverStone Tundra TD02-E kit, so lets leave the screw bundle out.
278mm radiator with attached tubing and pump/block combo
2 x 120mm APA1225M12 DC Fans
2-to-1 PWM fan connector adapter
Molex to PWM fan adapter
Motherboard backplate
2 x adapter clips
Small tube of SilverStone thermal grease
Suffice it to say, the bundle contains enough to cover any of the previously listed sockets and for good measure SilverStone threw in a tube of thermal grease. Yes, we know some of you are like "So what? Thermal grease". It's often the small things that make a bundle and the addition of thermal grease can keep many end users from going to the wallet well to spend an additional 5 to 10 dollars, not to mention the delivery time if you have to order online. Being a dual radiator, we could see possibly including four fans in the bundle, but not at the $99.99 (with free shipping) Amazon price (At the time of posting).