Final Thoughts & Conclusion

The SilverStone Silver Strider 750 Watt PSU (ST75F-GS) exceeded our expectations both in size and voltage control. Most tests fell into a 1 -2% deviation range and the SilverStone Strider has earned it's place on our test bench. There really can be no higher honor, it's trusted with the care and testing of literally thousands of dollars of hardware a month and in the process of a year the cost of your average mid-sized car will be trusted to the power supply. That says a lot about how we feel about its performance and reliability.
The large single 12v rail came in at about 1% variance from nominal and that's almost unheard of. No matter the load or the thermal conditions we ran it in the SilverStone Strider 750W power supply stood rock steady and kept the clean and plentiful voltage flowing. Having run a heavy-duty test system with an old school Palit 4870×2 and a 4870 in triple Xfire (using one molex to PCIe adapter) we are convinced that at a price of under $140 (Amazon) the SIlverStone Strider Fully modular 750W power supply is a steal and an investment in your dream rigs longevity. Nothing puts an end to the fun like a puff of smoke coming from an over extended or under powered power supply. You will not only have a good clean reliable power supply but also the piece of mind that comes knowing your valuable components are protected by SilverStone Technology.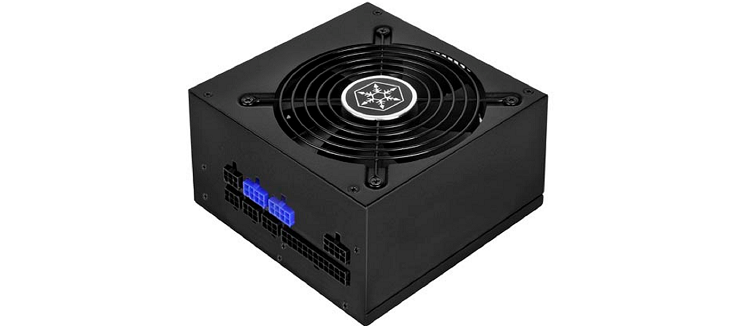 One of the non-voltage related things that sold us on the SIiverStone Silver Strider Fully Modular 750W Power Supply was it's whisper quiet operation. Trust when we say we've seen fantastic hardware products scores fall to the annoying din of a noisy fan.  If your machine is making enough noise to annoy you part of the enjoyment is gone. Another thing we loved was the fully modular design. In our minds Modular and Fully modular should be interchangeable.  You buy a modular power supply and out of the box there's at least two wires hanging from it.  A power supply by definition modular means no wires attached that aren't removable. Somehow modular has been stretched to mean oh here's a 24 pin and 6/8 pin connector you must have anyway so we'll just leave it attached and non-removable.
Fully modular is much easier to work with and for those of us who want no more than the bare edge of a wire protruding from the back plane on our chassis those non-fully modular power supplies are a nightmare. SilverStone takes it one step farther and puts a flat 24 pin cable on the SIlverStone Silver Strider 750 W fully modular PSU. The flat wire means that if need be the obtrusive 24 pin wire can be routed under a motherboard or behind the back plane without causing a bulged surface.
A lot of thought and engineering went into the SIlverStone Silver Strider Fully Modular 750W power supply. The engineering and thought behind the Silver Surfer 750W power supply is backed by one of the most trusted power supply companies in the world. We trust SilverStone with tens of thousands of dollars worth of hardware a year and that should tell you our utter confidence in the brand. The 140mm depth form factor making it the smallest fully modular power supply on store shelves sure doesn't hurt our feelings and makes a tidy case much easier to achieve. We found little not to like about the SilveStone Silver Strider S Series gold Plus 750W power supply with one exception. We didn't get a SilverStone Silver Strider S series sooner but we can't dock points for that oversight.
Pros
Cons

High Quality
Durable
Single large 12v Rail
18 – 33dBA operation
80 Plus Gold Certified
Fully Modular
Did we mention it's made by SilverStone?

Distance between Molex connectors was a little short
Review Overview
Performance - 9.5
Quality - 9.7
Features - 9.7
Innovation - 10
Value - 9.5
9.7
The SilverStone Strider Gold S 750 Watt PSU (ST75F-GS) shows superior performance, tight voltage regulation and the highest award of all, A spot on our Bjorn3D test bench. With a spot on our test bench the Srtider S series 750 Watt PSU will be driving some of the most expensive highest end hardware on the planet. There can be no higher award.