The SilverStone Silver Strider 750 Watt PSU is the smallest full modular ATX power supply on the market. From the back of your chassis to the front of the Silver Strider 750 it's a mere 140mm making it the mightiest Mini sized PSU available. Struggling with a smaller chassis but need killer voltage regulation for your dream builds components , look no farther SilverStone, one of the premier PSU manufacturers in the world, has you covered front to back (at least 140mm's worth). The previous generation (Version 1.0) was 150mm in depth and quite the mighty Mini in itself but SilverStone had to one up themselves and go for a 140mm Version 2.0.
Having reviewed Computer Components for a decade now I've seen, and written about, advancements I never thought I would see. I could only sit and wonder why my dream components didn't exist yet. Once in a while dream components do pop up and a few years back one did. On September 30th 2009 Nvidia announced the power-hungry GTX-480 in a whitepaper release, shortly later they released GTX-480's to review sites along with a SilverStone 1500 Watt PSU. My SilverStone 1500 Watt power supply from 6 years ago is still running strong and since then many SilverStone power supplies have crossed my work bench all of which provided the same reliable power and longevity of my first SilverStone that 1500W behemoth.
Fast forward to today's more power conscious components and 1500W of thumping power on my test bench might be a tad overkill so I'm looking at a newer generation SilverStone Silver Strider 750W Power Supply (St75F-G5). Coming in at a slender 140mm depth this fully modular wonder is the smallest fully modular power supply on the market. Pushing the PSU Gold standard to the limit this size conscious power supply has an 80 Plus Gold Certification. As with all power supplies the power coming in has some loss usually in the form of heat and the higher the rating of your power supply the more efficient it is. The Gold Plus standard is as high as it gets meaning the SilverStone Silver Strider 750 Watt PSU is among most efficient in the world.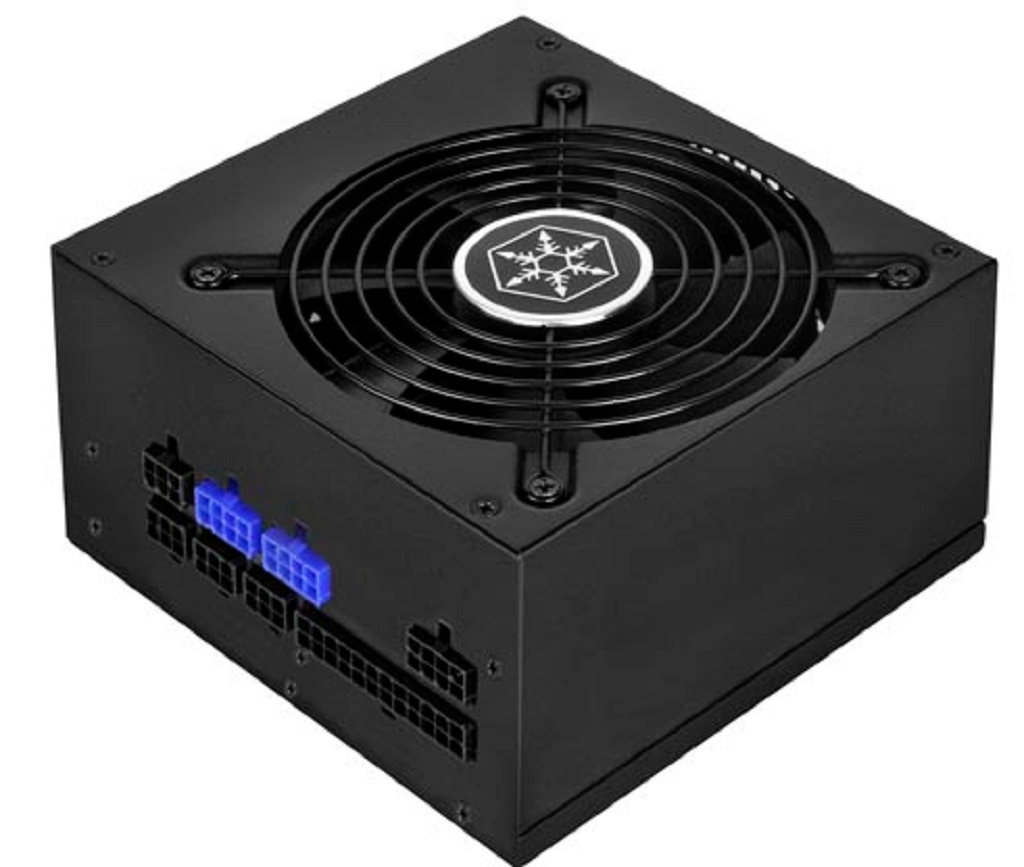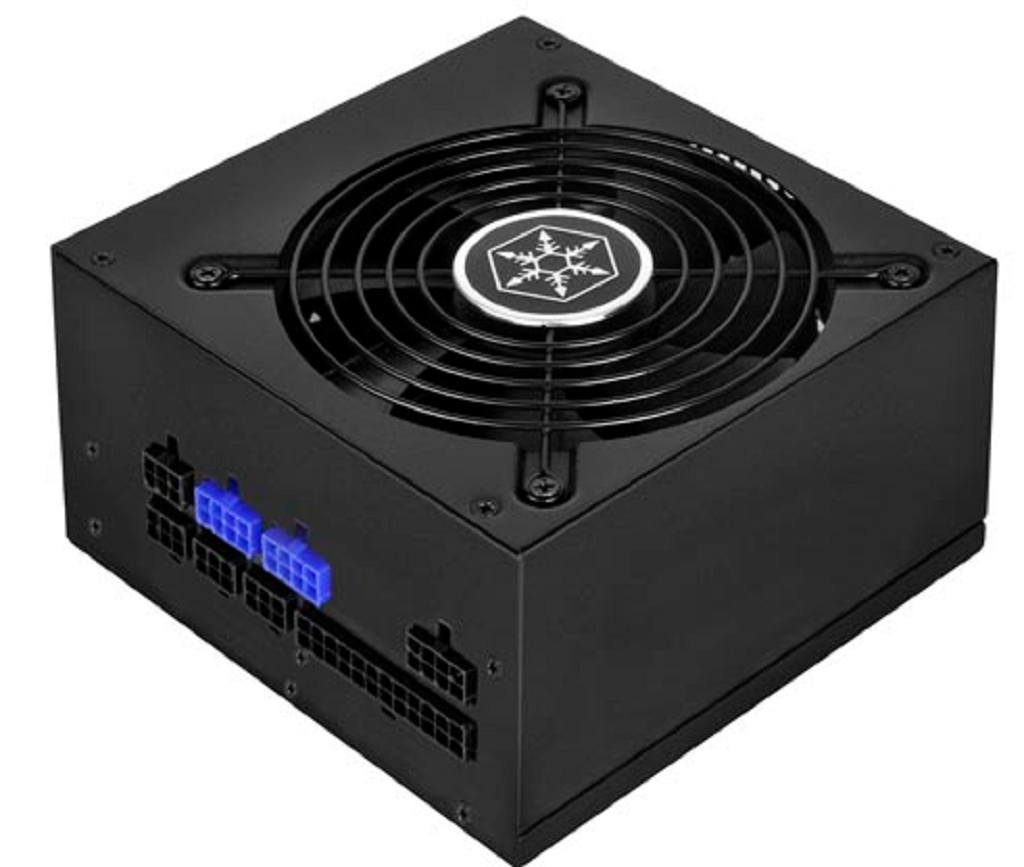 Designed with size in mind the SilverStone Silver Strider 750 Watt PSU is fully capable of running two single connector GPU's and has four 12v Rail connectors branching off into 8 power connectors. Lets take a look at the menu of connectors this Mighty Mini provides.
1 x 24 pin
1 x 4/8 pin EPS / ATX 12 v
4 x 6/8 pin PCIe
8 x SATA
6 x Molex
2 x 4 pin Floppy
There should be plenty of power connectors for almost all end users, there will be a select few that need more but we would consider those the 5% high-end power users wanting 6 hard drives and multiple GPU setups. Most of us want good clean power for a single or dual GPU system with one or two hard drives and a power supply that's quiet, stable and doesn't take up half the chassis. One nice feature on the SilverStone Silver Strider 750 Watt PSU is the worlds first flat 24 Pin cable. There may be other 24 pin flat cables on the market now but they surely just copied SilverStones design because it was the first. One thing we look at as reviewers is innovation, does the vendor innovate successfully or just provide a run of the mill average product. No one will ever accuse SilverStone of being "Run of the mill".
Model No.

SST-ST75F-GS

Max. DC Output

750W

| | | | | | |
| --- | --- | --- | --- | --- | --- |
| | +3.3V | +5V | +12V | +5VSB | -12V |
| | 22A | 22A | 62.5A | 3.0A | 0.3A |
| | 0.5A | 0.2A | 0A | 0A | 0A |
| | ±3% | ±3% | ±3% | ±5% | ±10% |
| | ±1% | ±1% | ±1% | ±1% | ±1% |
| | 50mV | 50mV | 120mV | 50mV | 120mV |

combined +3.3, +5V

120W

combined +12V

750W

Input Voltage

90V~264V

Input Frequency Range

47Hz ~ 63Hz

PFC

Active PFC.(PF>0.95 at Full
Load)

Efficiency

87%~90% at 20%~100% loading

MTBF

100,000 hours

Operating temperature

0°C ~ 40°C

Protection

Over current protectionOver power protection

Over voltage protection

Over Temperature Protection

Under voltage protection

Short circuit protection

Connectors

1 x 24 / 20-Pin motherboard
connector(550mm)1 x 8 / 4-Pin EPS / ATX 12V connector(750mm)4x 8/6-Pin PCIE connector("550mm / 150mm'"x2)8 x SATA connector("600mm / 150mm / 150mm /150mm" x 2)6 x 4-Pin Peripheral connector("600mm / 150mm / 150mm"x2)2 x 4-Pin Floppy connector("600mm / 150mm / 150mm / 150mm"x2)

Color

Black (lead-free paint)

Cooling System

Single 120mm silent fan

Noise Level

18 dBA minimum

Dimension

150 mm (W) x 86 mm (H) x 140 mm
(D)

Weight

2.1 kg

Form factor

ATX

Certification

80 PLUS Gold
Review Overview
Performance - 9.5
Quality - 9.7
Features - 9.7
Innovation - 10
Value - 9.5
9.7
The SilverStone Strider Gold S 750 Watt PSU (ST75F-GS) shows superior performance, tight voltage regulation and the highest award of all, A spot on our Bjorn3D test bench. With a spot on our test bench the Srtider S series 750 Watt PSU will be driving some of the most expensive highest end hardware on the planet. There can be no higher award.