In an age where we no longer use floppy discs and many systems no longer even have an optical drive the USB-memory sticks have become invaluable for carrying around data, use as Live-"CD" for Linux-distros or even as install-media for Windows and other OS's. While USB 2.0 was pretty slow USB 3.0 offers much higher transfer rates and the USB-stick we are reviewing today, the SanDisk UltraFit,  promises transfer speeds of up to 130MB/s while also including some nice security features.
Specifications
So lets look at the specifications.
Performance/Speed:

32/64GB: Transfer up to 10 times faster than standard USB 2.0 drives; up to 130MB/s read speed

**

16GB: Transfer up to 5 times faster than standard USB 2.0 drives; up to 130MB/s read speed

**

Available Capacities: 16GB, 32GB and 64GB

**

SanDisk SecureAccess™ software

**

RescuePRO file recovery software

**

(one-year subscription offer)
USB 3.0 enabled (USB 2.0 compatible)
Dimensions: 19.1 x 15.9 x 8.8 mm; 0.75 x 0.63 x 0.35 in (LxWxH) – without cap
Operating temperature: 32° – 113° F (0° – 45° C)
Storage temperature: 14° – 158° F (-10° – 70° C)
I must admit I am a bit confused by their Performance-numbers. If both the 16 GB and the 32/64 GB/s can give us speeds up to 130 MB/s read – doesn't that mean that they all offer speeds "up to 10 times faster than standard USB 2.0"? Note also that they are talking about Read-speeds, the write speeds are, as we will see, much lower.
Closer Look
What sets this USB-stick apart from many other competitors is its small size. SanDisk themselves talk about this being a stick you can use to increase the storage on a laptop and just keep sitting there. It comes with a cap but nothing else to for example hang it in the key chain so we can definitely see a risk of loosing it due to its diminutive size.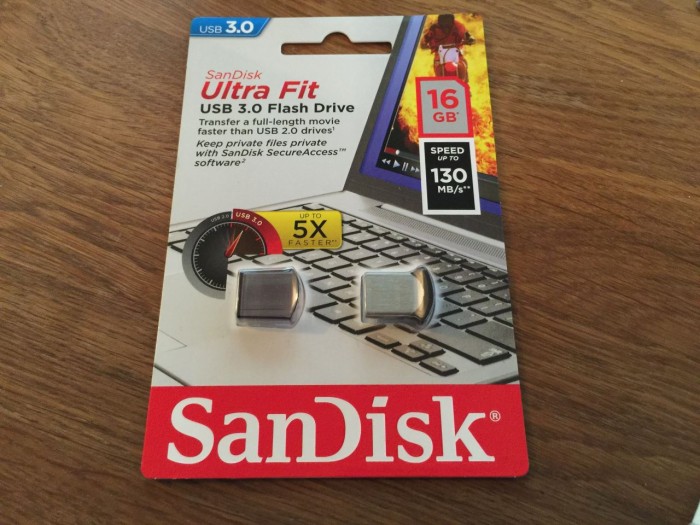 Thank god the package is not of the "blister"-type which requiers power tools to open.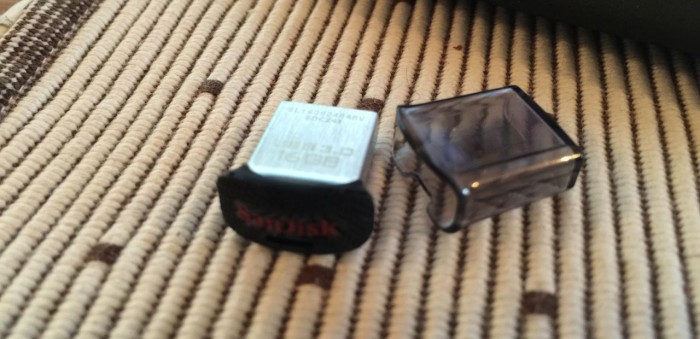 Unless you keep the small USB-key plugged into the computer there is a big risk of loosing it.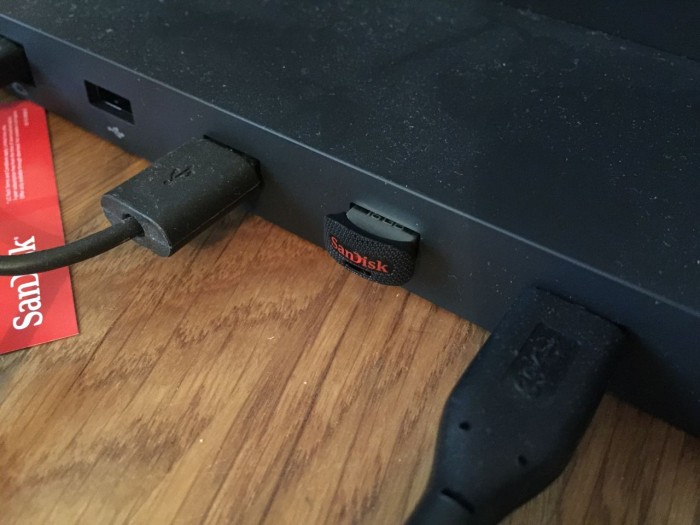 One plus with the size is that it will absolutely not be in the way of other things attached to a computer or whatever product you are using the memory stick with. It's pretty stylish and will look fine in most laptops.
Securing Data
The SanDisk UltraFit USB 3.0 FlashDrive comes with SanDisk SecureAccess v2.0 which is software that allows you to create a "vault" on your flash drive. This vault basically is a password protected folder which is encrypted with 128-bit AES encryption. You can drag and drop files into the vault and even edit files directly in it. When you lend your flash drive to someone he/she will not be able to access the protected files but still use it as a normal flash drive. It's a nice piece of software that works well and that offers some protection for your secret files.
Performance
We tested the SanDisk UltraFit USB 3.0 FlashDrive on an ASUS G550JK laptop which of course has a Corei7 and of course USB3.0-ports. We used the software Anvil's Storage Utilities as it offers us a lot of different ways to test the drives. The drives that were tested was:
Samsung 840 Evo 250 GB SSD
WD My PassPort 1 TB USB3
Corsair Flash Voyager V2 16GB USB 3.0
SanDisk UltraFit USB 3.0
SanDisk Ultra 16 GB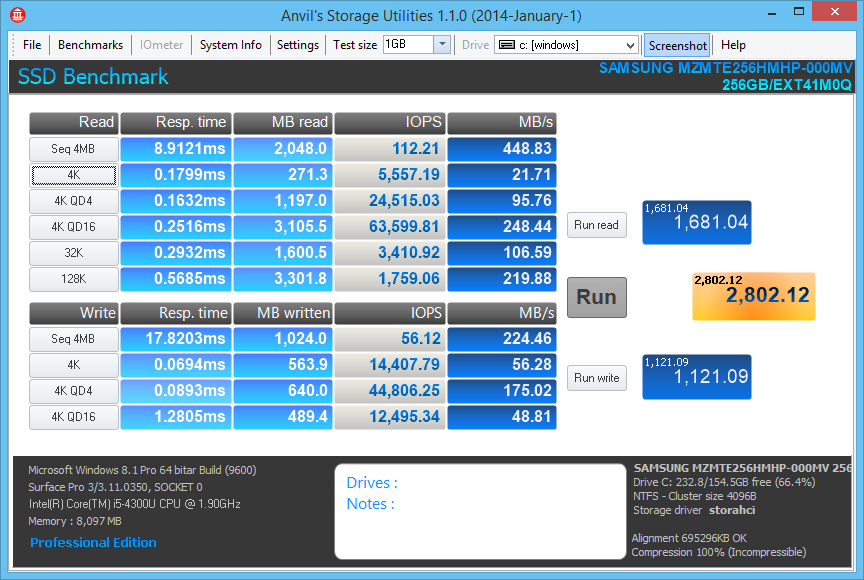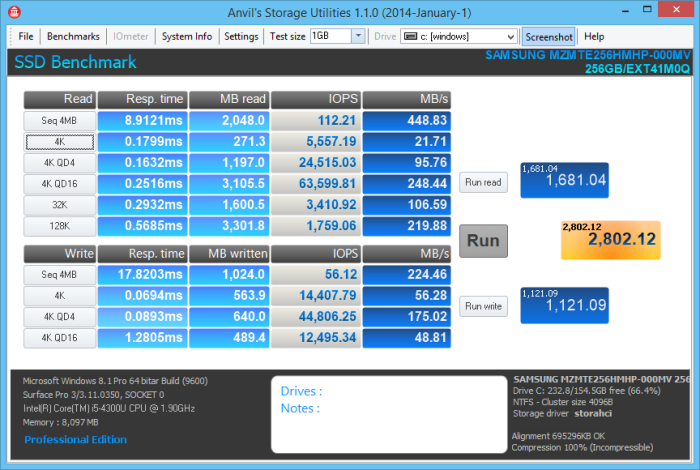 The Samsung 840 Evo is a good baseline which shows us what to expect from a SSD. While we get around 450 MB/s (read) and 225 MB/s (write) sequental write and read speeds the performance dips when we look at 4K read/write-performance. We still get around 22/56 MB/s which we will see is good performance.
Our next contender is the WD My Passport which is hooked up through USB 3.0. Read/write gives us around 95 MB/s both for seq. 4MB read and write which is expected by the drive inside which has to be a 7200 rpm regular HDD. 4K-speeds are much lower.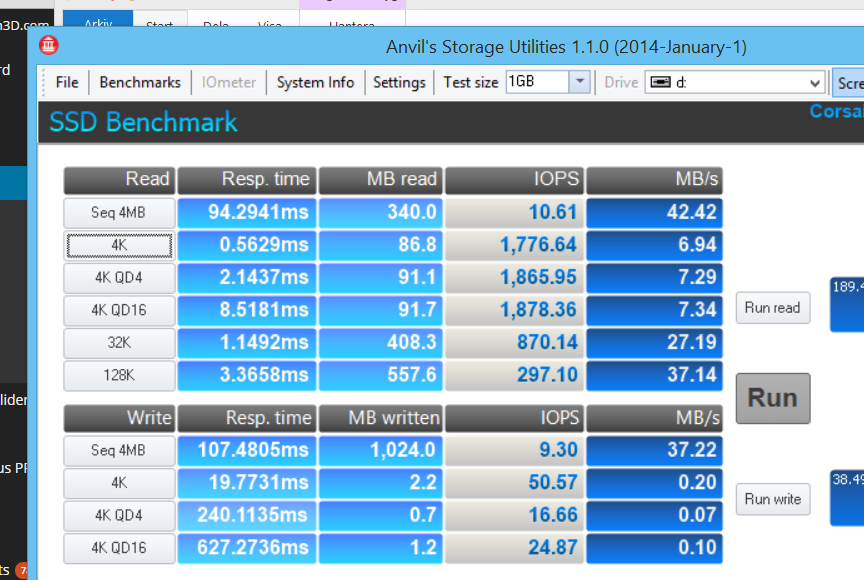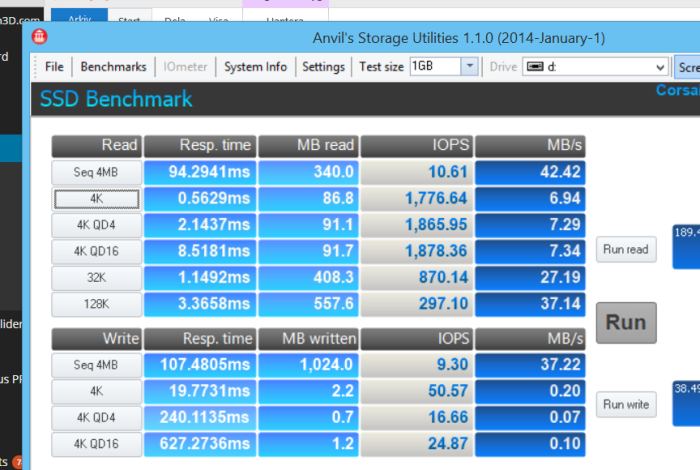 Here are the scores for the Corsair Voyager 3,0 as it is formated with FAT32 when you buy it. We actually tested it several times as we were surprised of the relatively low read/write sequential speed.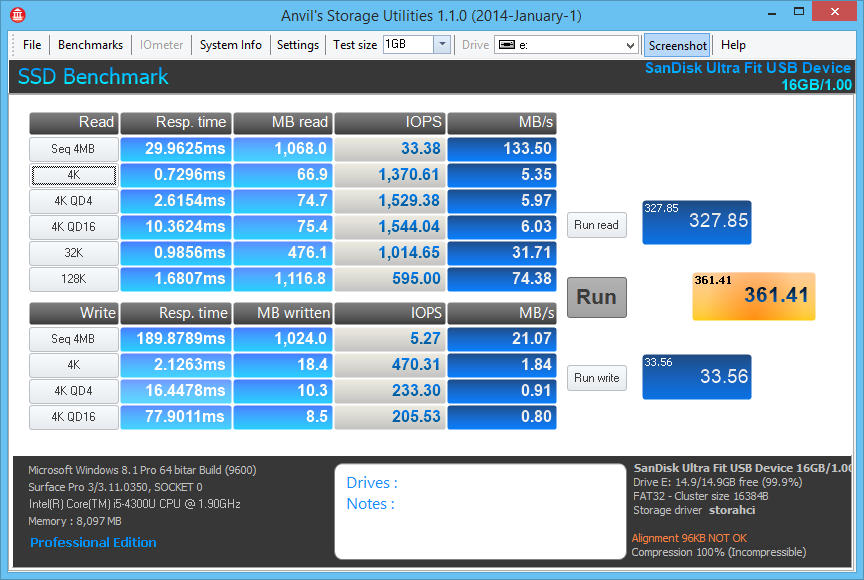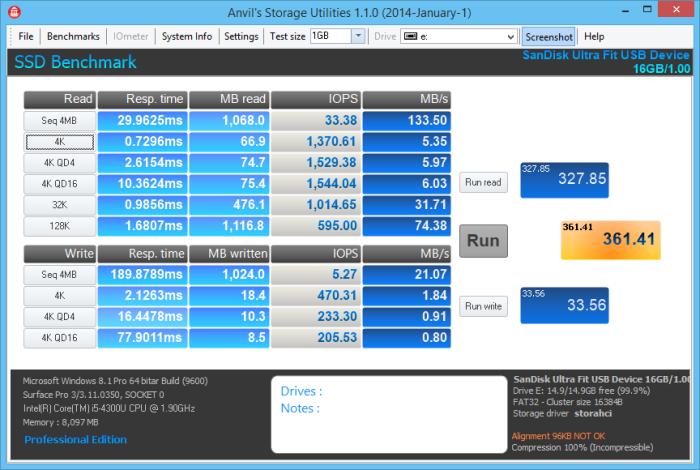 The SanDisk Ultra Fit 16 GB USB drive performs as expected. The sequential read-performance is uo around 130 MB/s which is exactly what was promised. If we look at the other performance, for example 4K -performance it actually is not bad at all, expecially compared to the Corsair Voyager 3.0. The sequential  write performance is worse but still not to far from the Corsair Voyager 3,.0.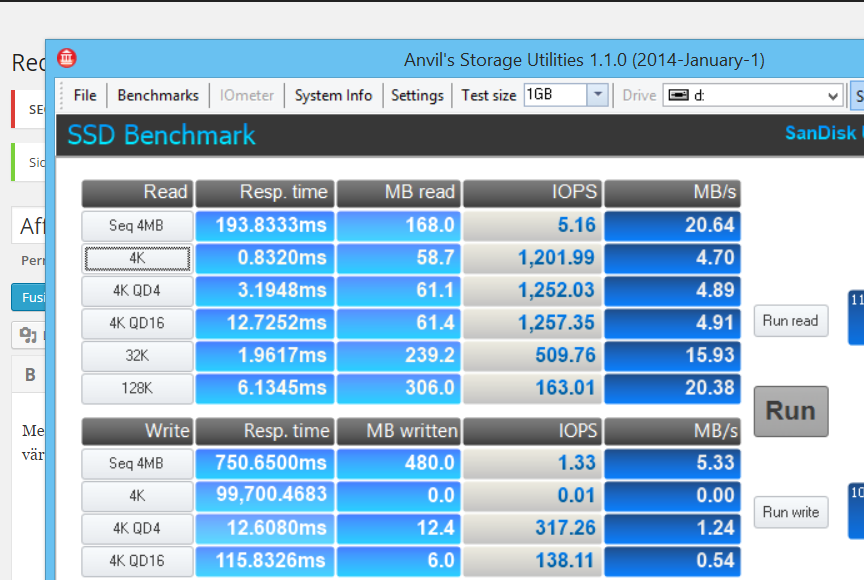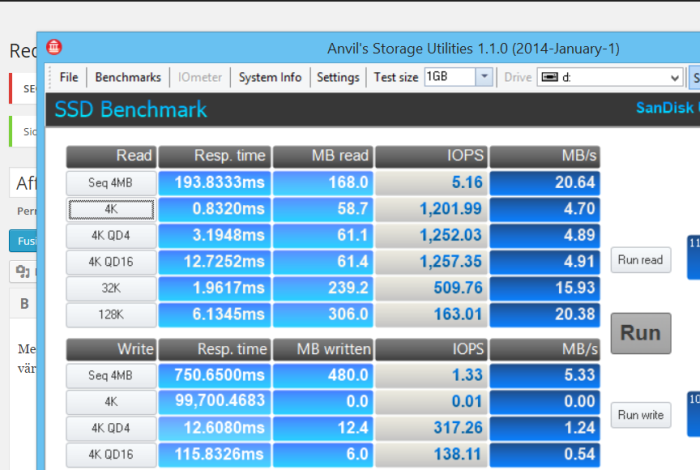 We also tested a USB2.0 memory drive from SanDisk, the Cruzer Blade. As expected we get far slower speeds with it, both when it comes to read and write speed. SanDisk's claims that the SanDisk Ultra Fit is up to 10 times faster than a USB2-drive is not completely correct (we get around 6.65 times faster sequential read-speed) but it still is much faster overall.
Conclusion

The SanDisk Ultra Fit™ CZ43 16GB USB 3.0 Low-Profile Flash Drive can be had for around while the 32GB and 64 GB just cost a bit more (15$ and 29$) and offer great performance for that price. The low profile of the drive is perfect if you plan on letting the flash drive sit in the computer or setop-box as it will not get in the way for other cables or things connected to the device. The small size will however mean it is easy to loose unless you are carefull, especially since there is no way to attach it to your keychain.
Review Overview
Performance - 8
Value - 8
Features - 7.5
7.8
The SanDisk Ultra Fit™ CZ43 16GB USB 3.0 Low-Profile Flash Drive offers good performance for a low price. It will fit perfectly in your device without obstructing any other cables or products connected to the device.