The Raven RV01 was originally introduced in 2008 as an extreme enthusiast chassis and it's revolutionary 90 degree motherboard position and it's sleek styling made it the envy of many enthusiasts. Appearing on the market when computer cases were being pushed on the market so fast and in so many styles it was hard for any one chassis to distinguish itself. At the time chassis were all about the side window and the exterior look, little attention was paid to cable management and it was all about the bling. SilverStone stepped up and early in the game recognized enthusiasts were a breed apart and designed a chassis with revolutionary features and a motherboard setup that puts the connections on top the computer instead of the back. Heat rises and in many chassis trapped in the top causing thermal buildup, the Raven recognizes this simple fact and from bottom to top is designed to move heat well from the bottom to the top and exhaust it.

"Founded in 2003, SilverStone is an established leader in its field, with an elite team of engineers; we started our quest of providing products that create inspirations.  We have since expanded the lines of products as well as types of products we produce, giving our customers a wide selection of choices.
With distribution centers in different areas of the globe, SilverStone products can be seen all over the world, not just for computer users but also for home entertainment use.  Providing leisure with integration of advanced technologies that is functional and making them enjoyable to use.
Here at SilverStone Technology, we continue to pride ourselves in providing the highest level of standards in designing and manufacturing computer enclosures, power supplies, and accessories.  Our pursuit for the first class aesthetic appeal is relentless; our teams of devoted engineers are constantly searching for the best technologies that suit end-users with different needs and will make our products as technologically sound as they are beautiful."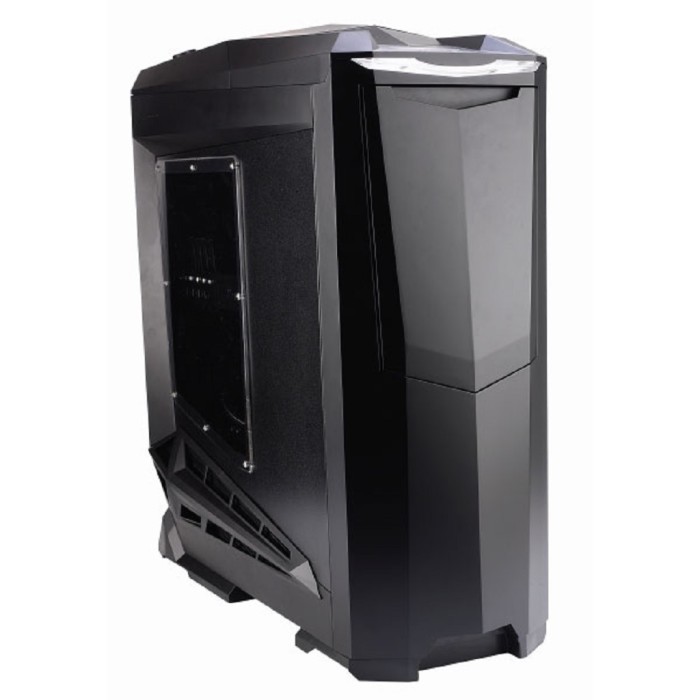 SilverStone quietly updated the Raven RV01 but chose to leave the exterior in its original form, some things were just done correctly the first time and need no change. From the moment the Raven lands you will be impressed with the size of the box, then the packaging and when you pull it out of it's fully protective environment the sleek look will set you back on your heels. With its inspiration being a Stealth Fighter Jet you can expect pointed accents and a nose cone like exhaust on the bottom.
Features
Model: SST-RV01B-W
Case Type:  Full Tower
Dimensions: 280mm x 616mm x 660mm
Weight: 18kg (40 lbs)
Color:  Black
Outer Shell Materials: Reinforced Plastic
Chassis Material: 0.8mm SECC
Side Panels: Transparent Window
Lighting: Blue LED
External 5.25″drive bay: 5
3.5 inch drive external: None
3.5 drive bay internal: 6
Expansion slots: 7
Motherboard:  M-ATX / ATX / E-ATX
System fans:  -2 x 180mm @ 700 RPM instake fan (18dBA)-1 x 120mm @ 950 RPM exhaust fan (18 dBA)-180mm @ 700 RPM top intake (18 dBA)
Removable Motherboard Tray: No
I/O Ports: 2 x USB 3.0, 1 x IEEE 394, HD audio jacks