It's that time again, yet another version of windows to install. You can wait for long boring periods of time and install from an optical drive or you can supercharge the install from a Flash Drive.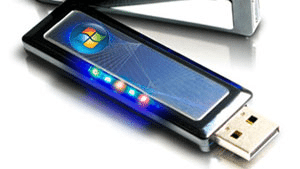 What you'll Need
Windows 10 (preview) Windows 10 Technical Preview Direct from Microsoft
Rufus "Create bootable USB drives the easy way"
A 4GB Flash Drive for the 32 bit or an 8GB for the 64bit version
When you get to the Windows 10 Technical Preview page sign up for the Windows insider program, basically your a beta tester for Windows 10 at this point. Navigate through the signup and download the ISO.
Leave the file in ISO format (you can burn a hard copy if you want but for our purposes the ISO is best so keep the ISO as well)
How to get Windows 10 onto a Flash Drive
Creating a Bootable Flash disk used to be quite a pain, Rufus makes it easy to create a bootable Flash Drive from an ISO or for that matter the original install disk.
Step 1:
Plug in your flash drive (Yes everything on the flash drive will be erased)
Step 2:
Locate and run Rufus (usually in your download folder) here's what you see: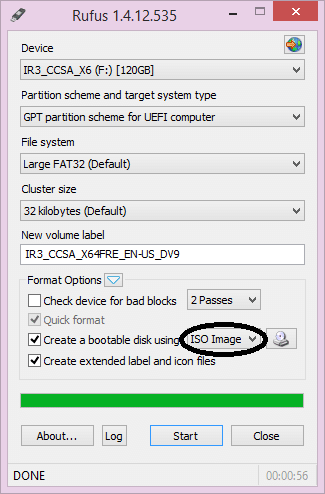 Step 3:
Go to the "Create Bootable disk using" line and on the drop down choose ISO Image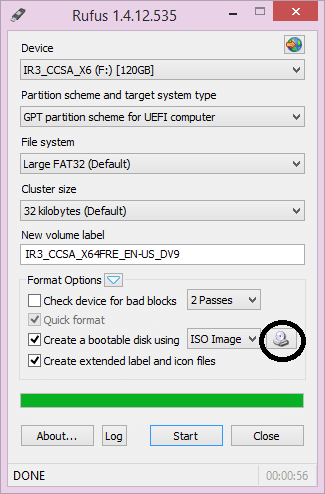 Step 4:
Click the Disk icon and navigate to where the Iso is located, select the Iso and click start.
At this point your on auto pilot let it sun until the line is all the way green like in the image above, a Windows Explorer window may pop up just ignore it and let it run until Rufus finishes.
Step 5:
Check your Flash drive if you like, it always makes me feel better to see the files, here's what it should look like: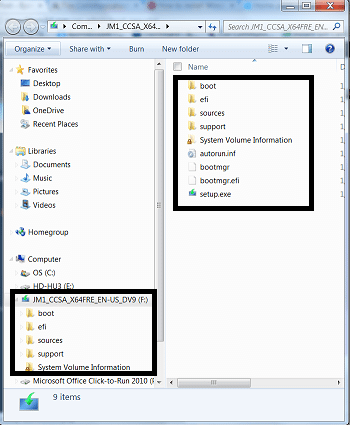 Step 6:
Make sure you have all the files on your "Windows 10" target machine backed up then plug in the Windows 10 Bootable Flash drive. Reboot the machine and during boot go into BIOS and make the Flash drive your bootable drive. Once you have the drive selected as the primary boot device reboot and the machine will boot from the Flash drive.
Follow the onscreen instructions to install Windows 10 in record time!
Tips:
Use a 16 GB drive for the 64 bit version
If your computer only supports USB 2.0 use a less expensive 2.0 drive
Got USB 3 use a 16 GB USB 3.0 drive and watch windows fly onto your system in minutes
Favorite programs and files? Use a larger USB flash drive and once Rufus has finished copy the files to the flash drive that way you can one step install Windows and your Favorite programs