Closer Look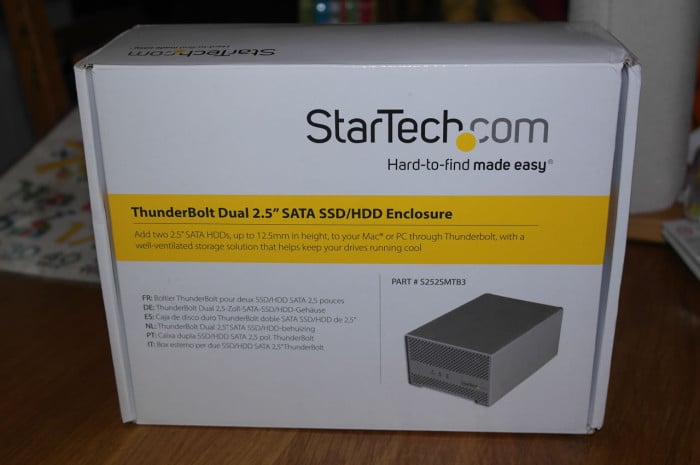 This enclosure comes in a pretty boring box that at least makes a good job protecting what is inside. The box is heavy suggesting the enclosure might weigh a lot (but it doesn't really …).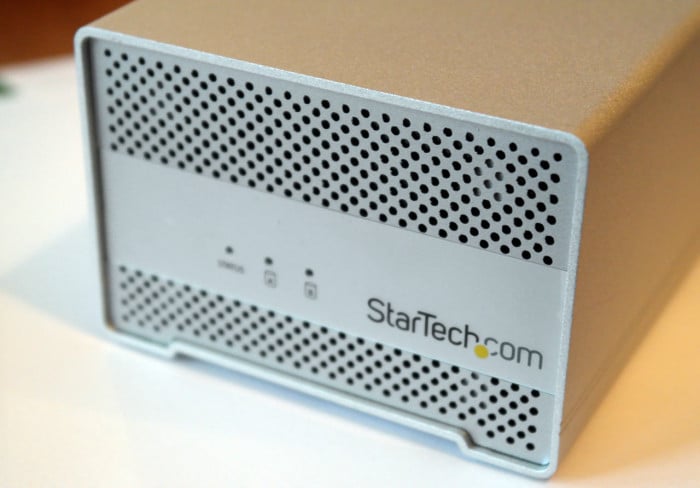 What we get inside is a small nice looking enclosure that looks tailor-made for an Apple laptop. It is actually a lot smaller that you think from this photo. Before unpacking it I expected a full-size enclosure but what we get is this: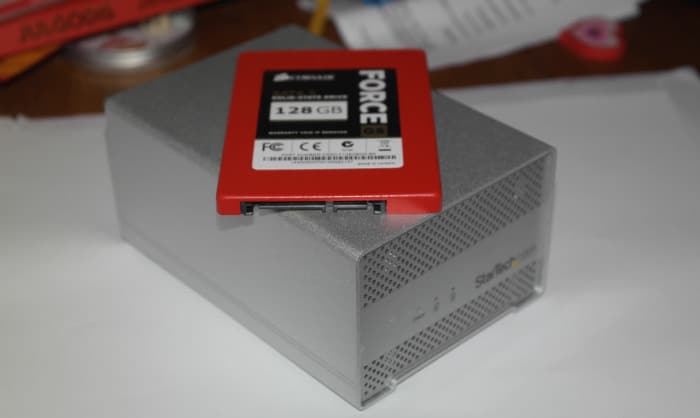 As you can see it is just a bit larger than an 2.5″-SSD or HDD. It does look nice and we actually had several people commenting and asking about it while testing it at work.  On the front you find 3 LED's that show if the unit is powered up as well if either of the drives are shuffling data. A logo kind of destroys the clean look at bit.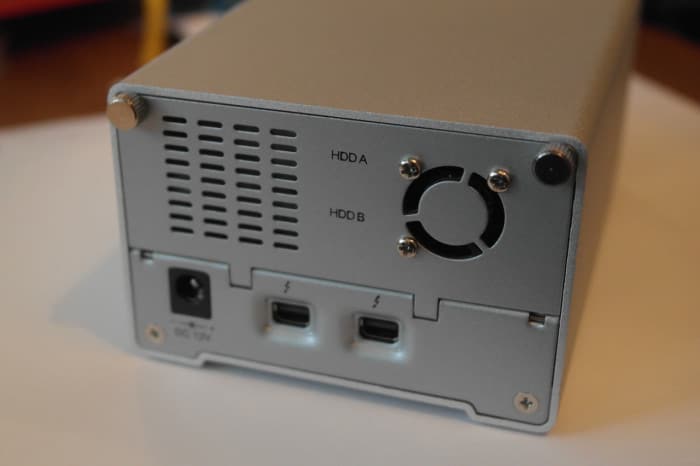 At the back we find the two Thunderbolt-connectors, air holes for the small fan and the connector for the power supply. This is also where we can open up the device to install drives.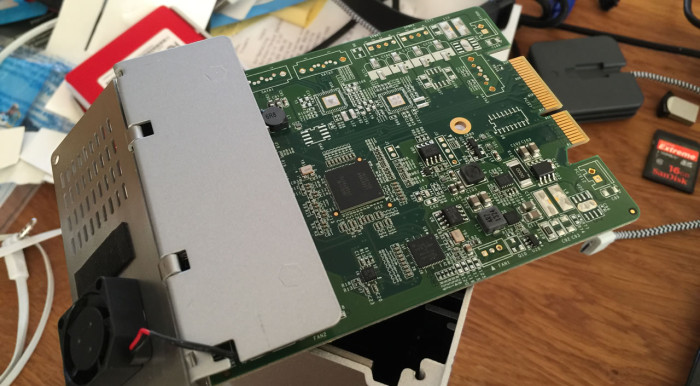 It is actually pretty easy to open up and remove the circuit board of the enclosure.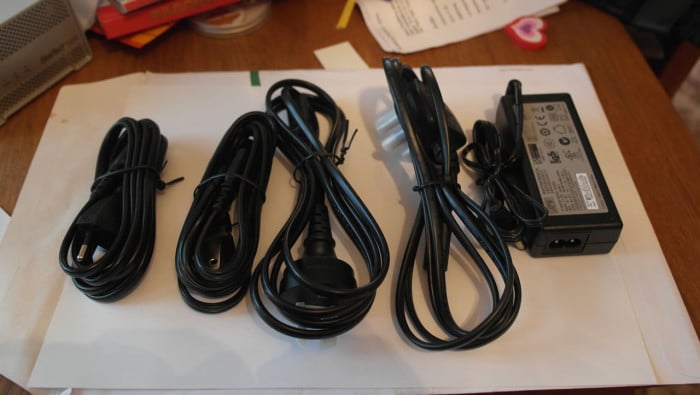 Before we go into the installation let us look at what is supplied with the enclosure,First of all we have the power supply and a bunch of different power connectors. It seems that StarTech rather send full cables than just a interchangeable ends. This is also one reason the box is heavy.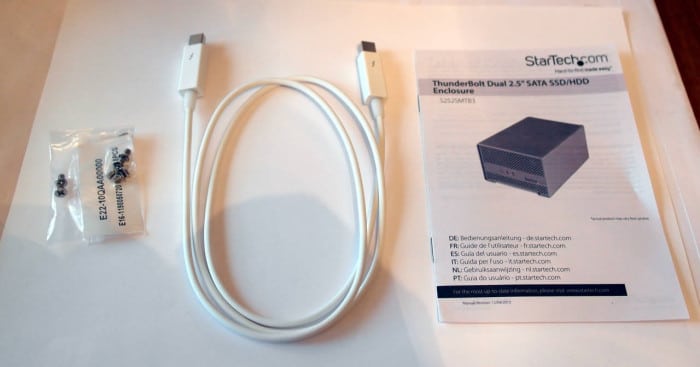 In addition to the power supply and cables we also get a small manual, screws to use when installing the drives and a Thunderbolt-cable.
Installation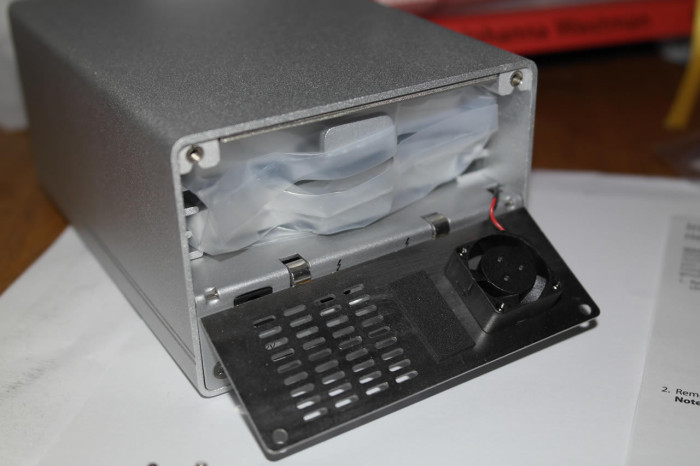 Up to 2 drives can be added to the enclosure via the back. 2 thumbscrews at the top hold a small hatch that can be removed so you can access the innards of the enclosure. Here we also can see the fan.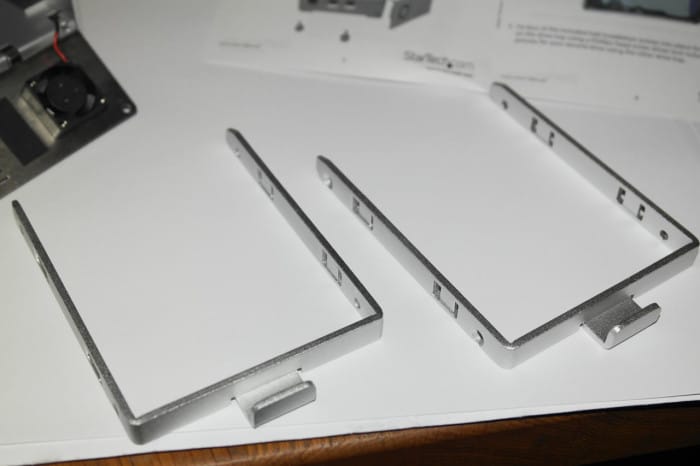 The drives are fastened on these two aluminium holders with the supplied screws and then just inserted into the enclosure again.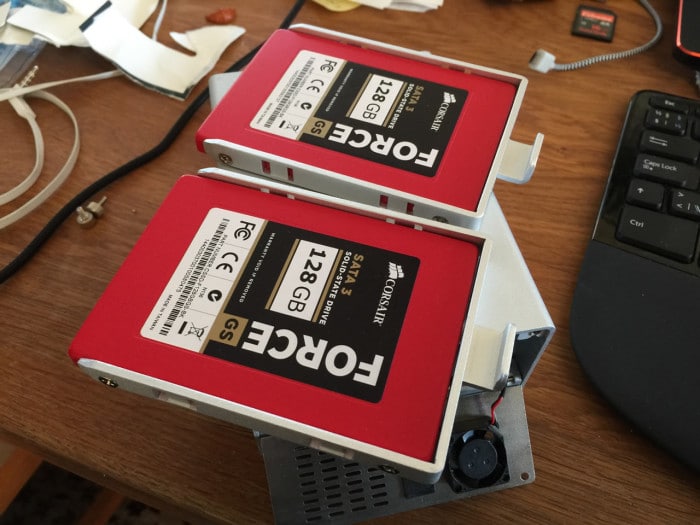 We choose to use two 128 GB Corsair Force GS-SSD's to test the performance and this is how they were installed in each holder. When it is done you just slide the holders back into the enclosure.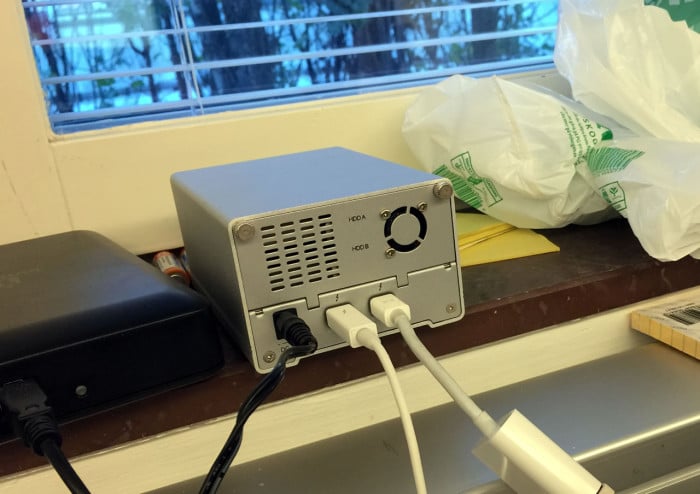 Since we also were using Thunderbolt/mini-DisplayPort to connect our Mac Book Pro to the monitor we used the daisy chain feature and connected the display to the enclosure.
Review Overview
Build-quality - 9
Performance - 8.5
Features - 8.5
8.7
The StarTech Thunderbolt Dual SSD Enclosure is a great little Thunderbolt-enclosure that not only can daisy-chain other devices but also offers great performance for your SSD-drives regardless if you use RAID0 or RAID1.