A Closer Look at the ASUS SWIFT PG278Q Gaming Monitor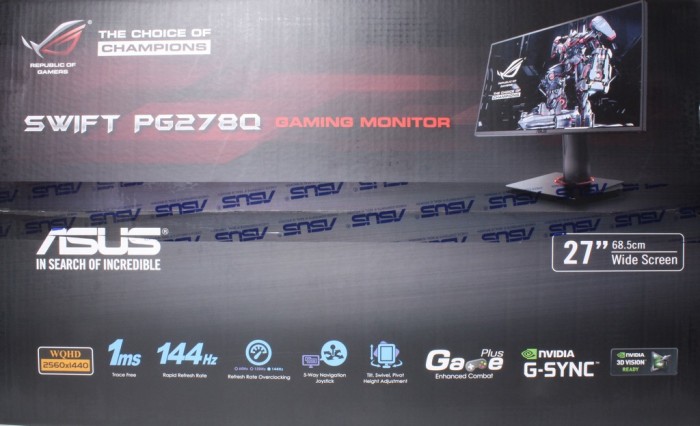 Click Images to Enlarge
The ASUS ROG SWIFT or PG278Q gaming monitor comes in a box reminiscent of other ASUS displays I have purchased in the past just with some gaming inspired graphics and standard ROG flair. Soem of the feature icons hint to the major gaming features built-in but the major one we are testing today is G-SYNC now lets open it up.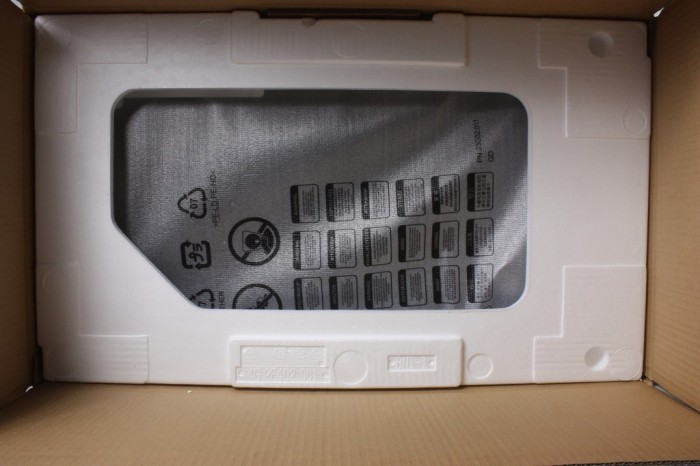 Click Images to Enlarge
Inside the display and stand are held in place steadily by a hard foam insert which I am pretty sure would brace the display against any impact and therefore you would have a hard time having shipping damage.
Click Images to Enlarge
The accessories are simple and help get the job done.
1x Power supply
1X Power supply cable
1x USB 3.0 Cable
1x Displayport Cable
1X VIP member Service guide
1X monitor setup guide
1X driver Disc
These accessories are for hooking up thee display as the USB 3.0 cable supports the downstream USB 3.0 ports which means high speed connectivity directly at your monitor although the ports may be tough to reach for regular usage at the rear mid of the display.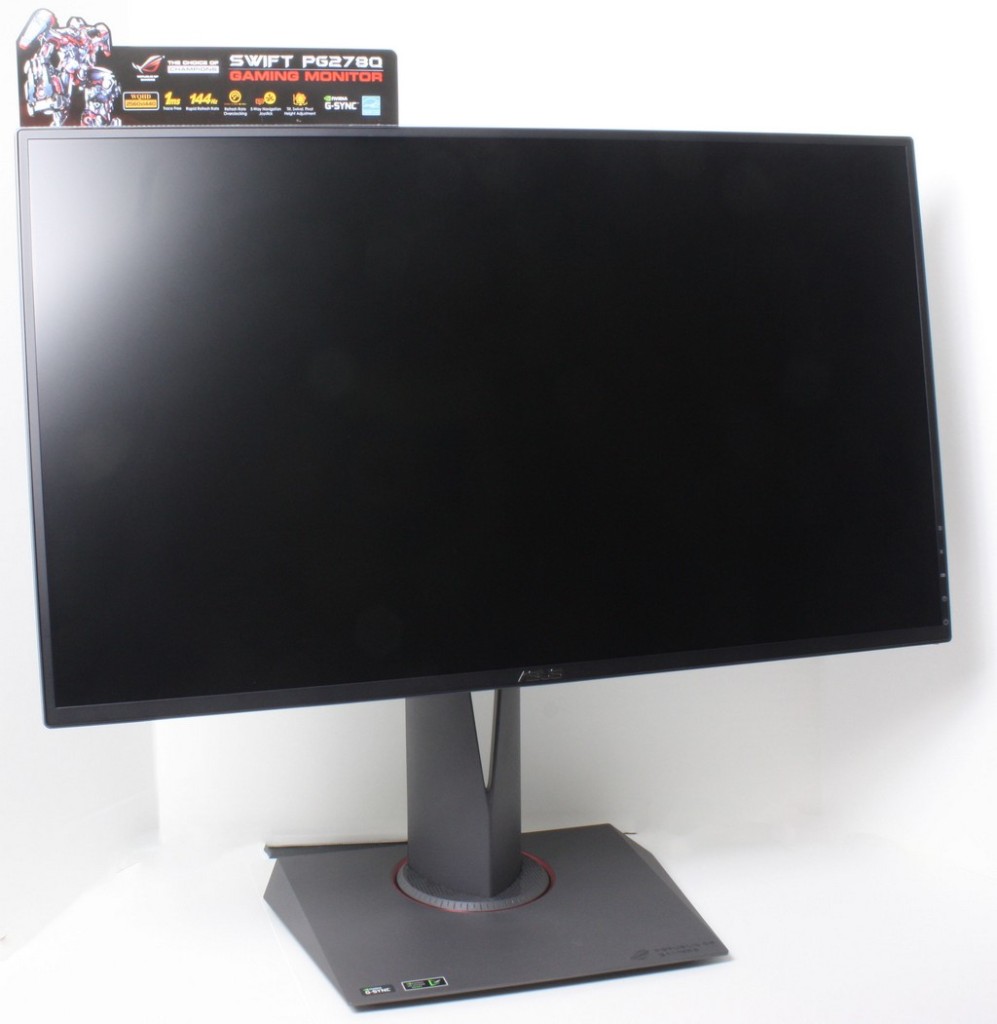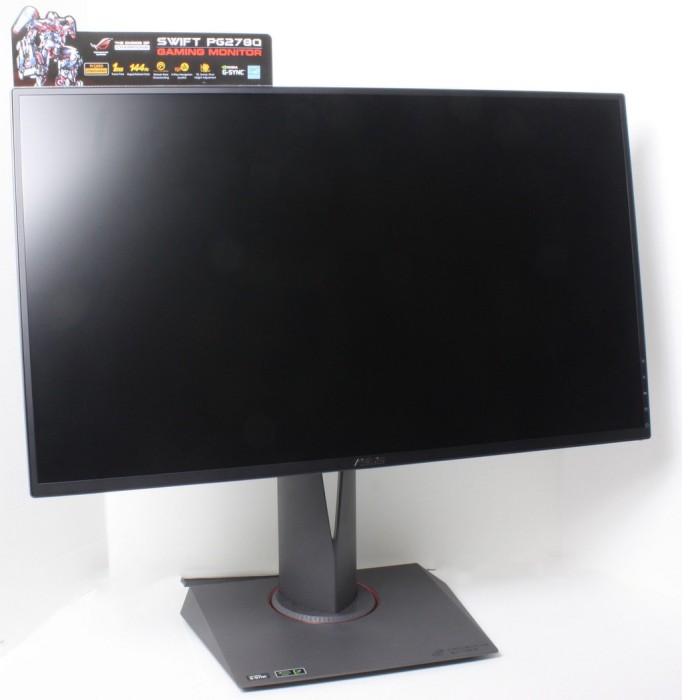 Click Images to Enlarge
Here you can see the SWIFT display, and first thing I took notice is that the bezels are super thin which means if you wanted to run a surround display setup there will be very small gap between panels which is awesome. The panel is anti reflective which is great for those who may have others living with them and if a light goes on behind you you will not have an annoying reflection, although I also have used glossy panels and they always have a nice crispness to them. Oncve again this comes down to personal feel but this being a gaming monitor it looks awesome, moving on.
Click Images to Enlarge
The base/mount of the SWIFT is very solid and quite heavily weighted to keep it firmly planted on your desk. it has vertical height adjustment to match your posture needs and the bottom red ring glows for a cool effect. Out of the box the stand is not mounted so if you are vesa mounting it is ready to go straight away, otherwise you will need a few seconds to mount the display to the stand which is a super simple snap on affair.
Click Images to Enlarge
The controls for the swift are a but involved at first but I love that it has an included joystick to navigate as it omits the issue of searching for just the right button to navigate. Every other monitor manufacturer needs to look at this solution now and consider adopting it as it makes navigating the OSD super simple.
Click Images to Enlarge
The rear of the display as you can see carries some cool styling, which looks nice if at a LAN but otherwise your wall can appreciate it. below the crest of the mid display you find the connectivity as follows.
– DC Power Jack
-1X Displayport Connector
-1X Upstream USB 3.0 port
-2X Downstream USB 3.0 ports
As you can see the only video input is Displayport and this is due to G-SYNC utilizing Displayport for its bandwidth and other capabilities which allow better function for the display. As you can see the USB 3.0 downstream ports are pointed downwards and on the mid rear area so once the display is installed it may be hard to get to if planning to use them regularly. that is really my only gripe on the design of the swift.
Review Overview
Performance - 10
Value - 8.5
Quality - 10
Feature - 10
Innovation - 10
9.7
Nvidia G-SYNC technology is something that is hard to put into words but if you try it you will understand it and it will be tough to game without it.