Introduction – ASUS X99-E WS

ASUS has many models of X99 shipping and one particular model that always interests me is the WS series of boards as they are tested to be enterprise class and then some with max capacity and normally extended connectivity along with component MTBF ratings that most desktop boards cannot even dream about. Today we have one of those very models based on LGA 2011-V3 based on the X99 chipset but it is considered a Server/Workstation product. This board boasts some really awesome slot lane allocations thanks to dual bridge chips and excellent overall component choice so lets dig in and see what we are getting.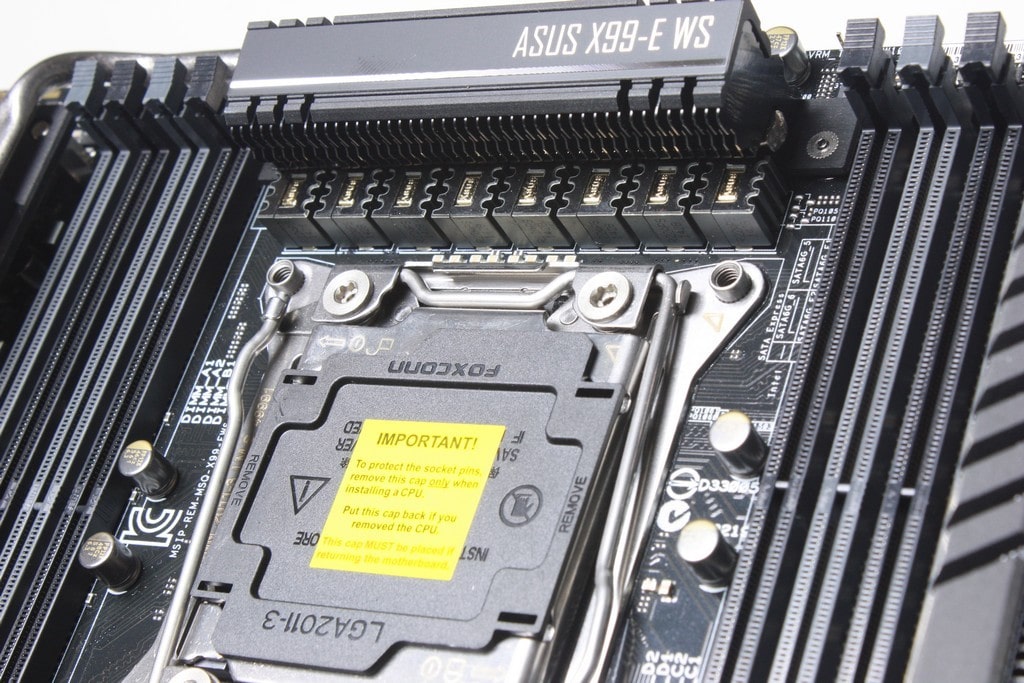 The X99-E WS has a MSRP of $503.00 directly from Newegg at the time of writing, and quite honestly this is pretty high for a X99 based board if you consider it just a desktop board. But this board is kind of a crossover more lending itself to a server board in a desktop world. With that said lets check out some of the many key features.
Key Features
Main Features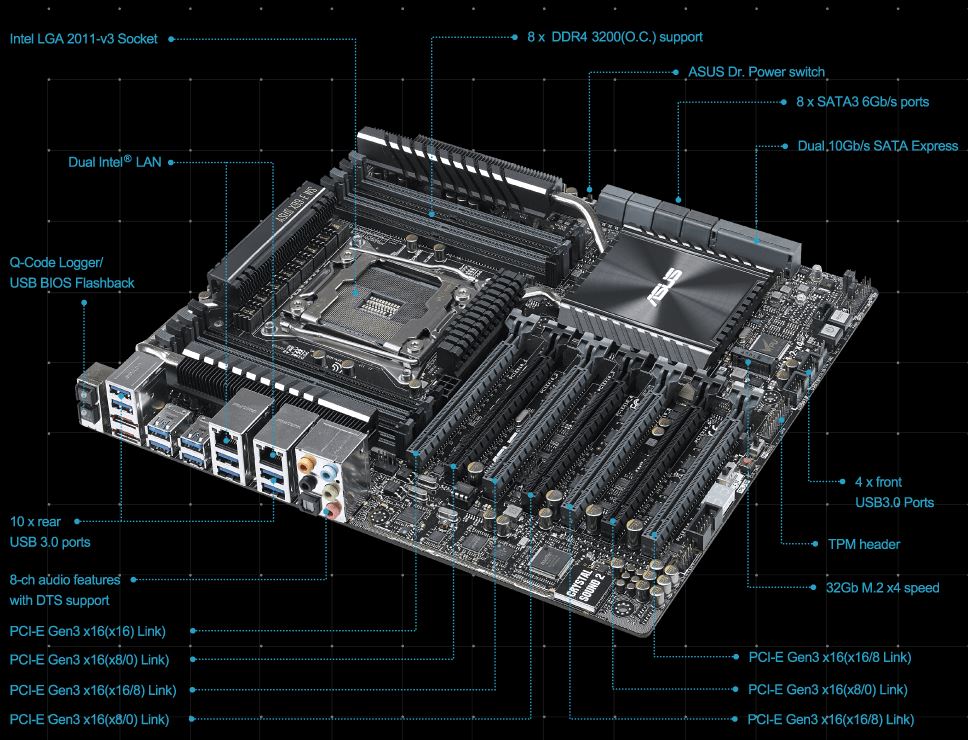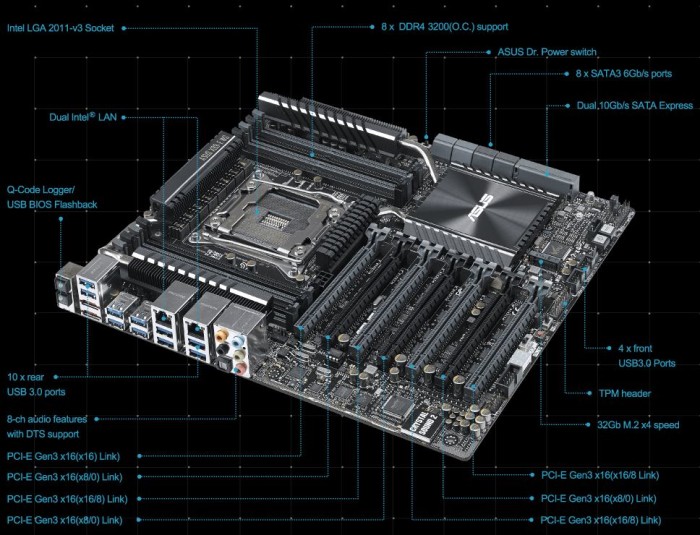 Here you can see a quick overlook of many of the boards main features. You can see that this board has tons of the usual suspects while there are many you might not be so familiar with such as the usage of dual PLX chips to give full X16 on four slots for pretty much the ultimate in 4 Way GPU setups, or of course massive compatibility should you need multiple HBA's and high speed network devices.
12K Hours Capacitors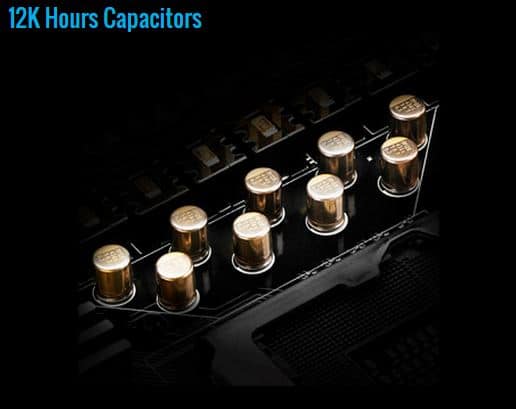 Component choice is always important when you're talking about something designed to handle the heavy loading of a server or workstation environment. For the WS ASUS employs 12K rated solid state capacitors to ensure that the life of the board should easily exceed the planned uptime.
Crystal Sound 2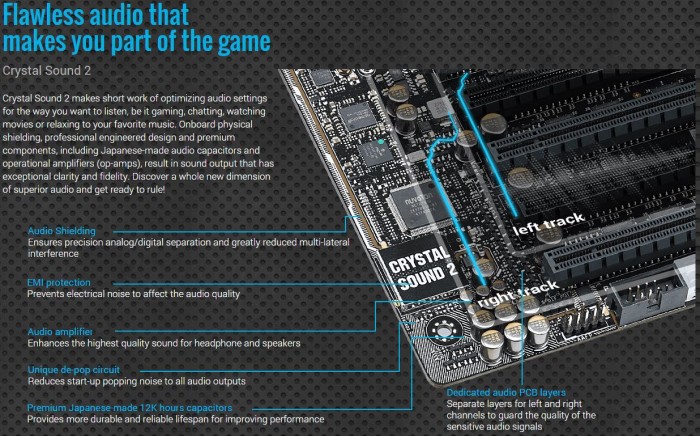 The audio solution utilizing the Crystal audio 2 solution is an interesting choice as this is a clear hint that ASUS wanted to open up this board to extreme gamers looking for a rock solid platform while not skimping on the sound which if this board was an enterprise only board audio would not be a concern as normally there is no need.
DIGI+ VRM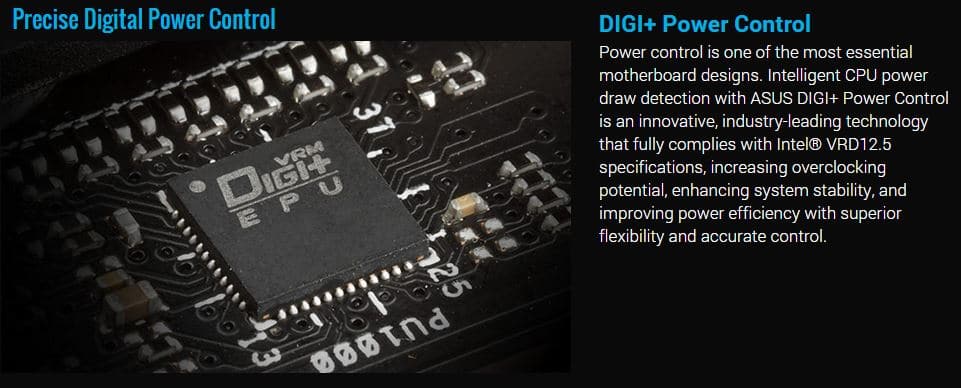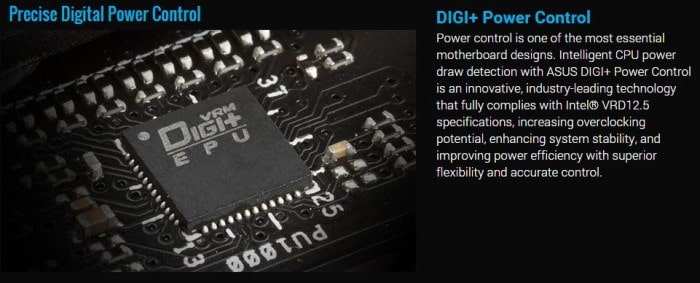 ASUS has been using the DIGI+ power solutions for awhile and we have seen it go thru so many iterations it can almost make your head spin at this point. For a board like this I think that a digital solution such as what the DIGI+ offers is supremely important as it offers full finite digital control along with amazing efficiency and more than anything nice long durable performance for the long haul as most workstations or servers have very consistent uptime and many times under constant load non stop so having a controller onboard that can keep everything in check is very important.
ProCool Power Connector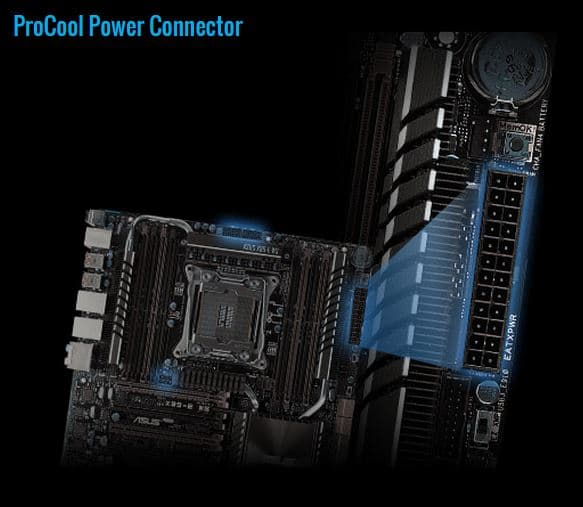 The ProCool power connector is something that ASUS feels is important as we have all had boards where the 24 pin starts to get a bit warm under extended heavy loading, but now in a workstation environment that simply wont do as heat build up means possible loose connections which can lead to eventual connection failures or connection burnout. The ProCool connector is designed with a tight fitting flush mount connector which ASUS claims will allow for extended operating with less of the heat-ups and also lesser chance of seeing a connection related failure.
Dual NIC

ASUS Employs dual Intel NICs on every workstation board to ensure whether its a constant on server running redundant connections for failover or just a gamer setup you will always have a solid network ready to blast through your networking tasks.
Ultimate Fan Control
ASUS takes fan control pretty seriously as we have seen in all of the work on their dekstop boards via AiSuite software with the Fan Xpert 3 software and the massive amount of fan control which has come with the multiple iterations. ASUS ensures that same high level of cooling and fan control is available on this top end board enabling its massive 6 fan (2x CPU; 4x Chassis) connectors along with the breakout 5 pin header allowing for a fan extension to be used.
M.2 Support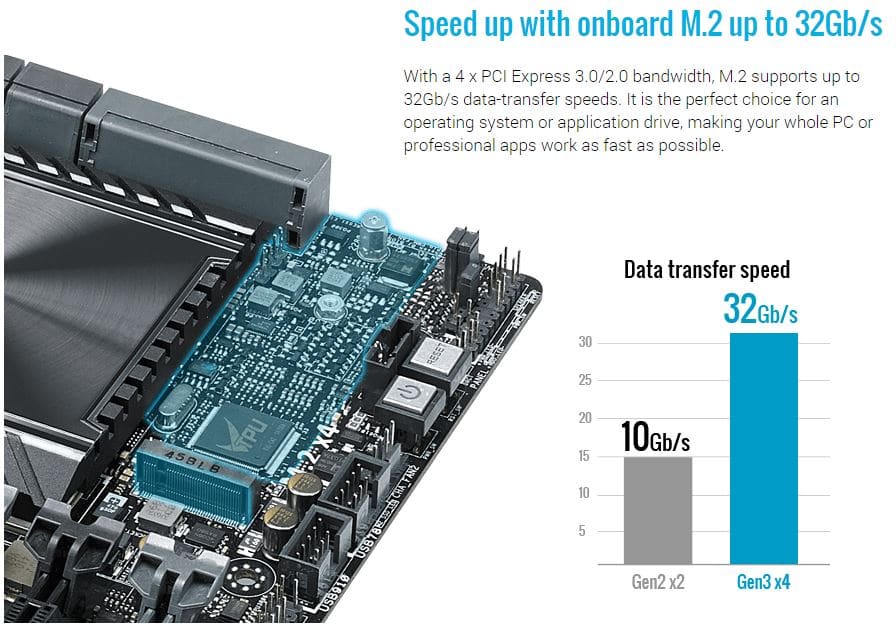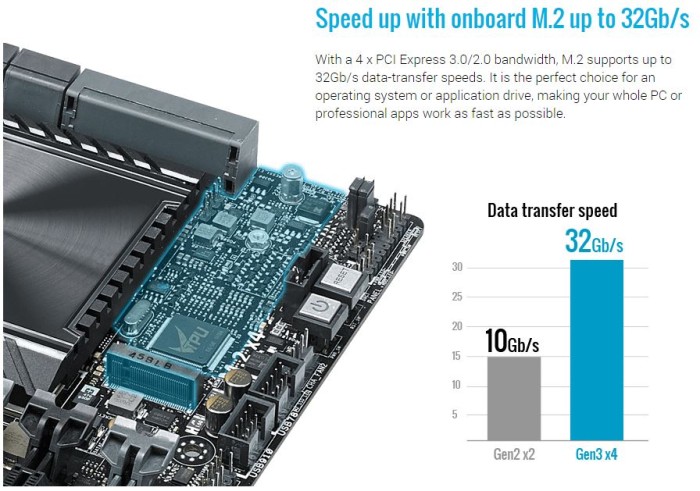 The X99-E WS has a fully capable M.2 slot in place at the lower right of the board and supports up to a theoretical 32Gb/s max transfer speed although as we know there is not a drive available at the moment which can even come close to saturating that. It is worth noting that the M.2 slot will fit a max size of 2280 drive which was a bit surprising being an enterprise or workstation level solution I figured 22110 drives would have been available as well. This is especially surprising since the recently reviewed Rampage V Extreme had fitment in place for the 22110 M.2 solutions.
SATA Express Support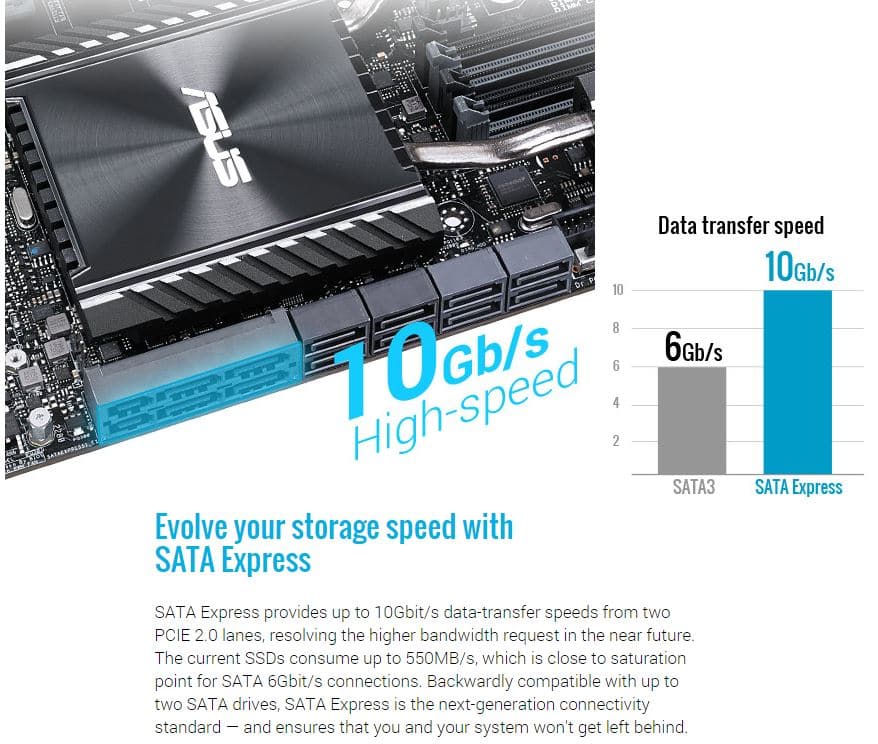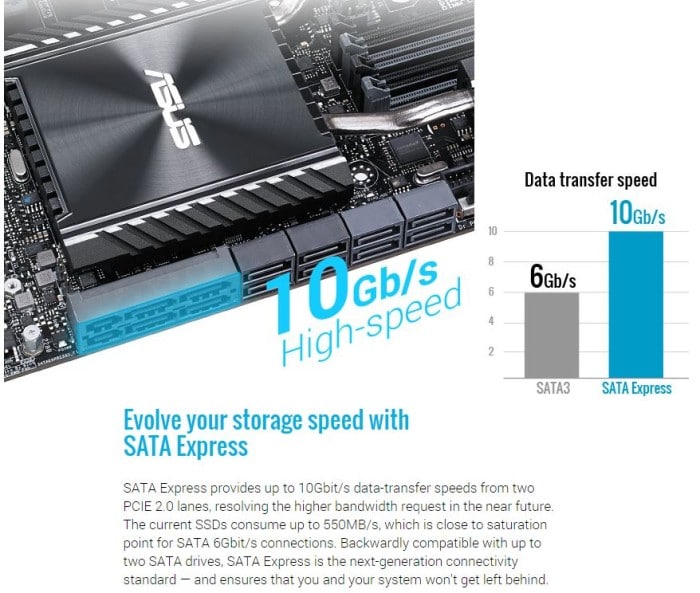 ASUS opted for dual SATA Express ports one of which is fed by an ASMedia controller while the other set is fed by the Intel PCH. so far we have not really seen much in the way of SATA Express drives available on the market but the ports still can be used individually as dual SATA 6G ports just keep in mind that the ports that are fed by the ASMedia controller only supports HDD or SSD but will not support ATAPI or Optical storage devices.
Ultimate Multi GPU X16 Support!
The WS has probably one of the most extreme slot allocations I have seen to date as they have opted to employ dual PLX chips to feed the slots for full 4 way x16 slots or even more extreme as all seven of the PCIe slots can run at up to (16, 8, 8, 8, 8, 8, 8) for massive HBA or other PCIe device allocation. so lets say you were to run powered x8 risers you could theoretically run seven processing or compute cards for massive render work and pending the massive mount of memory on the cards dont cause oprom issues or any number of other issues which can arise in a configuration like that it has the potential to push some serious bandwidth and performance although that seems a bit unlikely as the system at some point will likely become a bottleneck.
Dual Intelligent Processors 5 (DIP5)
ASUS has implemented a new "5 Way Optimization" feature in many of the new series motherboards.
The 5 way optimization refers to the complete support structure within the board in relation to all around tuning, not just performance or power savings but now a complete package.
With a single click the 5 way optimization will kick in and optimize the entire cooling/power/overclock and VRM tuning for the ultimate solution without a lot of overclocking or tuning knowledge. This is a plus for most users as I myself can tune a system very well but many users simply want a solution they can plug in and game or do whatever they may do from surfing YouTube to Facebook and candy crush. But if you're getting a board why would you not tune it up to be the best it can be including optimizations to power savings since that's free money-saving from your electric bill monthly which in this tight economy I cannot see as being a bad feature.
Also improvement to the TPU unit with a two-step switch now in place to allow standard mode, then step one is a ratio boost and step two would be a BCLK plus ratio boost for even better OC improvement up to 5+GHz
Power savings come by way of power optimizations but also cutting power to unused ports to allow even more power savings.
As you can see the Fan Xpert 2 utility is back and it is still an amazing application with now even a better cleaner interface within the AISuite Utilities. The ability to auto tune the fans by running through a test ramping each fan to its maximum to find where each fan can go and then it automatically profiles each fan to allow for optimized noise/airflow conditions based on thermals within the case.
Dr Power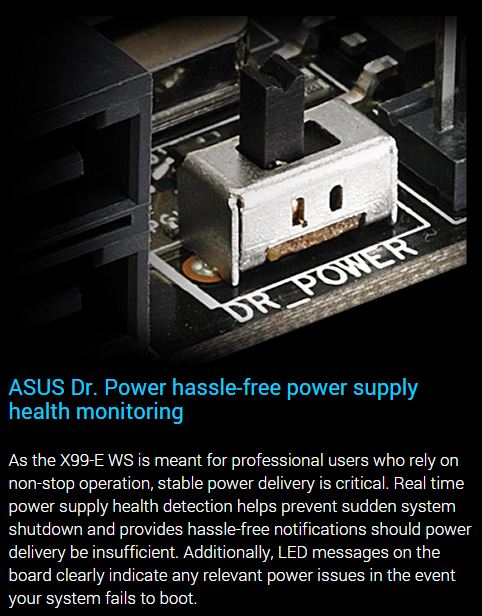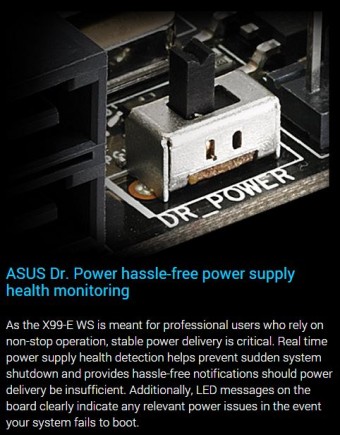 The Dr Power feature is very interesting as it allows real time power diagnostic at the board level. I really wish I could test this but to my luck all of my PSUs are alive and well so I really could not tell you too much about this specific feature as far as what it woudl show when a PSU is failing to deliver adequate power.
Q-Code Logger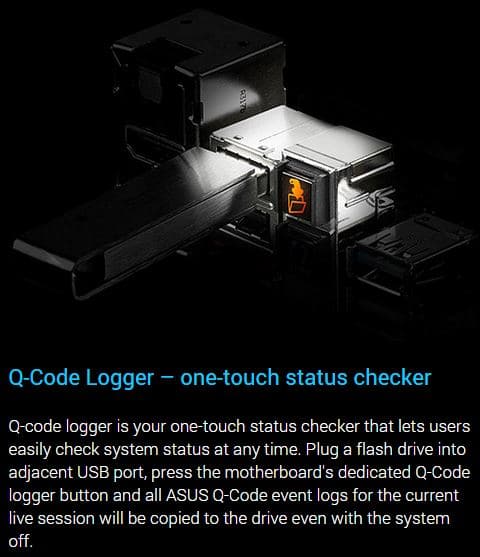 The Q-Code logging feature is pretty neat as it allows real time data logging of all event logs to a flash drive for review and diagnosis, this is a neat feature as workstation or server applications rely on constant on environments so anything that can help quickly identify faults or issues is a welcome addition.
USB BIOS Flashback
ASUS offers the BIOS Flashback utility which is actually a multi-facet tool and has many capabilities which some may not be aware of. We have had many times where a motherboard did not support a CPU and a frantic search for a supported CPU just to flash the BIOS (ex. Gulftown CPU support on X58). ASUS has eliminated the worry of these kinds of issues by allowing the BIOS flashback procedure which does not require a CPU or memory or GPU to flash the BIOS. All that is needed in order to flash the BIOS is to have the desired firmware ROM file on a USB thumb drive and insert that into the BIOS Flashback USB port.
Then depressing the BIOS Flashback button (At the bottom of the boards edge) for 5 seconds will start a flashing LED which indicates the firmware is being updated and once the update is complete the flashing will stop. It really is that easy and ensures no matter the condition the firmware can be flashed even if the newest CPU is not supported without the previously mentioned hunt for a compatible CPU.
This may seem like an odd feature but many may buy the newest and greatest CPU on the market while the board could have been shipped with the older firmware which in most cases would leave the user stuck without an option. As for our usage we have found this useful in quite a few experiences where running a LN2 cooled system not necessarily in the most stable conditions and a BIOS had gotten corrupt, but with the BIOS flashback it was remedied as quickly as we could copy the Rom file from our laptop to the flash drive and get it flashing.
New UEFI BIOS
The X99 boards took all of the new features we saw recently on the Z97 board including the new interface and placed it into the X99 interface to give it a nice sleek and updated look and feel. all of the options you have come to love from the ASUS UEFI is there it now just has a more slick and refined look.
Review Overview
Performance - 9.5
Value - 9
Quality - 10
Features - 10
Innovation - 10
9.7
The X99-E WS is well deserving of the Bjorn3D Golden Bear Award and a masterpiece of high end hardware simply waiting for the right user to put its true potential to work.