Overclocking

For fun during overclock testing we dropped the 980 into our X99 testbed and wanted to see what it can do so check out the results below.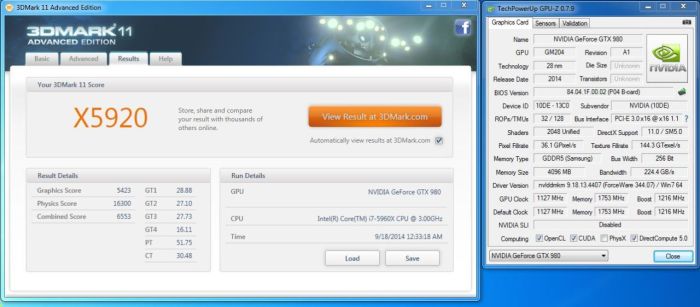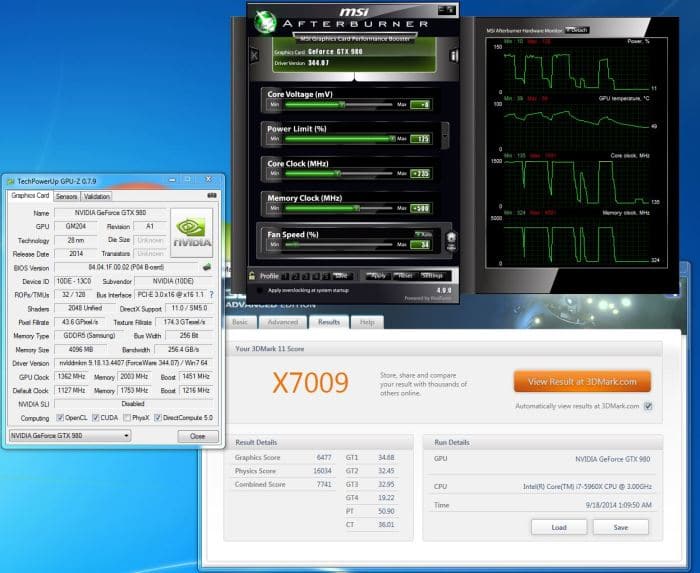 The 980 overclocks very well pulling over 1000 extra points in 3DMark11 Xtreme mode and eclipsing the 7000 point mark for a single air cooled card which places it in a very high mark
The GPU Clock rose from a base of 1127 to a base of 1362 which is a 235MHz increase. This is a very sizable increase and if you see on the overclocked screenshot that the max speed of the GPU observed with boost clock was 1501MHz we just ran the benchmark on air at over 1500MHz on the GPU which is fast for a card with dual 6 pins and I neevr even heard it running and I didnt even need to adjust the voltage. the power target did need to be raised though as it was hitting 119% to achieve the 1500 clock speed.
The memory did well moving from 7000MHz up to 8012MHz and it could even go higher for benching but for full stability in long term sessions of gaming or benchmarks it was not completely stable.
The total overclock ability is as seen here.
| | | |
| --- | --- | --- |
| | GPU | Memory |
| Stock | 1127 | 1753 |
| Overclock | 1362 | 2003 |
| Percent increase     | 19% | 13% |
Here we have it as the GPU pulls a over 19% overclock eclipsing 1500MHz and the mmeory pulling over 8GHz  at 13% overclock we can see that the new Maxwell chips have some definite headroom so this makes me very interested to see how aggressive board partners will be with their clocks on the overclock or top model skus.
TEMPERATURES

To measure the temperature of the video card, we used MSI Afterburner and ran Heaven Benchmark in a loop to find the Load temperatures for the video cards. The highest temperature was recorded. After looping for 10 minutes, Heaven was turned off and we let the computer sit at the desktop for another 10 minutes before we measured the idle temperatures.
| | |
| --- | --- |
| GPU Temperatures | Temperature (Idle/Load) |
| Nvidia GTX 690 | 32C/81C |
| Nvidia GTX 980 | 31C/62C |
| Nvidia GTX TITAN | 31C/67C |
| Nvidia GTX 780 Ti | 31C/72C |
| Nvidia GTX 780 | 30C/65C |
| Nvidia GTX 770 | 34C/79C |
| Nvidia GTX 760 | 31C/67C |
| AMD R9-290X | 38C/95C |
| MSI R9-280X Gaming | 31C/66C |
The GTX 980 pulls awesome temps under full load not even touching past 62C and even when it hit that temp it was peaking there and not hovering there. The combination of awesome cooler and low TDP simply makes for a cool and quiet new card that just happens to be a performance beast.
POWER CONSUMPTION

To get our power consumption numbers, we plugged in our Kill A Watt power measurement device and took the Idle reading at the desktop during our temperature readings. We left it at the desktop for about 15 minutes and took the idle reading. Then we ran Heaven Benchmark for a few minutes minutes and recorded the highest power usage.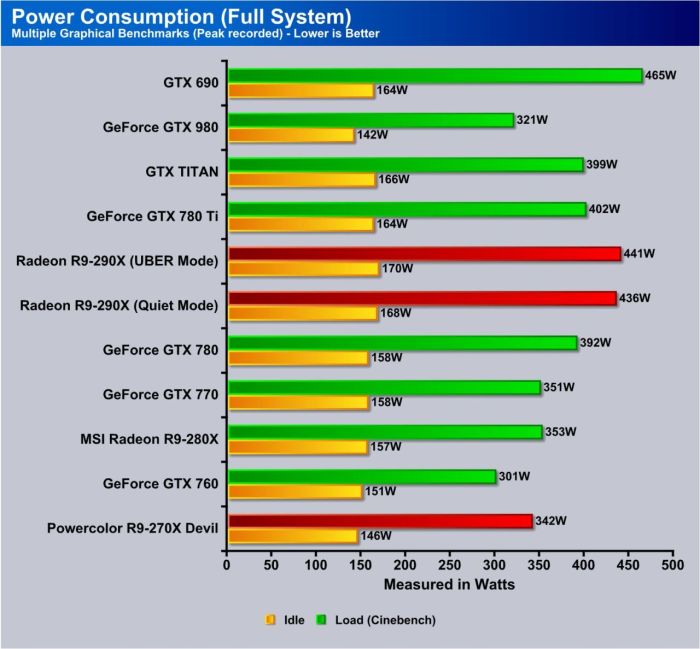 I know that Nvidia touted the efficiency of these cards but I was blown away by how these numbers turned out, I mean honestly this seemed unreal I actually re ran it multiple times and even bought another tester just to confirm this but this card simply sips power.