A Closer Look at the GTX 980
Click Images to Enlarge
The GTX 980 comes in easily recognizable garb being the similar cooler style to the 7 series or more specifically the 780ti as it has the dark color name inlay and the dark interior cooler fins. One very cool part is the inclusion of a backplate which we will go over below.
Click Images to Enlarge
The included backplate not only looks awesome but also protects the rear components. One very awesome feature is the fact that as you see above there is a removable small plate and this I find so cool maybe just because the simplicity but the purpose of that plate is for stacked configurations where your cards may be close to eachother this allows wextra air space for the card to get inlet air easier which will reduce temps and fan noise. Its very cool to see this level of thought into a small detail to ensure a good gaming experience even at the more extreme end.
Click Images to Enlarge
The top of the card houses the all too familiar dual SLI bridge connectors which allow for full 4-Way SLI functionality. This obviously is not something that Nvidia ever supported officially, as they never really have pushed the whole ideal of 4 way, but those with 4 way capable boards and the need for serious amounts of available gaming horsepower can run it. This capability would permit a system to scale well beyond a single GPU's performance potential, should a game require it (Crysis 3 and Metro: Last Light come to mind here).
The display connectivity is very interesting as it employs a port layout much different than one we have seen from Nvidia.
1x DVI
1x HDMI
3x Displayport
This is actually a very good solution as it allows for the excellent performance capabilities of Displayport such as enhanced color depth since many modern displays now offer Displayport connectivity. while the card still offers a standard DVI and even HDMi to make sure most common monitor types are covered and whats also very cool about this is that Displayport adapts very easily to pretty much any connector so no matter what your display runs you can get it hooked up on the 980, Now do keep in mind that while there are 5 display outputs you can only use any combination of 4 at one time.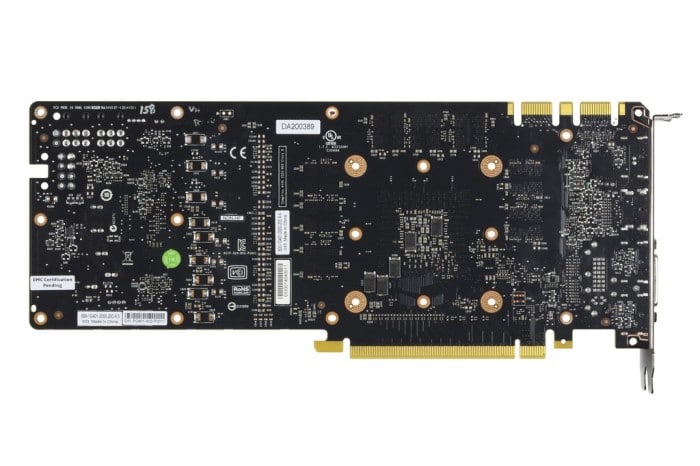 Click Images to Enlarge
Here with thhe backplate removed you can see the rear of the PCB including the option for a front facing 8 pin much like we saw on the Kepler based cards and even though this card employs dual 6 pins it has option for 6/8 which tells me this PCB could easily be slated for future use on a higher end model.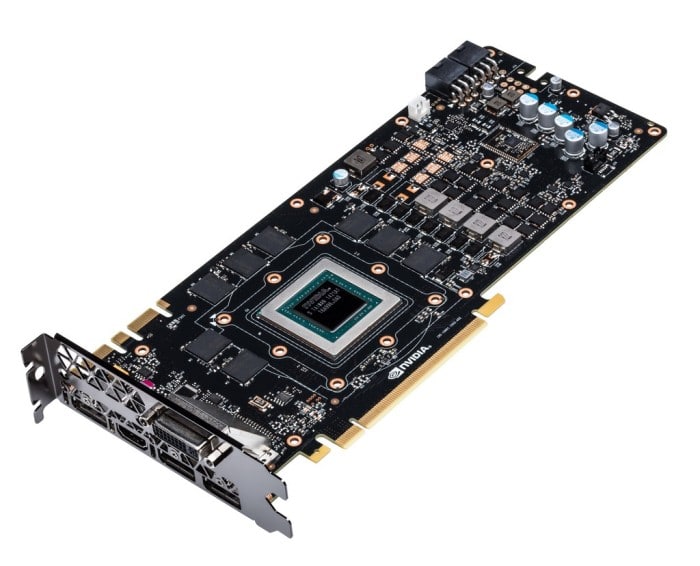 Click Images to Enlarge
Here you can see the stripped PCB as supplied by Nvidia since I simply did not want to rip into the card with the short time I had to test it and retest. You can see its pretty straight forward although once again there are hints that something stronger could come down the pipe any time now as there are 2 phases simply not installed inthe VRM and open space for stronger power connectors just jumps out at me that down the road some time its possible we could see an even more beastly maxwell card show up similar to what Nvidia did with the 780ti.