Introduction – ASUS X99 Deluxe

When X99 started to become a reality we noticed that every manufacturer was running very late on boards and before you know it ASUS delivered with a board. This does not exactly surprise me since ASUS has a huge engineering and R&D team so getting boards out pretty quick may be a bit less of a chore than some competitors but on a new chipset/CPU launch like this sometimes the first one out of the gate can deal with the most issues. Now since ASUS was the first to deliver a board we did the launch article with it and X99 has some issues primarily based around software compatibility but overall it shows some serious brute force muscle, so now lets take a look less at the CPU/Platform and more at the features of the ASUS X99 Deluxe board.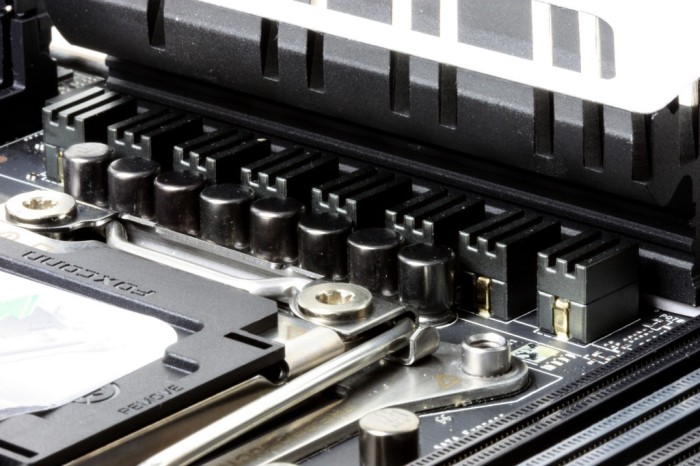 The X99-Deluxe has a MSRP of $399.99 and since there really is no comparison at the moment we can only go off of what HEDT boards have went for previously. This will place it around what you would expect for a top feature board in this market. Now lets see the features and why you should or should not buy the X99 Deluxe.
Key Features
Main Features
Here you can see a quick overlook of many of the boards main features. This shows everything this board has to offer and also shows many of the supported items as well. Especially things such as the new 3T3R antennae connection and up to 1.3Gbps WiFi speeds. a vertically mounted M.2 port and 12 total SATA 6G capable ports when using the ones from the SATA Express connectors round out one very powerful combo among countless other features we will look at below.
ASUS Hyper M.2 X4 PCIe Adapter Card
One thing that came with the Deluxe model was something that we saw displayed at Computex and that is the Hyper M.2 X4 card, and this is similar to a HBA in design but instead is a X4 PCIe interface which converts to a onboard M.2 slot, this is cool and I cant wait to see them on sale from ASUS as this brings truly unlimited M.2 performance to anyone with an open PCIe slot, however with a X4 interface I wish they had a dual M.2 solution to utilize the bandwidth PCIe X4 offers.
Fan Extension Card
The ASUS Fan Extension card allows you to relocate 3 fan headers to an alternate location in the chassis such as up near a radiator to control rad fans all from motherboard headers which means fully controllable and PWM. The card pulls extra power from a PATA connector to ensure even high draw fans get plenty of juice. Also on the card there are temp probe headers so that you can use your own reference point for the fan control to ensure you get the cooling you need where you need it.
3T/3R Antennae and 1.3Gbps WiFi
ASUS includes a new WiFi solution with the Deluxe board with the 3T3R antennae which is now a triple wire connection and it allows up to 1.3Gbps wireless network speeds however you will need a supporting router to achieve those speeds.
Another really cool innovation that I am very happy to see is the snap in Antennae connectors, as I use WiFi alot I can say that the screw on type connectors work but can be tough to tighten or keep tight as the header usually ends up spinning and then you have to worry about twisting and messing up the internals on your WiFi card which can be a bit scary. This solution you just press the cable end into the middle of the antennae connection point and it snaps in securely and there is no need to worry about tightening or it coming loose.
Dual Intelligent Processors 5 (DIP5)
ASUS has implemented a new "5 Way Optimization" feature in many of the new series motherboards.
The 5 way optimization refers to the complete support structure within the board in relation to all around tuning, not just performance or power savings but now a complete package.
With a single click the 5 way optimization will kick in and optimize the entire cooling/power/overclock and VRM tuning for the ultimate solution without a lot of overclocking or tuning knowledge. This is a plus for most users as I myself can tune a system very well but many users simply want a solution they can plug in and game or do whatever they may do from surfing YouTube to Facebook and candy crush. But if you're getting a board why would you not tune it up to be the best it can be including optimizations to power savings since that's free money-saving from your electric bill monthly which in this tight economy I cannot see as being a bad feature.
Also improvement to the TPU unit with a two-step switch now in place to allow standard mode, then step one is a ratio boost and step two would be a BCLK plus ratio boost for even better OC improvement up to 5+GHz
Power savings come by way of power optimizations but also cutting power to unused ports to allow even more power savings.
As you can see the Fan Xpert 2 utility is back and it is still an amazing application with now even a better cleaner interface within the AISuite Utilities. The ability to auto tune the fans by running through a test ramping each fan to its maximum to find where each fan can go and then it automatically profiles each fan to allow for optimized noise/airflow conditions based on thermals within the case.
Onboard switches
The deluxe employs hardware switches to allow even more solid control over key components. There are 4 total HArdware switches in this lower RH area.
TPU – TurboV Processing Unit – allows easy 1 switch automatic overclocking of your system, this has two modes first being a more casual overclock while the second step is a more aggressive tuning for much higher maximum performance.
EPU – Energy Processing Unit – With the flip of a switch you can maximize energy efficiency by tuning specific features of the board for maximum power savings.
SLI/GFX – This allows switching the PCIe lane allocation manually to fit your card/HBA needs.
EZ XMP – One step setup for enabling XMP via the hardware switch on the motherboard.
USB BIOS Flashback
ASUS offers the BIOS Flashback utility which is actually a multi-facet tool and has many capabilities which some may not be aware of. we have had many times where a motherboard did not support a CPU and a frantic search for a supported CPU just to flash the BIOS (ex. Gulftown CPU support on X58). ASUS has eliminated the worry of these kinds of issues by allowing the BIOS flashback procedure which does not require a CPU or memory or GPU to flash the BIOS. All that is needed in order to flash the BIOS is to have the desired firmware ROM file on a USB thumb drive and insert that into the BIOS Flashback USB port.
then depressing the BIOS Flashback button (At the bottom of the boards edge) for 5 seconds will start a flashing LED which indicates the firmware is being updated and once the update is complete the flashing will stop. It really is that easy and ensures no matter the condition the firmware can be flashed even if the newest CPU is not supported without the previously mentioned hunt for a compatible CPU.
This may seem like an odd feature but many may buy the newest and greatest CPU on the market while the board could have been shipped with the older firmware which in most cases would leave the user stuck without an option. As for our usage we have found this useful in quite a few experiences where running a LN2 cooled system not necessarily in the most stable conditions and a BIOS had gotten corrupt, but with the BIOS flashback it was remedied as quickly as we could copy the Rom file from our laptop to the flash drive and get it flashing.
New UEFI BIOS
The X99 boards took all of the new features we saw recently on the Z97 board including the new interface and placed it into the X99 interface to give it a nice sleek and updated look and feel. all of the options you have come to love from the ASUS UEFI is there it now just has a more slick and refined look.
Review Overview
Performance - 9.5
Value - 9.5
Quality - 10
Features - 10
Innovation - 10
9.8
The ASUS X99 Deluxe is an excellent board with fresh looks and tons of features to ensure your X99 build gets started on the right foot.