Introduction – Gigabyte Z97MX-Gaming 5


Gigabyte is a well-known name in the component industry and for good reason as they have made motherboards and graphics cards for a very long time. Among them some great boards such as the X58 OC board, some great P45 boards and I'm sure many more I'm not thinking of.
For Z97 they have a multitude of offerings from their entry-level, their gaming series and finally their OC based variants which have extreme OC features based around being able to push the limits. Today we have in hand the Z97MX-Gaming 5 which is a mATX model board from the Gaming line and with this includes some very cool gaming based features to help make for a better overall gaming PC build and experience.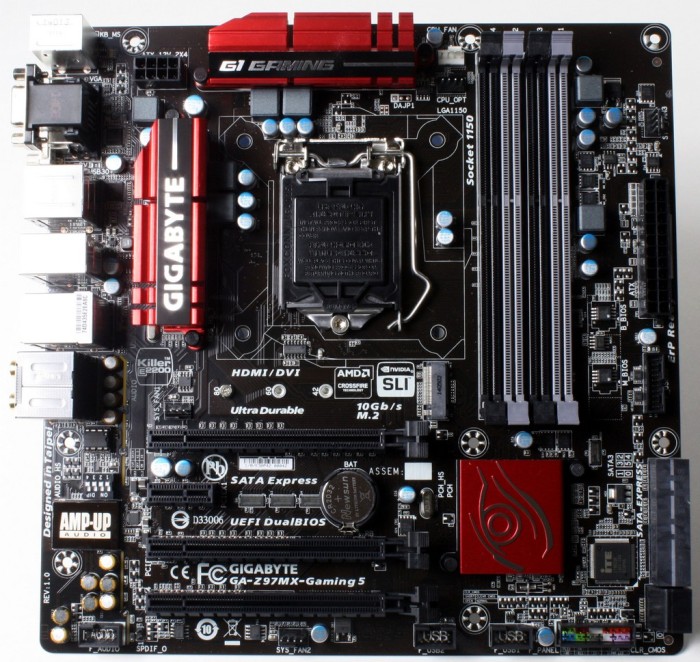 The board comes in at a price of $117.99 on Newegg, this is at the time of writing and after some rebate deals we have seen it reaching 107 or even lower with some looking so this places it in a very competitive price-point which is made extremely obtainable for most users looking to build a small gaming rig.
Features & Specifications
G1 Performance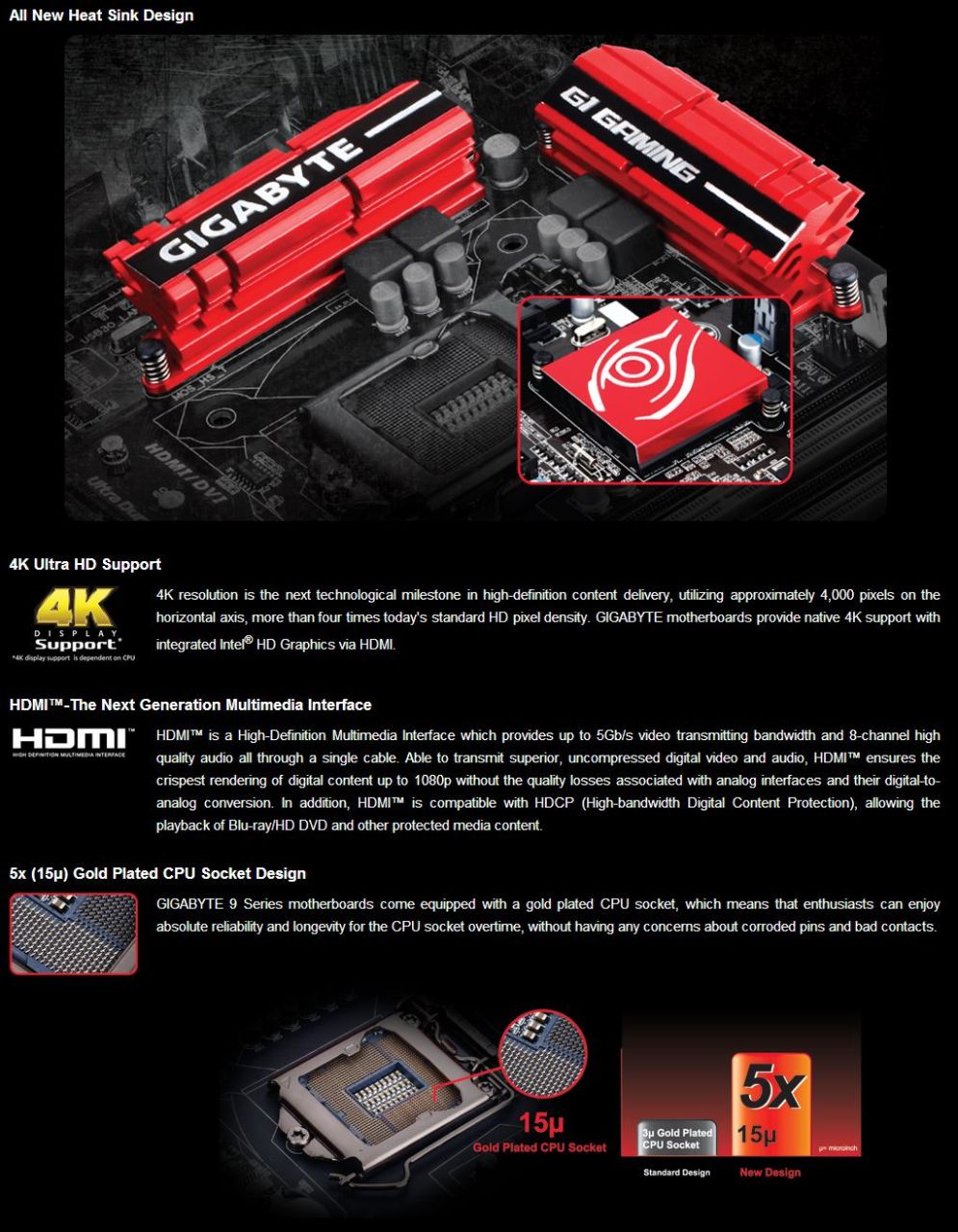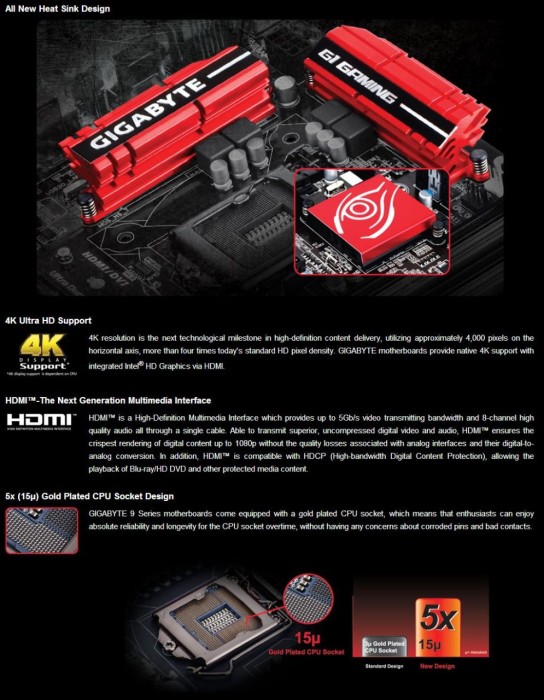 Here you can see taken from Gigabytes own materials that the board is advertised as having higher gold content in the CPU pins which has been something added to the marketing for some time now. Knowing how electrical contacts work and the benefits to the connectivity I do know that having a good solid connection is very important. Also do note that being a LGA chip you have small flat spots where pressure forces contact between the socket pins and the CPU which means that having a high gold content will ensure a better contact and cleaner communication for the interface with less resistance.
New Heatsink design
The new heatsink designs for the Z97 boards are quite nice as they have a clean yet subtle enough look to fit into any build but as you can see from the angled shot they do have plenty of surface area to ensure plenty of area for heat dissipation.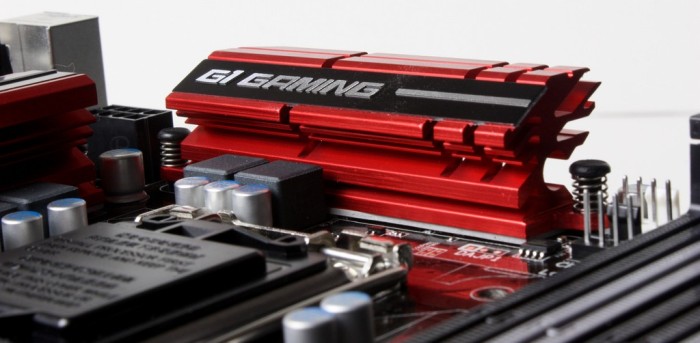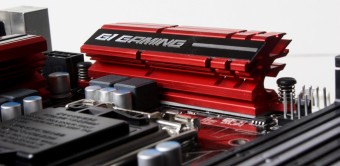 Multi GPU Optimization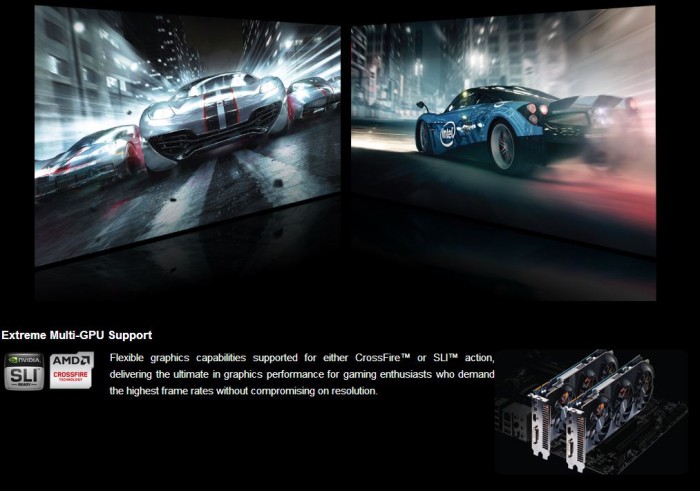 Gigabyte enables multi GPU support via dual x8 lanes with two cards installed allowing for 2 way SLI or Crossfire configurations. This allows for powerful multi GPU setups capable of knocking out some major gaming performance.
SATA Express / M.2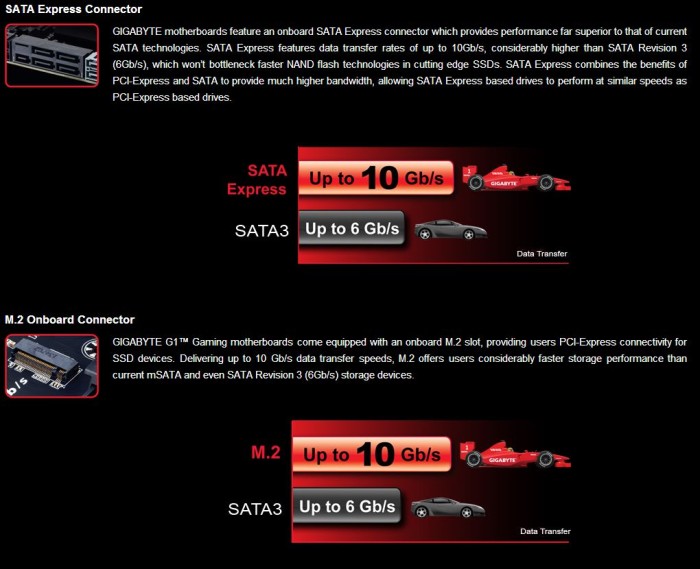 One of the major advances in regards to the new Z97 chipset is the full support for SATA Express and M.2 which both boast up to 10 Gb/s theoretical transfer speeds. The SATA Express interface is very new and while it looks to be super fast it is still very new so we need to keep this in mind as components to connect to these ports are not available in hand yet so testing them is still up in the air.
We do however have a Plextro m6e M.2 SSD which is ready for testing and upon some brief initial testing we can confirm that with AIDA testing we were able to see speeds in excess of 750 MB/s read and 550-560 MB/s Write. This basically shows that the performance capabilities for the M.2 interface is very strong and I am interested to see what it will offer as controllers and NAND is optimized for these mini drives.
Quad USB DAC

With so many gamers opting for higher end USB headsets or audio DACs it is easy to see why Gigabyte approached a special solution here with its DAC-UP offering which is a special block of USB ports with dedicated power delivery to ensure clean super stable power to your USB audio DAC. Now don't get me wrong, Gigabyte has an excellent audio solution onboard but if you are building a new gaming system and have a high-end USB DAC in hand this solution may be great for you.
High End Audio Caps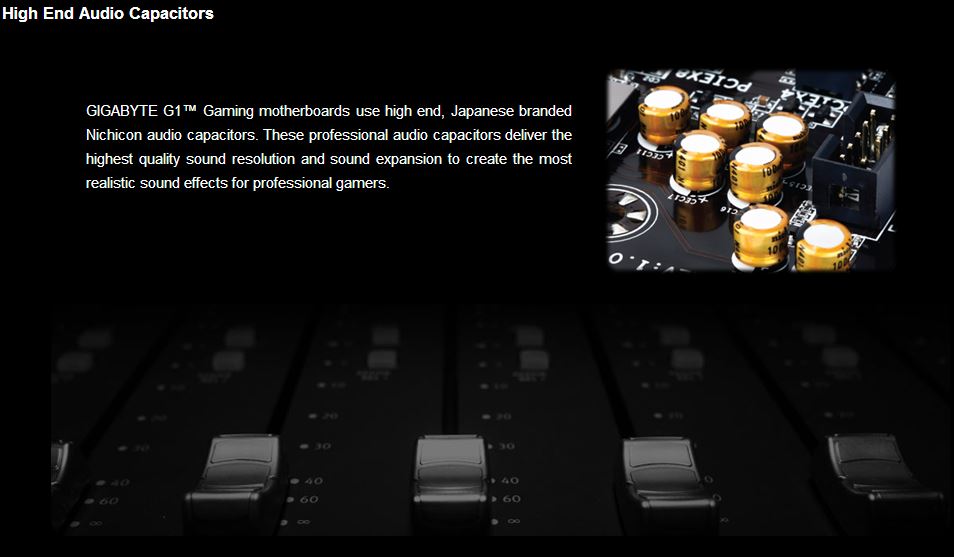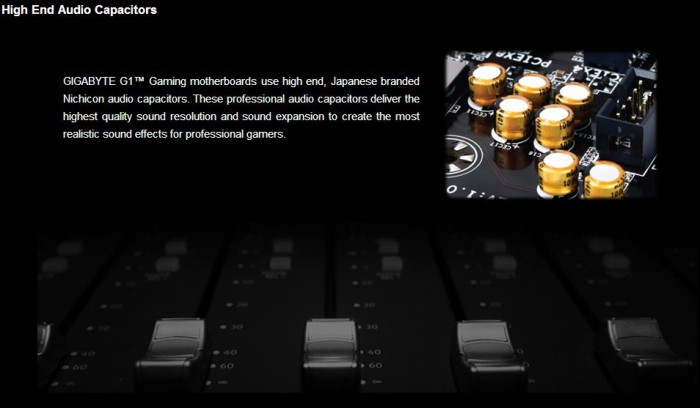 Gigabyte ensured high-end parts for their gaming audio solution starting off with the Nichicon Japanese caps which are known for their great audio clarity and sound profile.
Amp Up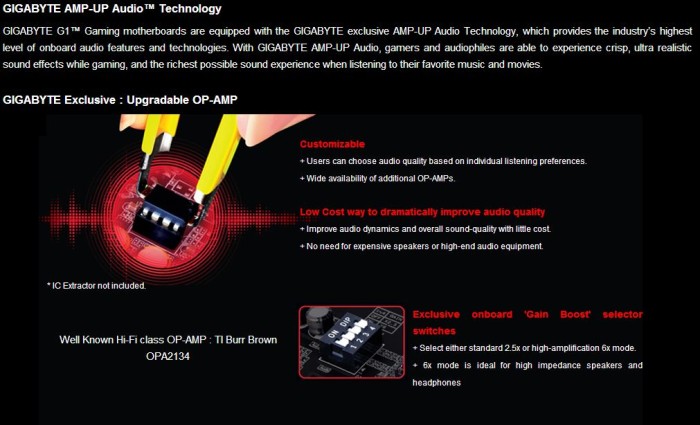 Gigabyte has also explored new ways to give gamers what they want which is a rich in-depth gaming experience well as most users are audio/visual you cannot skimp on either end of the spectrum so the audio side is where we are looking. and with the AMP-UP feature users can now swap OP AMP components to deliver the sound level and type they are looking for to match their gaming needs.
Another way Gigabyte is trying to maximize the experience rich environment is with the "Gain Boost" feature which uses toggles to enable or disable a high gain mode setting that can really help give a substantial extra push for users with high impedance speakers or headsets.
Audio Hardware Zone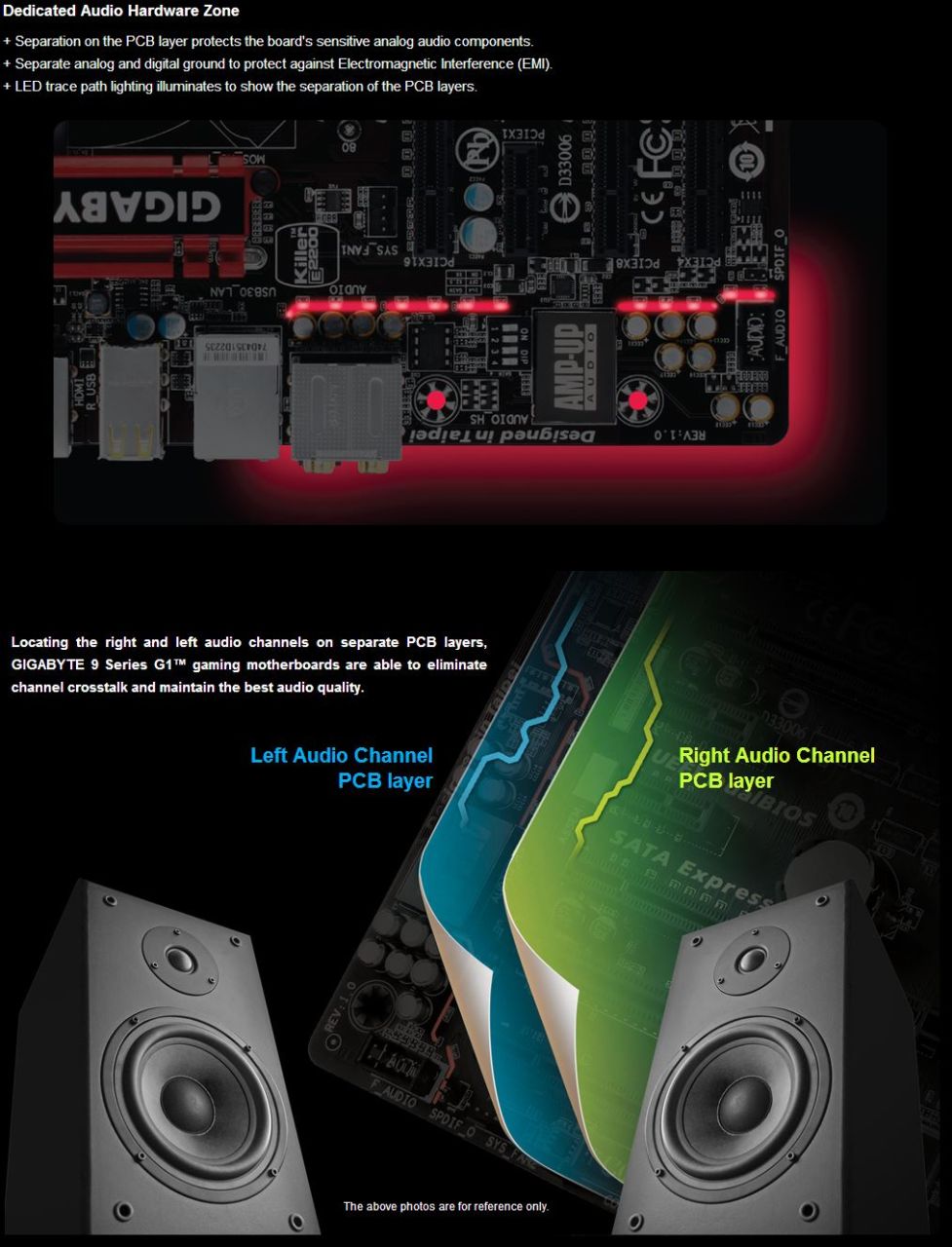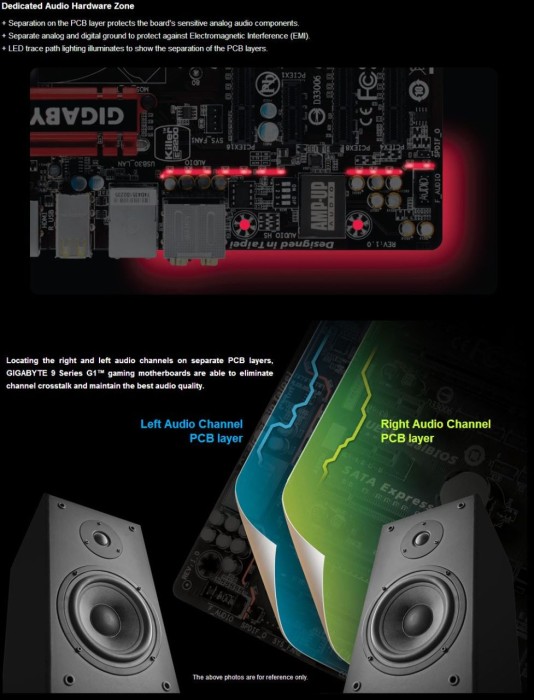 The Island PCB style as I have called it before is something we have seen for a couple of board generations now and in theory it helps to isolate the PCB for the audio components and data away from the noise of the other components nearby. This is great as it should allow for less noise heard by the user as well. The PCB split is backlit by LEDs which gives a visual indicator of the level of separation and adds to a cool factor for those with windowed cases that like to show what they run.
Sound Blaster X-Fi MB3 Software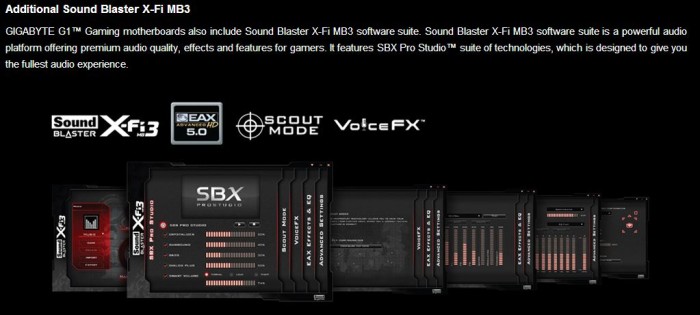 The Soundblaster X-Fi MB3 software is a pretty nice audio control or command center software allowing a lot of adjustability to your audio along with even experience simulations which allow the audio codec to simulate auditorium environment among other listening areas and create them with the help of reverb and other sound effects which tweak the audio to create a richer or fuller experience.
Killer E2200 Network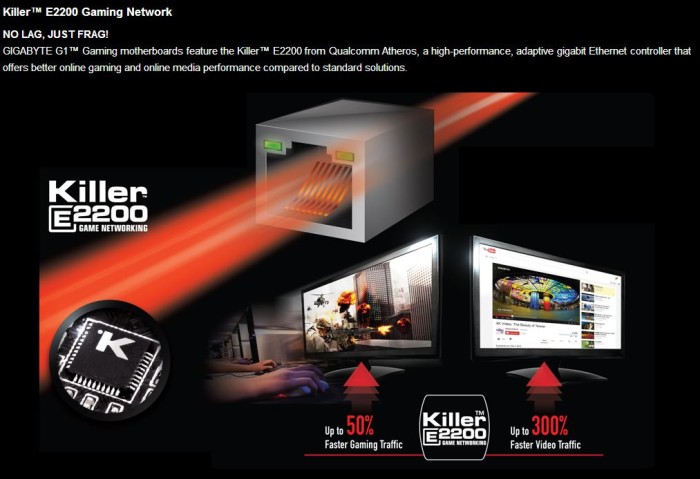 Gigabyte installs a Killer E2200 Network controller which has been tested and proven to be an efficient solution for all forms of network activity. However in terms of usage scenarios the gaming market has been their major target with supporting software which allows packet prioritizing and the ability to give your game priority over background apps to allow for improved network performance for bandwidth or latency critical online games.
Software Suite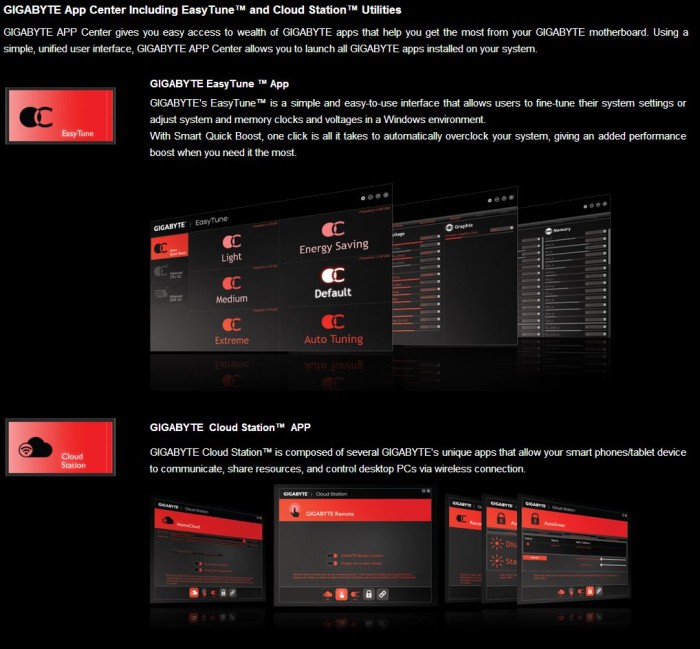 The Gigabyte Z97 boards include a rich software suite labeled "Cloud Station" which with the newest iteration actually gets much closer to mirroring the UEFI BIOS than ever before. it allows quick and easy adjustment of almost every setting applicable to the board and then some.
I do like the fact that it closely mirrors an app like environment similar to what you see on a mobile device and everything is clear and concise for even novice users to have an easy time navigating.
Review Overview
Performance - 8.5
Value - 9.5
Quality - 9
Features - 8.5
Innovation - 8
8.7
The Z97MX-GAMING 5 is a stout board in a small package with features that make it a great buy at a excellent price.